Hogmanay is Scotland's New Year's festival and perhaps the most magical event in the nation's calendar. It's the time when Scots say goodbye to the past year and celebrate the arrival of the new, with street parties, fireworks, and more.
Some people have described Hogmanay in Scotland as the best New Year's party in the world. And on a Scottish New Year's trip, you can join in the fun yourself.
Expect dancing, fire, and – if you're brave enough – a dip in the winter sea. Read on to discover more of the fun and unforgettable things that Hogmanay, Scottish New Year, holds in store.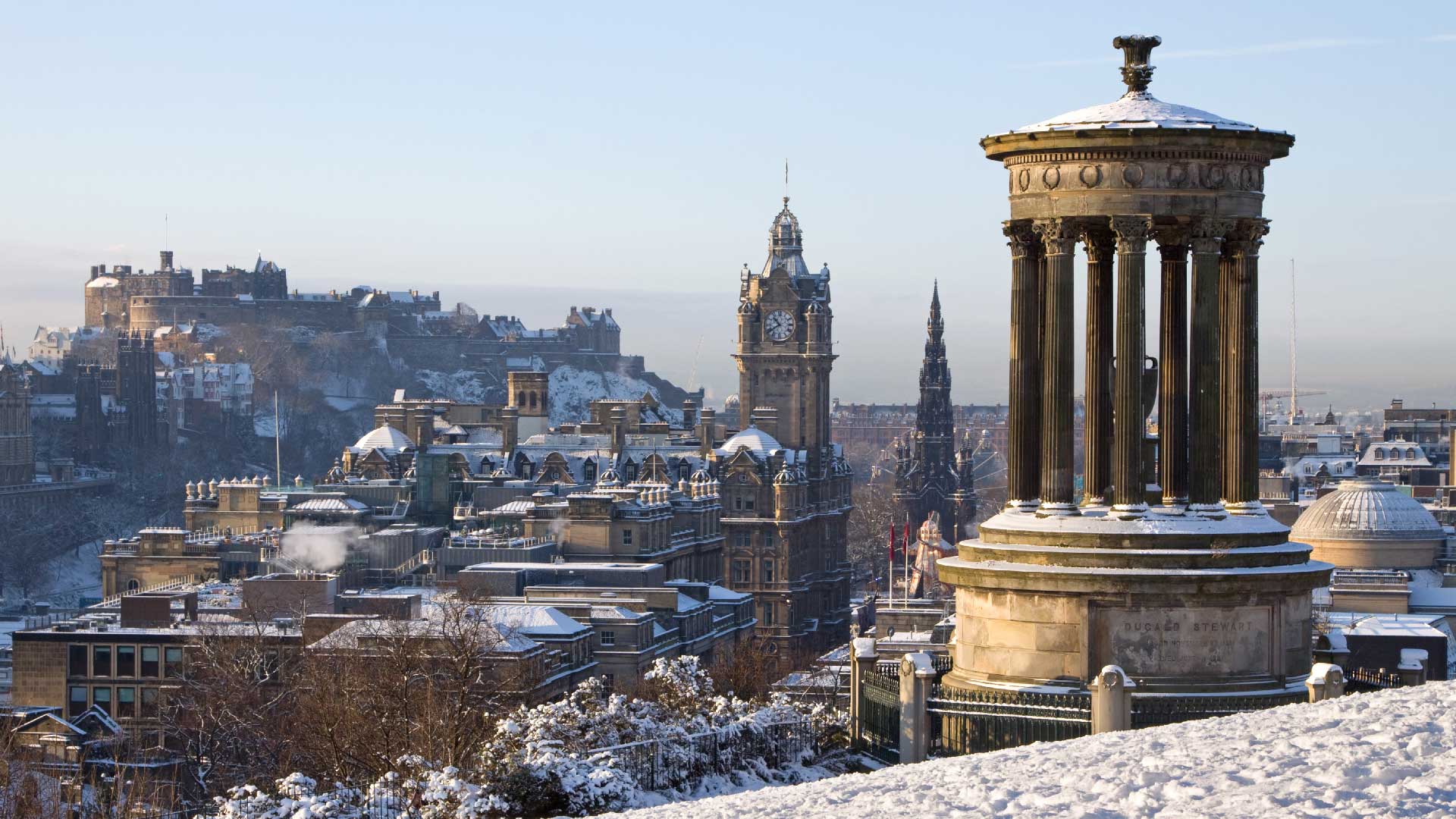 What is Hogmanay in Scotland?
Hogmanay is Scotland's New Year festival. Across the country, but particularly in the capital city of Edinburgh, you'll see Scots take to the streets to welcome the changing of the year.
Historically, the New Year festival has been more important than Christmas in Scotland. That's because Christmas was actually illegal here for nearly 400 years. It was outlawed in 1640, and it didn't become an official public holiday in Scotland until 1958.
As a result, Scots still put a lot more emphasis on Hogmanay and New Year. Today, New Year's Eve in Scotland is marked with bonfires, torchlight processions, firework displays, and more.
---
---
What does Hogmanay mean?
These days, Hogmanay just means New Year's Eve, celebrated in Scotland on 31 December. It's simply another word for the last day of the year.
However, as you may have noticed, Hogmanay is an unusual word, even for Scots. And it's not entirely clear where it comes from.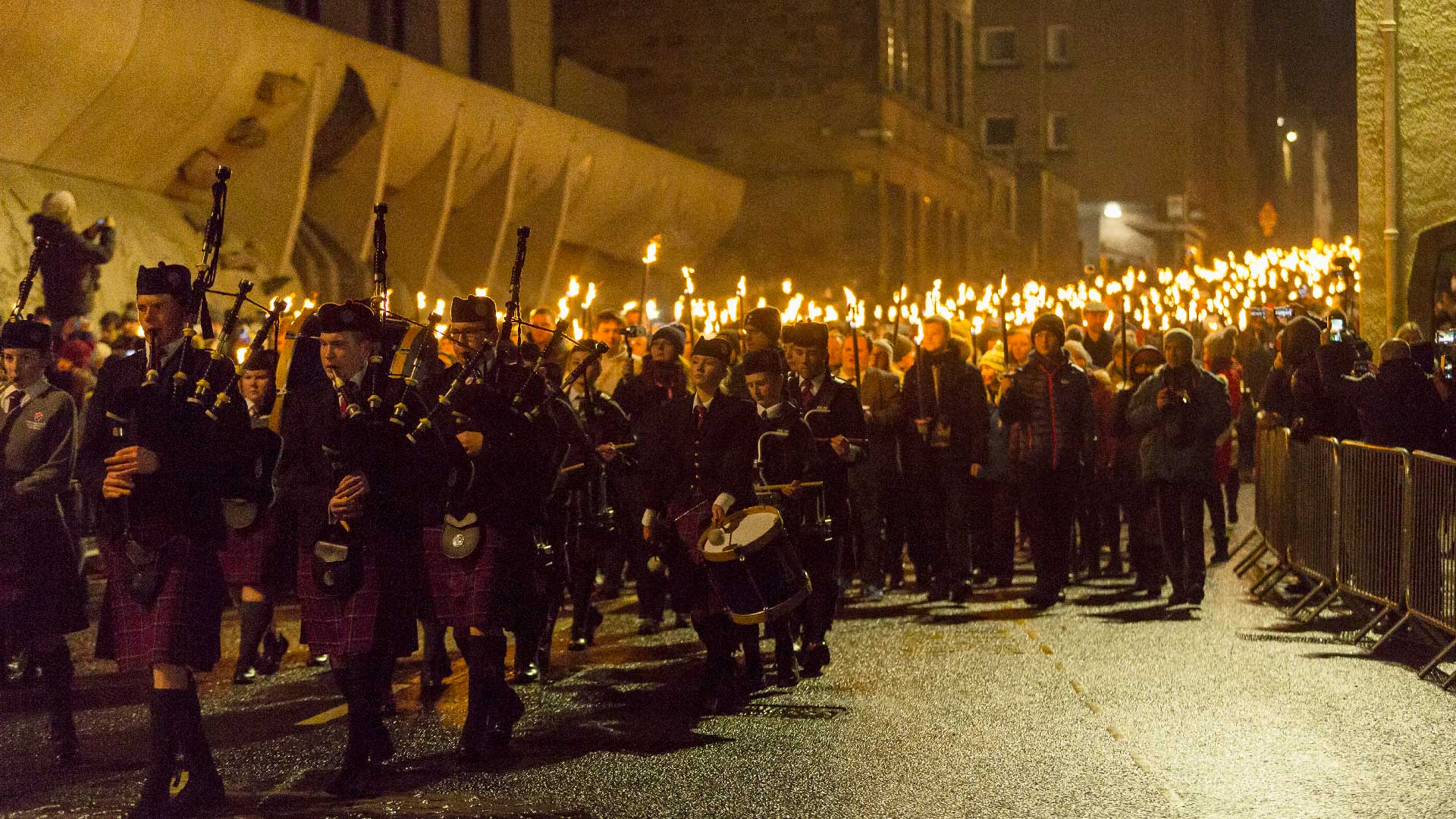 Some people argue that it comes from a French term, "aguillanneuf", for a tradition of giving gifts at New Year's. And some historians say that Mary, Queen of Scots (herself a French princess) brought the tradition to Scotland in the 16th century.
Other researchers say the word Hogmanay comes from the Norse term, "haugmann", meaning hillmen or elves, alluding to the magic of this special night.
---
---
How do you pronounce Hogmanay?
You can pronounce Hogmanay how it's written, with a stress on the first syllable. "Hog" rhymes with "dog", and "nay" with "day", so you can say something like "hog-ma-nay".
When is Hogmanay celebrated?
You can celebrate Hogmanay in Scotland on the night of 31 December. However, you'll notice that the festivities spill over onto 1 January, and often into 2 January too. Scotland's New Year is such a big deal that one day is not enough!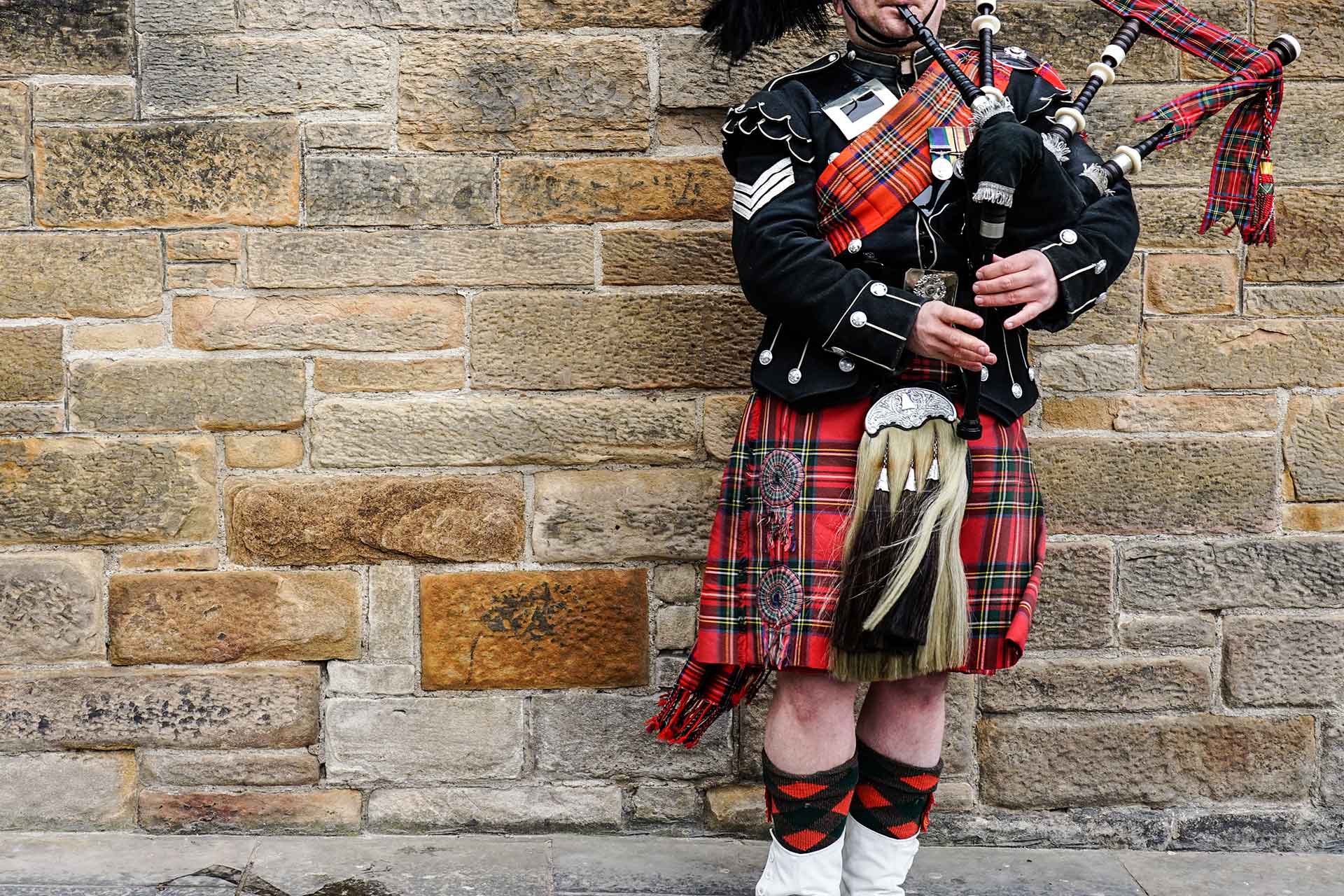 Interestingly, some towns in Scotland observe New Year on a different date: the night of 11 January. Known as "Old Hogmanay", this date continues a tradition of when, once upon a time, Scotland used the Julian calendar.
If you didn't get your fill of Hogmanay on 1 January, head to the town of Burghead in Moray for Old Hogmanay to do it all again. Alternatively you can attend this festival on the Scottish isles of South Uist and Eriskay.
---
---
Where is Hogmanay celebrated?
Join the Hogmanay celebrations across Scotland. The events in Edinburgh are probably the most famous. But there's a lot going on elsewhere too.
In cities such as Glasgow, Aberdeen, and Dundee, you'll find street parties and other diverse events. And in smaller towns and villages too you'll discover unique traditions to mark the turning of the year.
How to celebrate Hogmanay?
There are many different ways to celebrate Hogmanay, from massive public events to small intimate gatherings. In whichever way you decide to enjoy the occasion, you'll find it to be a moment of fun, reflection, and tradition.
Read on for some of the most popular things to do in Scotland for New Year.
---
---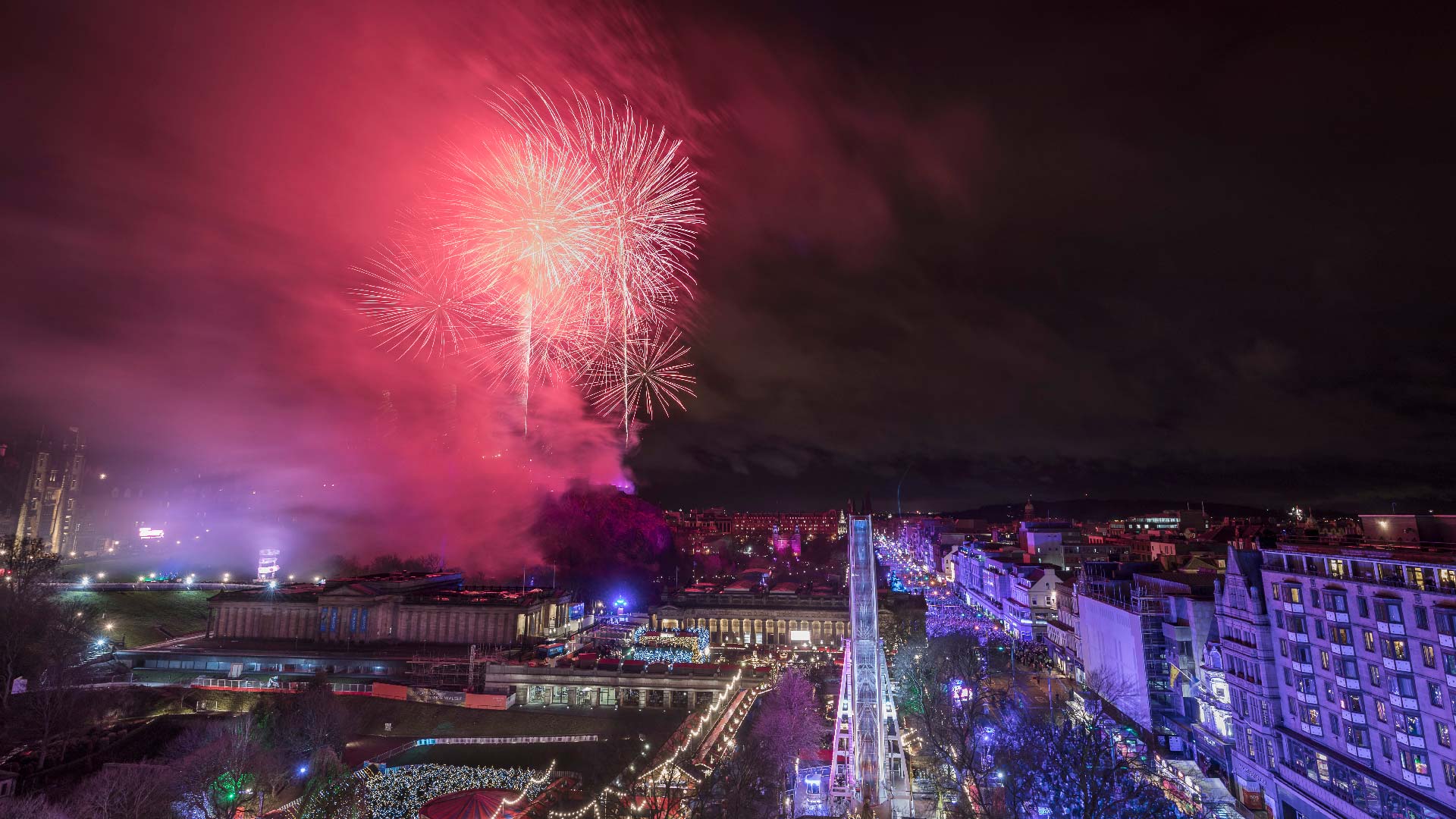 1. Join Scotland's biggest New Year party in Edinburgh
Scotland's charming capital, Edinburgh, hosts one of the biggest New Year festivals in the world. The events can last up to 3 days and there's a lot of fun to be had across the city (that's why 100,000 people come to visit!).
The festivities start on 30 December with a torchlight procession that journeys from Edinburgh Castle down the Royal Mile to Holyrood Park. The river of fire that it creates in the High Street is a magical way to kick things off.
Then, on 31 December, dance into the New Year at the "Party at the Bells" in Princes Street Gardens. Expect live music from the biggest names in Scottish music, DJ sets, and a vibrant, welcoming atmosphere.
---
---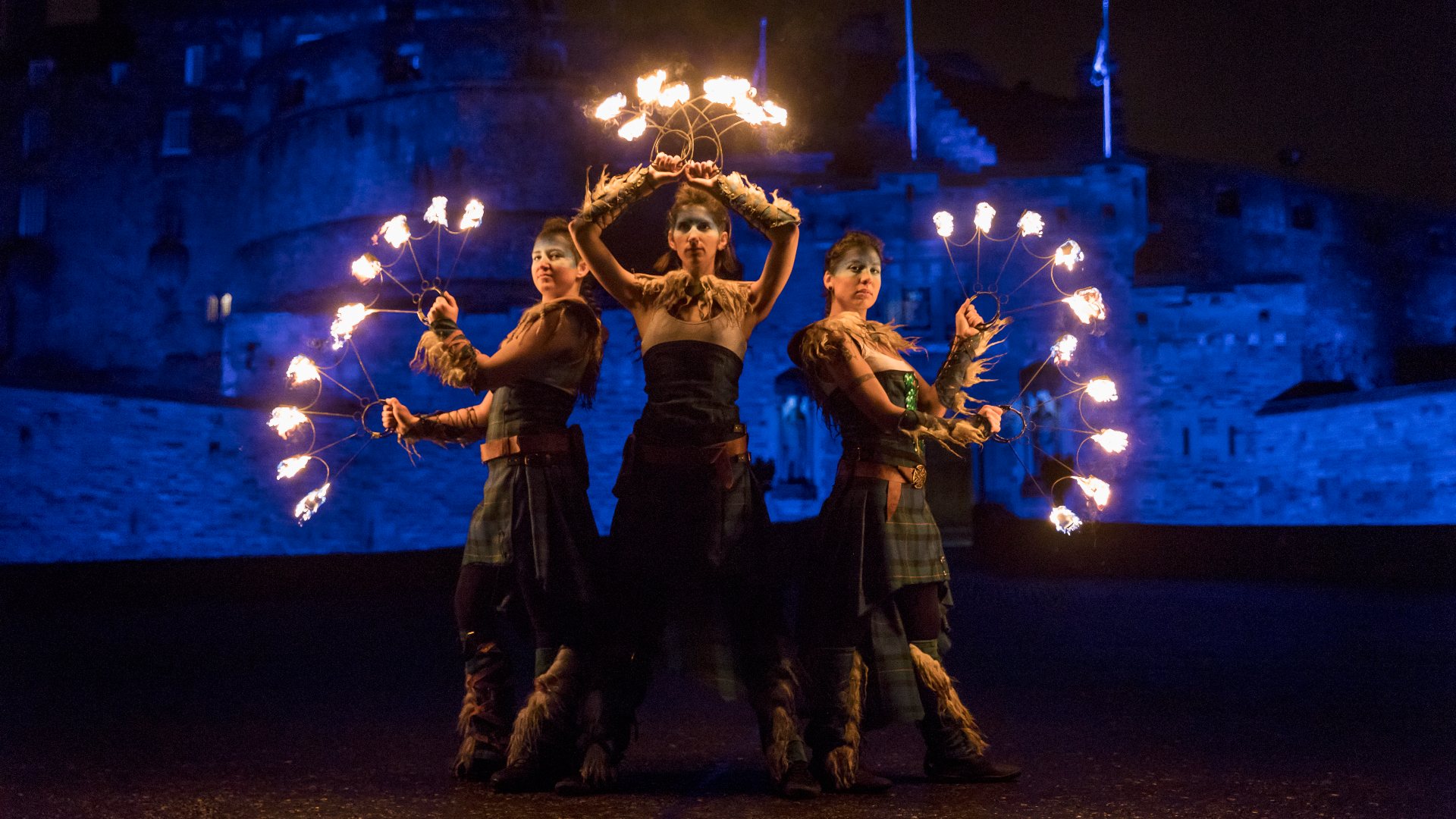 2. Take a cold dip with the Loony Dook
Edinburgh's Hogmanay celebrations don't end on the night of 31 December. If you're brave enough, try the Loony Dook, a collective dip into the waters of the North Sea on 1 January.
Originally taking place in the waters of South Queensferry, beneath the Forth Railway Bridge, these days you can join the fun at Portobello Beach and North Berwick too. People of all ages come in fancy dress from miles around.
3. Experience a Scottish fire festival
Whether you're attending Edinburgh's torchlight procession or you're on a Scottish Highland tour, something you may notice is that fire plays a big role at New Year's Eve in Scotland.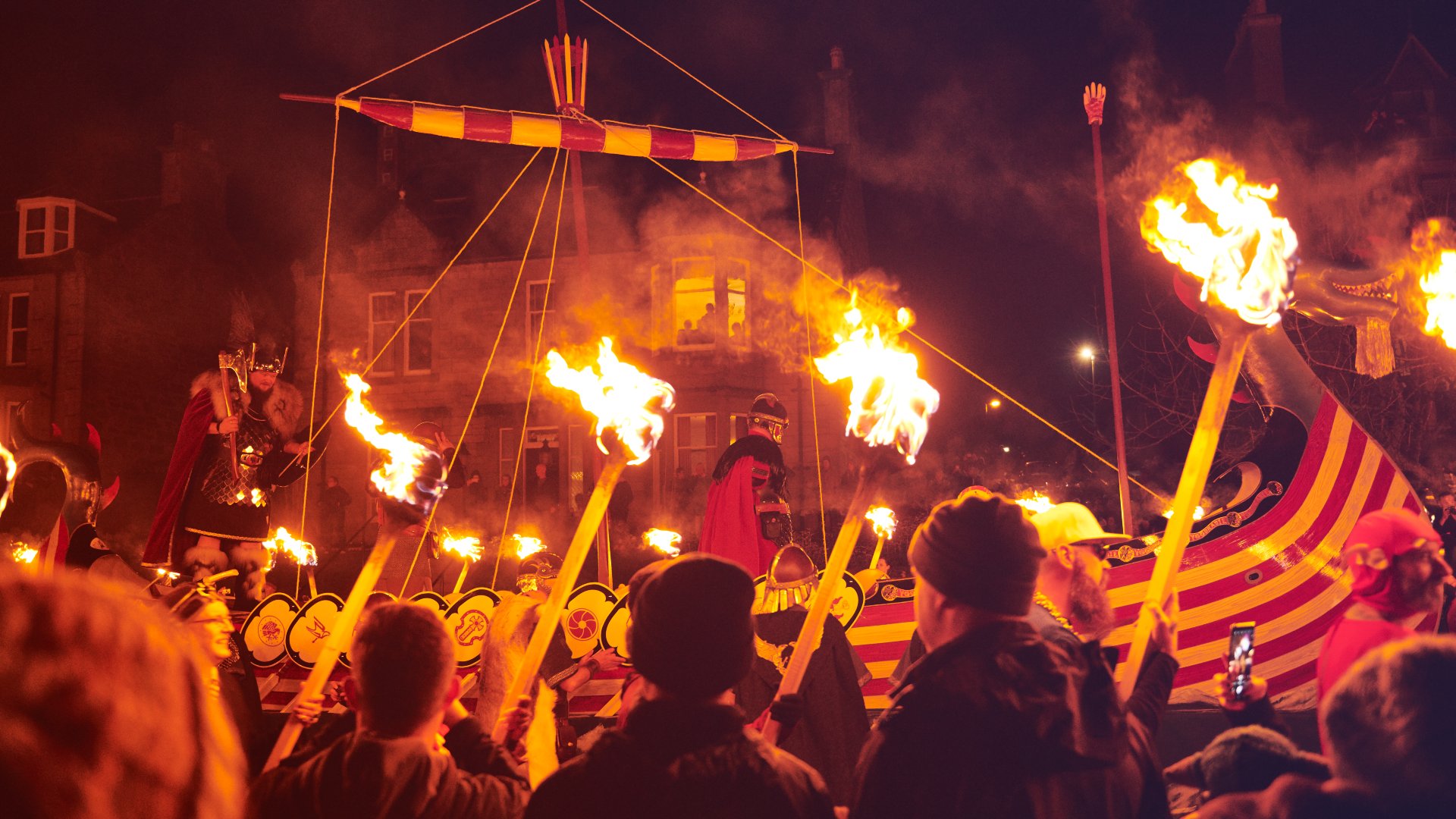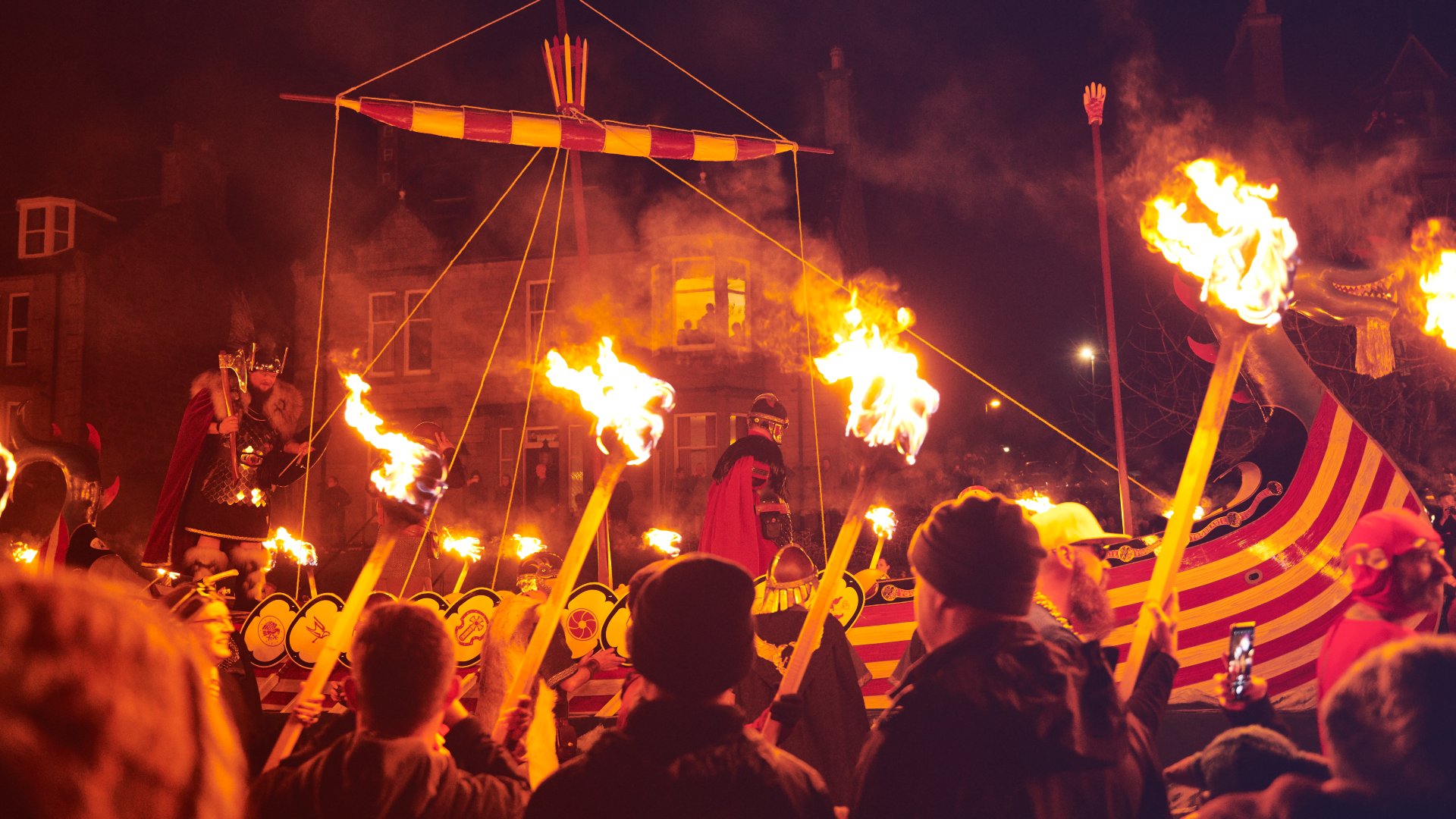 For example, visit Stonehaven in Aberdeenshire to see Hogmanay marked with a fireball parade, where you'd see performers swing burning balls above their heads. Or head to Comrie in Perthshire, where villagers light "flambeaux", or burning sticks, at the stroke of midnight.
Alternatively, in Burghead in Moray, witness the Burning of the Clavie, a wooden barrel filled with staves. Or head to the Scottish Borders for the Biggar Bonfire.
4. Dance the night away at a Hogmanay ceilidh
In Scotland, a "ceilidh" is a traditional event, with live folk music and dancing in couples and groups. There can sometimes be storytelling too, and plenty of food and drink. While you can take part in a ceilidh in any season, there's no better way to usher in the New Year.
You'll find the dances in Scotland's biggest cities, as well as in smaller towns across the Highlands. They are riotous, energetic events that can last into the early hours.
---
---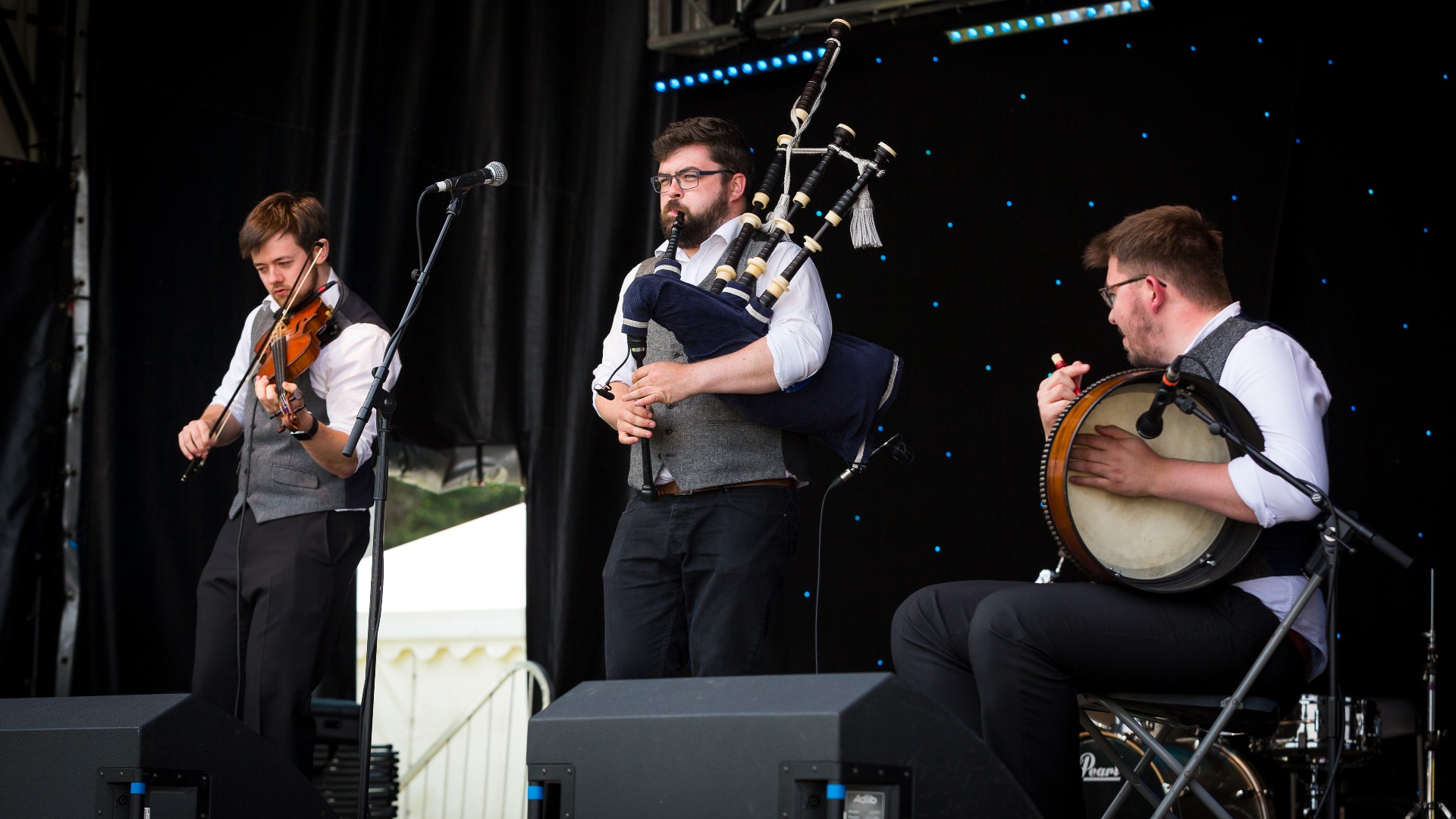 5. Reflect on the year gone by with other Hogmanay traditions
While they can be fun, you don't need to go out and party to enjoy Hogmanay. Instead, unwind with your loved ones and reflect on the past year, while taking part in some true Scottish traditions.
As the New Year arrives, join hands and sing Auld Lang Syne, a song penned by the national poet Robert Burns. Written in Scots, it asks us to reflect upon the past year and our old relationships.
Then, after midnight, Scots visit their friends and family, to drink whisky and eat black buns, a type of fruit cake wrapped in pastry.
The first person to enter your home on New Year's Day is known as the "first foot", who will determine the fortunes of the year ahead. A dark-haired man is thought to bring good luck – while a blond man is a concern!
---
---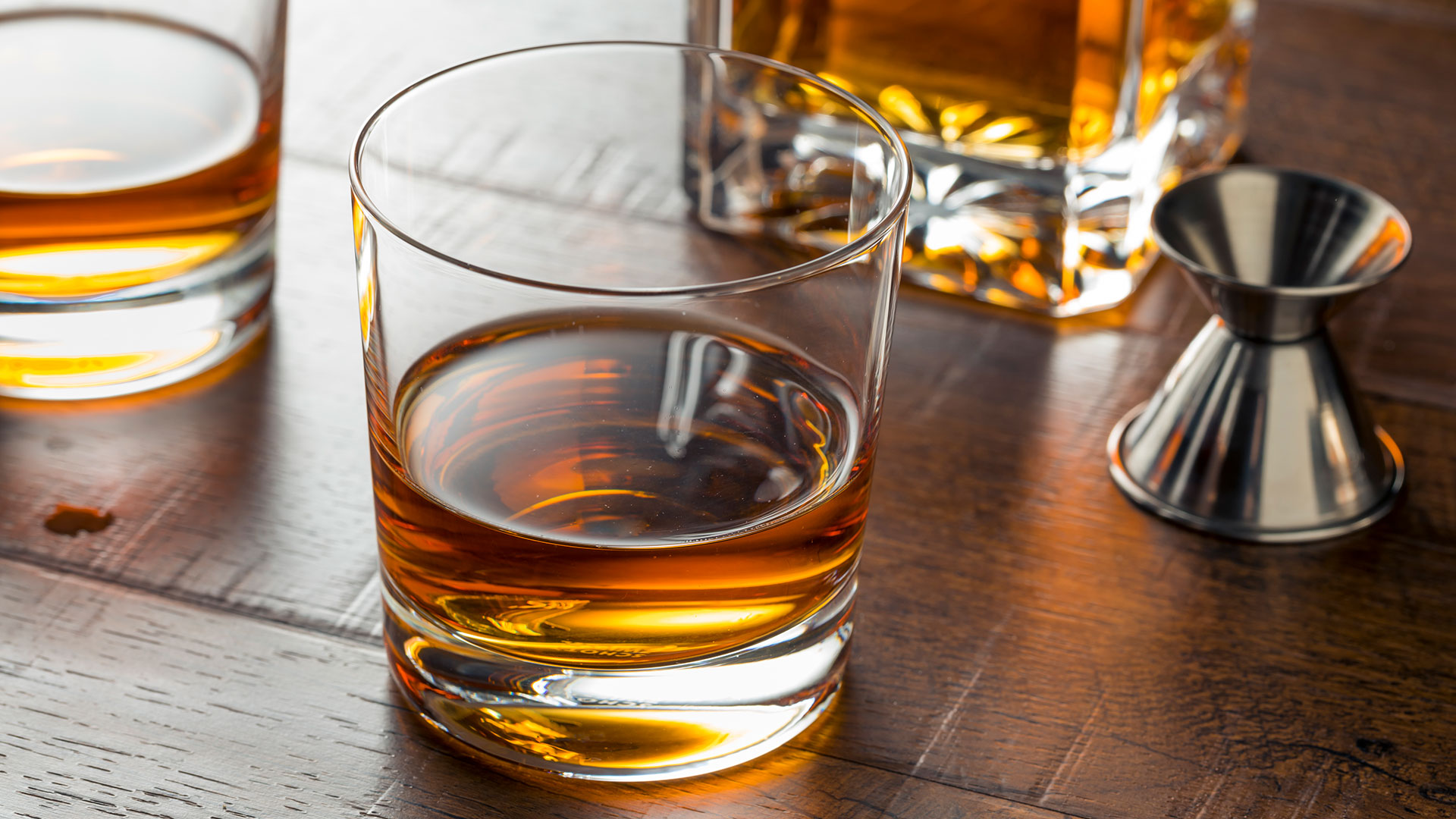 Come and experience Hogmanay in Scotland for yourself
Fire, fun, and a festive atmosphere await you at Hogmanay in Scotland. However and wherever you want to celebrate, at Nordic Visitor we make it easy.
Book a Scottish New Year's break with us and we'll let you focus on having a good time. Your personal travel consultant will handle the accommodation, organise any travel within Scotland, and arrange your tickets for all the biggest events.
What's more, as our Scotland travel experts are based in Edinburgh, they'll share their local recommendations and insider tips with you too.
Come and join us for Scotland's New Year. Contact our Edinburgh team to start the adventure.