Scotland in the winter can be an adventure for those who enjoy wintry landscapes and off-the-beaten-path experiences. Read on if you want to tour Scotland in winter, or are curious but want to be convinced. You'll discover fun things to do and find out what to see in Scotland over the winter months.
While the high season in Scotland is the summer and its shoulder months, the winter is becoming more and more popular with visitors. This is because Scotland enjoys some temperate weather all year long (especially for a Northern European country!) meaning the winter, while rainy, isn't too cold, and is perfect for sightseeing or enjoying nature.
To help you plan what to do and when to come in the winter months in Scotland, we've put together a handy guide for you
---
---
When is winter in Scotland?
The winter months are technically from December until March, with the autumn months of October and November (and sometimes April) often included in the off season.
This time coincides with colder temperatures and changeable weather, fewer visitors and shorter daylights hours. It also encompasses some of the big national events, such as Hogmanay, St Andrew's Day and Burns Night, the birthday and commemoration of celebrated national poet Robert Burns.
Winter climate and weather in Scotland
Scotland enjoys a temperate climate all year long, which is also true in winter when the average daytime temperature is around 5 degrees Celsius (41°F). This means it fares pretty well in comparison to its northern neighbours.
January and February are usually the coldest months. The conditions while mild are more changeable at this period of the year, with more wind, rain, and storms.
It snows a handful of times a year in the cities, and it is more likely toward March than Christmas despite popular beliefs. In the mountains, however, it snows a lot over the winter and you may see snow-capped mountain tops in the distance.
The most distinctive feature of Scottish winter weather is how fickle conditions can be, so we recommend being ready for everything! In one moment the skies may be sunny and bright, but ten minutes later they may be clouded over and shedding a mixture of snow and rain, affectionately called 'sleet'.
Find out more in our weather and temperature guide for Scotland.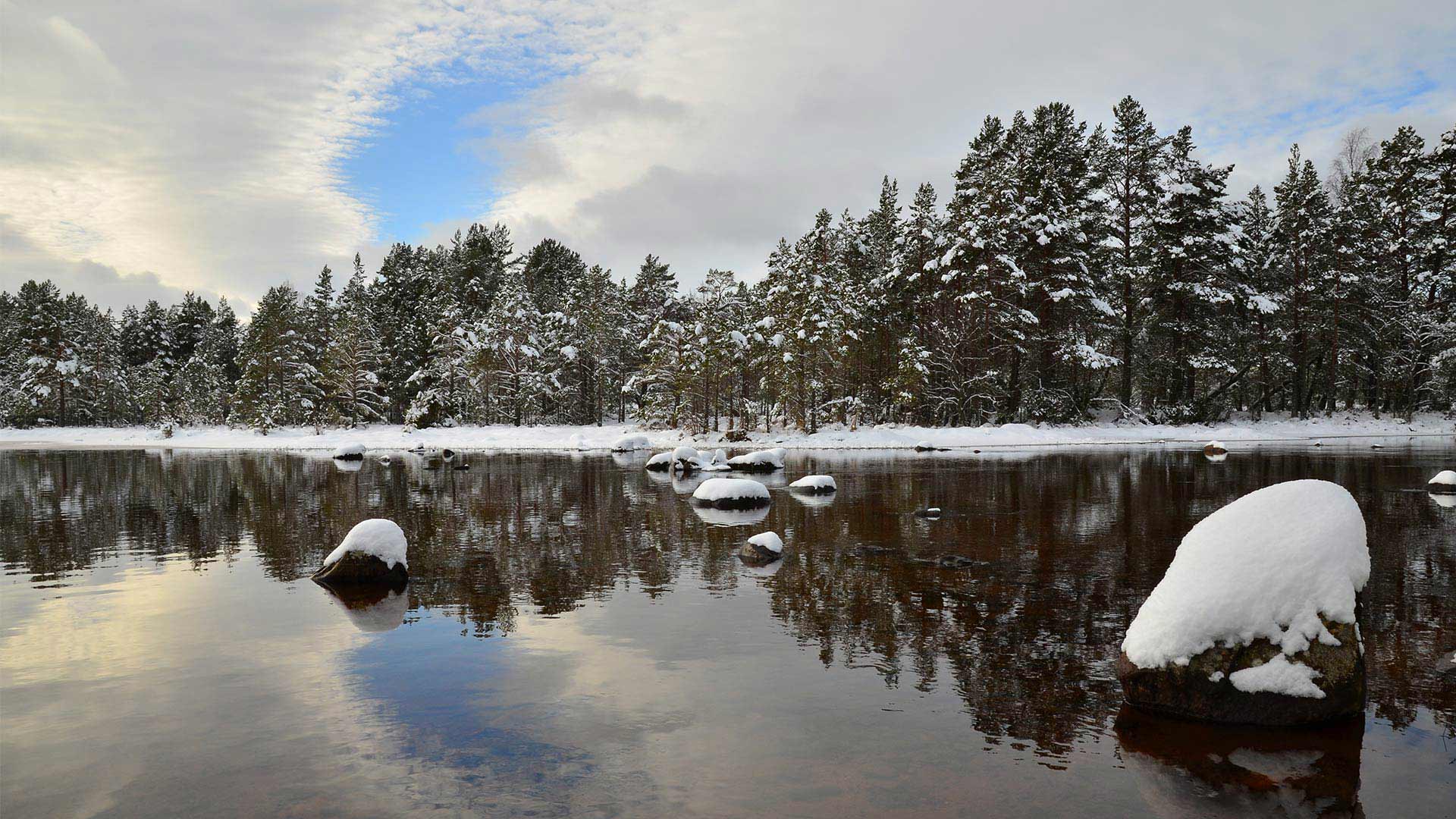 Winter packing list for Scotland
The most common question that people ask when they are preparing for a trip to Scotland is often: what should I pack? Followed by concerns about whether the Scottish weather's reputation is real.
These are all valid concerns, and the main answer is to be prepared! As the weather is extremely changeable, it's likely that you could end up exposed to all four seasons within your stay (or even within a day!). For this reason, it's best to be prepared for all kinds of weather. And as the expression goes, there is no good or bad weather, only good or bad clothing.
We've compiled a few recommended items if you're wondering what to pack for a trip to Scotland:
A good waterproof and windproof jacket is the best place to start for a winter trip to Scotland. It will cover you for most weather conditions.
To stay warm the best thing to do is to plan layers. A t-shirt, with a warm jumper and waterproof jacket should do you good throughout the day. Even if the morning is looking not too wet or cold, pack a few extra layers in your day bag to make sure you're ready.
Hat, scarf and gloves. While Scotland enjoys mild temperatures through the winter, we recommend bringing a few warm items to be ready for the colder or windier days.
Warm and waterproof boots, especially if you're hoping to go enjoy some of the hills, where the paths and hiking tracks may be a bit muddy.
Waterproof trousers. If you're planning on spending a lot of time outside or on the hills, you may want to bring a pair of waterproof trousers to keep yourself dry and warm.
Umbrella. While an umbrella may be useful in the city, be aware that the strong winds on the coasts of Scotland may make it difficult to use one without breaking it.
Where to go and what to see in Scotland in winter
If you want to come to Scotland during the off season, whether to avoid the crowds, or experience the Scottish winter, fear not as there is plenty to see and do during the winter months!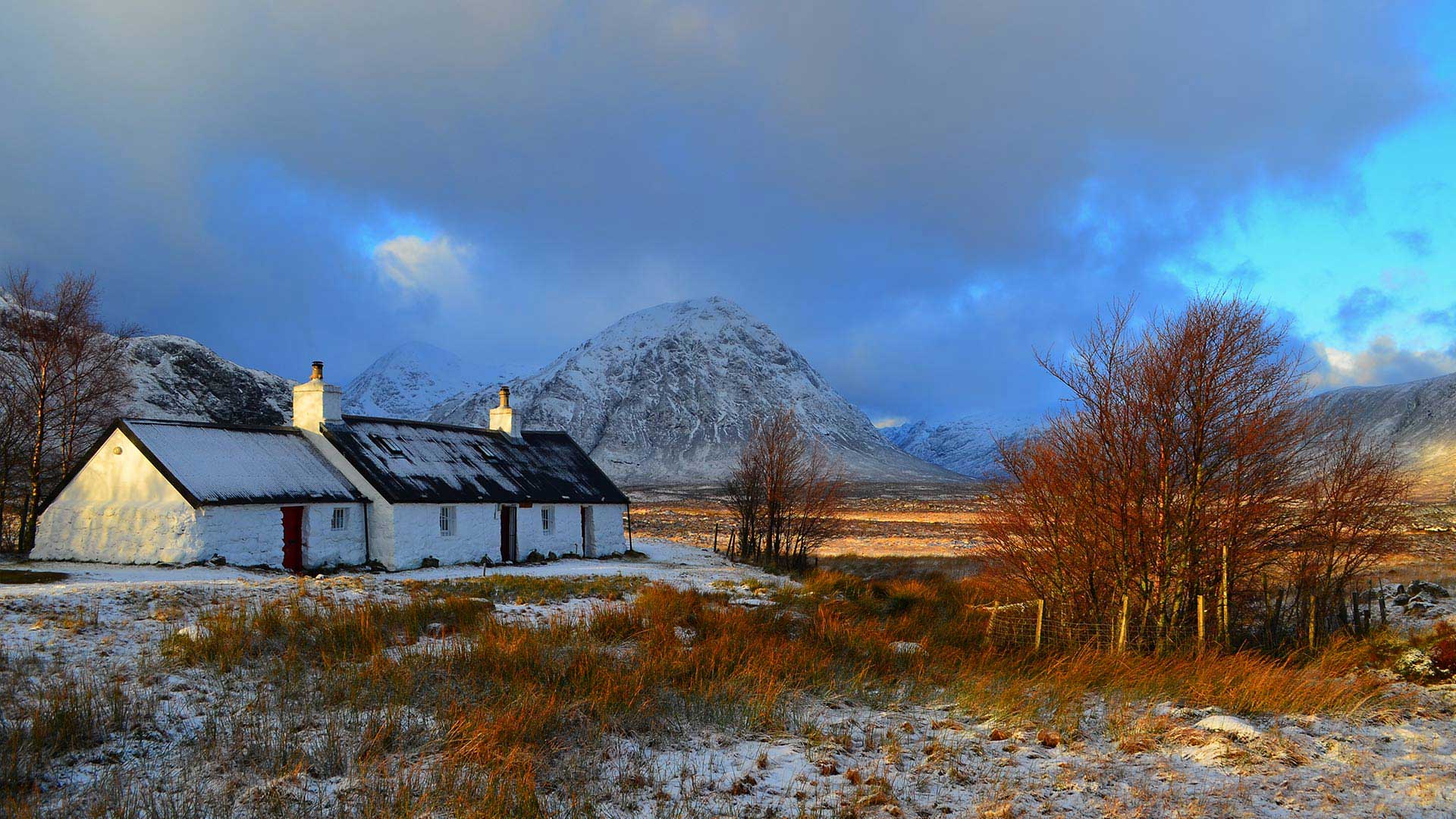 Fun things to do in Scotland in winter
It's worth noting that on top of the beautiful natural landscapes you can enjoy around the country, some of the most popular attractions of Scotland are open and accessible all year long. This includes the Isle of Skye, Loch Ness Centre & Exhibition, as well as strongholds like Edinburgh Castle, Stirling Castle, and Dunnottar Castle.
---
---
Here are some things you may want to do over the winter:
Visit Edinburgh in the winter
Edinburgh, Scotland's capital, is a great destination in the winter for a city break. Edinburgh Castle is opened all year long and if you're lucky a bit of frost may brighten the darker winter days with white dust along the crags.
During daylight hours we recommend walking up Arthur's Seat for a great view over the city! Alternatively, you can go for a much shorter walk up Calton Hill. You'll also be rewarded with a stunning viewpoint.
Most of the Edinburgh museums are free to visit, making it a great alternative if you'd rather be inside. You could also cosy up with a dram of whisky in a local pub and enjoy true Scottish hospitality.
And if you're an Outlander fan, why not sample one of the places to eat on Scotland's Outlander Trail? Soon you could be indulging in afternoon tea surrounded by the Signet Library's opulent decor.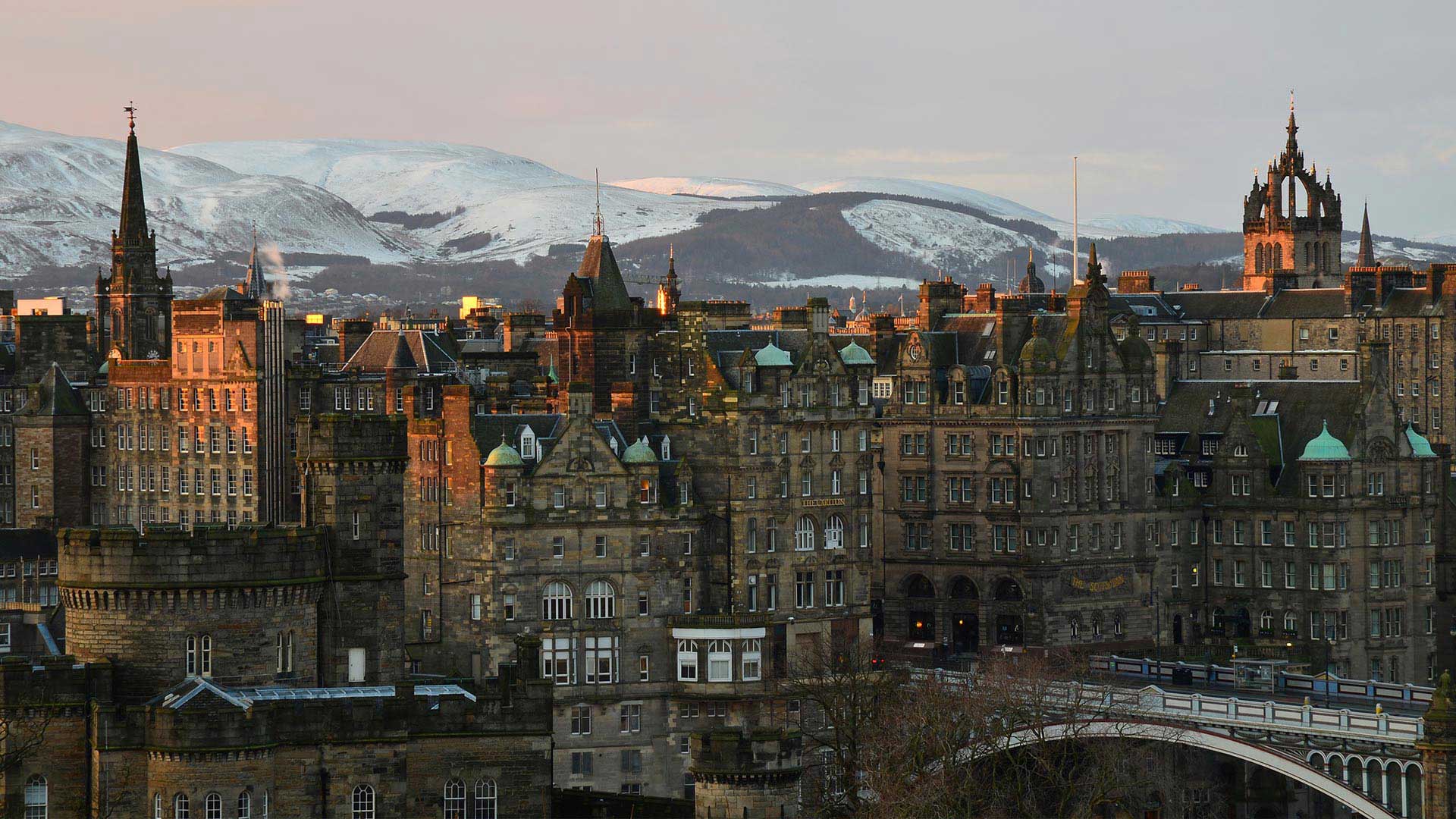 Visit Glasgow
Scotland's largest city, Glasgow, is another great stop for a city break, or as a stopover on your way into the Highlands or islands.
Museums are also free and you get a great choice, from modern art, to the world-famous Kelvingrove Art Gallery. The Glasgow Botanic Gardens are also free and the green houses will definitely warm you up! If you're travelling with the family, kids may love popping into the Glasgow Science Centre on a rainy or colder day.
If you love green spaces, don't miss walking out to Bellahouston Park on the south side, where you'll find the House for an Art Lover. In the east, you can roam the Glasgow Green or even the Necropolis and nearby Glasgow Cathedral.
Glasgow is the best place to shop in Scotland, so don't miss popping into a shop or two on the pedestrian Buchanan Street. Finally, end your day in one of the many restaurants of the city centre. We especially recommend Merchant City with its fairy lights and bustling evening ambiance.
Road trip around the Highlands
Scotland is a year-long destination, and this is especially true because roads and attractions are often open and accessible along the various seasons. This isn't to say that weather conditions do not affect visitors.
While it is possible to road trip around Scotland in the winter, there are fewer activities, sights, accommodation, and daylight hours to take advantage of during the low season. Roads may also occasionally be closed due to weather conditions, which is more likely during the winter months.
This is especially true of more remote areas, such as the North Coast 500 and some of the isles that may not be as accessible due to ferries running less frequently and being cancelled due to adverse weather.
---
---
We recommend a road trip around the Highlands, up the east coast to Aberdeen, then across to Inverness. You can even easily access Skye as it is connected to the mainland by a bridge. The west coast is particularly pretty too, with Fort William, Glen Coe and Oban being popular stops all year long.
Winter conditions in Scotland, especially in rural locations and the countryside, can easily affect driving conditions. If you're planning on coming to Scotland for a winter road trip, we advise you to be careful when driving, and to be very flexible and ready for the realities of winter.
---
---
Cairngorms National Park
The Cairngorm National Park is a popular stop for those who love winter activities. The Cairngorm Mountain offers some spectacular views and opportunities for skiing and snowboarding. It boasts 30km of pisted runs, 10 lifts, a freestyle park and on-site equipment hire.
For a special opportunity, we recommend visiting the Cairngorm Reindeer Herd, one of our travel consultants' favourite. Roaming freely since 1952, there are currently over 150 reindeer in the herd, mostly located on the Cairngorm Mountains.
One of my favourite winter activities is to visit the Cairngorm Reindeer Herd. You have the opportunity to hike up to the hill top where you can walk amongst these beautiful creatures and enjoy the feeling of their soft velvet noses on your hands if you wish to have a go at hand feeding them.

- Annie Pepperell, Scotland Travel Consultant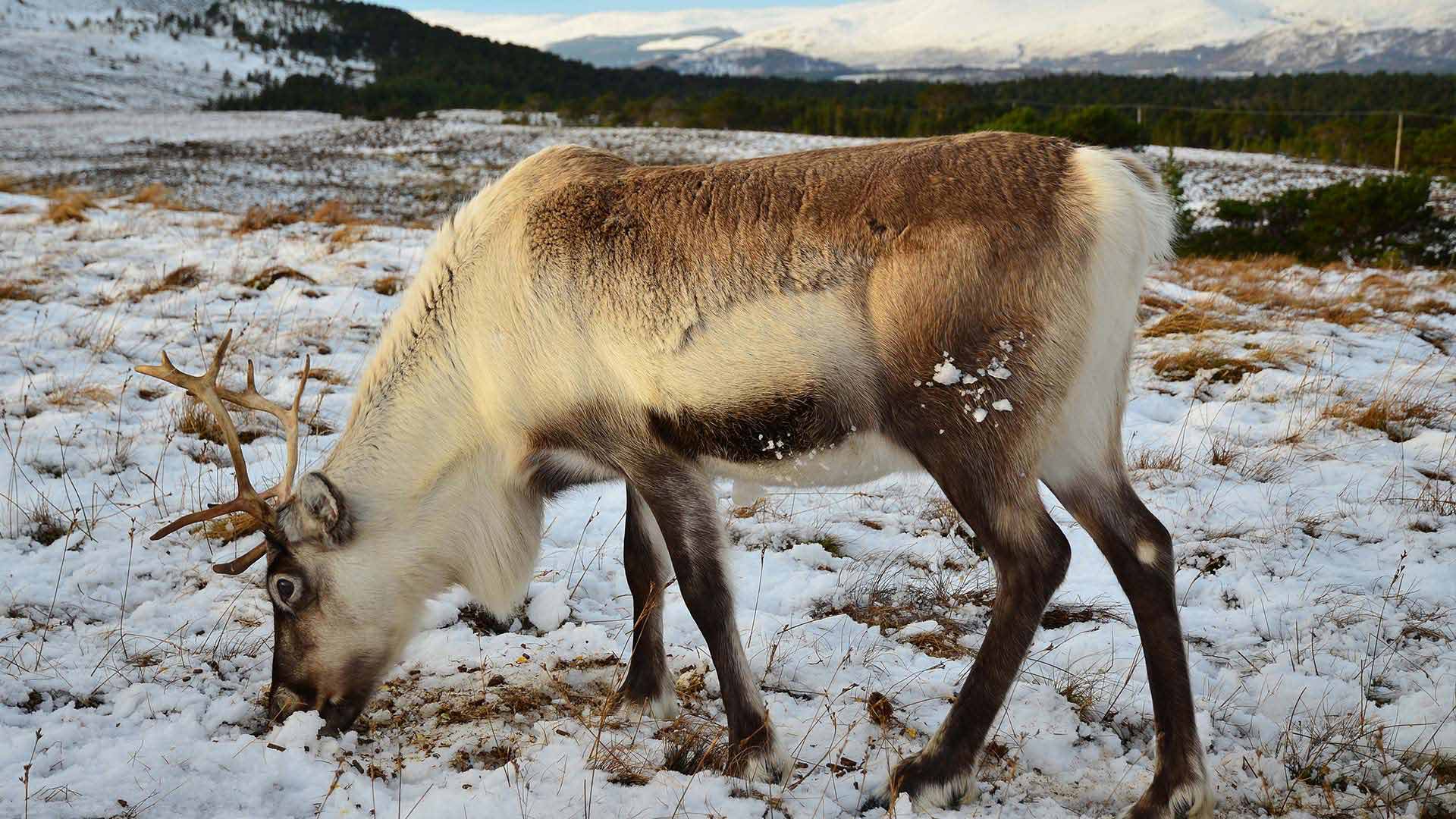 Highland Perthshire
Perthshire is a central region of Scotland that you may not know about, but will definitely love visiting!
If you're driving through, there are many stops you may wish to take. We particularly recommend the Hermitage and Pitlochry.
The Hermitage is located near Dunkeld, a charming village on the banks of the River Tay. The highlight, which is as inspiring in the winter months, is the walk at the Hermitage Forest. You will be rewarded by a view of the romantic Black Linn Falls and Ossian's Hall of Mirrors.
Pitlochry, located at the edge of the Cairngorms National Park, is another charming Victorian town renowned for its accessibility to great walking trails in the surrounding scenic hills. It is also the home of the smallest whisky distillery in Scotland, Edradour Distillery.
Northern lights
While visitors rarely come to Scotland for this, it is possible to see them here!
Scotland has some northern lights activity during the winter months, especially in the northern parts of the country. While the sky is often too cloudy to be able to witness them, in late autumn and early winter, if the weather is on your side and northern lights activity is high, you may just be able to see them if you're away from light pollution.
We recommend downloading and checking an aurora forecast app, and keeping an eye out especially in the northern isles like Shetland, Orkney, Lewis and Harris.
Winter festivals and events
While August is known as the festival month in Scotland, the winter isn't free from its exciting events and activities. Some of the biggest traditions are held over the winter and you may find.
Below we've put together a list of the winter festivals and events in Scotland you may want to come to here for, or experience while you're visiting. For instance, you won't want to miss Scotland's legendary Hogmanay (or "New Year's Eve") celebrations.
Events
Location
Date

Edinburgh Christmas Market

One of the biggest in the UK, the Edinburgh Christmas Market includes shows, rides, traditional market stalls and food.
Edinburgh city centre
Mid-November until early January

Glasgow Christmas Market

Glasgow hosts two Christmas markets in its city centre, including delicious food and artisan traders.
George Square and St Enoch Square, Glasgow
Early November until late December

St Andrew's Day

Celebrating the patron saint of Scotland St Andrew.
Throughout the country, mostly at restaurants and halls.
30

th

November

Hogmanay

By far the biggest celebration of the year, Scots know how to mark the arrival of a new year.
Edinburgh hosts the biggest one but there are Hogmanay parties organised throughout the country.
31st December

Up Helly Aa

A traditional fire festival celebrated by the community of Shetland, culminating in a torchlight procession and burning of a galley.
Lerwick, Shetland
Last Tuesday of January

Burns Night

In the name of national poet Robert Burns, Scots around the nation celebrate him around a Burns Supper, involving haggis, whisky and ceilidh dancing.
Throughout the country, mostly at restaurants, organisations and event.
25th January
---
---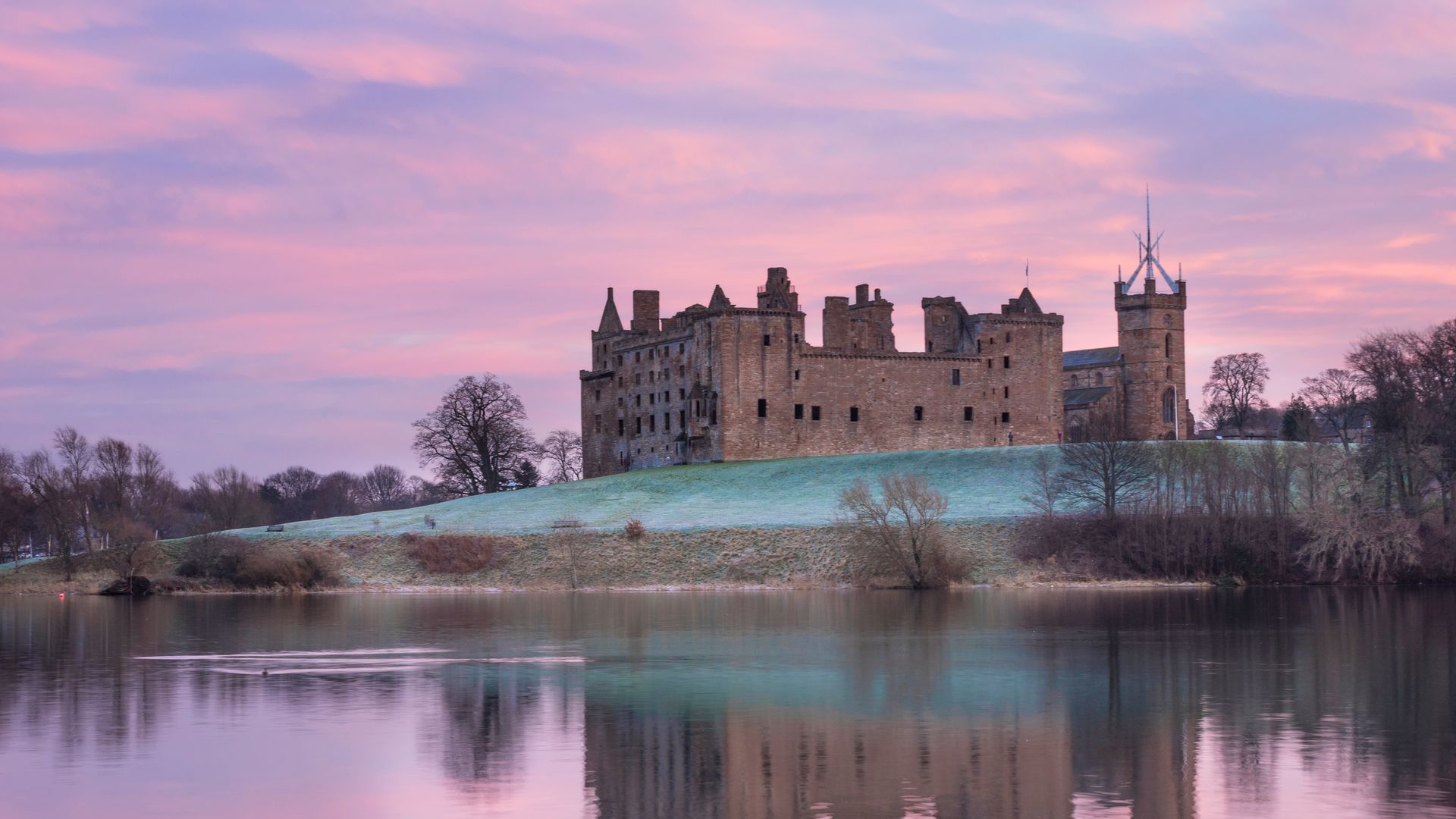 Scotland winter travel tips
If you do come visit in the winter, here are the last few tips we will leave you with:
Book early for Hogmanay. It gets really busy in Edinburgh around that time, so make sure to book your accommodation early to avoid disappointment.
Be flexible. If you're planning on road tripping around the country, make sure to allow for enough time to get to your daily destinations and always check the road conditions.
Prepare for changeable weather and road conditions. The winter sees even more changeable conditions, meaning you need to be ready for everything, from sunshine, to rain, to snow. Dress and act accordingly, always keeping your personal safety in mind.
Factor in short daylight hours. At the height of winter, Edinburgh gets less than 7 hours of daylight, meaning the north gets a bit less. Take this into consideration when sightseeing and driving.
---
---
Would you love to see Scotland's glorious wintry beauty? Get help from an Edinburgh-based expert: contact us.