One of the most remote and yet most enviable places to visit on Scotland's mainland is the majestic North Coast 500, aka the NC500. For those who would like to drive this remarkable route – or even part of it – for the experience or the sights, we're proud to present our NC500 guide.
---
Contents:
---
North Coast 500 route and its highlights
The NC500 route traces the top section of mainland Scotland in a loop. This remote part of the country is becoming more and more popular, especially with lovers of the great outdoors and road trippers.
It gets its name from the length of the loop, which stands at just over 500 miles, or 516 miles (830km) to be exact.
The route
Most people will start in Inverness, the "Capital of the Highlands", the first point of entry if you're driving from Glasgow or Edinburgh. Going anti-clockwise, the road follows the east coast up toward the most northerly point of the mainland United Kingdom.
From this point, you'll follow the north coast, then down the west coast, passing by the famous Ullapool and Torridon Hills. After Applecross, the last section of the loop takes you back to Inverness.
As it is a little less scenic, many people ditch the last part of the loop to pop over to the Isle of Skye. Others prefer the drive down the west coast, via Fort William and Glen Coe.
---
---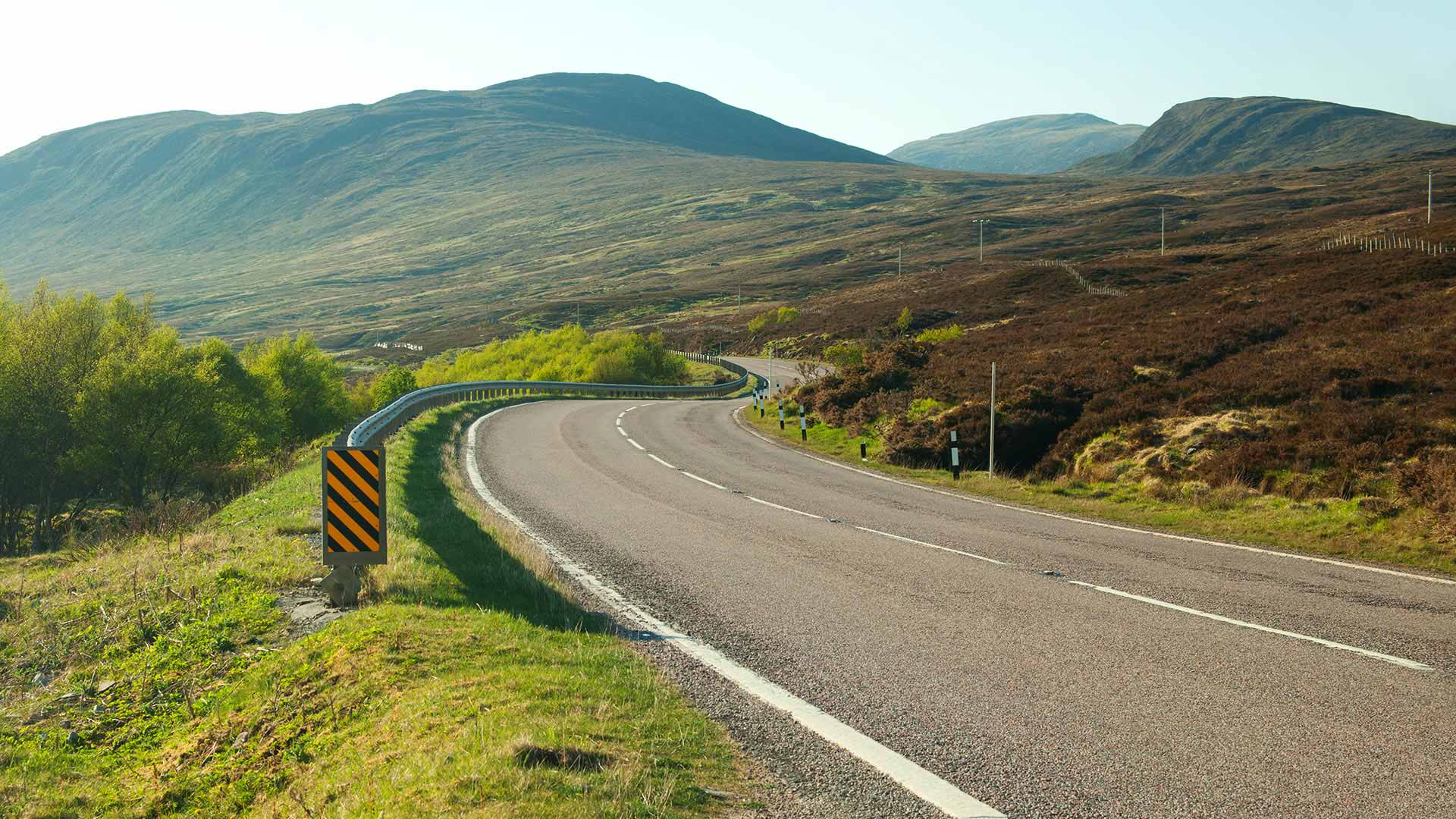 Highlights
NC500 isn't only a beautiful road with outstanding scenery, there is also plenty to see and lots to visit along the way! The drive offers amazing vistas of rocky cliffs, gold sand beaches and beautiful mountains on the rural north coast, as well as castles and historical sites.
---
---
You definitely will not be bored on this route, and the biggest challenge may be narrowing down your stops to fit your itinerary!
Below we've compiled our favourite attractions that we believe are worth a visit:
The Black Isle and Chanonry Point
Just north of Inverness, you'll find the Black Isle peninsula, famous for its beautiful fields, vibrant food and drink scene (including local craft beer!) and dolphin spotting. You read that right, dolphin spotting in Scotland!
Chanonry Point is the famous spot of the Black Isle where you'll have the chance to spot dolphins in the Moray Firth. You're most likely to spot dolphins on a rising tide, which is about 1 hour after low tide, so make sure to check the daily tide times.
Dunrobin Castle
If you love visiting grand houses and castles, you'll want to make a stop at Dunrobin Castle on your way north. It has been the home of the Earls and Dukes of Sutherland since the 13th century.
Located on the east coast, halfway up toward John o' Groats, it is the most northerly grand house in Scotland, and the largest in the Northern Highlands. The house is open to visitors between April and October, including the museum, gardens and even a daily falconry display.
Smoo Cave
One of the highlights along the north west is Smoo Cave, which we recommend highly! Smoo Cave is the largest and most dramatic sea cave in Britain.
Entrance is free, but there is a 20-minute geological cave tour that you can also book on site. It is available between April and September but is weather dependent.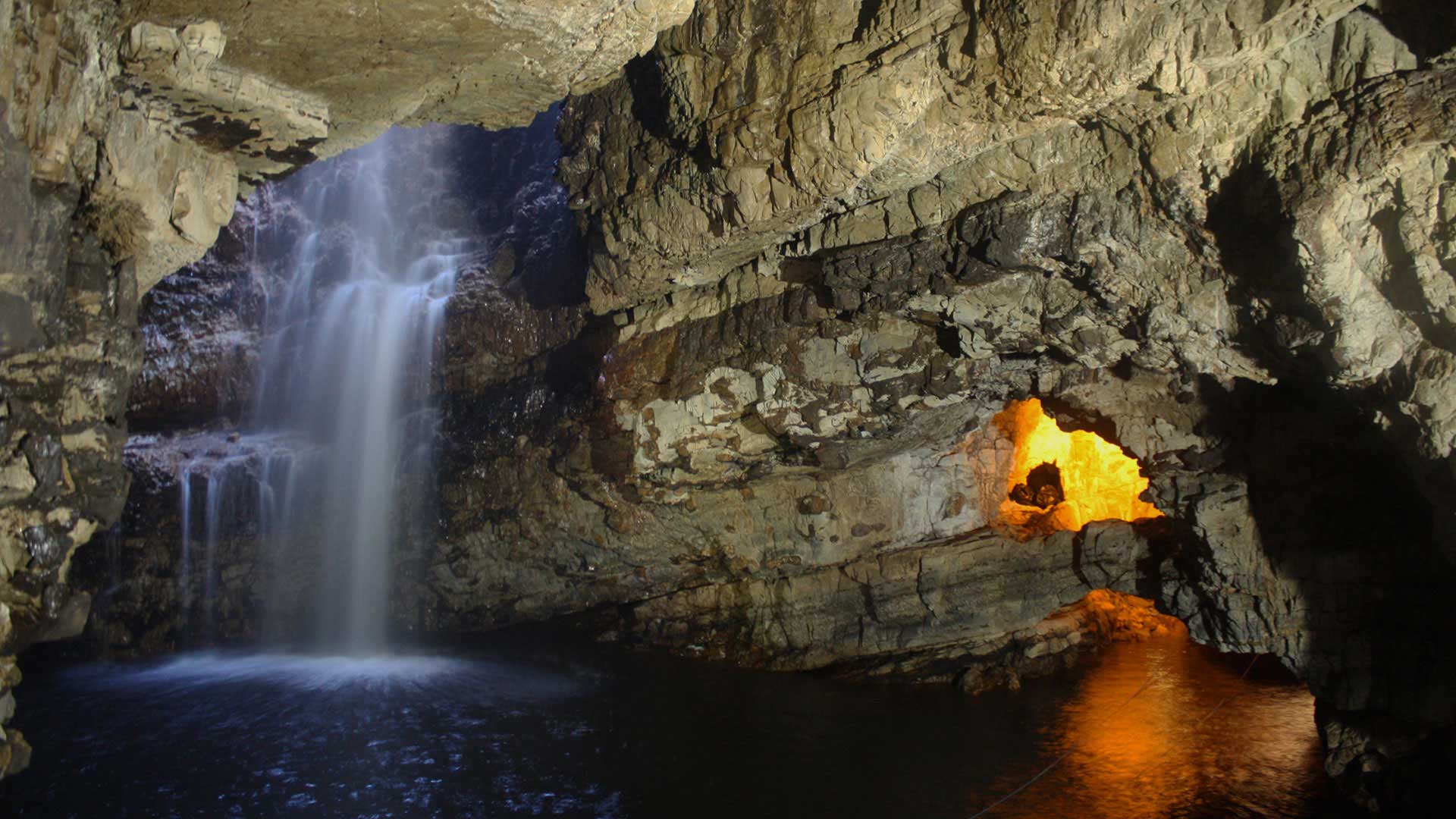 Durness Beach
If you drive across the northern part of the NC500 on a beautiful sunny day, you may want to stop at the pristine beach of Durness. You won't believe you're in Scotland, especially with the turquoise waters!
Ardvreck Castle
On the west coast, you may want to make a stop to explore the ruins of the 15th-century Ardvreck Castle. The remains of the castle lie on a promontory that juts into Loch Assynt, providing a lovely view over the surroundings.
Inverewe Garden
Following the scenic road along the west coast towards Gairloch, you will come to the town of Poolewe where you can explore the Inverewe Garden.
You can roam the 49 acres of land that boast some 2,500 exotic plants and flowers, which flourish in Northern Scotland thanks to the warm currents of the Gulf Stream. It's also a perfect location to try to spot Scotland's Big 5: red squirrels, red deer, otters, seals and golden eagles.
Ullapool
The charming and whitewashed village of Ullapool is, for many, the perfect stop on your road trip! Either as a stop for the night, or as a base for a few days of exploration in the area. This is also where you can take the ferry to Stornoway to discover the Outer Hebrides.
It offers nice dining options and an opportunity to take part in cultural events, such as music and arts, food and drink, and history.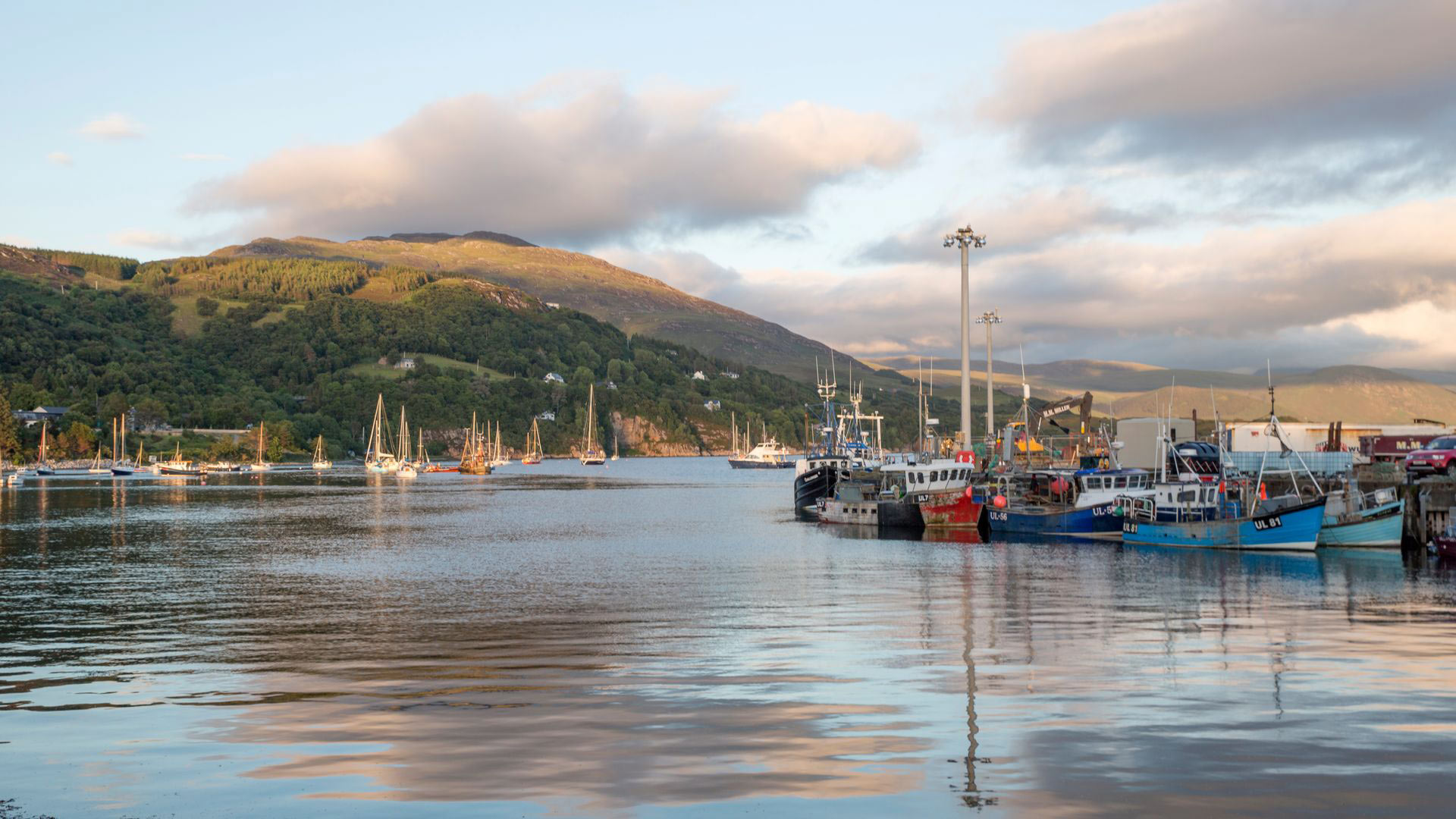 Corrieshalloch Gorge
Located on the NC500, 12 miles east of Ullapool, you'll find another one of our favourites! We recommend visiting the breathtaking mile-long, 200 feet (61 m) deep Corrieshalloch Gorge and the Falls of Measach. It is a National Nature Reserve in recognition of its spectacular natural beauty.
Here you can walk across the Victorian suspension bridge over the gorge! This is also a good location to spot wildlife, especially the many birds that soar high above.
Glenmorangie Distillery
There are a few whisky distilleries in the North Highlands, but one of the most well-known might be Glenmorangie. This means you'll be able to include some whisky tasting, a must in Scotland, on your itinerary. There are also gin distilleries and local breweries, if that's what you fancy!
We want to remind you that Scotland effectively has a zero-tolerance policy when it comes to drinking and driving. The Scottish Government website advises that "just one drink could put you over the legal limit for driving".
So make sure to be safe and assign a designated driver if you intend on visiting a distillery. Nordic Visitor self-drive packages include two authorised drivers as standard, so one of you can take the day off if a distillery visit is on the cards.
How many days should I calculate for the drive?
This one is all dependent on you! The right amount of time to take around the North Coast 500 is what you are prepared to spend on it.
For the entirety of the loop, you'll probably want to dedicate at least 5-7 days, depending on how quickly or slowly you want to drive, how much you want to accomplish each day, and what you want to visit.
A 5-day or 7-day itinerary may include separating the route in how many days you have available for the drive. If time allows, the best recommendation is to pick a few bases and visit around those areas, giving you time to really explore specific regions and get settled in a bit more.
You could also opt to only take a day or two out of your Scotland tour to drive part of the NC500, even just to experience it if you don't have the time to really dedicate to it. Whatever suits you best!
When to visit the NC500
This is another question that only you can answer! Do you have pre-booked vacation? Are you planning a trip during school holidays or for a post-wedding honeymoon? Let these details help you plan the trip of your dream!
If your schedule is flexible, we recommend the April to October period. If you're looking for the most daylight hours to take advantage of, for more attractions to be open and accessible, and more options for accommodation, this will be the best time to visit and drive the North Coast 500.
This is the period of the year when the roads are generally the most accessible, giving you one less thing to worry about! You should be able to spot more wildlife during this time, and as noted above, certain highlights (such as castles) are only open to the public during this period.
The one downside of the 'high tourist season' is the fact that it attracts the most crowds, meaning you may not be alone enjoying the sights. The busiest months on the road are between June and August, with the shoulder months still proving popular but less busy.
In the autumn months you'll be rewarded with the colourful foliage of the woodland, and you may be able to spot more deer, as this is the time of the stag rut.
The winter months may bring a different experience. You'll be able to enjoy the stunning natural vistas with less crowds and some great opportunities to take enviable photos. This is because the photographer's favourite times, gold and blue hours, happen during the day, meaning no need to wake up early to take advantage of it.
To enjoy the roads during the winter, make sure to have flexible plans. The weather may cause flooding or other problems on the road, meaning you may need to change your plans or stay in a location for a little longer.
But that's not to say that winter in Scotland can't be magical, with the wintry landscapes and warming up after a long day by a log fire and hearty local cuisine.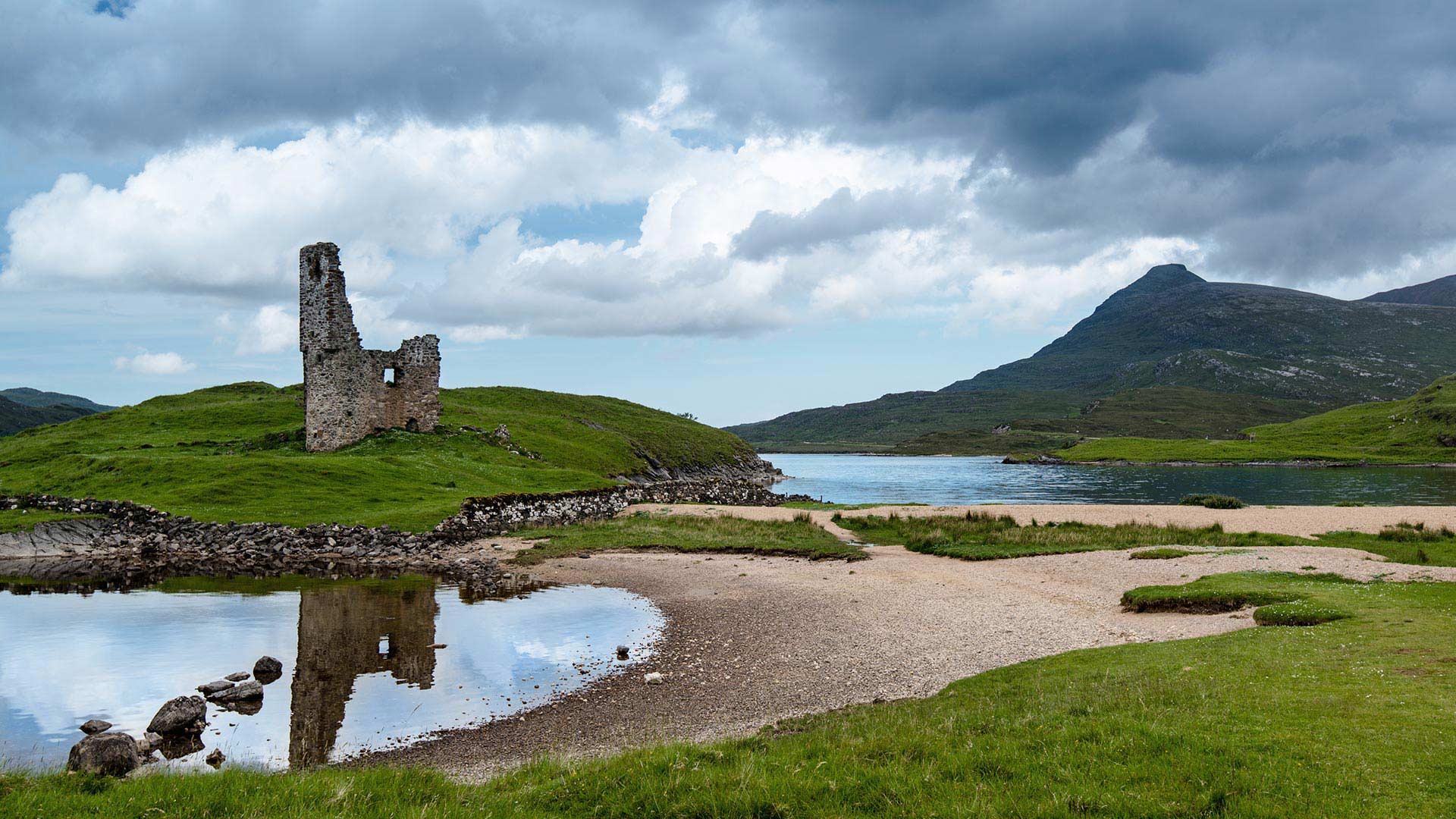 How to plan a car hire
We recommend hiring a car, as it is the best and most popular means to get around.
There are plenty of car rental options in Glasgow or in Edinburgh, depending on your arrival port to Scotland. You could also take the train to Inverness and rent a car from there if you want to reduce your driving time.
If you're not keen to research rental agencies and book a car yourself, why not have someone do it all for you?
The advantage of booking with Nordic Visitor is that we've already done the homework on the best quality car hire agencies for you. What's more, we include an extra driver at no additional cost on your rental contract, so you can share the drive with your partner or a pal. We also include a GPS navigation system (and hand-drawn map with some local tips!), as well as collision damage waiver and excess waiver to reduce liability to zero.
Just remember, you'll need a valid credit card and a valid driving license to pick up the car to start your road trip.
Where to stay
There are plenty of accommodations available along the NC500 route, especially if you visit during the summer period.
There are two ways that people plan their itinerary: by picking how many days they want to spend on the road and separating the drive into that number, and then picking accommodation in those areas, or by picking bases based on interest along the route and staying there for a few days of discovery each.
For example, many use Inverness, John o' Groats (Dunnet or Thurso), Durness, and Ullapool as bases. Or, if you find some cute (and available) accommodation along the way, in one of the many coastal and fishing villages, this may dictate where you're likely to stay. If you have plenty of time, give yourself as much time as possible in each location and let those define your itinerary for each day.
The most important thing to keep in mind is to book in advance if possible, especially if you have a special place in mind. This is because the North Coast 500 is very popular, and during the high season, accommodation can book out really early.
You could also book through a travel agent, similarly to the car rental, and let them find you the best deals. Agencies often have guaranteed beds in desirable locations, and Nordic Visitor takes this one step further by quality-checking every single accommodation we offer to guests.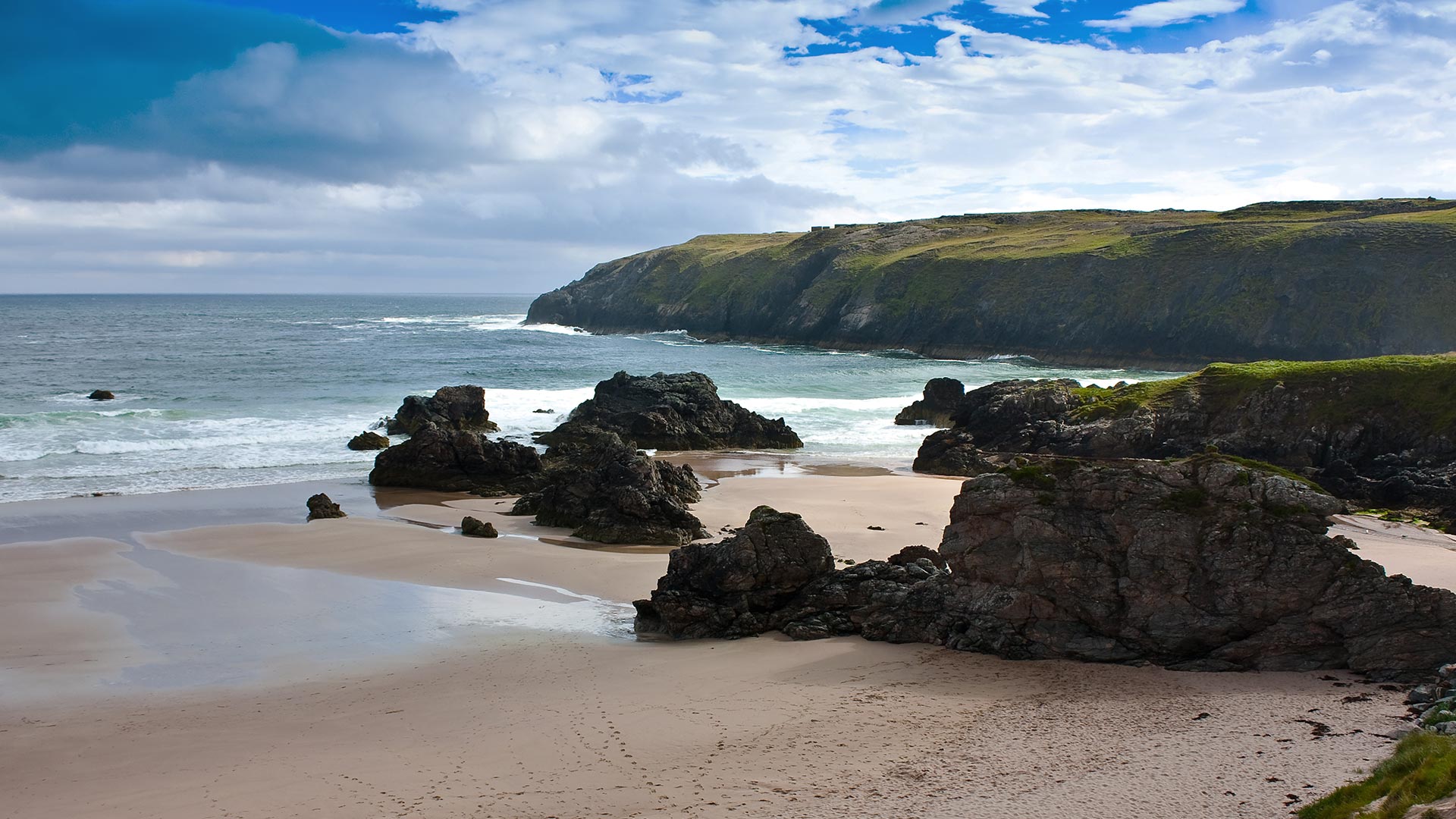 Road safety tips
While the Scottish road conditions are usually safe, in remote areas, the driving conditions may be different from what you're used to and may require more care. This is especially true on the NC500 as most of the roads are either single carriage roads or single-track roads. Read on for our top safety tips for driving the North Coast 500:
Give yourself time to stop/react.
Even if you're used to driving, the driving conditions on the NC500 can be difficult and full of unexpected hazards. It's best to not hurry through your drive and always be really careful!
Make sure to slow down when approaching sharp bends and blind summits, and look out for hidden dips and concealed entrances. Take extra care on single-track roads!
We will briefly mention speed limits later, but we recommend driving at a speed that will allow you to stop if faced with an oncoming car or animal.
If you're driving the North Coast 500 in the winter, or even in summer when it's very rainy, make sure to be extra cautious. Wet and slippery surfaces could make it harder to stop swiftly. If the road is flooded, it is best to avoid this section of the road, or drive slowly to pass it.
Watch the speed limit
Whenever you see the national speed limit sign on single carriage roads, it means the speed limit is 60 miles per hour. But this doesn't mean you must drive that fast – be careful and ease down to a safe speed, especially when it fits the driving conditions.
Use passing places wisely
First and foremost, we urge you to use passing places and parking areas appropriately! Please do not stop in the middle of the road to take photos, and do not park on the road or in passing places to go for a hike or to go take a photos. Single-track roads like Bealach na Bà through Applecross can be very tough to drive and this could cause accidents.
If you come upon another car while using a single-track road, pull up in a passing place to let them pass, or they may do so to let you pass. You may have to reverse into a passing place if it's the closest one.
If you are driving slowly because you are being careful or want to enjoy the view, make sure to stop in a passing place if a queue accumulates behind you. You should allow people to overtake you especially if you're travelling a bit slower. This is especially true for emergency vehicles!
On the other hand, please make sure not to overtake a vehicle if it's not absolutely necessary. These roads are tough to drive and it's best to be patient and polite.
Be careful of animals
While animals are often kept in fields throughout Scotland, many sections in the remote North Highlands are unfenced and animals therefore roam free. For this reason, make sure to keep an eye out for cows, sheep, deer and other animals that may be roaming on or near the road, or deciding to cross the road unexpectedly.
Suggested packing list
Our best recommendation, when it comes to knowing what to pack, is to be prepared! Even if you come in summer or in the deep of winter, you may experience all seasons during your stay, or even a single day. This also applies to the NC500, where you're even less likely to have shops. It's even more important to be ready for any situation.
Preferences for packing clothes may vary from person to person, but here is what we recommend:
In the Northern Highlands, it can be a bit chilly even in the summer, so make sure to bring plenty of layers, which you can take off or put on depending on the weather of the day.
A wind and waterproof layer for that typical Scottish weather.
Comfortable hiking or outdoors boots if you want to go hiking, walk in fields, or to keep warm and dry during a storm.
An umbrella may be useful, but mind those strong coastal winds!
This region of Scotland is known for its volume of midges (small biting bugs) so if you're visiting during the summer, we recommend investing in some midge repellent.
And don't forget to pack your cameras to capture those wonderful moments!
To enjoy your drive along the NC500, we also recommend making sure to keep a map handy! As the phone reception is shaky at best in this area, you cannot and should not rely on it for GPS navigation.
As this is a remote area of Scotland with limited services, we also recommend topping up your car with petrol when you come across a petrol station.
Learn more about driving around Scotland in style: check our self-driving tours that come with everything you need for a great North Coast 500 trip.