Are you planning on coming to Scotland in summer? We're here to help you plan ahead and get excited about it! Find out what to do, where to go and what to expect from the weather. And you can get some top tips from our local travel consultants.
Whether you're already planning your upcoming trip to Scotland or you're looking for inspiration to convince you to come to this remarkable country, we have you covered with this guide to Scottish summer.
---
---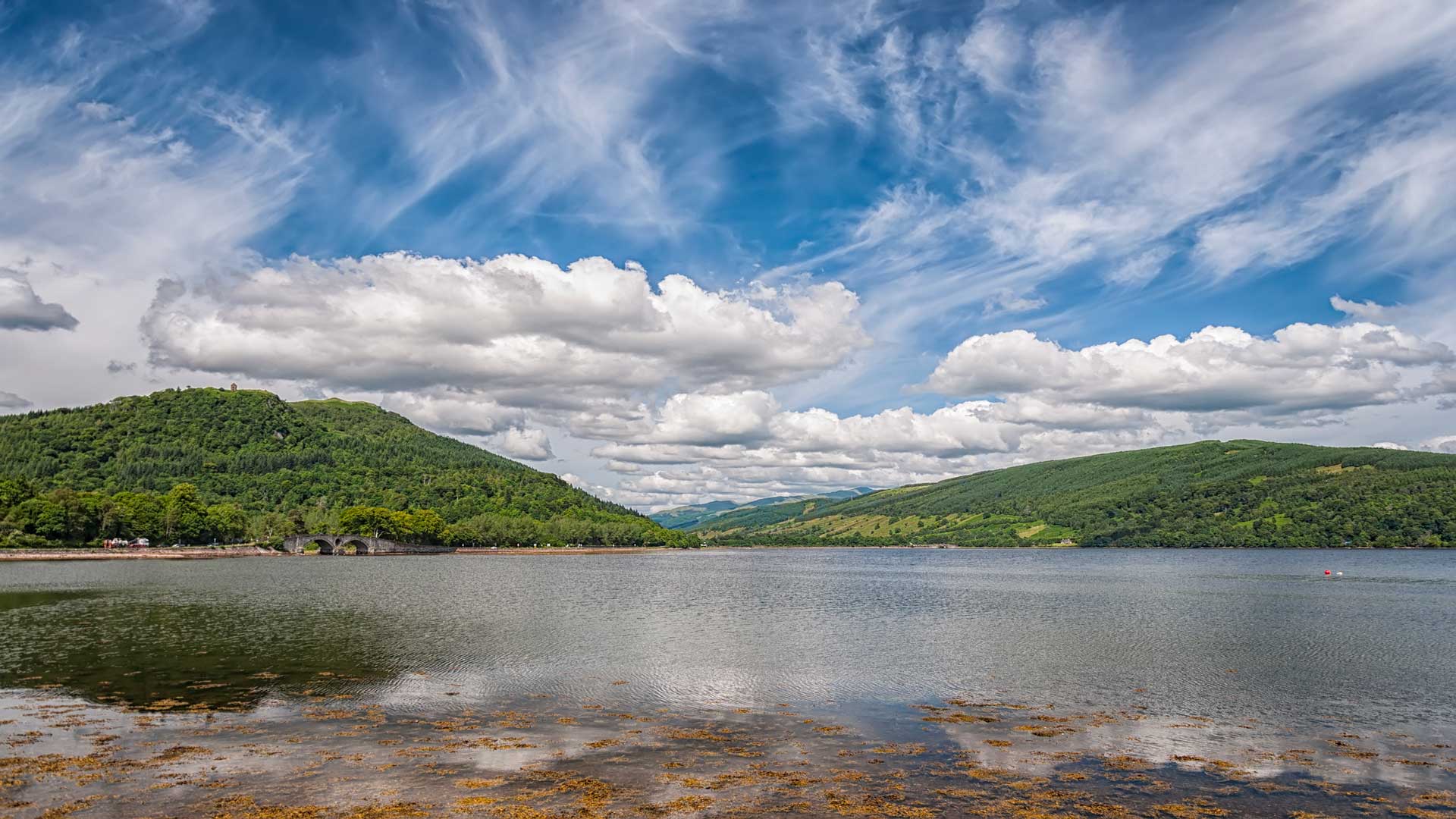 Scotland is a beautiful country all year long, but the summer is an especially exciting time, with loads to do and see. So, let's get down to details.
When is summer in Scotland?
As Scotland is in the northern hemisphere, summer is between the months of June and August. April, May and September form the 'shoulder season', when the weather remains pleasantly warm.
---
---
Summer climate & weather in Scotland
The rumours that Scotland is wet, windy and cold all year long aren't completely unfounded. But in the summer, it will indeed be much warmer, with average temperatures being around 15° Celsius (59°F). There are also highs in the low to mid 20s°C (68°F) throughout the summer months.
While it is at the height of summer that Scotland gets its highest temperatures, the shoulder season gets some of the best weather. On average, May is the month with the most sunshine hours and April is one of the months with the least precipitation.
The wonderful thing about Scotland's weather is that it also rarely gets too warm in the summer to stop you from enjoying all the outdoors activities and sightseeing you may want to do.
Summer packing list for Scotland
Are you wondering what to pack for a trip during summertime in Scotland? After discussing the weather and climate of Scotland, we need to point out that the national weather is extremely changeable.
As it is not unusual to experience more than one season in one day, we highly recommend being ready for everything. Even in the summer, you should bring:
A warm sweater or fleece
A waterproof jacket
Good walking shoes or boots (especially if you intend to hike and go on nature walks).
Light scarf or thin sweater
You may find an umbrella to be handy if it's not too windy, but you can also buy these once you've arrived if it's easier than packing one for your flight. Even if you arrive during a particularly warm and sunny summer spell, you may want to still have a light scarf or sweater handy as the nights can still be chilly, especially in the Highlands.
Must-see Scottish summer attractions
Scotland is beautiful all year long, of course! But we want to share our best and favourites places to go as a visitor in the summer.
ISLE OF SKYE
The top item on more people's list is always the iconic Isle of Skye, with its rugged mountains and peaks, lunar landscapes, waterfalls and beautiful coastlines. During the height of summer, Skye is hugely popular but still a pleasure to experience.
---
---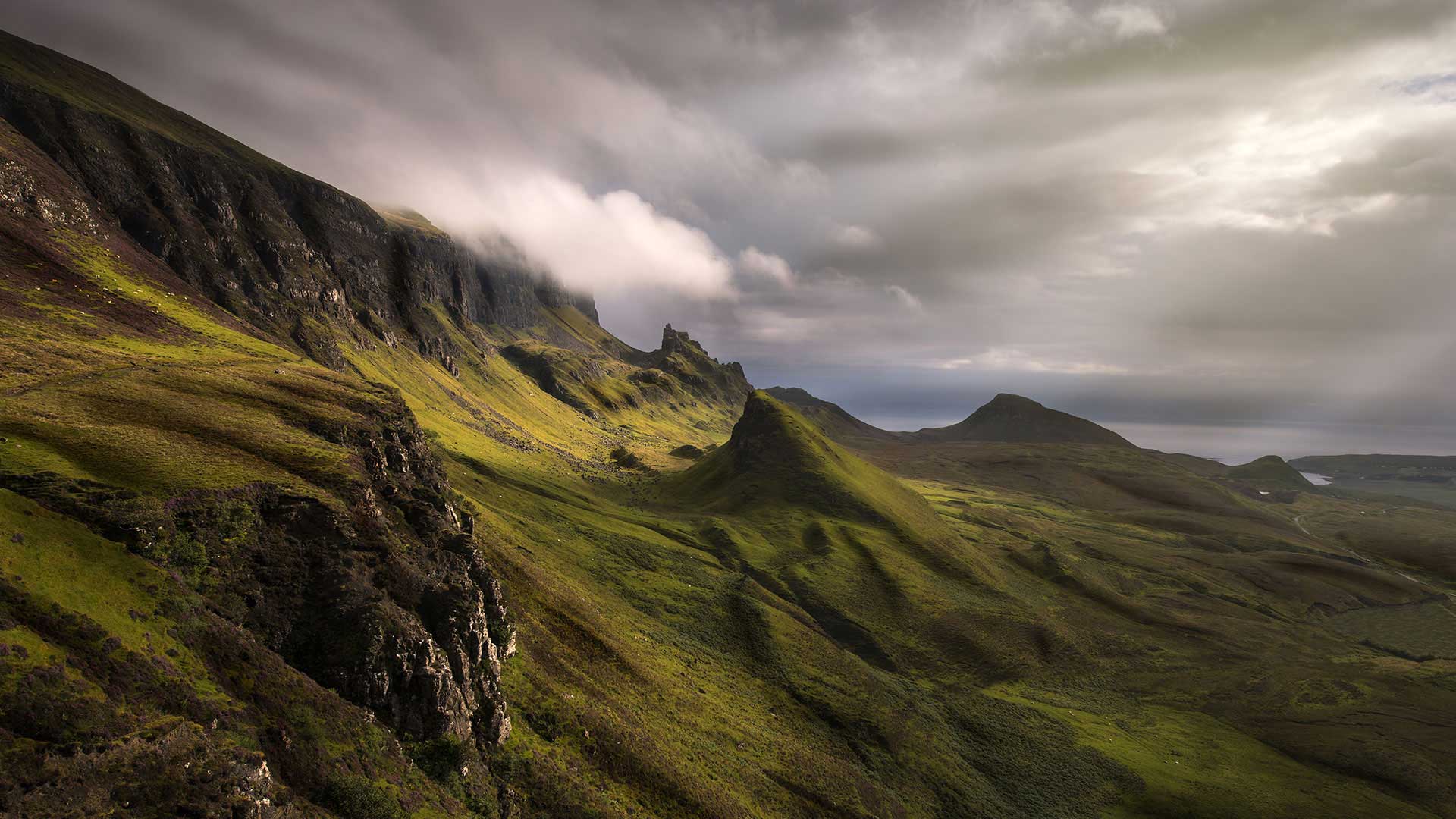 FORT WILLIAM
If you love hiking, you may want to head west to Fort William in Lochaber. This Highland town is known as the 'Outdoor Capital of the UK.'
Fort William is nestled at the bottom of Scotland's (and the UK's) highest mountain, Ben Nevis. Here you can take advantage of all kinds of outdoor activities, such as hiking, cycling, mountain biking, kayaking, and much more.
---
---
HERMITAGE
For those who have less time and enjoy nature walks, you may enjoy the Perthshire area. Try a walk around the Hermitage, a site near the town of Dunkeld that's protected by the National Trust for Scotland. The area was originally designed as a pleasure ground for the Dukes of Atholl, back in the 18th century, and boasts giant Douglas fir trees big enough to rival the largest in the UK.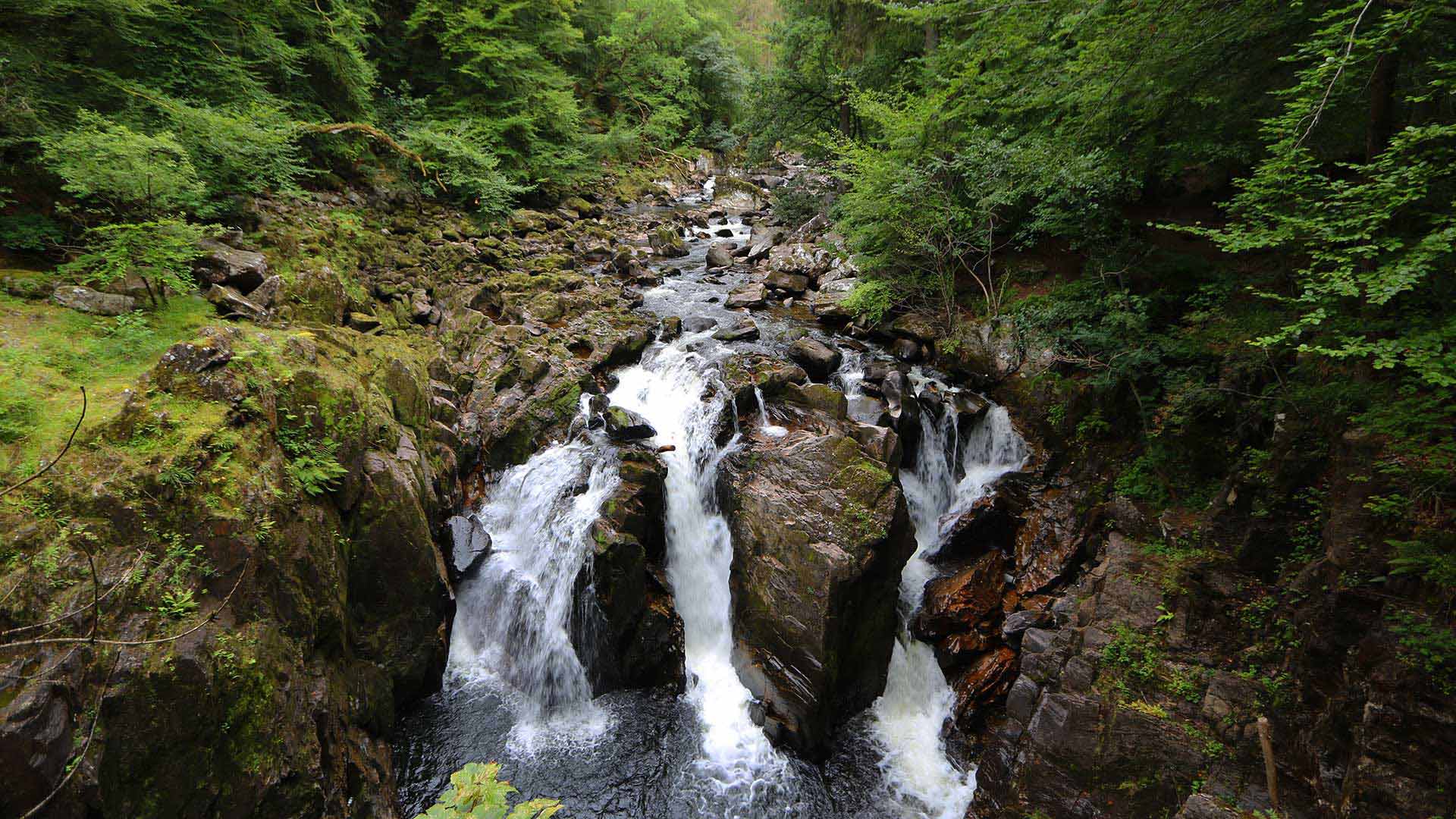 LOCH NESS
A pleasant stop in the summer is another iconic Scottish site, Loch Ness. This beautiful lake is known worldwide for being the home of Nessie, the Loch Ness monster. It is a beautiful natural site that you can visit, by walking on its shores or by boat. You could also visit the ruins of Urquhart Castle on its banks.
---
---
STIRLING
Centrally located between Glasgow and Edinburgh, you can also visit the Stirlingshire region for a good mix between the Lowlands and Highlands. It is home to Stirling Castle, one of the most visited historic sites in Scotland, and nearby Doune Castle, which you may have seen featured in many films and television series.
EDINBURGH
Edinburgh, with its international airport, is often the gateway to Scotland. Whether you come for a city break or pass through at the beginning or end of your trip, it is worth the visit.
In summer local legend says the city doubles in size as performers and fun-seekers flock to the many festivals held in the capital. Whether that factoid is true or not, there are definitely well over 3,000 shows across more than 300 venues. So, yes, lots to see.
---
Warm yourself up, no matter the weather, with our summertime whisky tours
---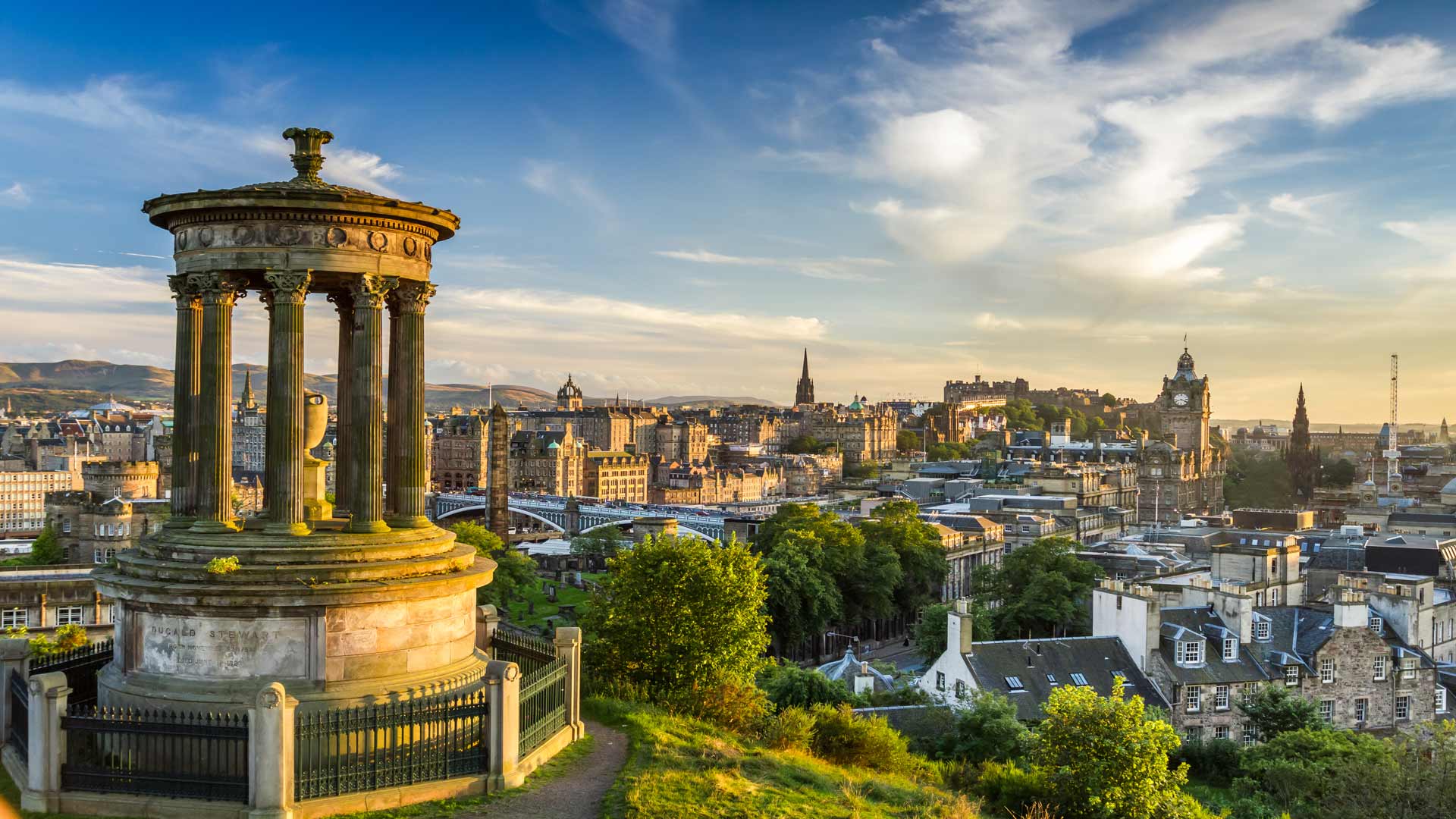 Summer festivals & events in Scotland
The beauty of Scotland lies in its natural sights, but there are also many Scottish festivals and events to attend throughout the summer. With a little bit of something for everyone, events are mostly based around Edinburgh and Glasgow with some more traditional festivals in the Highlands and islands.
Whatever you love, Scotland probably has you covered. If you like things traditional, try the folk music, bagpipes, books and whisky. Otherwise you can see modern art, cutting edge comedy and the latest films. And there's always the chance to witness the largest Highland Games in the world. Here's a quick at-a-glance list of festivals and events in Scotland:
| FESTIVAL NAME | LOCATION | MONTH |
| --- | --- | --- |
| TradFest | Edinburgh | April-May |
| Spirit of Speyside Whisky Festival | Speyside | May |
| Royal Highland Show | Edinburgh | June |
| Edinburgh International Film Festival | Edinburgh | June |
| Hebridean Celtic Festival | Stornoway, Isle of Lewis | July |
| Edinburgh International Festival | Edinburgh | August |
| Edinburgh Festival Fringe | Edinburgh | August |
| The Royal Edinburgh Military Tattoo | Edinburgh | August |
| Edinburgh International Book Festival | Edinburgh | August |
| World Pipe Band Championships | Glasgow | August |
| Cowal Highland Gathering | Dunoon, Argyll | August |
---
---
Scotland summer travel tips
We have a few extra travel tips from our local experts if you want to travel to Scotland in the summer:
Consider off-peak months: Scottish summertime can be busy, with Edinburgh hosting many festivals throughout August, so you may want to take advantage of the shoulder season if you want to have more of a relaxed experience. Visit in April, May or September for a quieter time, more accommodation availability and less traffic on the roads.
Book early: You may also want to book early if you wish to visit the Highlands and islands. Most accommodation options are charming family run locations in remote rural regions, so berths fill up fast over the summer.
Factor in long daylight hours: At the height of summer, the UK follows British Summer Time, which is one hour ahead of Greenwich Mean Time (or GMT). This means the sun rises very early (3-4am near solstice) and sets late (11pm at the latest).
If light affects your sleep, we'd recommend an eye mask to go to bed. On the beautiful flipside, you get to take advantage of that extra daylight to enjoy more sightseeing and activities!
Prepare for 'midgies': In rural areas of Highlands and Scottish Isles, you may encounter small flying, biting bugs called 'midges' (or 'midgies' in traditional Scots). Their bites are an itchy annoyance, and you can outwalk swarms of the insects, but it's worth being prepared.
Midges are at their busiest during twilight hours from mid-June to mid-August. You can sometimes avoid bites by wearing Avon Skin-So-Soft body oil spray, allegedly the repellent of choice for Britain's Royal Marines.
---
---
These are only some of the things you may enjoy in Scotland in summertime. Don't forget about island hopping to Orkney and the Outer Hebrides, visiting castles and gardens, or even taking a tour of the famous whisky distilleries.
If these inspired you to start planning your trip to Scotland in summer, get in touch. You can reach our travel consultants via live chat, toll-free numbers or contact form. Our travel experts are based in Edinburgh and will use their local knowledge to build the best tour of Scotland for you.