Iceland is known for being an extraordinary place. It's a land where you can admire nature at its most extreme, where glaciers and volcanoes meet, where thundering waterfalls and steaming hot springs are never far away.
On top of this, you can see northern lights in Iceland. Aurora watching may be high on your travel wish list, and if so you might want to maximise every possible opportunity to catch sight of them.
In that case, consider staying at one of Iceland's northern lights hotels. That way you'd have more chances to spot the magical aurora during your time in the Land of Fire and Ice.
So look no further. These are the best hotels in Iceland to see northern lights.
---
---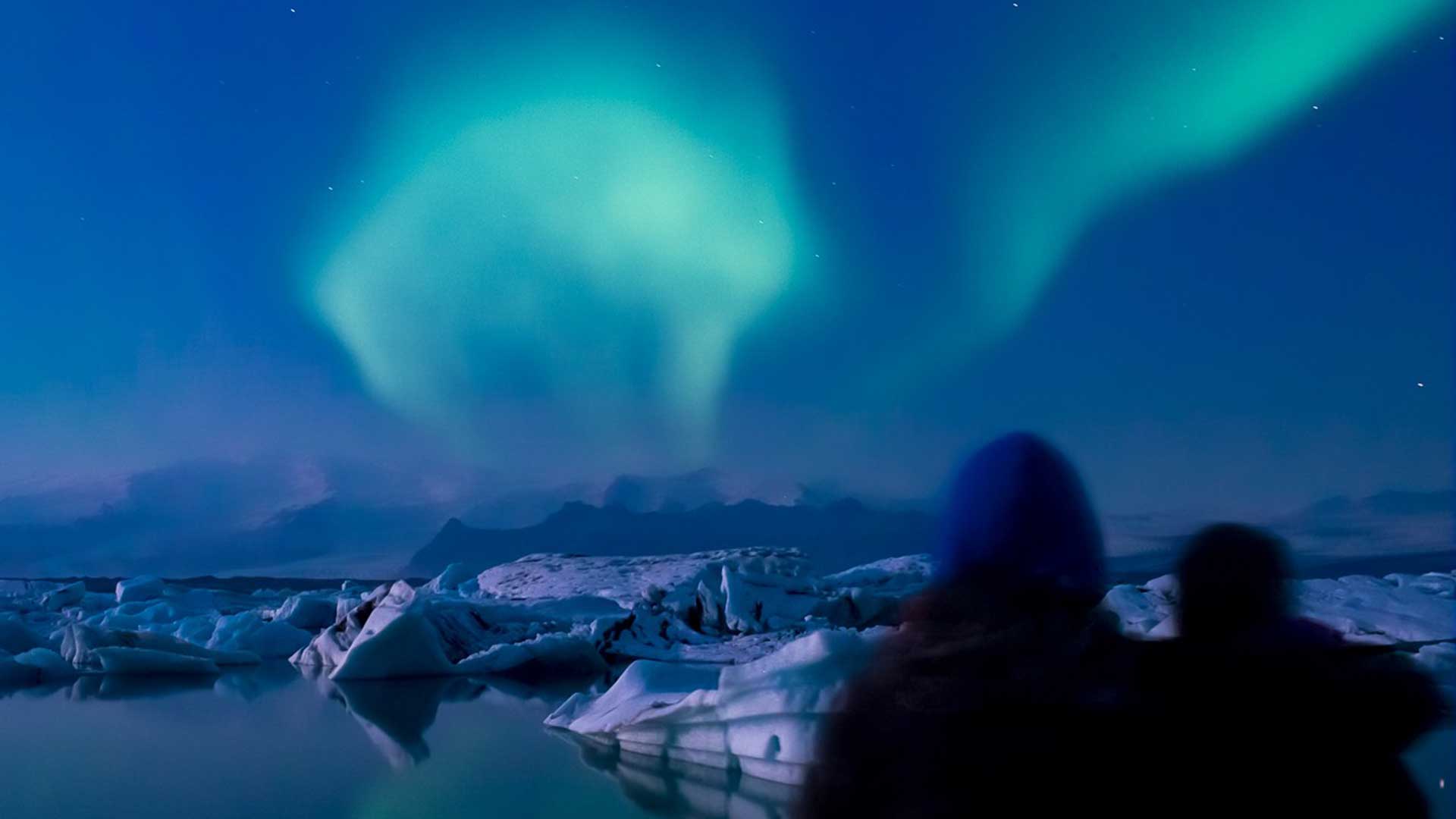 What you need to know about the northern lights
The northern lights – or aurora borealis – occur when charged particles from the sun collide with the Earth's atmosphere. This results in mesmerising hues of purple, green or red appearing in the skies above you. To see them most vividly, you need a dark, clear night sky.
During your trip, check the aurora forecast on the Icelandic MET Office website. This way you can find out if there is likely to be strong solar activity and clear weather each evening.
To increase your chances of witnessing the northern lights, we suggest you visit Iceland in winter, between October and April. This is when the night skies are darkest. It is possible to see the aurora borealis in September too, even August if you are super lucky, but it is much more common in the winter.
We also recommend you head away from towns, as built-up areas emit light pollution which makes it difficult to spot the aurora.
The following hotels in Iceland are all well placed in the countryside and enjoy dark night skies in winter. Which one would you stay at?
1. Hotel Rangá
If watching the northern lights from an outdoor hut tub sounds like your idea of heaven, then you'll want to stay at Hotel Rangá.
Positioned between Hella and Hvolsvöllur in South Iceland, just a two-hour drive from Reykjavík, Hotel Rangá overlooks a sweeping river in a remote location. This means you get more chances of catching the aurora borealis as you'll be far away from any light pollution.
The wide, open skies all around provide you with uninterrupted views of this natural light show. Hotel Rangá also offers wake-up calls, so if the aurora borealis emerge in the middle of the night, the staff will let you know. They'll also give you blankets to keep you warm and cosy.
And you don't have to sit in one of the three hot tubs to enjoy the view. Take a seat on one of the outdoor benches or step out onto your balcony.
As well as admiring the northern lights, you could enjoy a spot of stargazing at Rangá. The hotel has its very own observatory complete with high-quality telescopes, helping you get a closer look at Jupiter, Saturn and Mars. So if the aurora are a no-show, you'll still be able to enjoy the magical night skies.
---
---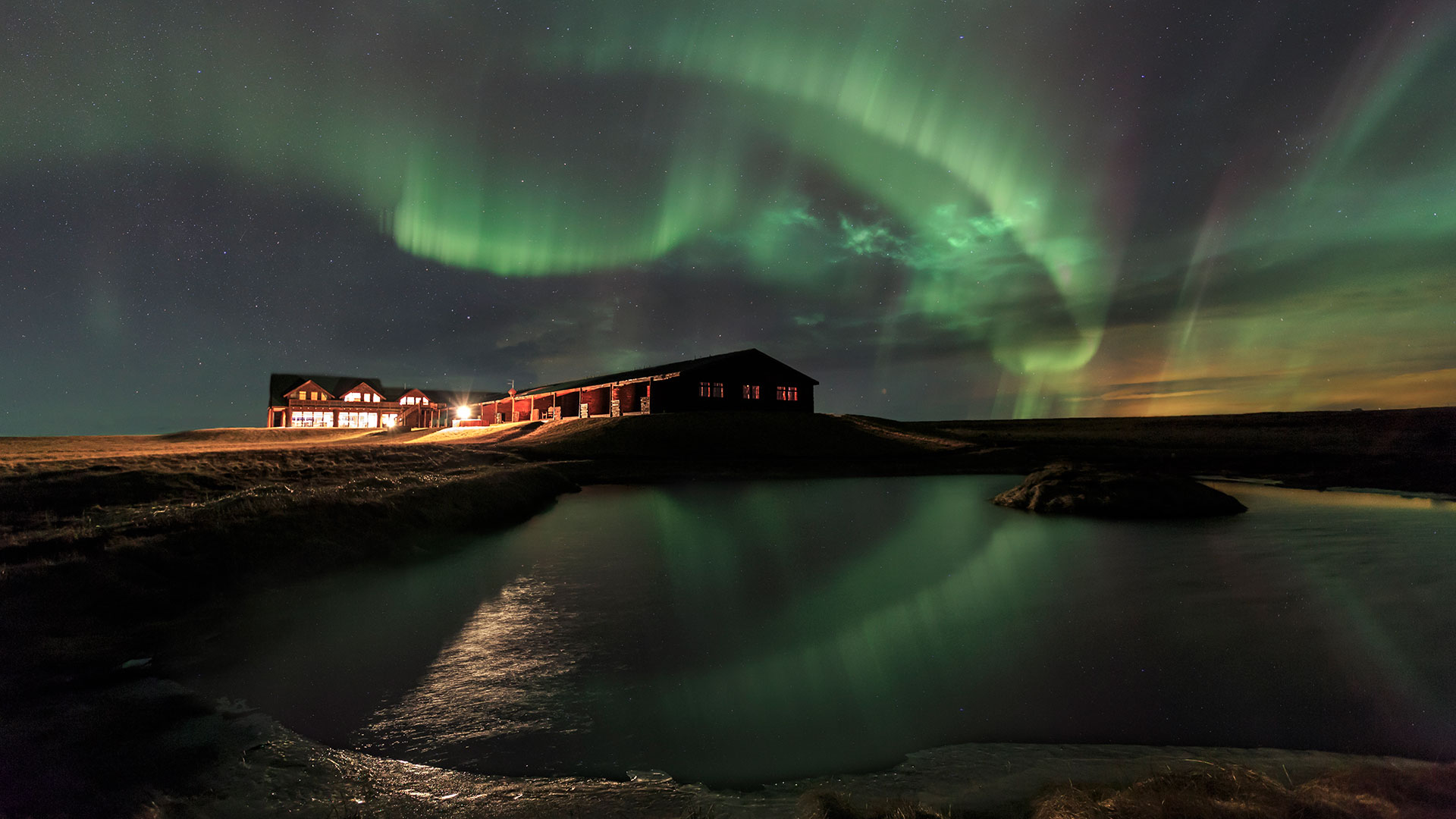 2. Magma Hotel
Venture further along the Ring Road in South Iceland and you'll reach Magma Hotel, situated near the little village of Kirkjubæjarklaustur. Magma is a sleek, intimate hotel with friendly staff to welcome you. There are just 12 rooms here so it all feels very private.
Perhaps best of all is the setting. Magma overlooks a lake and lava fields that stretch into the distance towards Vatnajökull glacier. As you are surrounded by nature here, you can look up into the dark night sky all around you.
What's more, your room comes with a furnished patio so you can bundle up and sit outside to watch the dancing aurora. Don't hesitate to enjoy a delicious Icelandic meal in the inviting restaurant too!
When you stay at Magma Hotel during northern lights season – October to April – you are well placed to enjoy some top winter activities. You might like to go ice caving or glacier hiking at Vatnajökull, or watch icebergs calving at the Jökulsárlón glacier lagoon.
---
---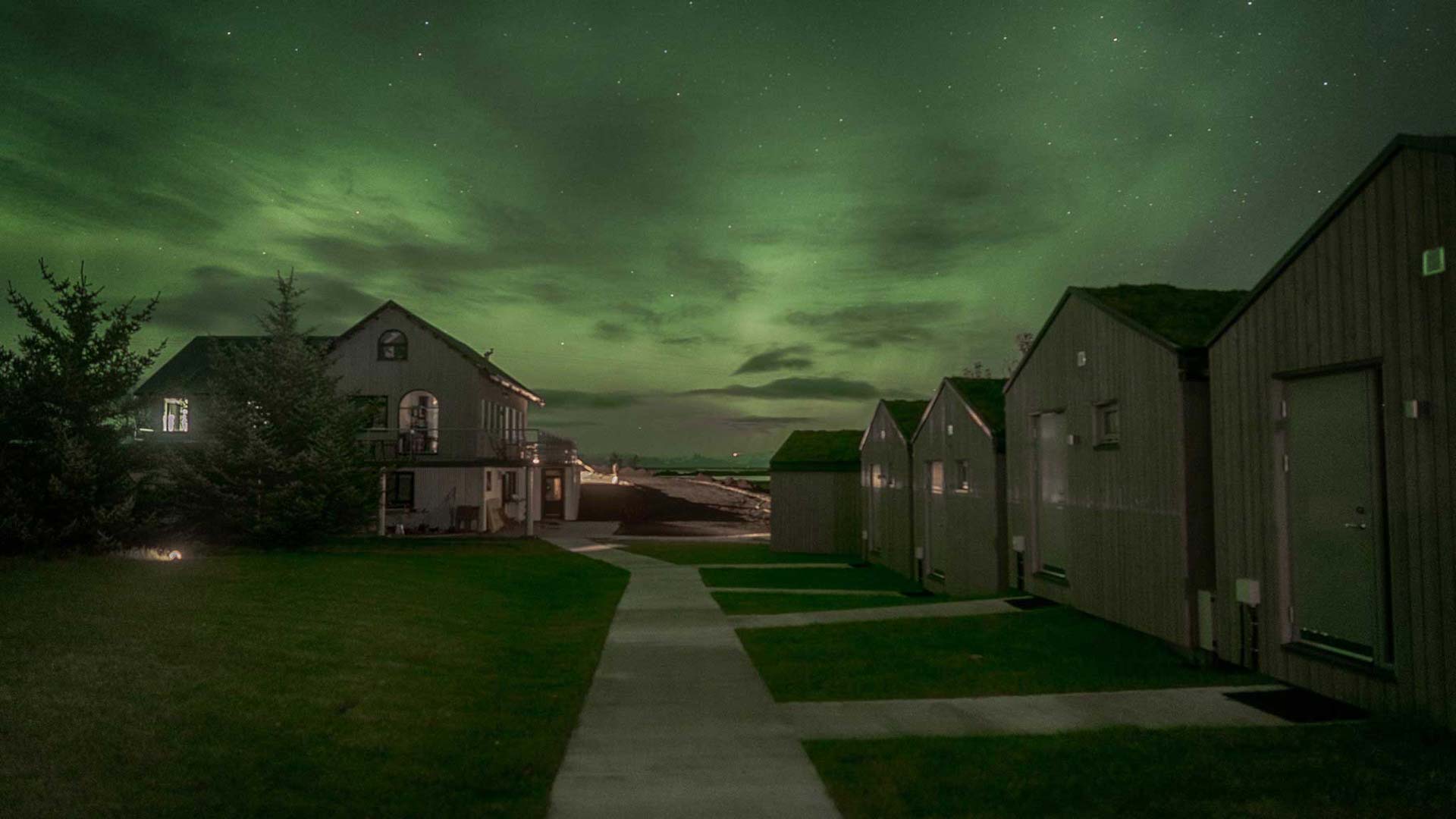 3. Fosshótel Mývatn
If you'd like to explore the highlights of northeastern Iceland in winter, consider checking in to Fosshótel Mývatn. Studded near Lake Mývatn in North Iceland, this property is far from any light pollution so you have an excellent opportunity to witness the aurora borealis from here.
When you dine at Fosshótel's contemporary restaurant, you can admire the view over Lake Mývatn through floor-to-ceiling windows. The sauna and many of the rooms also overlook the lake. Plus there's an outdoor terrace where you can look up to see the northern lights on a clear night.
As well as aurora hunting, when you're staying at Fosshótel Mývatn you can enjoy other fun activities too. Between December and March you could go snowmobiling over the frozen lake – a thrilling way to take in the mountain views.
Or explore nearby waterfalls like the stunning Dettifoss and Goðafoss. In winter, these mighty falls are often drizzled in snow and ice. When you're done exploring and are ready to relax, head to the Mývatn Nature Baths for a luxurious swim in the warm geothermal waters.
---
---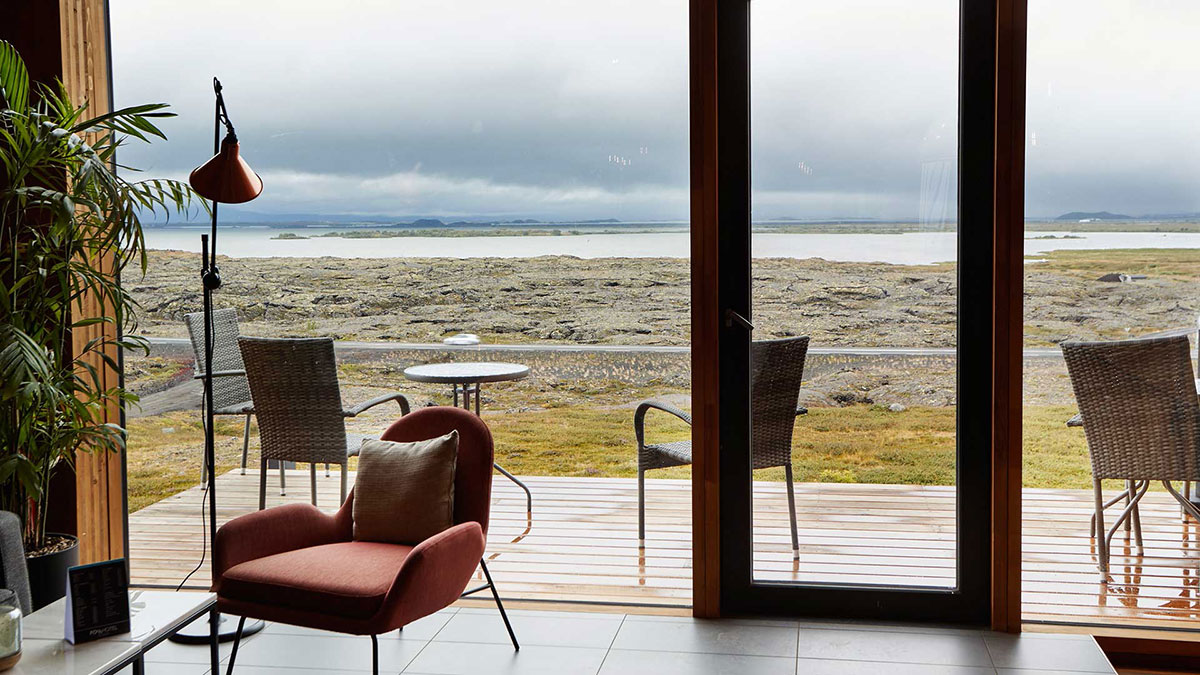 4. Hofsstaðir Country Hotel
Another gem in North Iceland is the Hofsstaðir Country Hotel, perched on a hillside in Skagafjörður. From here you can gaze out over the beautiful fjord and view the northern lights dancing in the skies above, should they appear.
At Hofsstaðir Country Hotel you are in the middle of remote countryside, so there will be plenty of darkness at night to see the aurora in their full glory. Additionally, certain rooms have a veranda out the front and back, so you can find the best view and still enjoy your privacy.
Between aurora spotting from your patio, be sure to enjoy a meal at the guesthouse restaurant. Here the wraparound windows provide you with an unobstructed view of the stunning surroundings while you tuck into a continental breakfast or hearty Icelandic dinner.
During your time in this corner of Iceland, you could take a dip in the twin hot springs of Grettislaug ("Grettir's Pool") and Jarlslaug ("Earl's Pool"). Or learn about the country's maritime history at the Herring Era Museum in Siglufjörður and visit the folk museum at Glaumbær.
---
---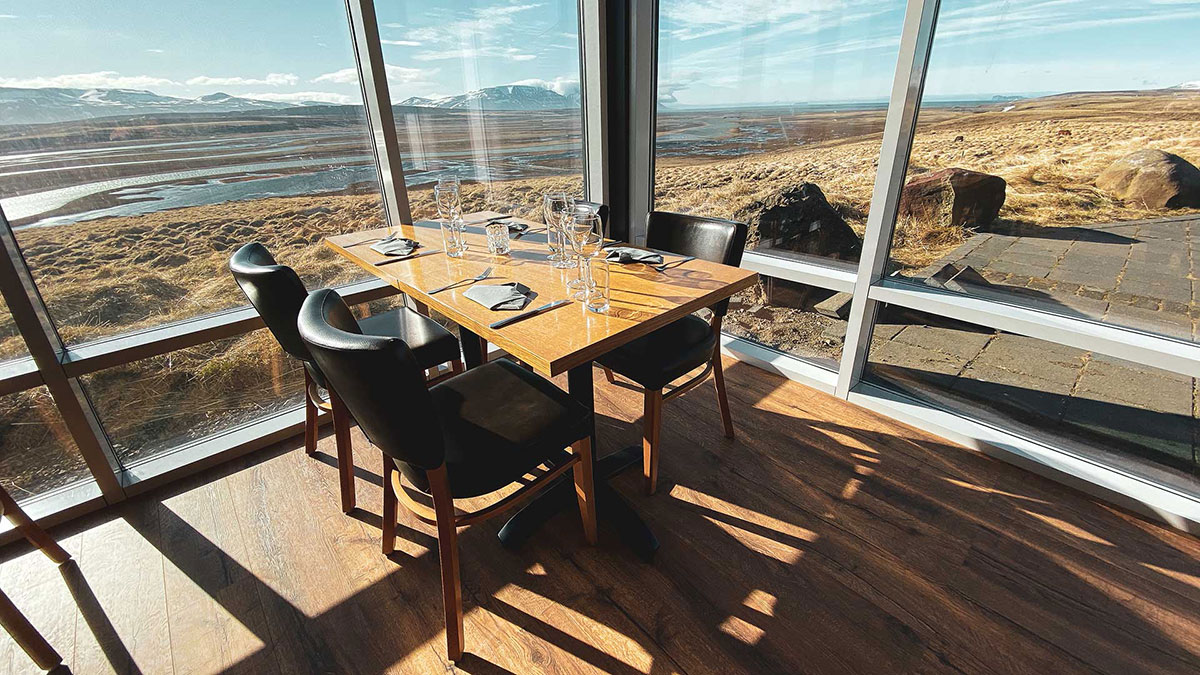 5. Hotel Húsafell
Escape to the pristine wilderness of West Iceland and stay at the blissfully remote, self-sustainable Hotel Húsafell, two hours from Reykjavík. With the Langjökull glacier, waterfalls, ice caves, lava caves, mountains and lava fields within easy reach, you'll find yourself in an Icelandic wonderland here.
This secluded setting blesses Húsafell with low light pollution, so you have fantastic opportunities to spot the aurora borealis illuminating dark winter skies. You can also request a northern lights wake-up call should the aurora show themselves while you are asleep.
The great thing about staying at Hotel Húsafell is that you have so many fun things to do. As well as admiring the northern lights at night, by day you could hike, bike, play golf, ride a snowmobile, or go caving. You can also venture Into The Glacier to walk through ice tunnels inside Langjökull.
Or take time out to relax at the Húsafell Canyon Baths, swim in the hotel's geothermal pool and dine at the elegant restaurant. You might want to extend your stay a little longer to fit it all in!
---
---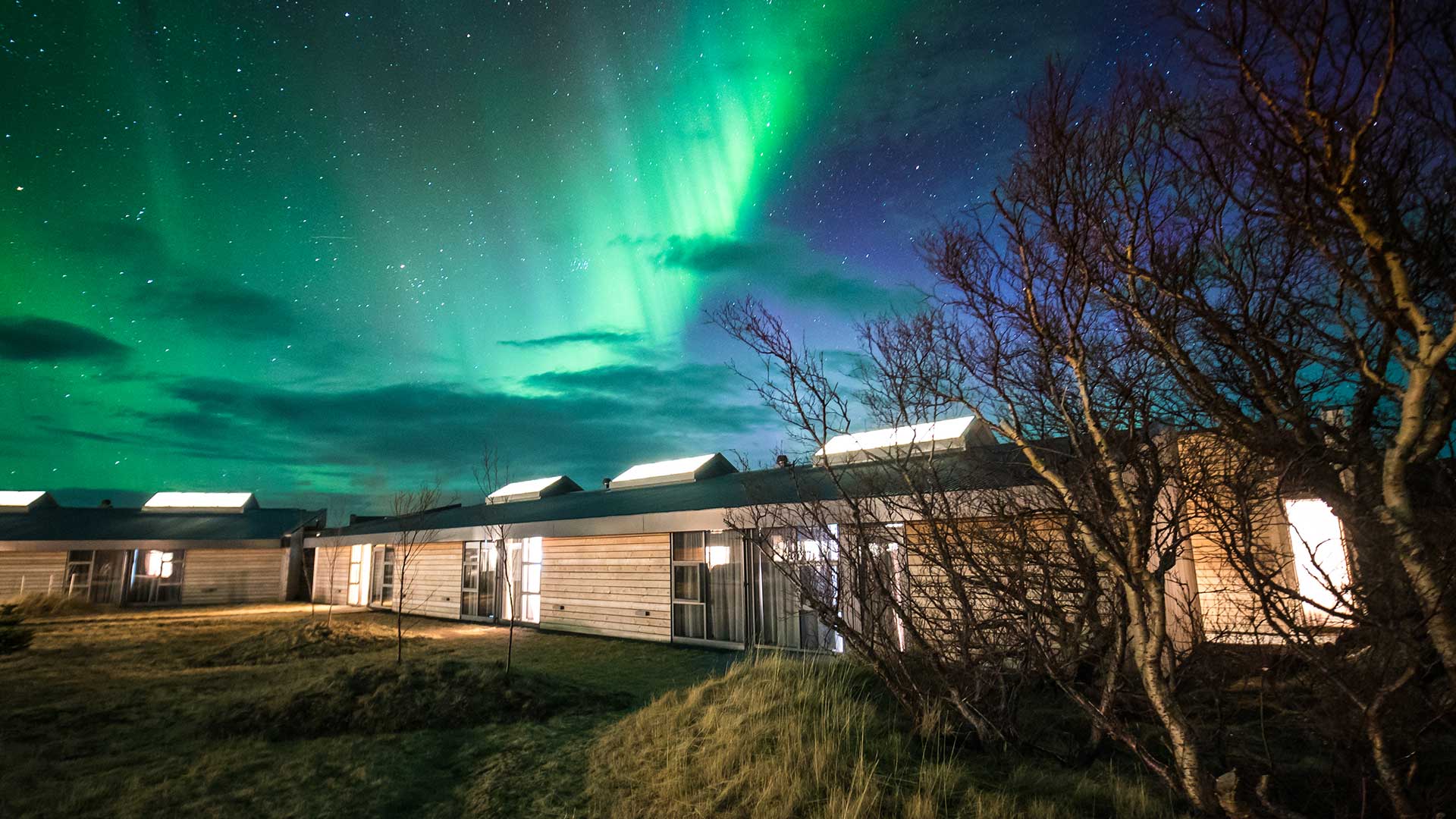 If you'd like to stay at one – or more – of Iceland's northern lights hotels, our local travel experts can make it happen. They are based in Reykjavík and know all the insider tips to make your stay in Iceland unforgettable.
Get in touch to speak to our experts about your ideal trip or explore our Iceland northern lights tours online.