Imagine watching celestial lights dance across the sky in vivid shades of green, red and pink. And all the while you're snug under a blanket!
If you've dreamed of a moment similar to this, you're not alone. Thousands of people visit the Land of Fire and Ice every year in the hope of seeing the northern lights in Iceland. It's probably on more travel bucket lists than anything else.
Well, you too can see this legendary light show with a bit of luck, patience, and careful planning. To help you boost your chances, we've put together this guide. It details the best time to see the northern lights in Iceland, the top recommended places to watch them from, and some expert travel advice.
So get ready to find the answers to popular questions about auroras, and even learn tips on photographing this (literally) heavenly display.
---
---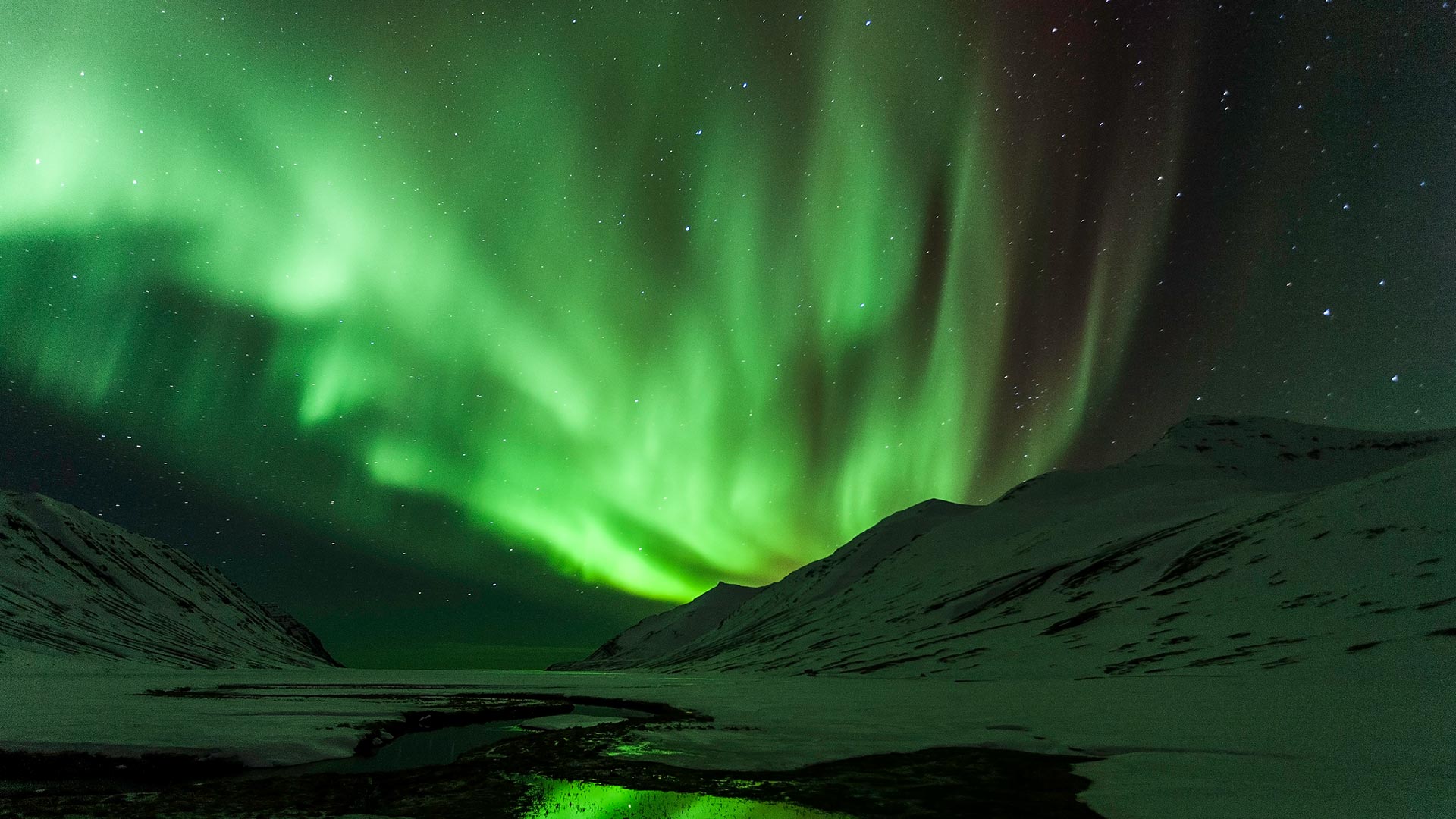 When is the best time to see the northern lights in Iceland?
The best time to see the aurora borealis in Iceland comes down to 2 factors: time of year and time of day. The best months are between October and March. The best time of day would be the hours around midnight.
Here we explain why that is.
1. Northern lights season in Iceland
You have a greater chance of seeing the aurora borealis between October and March. However, that's not to say you won't or can't see the northern lights at other times of year too. Your chances are just better during this time, which is why our tours run across these months.
Winter is the ideal time to visit Iceland to see the northern lights thanks to the longer nights of the season. Some regions get as many as 19 hours of darkness on the shortest day of the year, which provides plenty of opportunities for spotting the aurora borealis.
As Iceland has long hours of daylight during the summer, including the phenomenon known as the midnight sun, it's much harder to see auroras during this time of year.
---
---
2. Best time of day to see the aurora borealis
Northern lights often appear during the darkest part of the night, so most sightings happen between 11 PM and 2 AM.
You can spend the night stargazing, on the lookout for this otherworldly display. Some hotels also offer a special "wake up service" and will let you know if the northern lights appear in the middle of the night.
---
---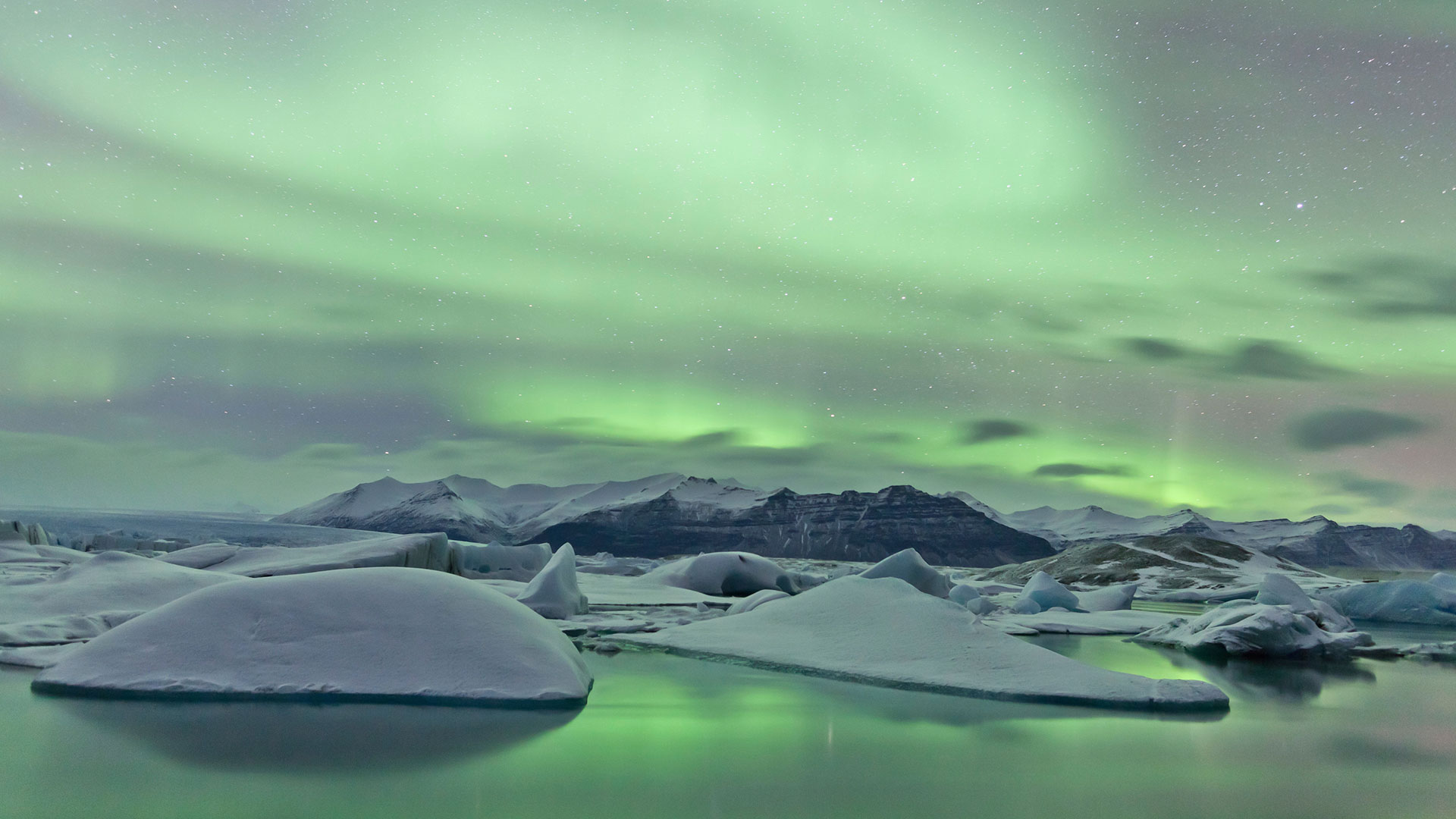 Where is the best place to see the northern lights in Iceland?
You can spot the aurora borealis from any location in Iceland, even the capital city of Reykjavík. But for the best chances, you should move away from sources of light pollution (streetlighting).
Artificial light makes it harder to see the colours of the northern lights clearly in the sky above you. That's why travelling out from the city to more remote regions, where there's little light pollution, is a good idea.
Here are the best places to see the aurora in Iceland.
1. Vík & South Iceland
Vík, with its black sand beaches and basalt columns, provides northern light hunters with a stunning backdrop. And it's only a few hours' drive south from Reykjavík via the Ring Road.
In fact, the authentic fishing village of Vík is one of the top places to visit on a tour of South Iceland.
Walk along the black sands of Reynisfjara, one of the most dramatic beaches in Iceland. Look out to see the basalt columns of Reynisdrangar and the rock arch of Dyrhólaey.
Come evening, admire the jagged black rocks jutting out from the ocean as the northern lights dance above you.
From Vík, you could continue along the Ring Road to reach Jökulsárlón glacier lagoon. Watch the colours of the aurora ripple above the sparkling ice in this breathtaking setting.
---
---
2. Westfjords & North Iceland
North Iceland and the Westfjords regions are a bit further north than Reykjavík, which means you get slightly longer hours of darkness. This gives you a wider window of opportunity to see the aurora.
These areas also offer the benefit of smaller urban populations, reducing any potential effect on your viewing experience.
Wondering what to do in Iceland's Westfjords? As well as searching for the northern lights, you might like to hike to Drangajökull glacier or take a snowshoe walk in Heydalur valley. Don't miss a visit to Ísafjörður, the capital of the Westfjords.
On a tour of North Iceland, you could also go whale watching, visit mighty waterfalls like Dettifoss, and explore volcanic sites around Lake Mývatn.
---
---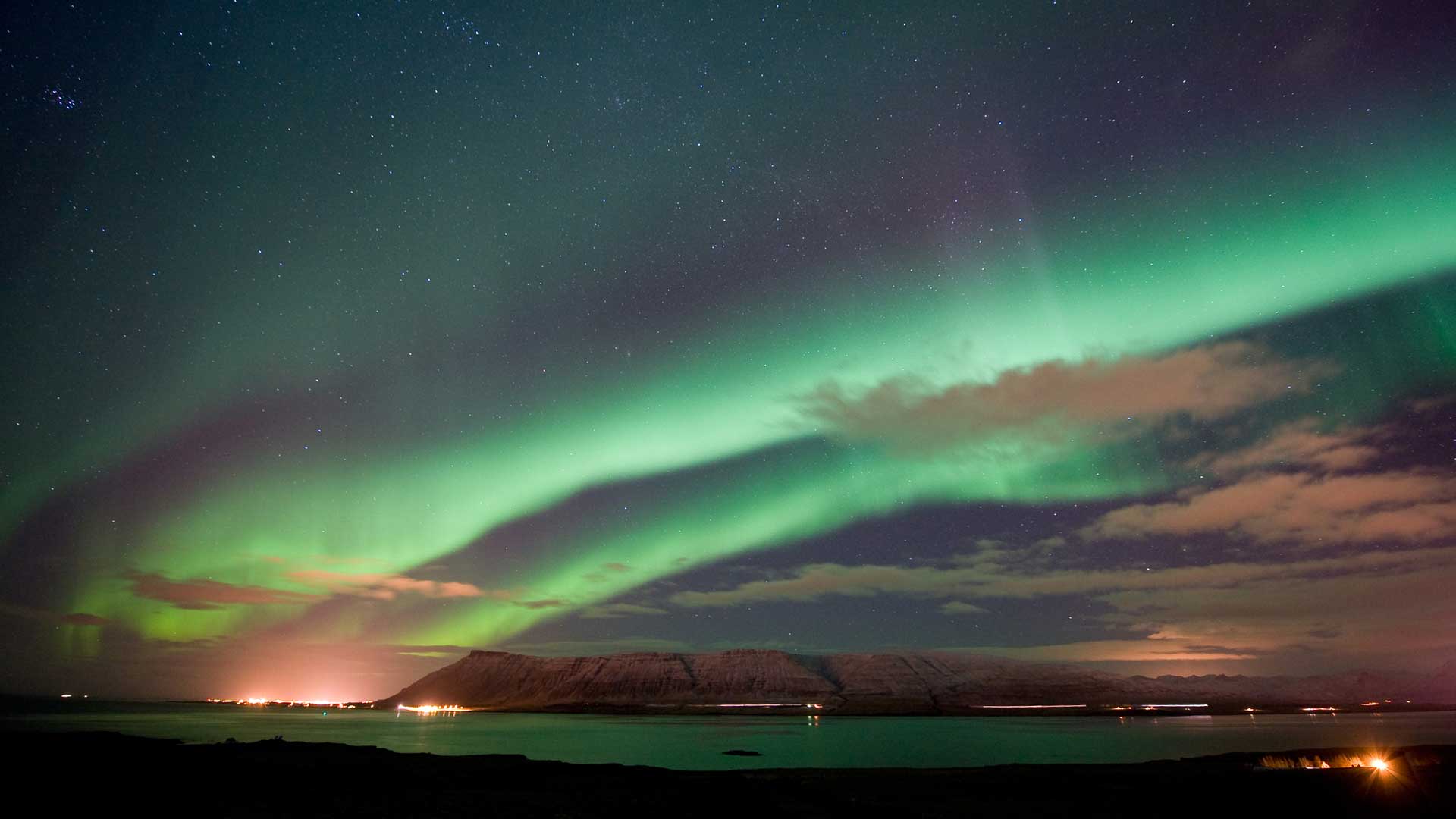 3. Þórsmörk
To immerse yourself in the unspoiled wilderness on your trip to Iceland, head to Þórsmörk. This nature reserve is located in the Icelandic highlands, where volcanoes and glaciers reign supreme.
In winter, Þórsmörk is one of the few places in the highlands that is accessible by super jeep. Its remote location means that you have a good chance of seeing the northern lights on a clear night.
During your tour of the Icelandic highlands, you could also visit the Gígjökull glacier tongue, Seljalandsfoss waterfall, and Eyjafjallajökull volcano.
---
---
4. Reykjavík
If you're short on time, or prefer to stay in Iceland's biggest city, you can still see the northern lights. Reykjavík has quite a few parks, which are perfect for getting away from the city's artificial light.
We particularly recommend Grotta Lighthouse on the Seltjarnarnes peninsula, as this is one of the darkest areas of Iceland's capital. It also has a geothermal hot tub, so you can bask in the warmth for a spell while you wait for nature's light show to start.
You can join an aurora-watching tour from Reykjavík and head out from the city into the countryside. An expert guide would pick you up from your hotel and drive you to the best possible spots to catch the northern lights.
Additionally, if you take a guided northern lights tour but the aurora doesn't appear, you could head out again another evening free of charge. Contact our Iceland specialists to find out more.
---
---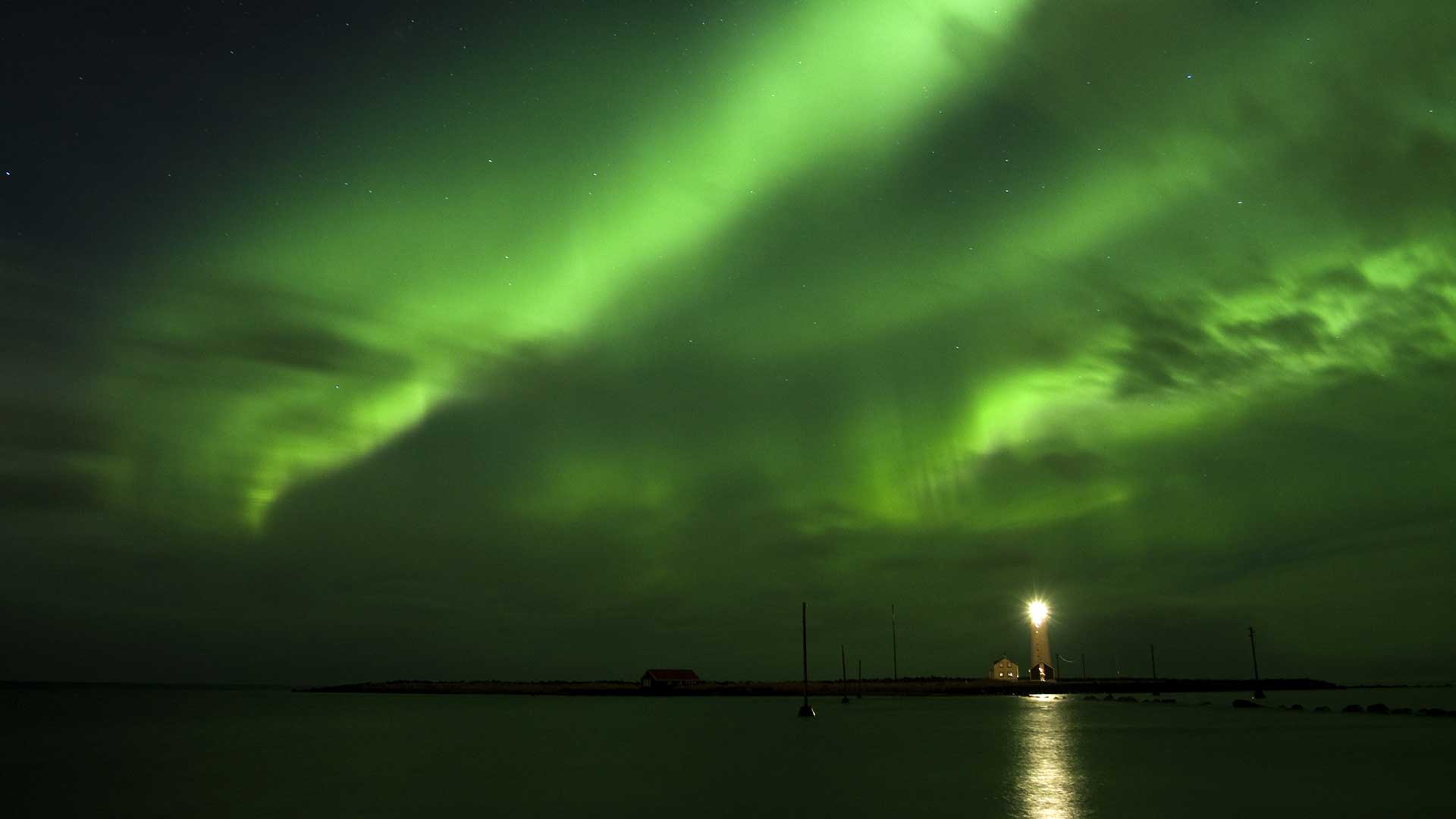 Helpful apps & tools for planning your aurora hunt
The northern lights are best witnessed on a clear night, without cloud cover. You can check weather conditions beforehand and see whether your chances are high with the Icelandic Met Office's aurora forecast.
The Met Office forecast gives you a rating, between 0 and 9, of your likelihood of seeing the aurora borealis. Anything above a 2 is promising.
Here are some other tools for planning your northern lights hunt:
---
---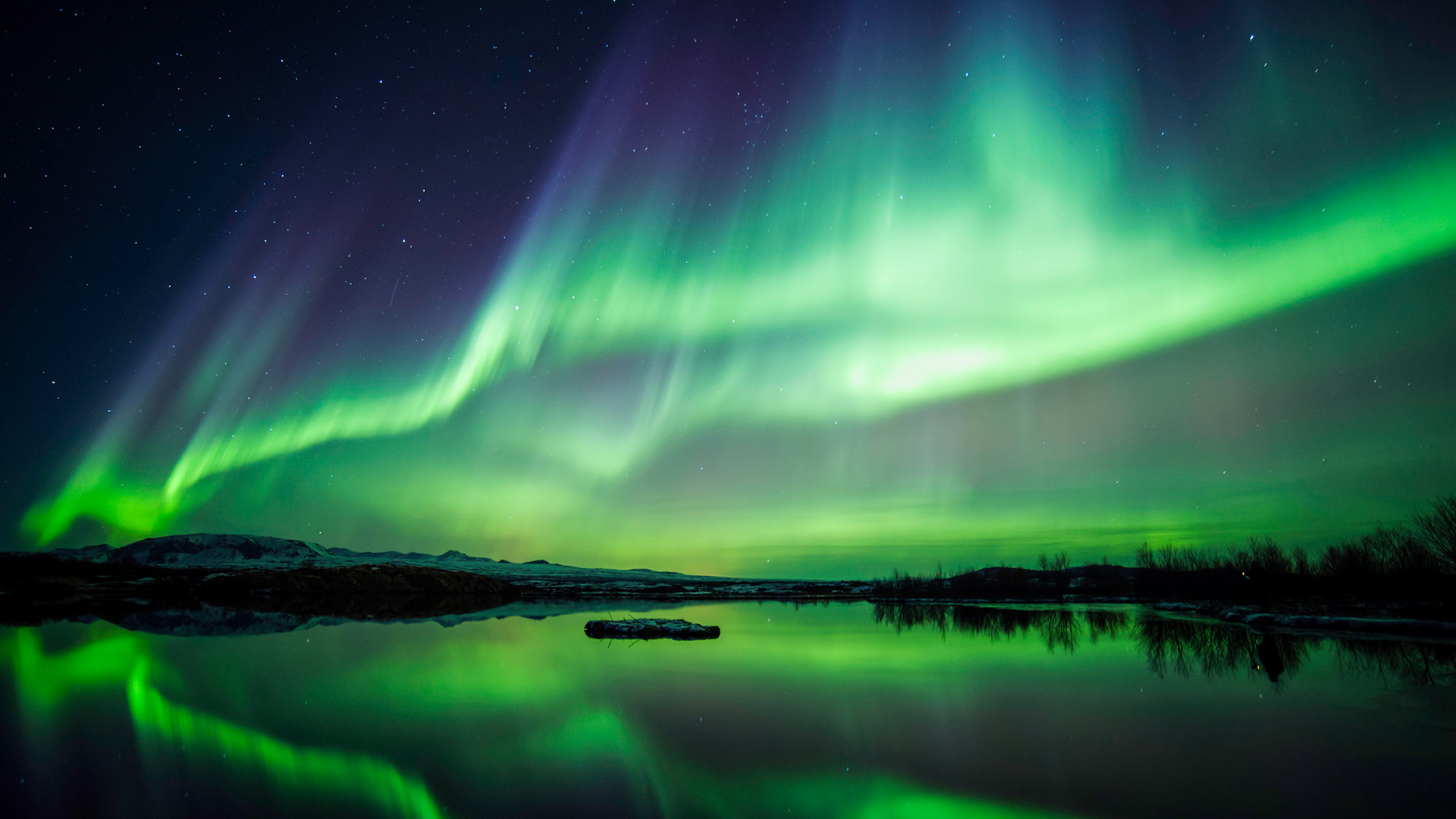 Photographing the northern lights
When the aurora borealis appears, you'll undoubtedly want to take lots of snaps. Photographing the aurora borealis takes a bit more expertise, and your camera needs a good nighttime setting. Using an SLR camera with a manual focus often produces some of the best results.
You might also want to bring a tripod for long release shots, shutter release for steadiness and, of course, spare batteries and extra memory cards.
On a more technical note, we recommend turning off your camera's image stabiliser and increasing its ISO to at least 400 to 800 (or even higher) depending on your lens. Also, set your aperture as low as possible and use long exposure shots of 15 to 30 seconds to help your camera capture more light.
Practice taking some nighttime shots beforehand, so you're prepared when the northern lights appear. After all, you don't want to be adjusting settings and miss one of nature's best light shows.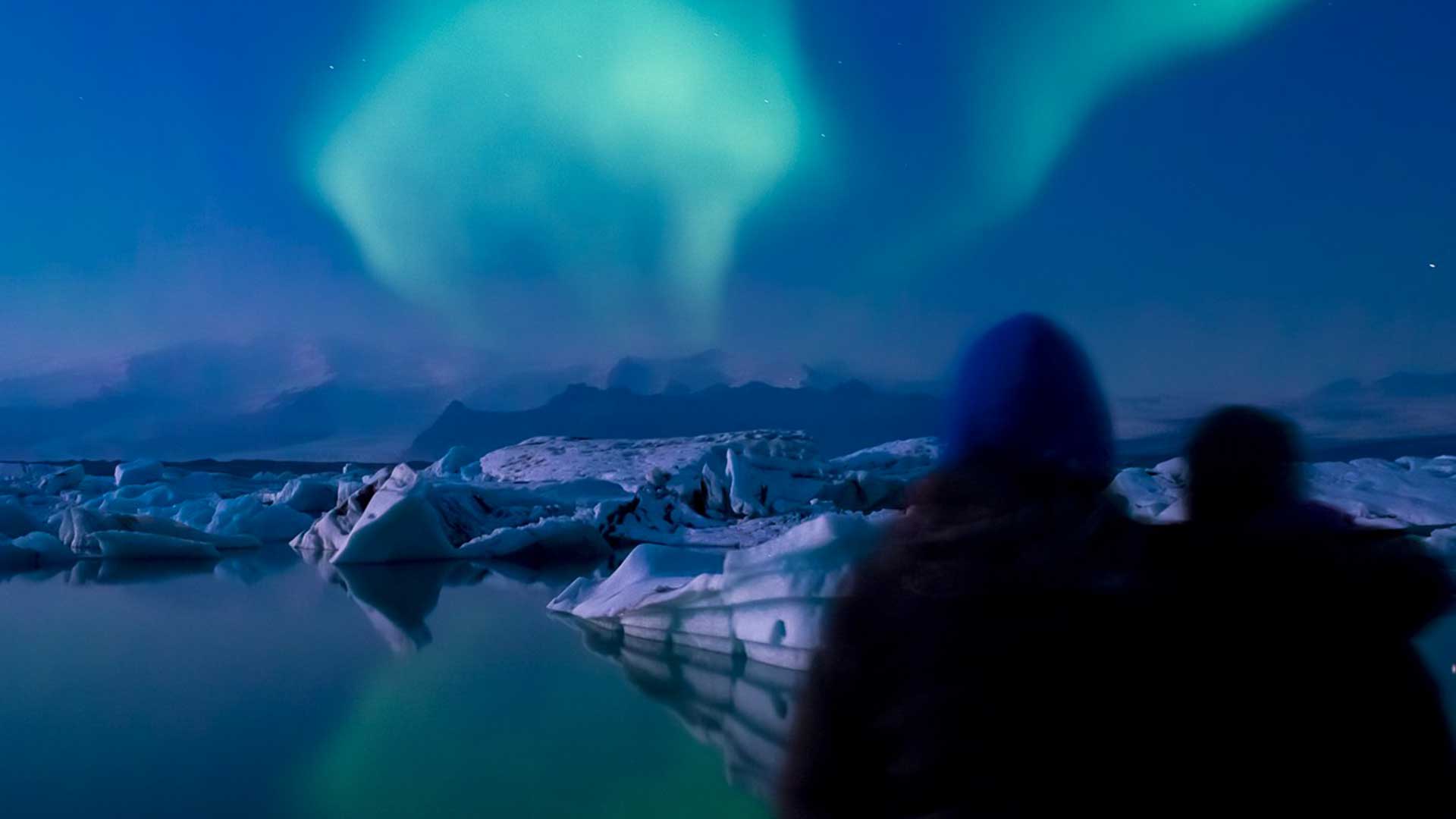 4 amazing ways to see the aurora borealis in Iceland
1. Rent a car
Rent your own wheels and head off into Iceland's more remote regions. Getting away from the crowd means you won't have to deal with city lights and can experience the northern lights on your own. These winter self-drive tours of Iceland feature the best routes and stops.
2. Hire your own guide
Taking a privately guided tour of Iceland can be a great idea as your expert guide will have the inside scoop. They'll take you to some of the best spots for watching the northern lights. While they certainly can't control whether the lights appear, they can make sure you don't miss them if they do emerge!
3. Join a group tour
Watch the aurora borealis with new friends on a small group tour of Iceland. Guided tours take all the hassle out of planning your northern light hunt as guides handle everything so you can relax and enjoy the experience.
4. Take a multi-day tour
For a mix of independent travel and guided excursions, choose an Iceland multi-day tour package. You'd be based in Reykjavík, and perhaps another location like the Westfjords, then take day and evening tours to suit you.
---
---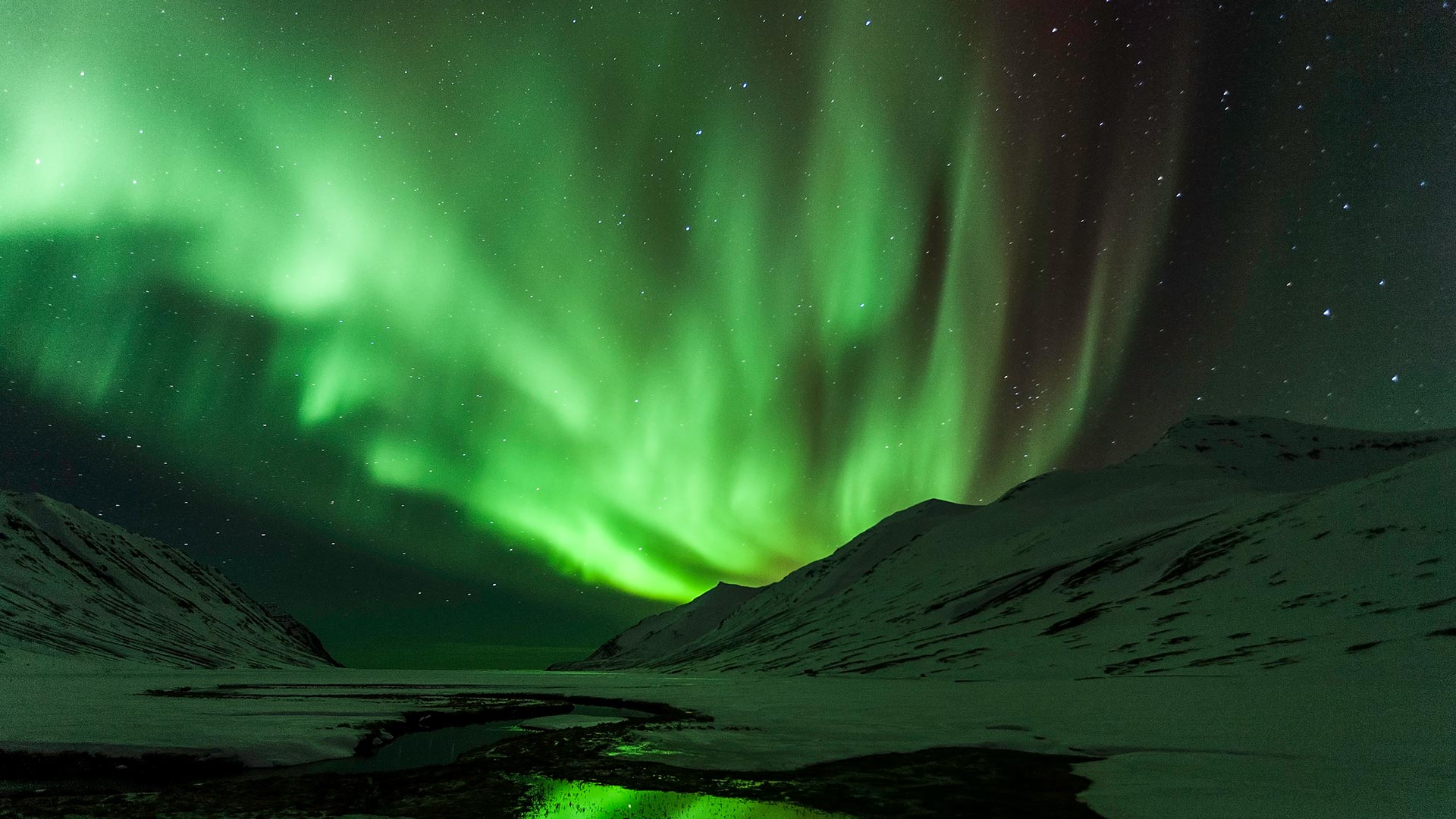 Northern lights FAQs
1. What are the northern lights?
The northern lights, also known as aurora borealis, are created when solar winds collide with gases in Earth's upper atmosphere. These "winds" are actually electrically charged particles emitted by the sun.
When the charged particles hit our atmosphere, they excite oxygen and nitrogen molecules, creating an auroral display.
You're most likely to witness pale green aurora borealis. These shades are produced by the typical altitude where the interactions occur, and are also most easily detected by the human eye. But on rare occasions, you might also see vivid shades of red, yellow, blue or violet dancing across the sky.
Auroras appear at both of the Earth's magnetic poles. The northern lights (or aurora borealis) occur near the North Pole, while the southern lights (or aurora australis) happen around the South Pole.
---
---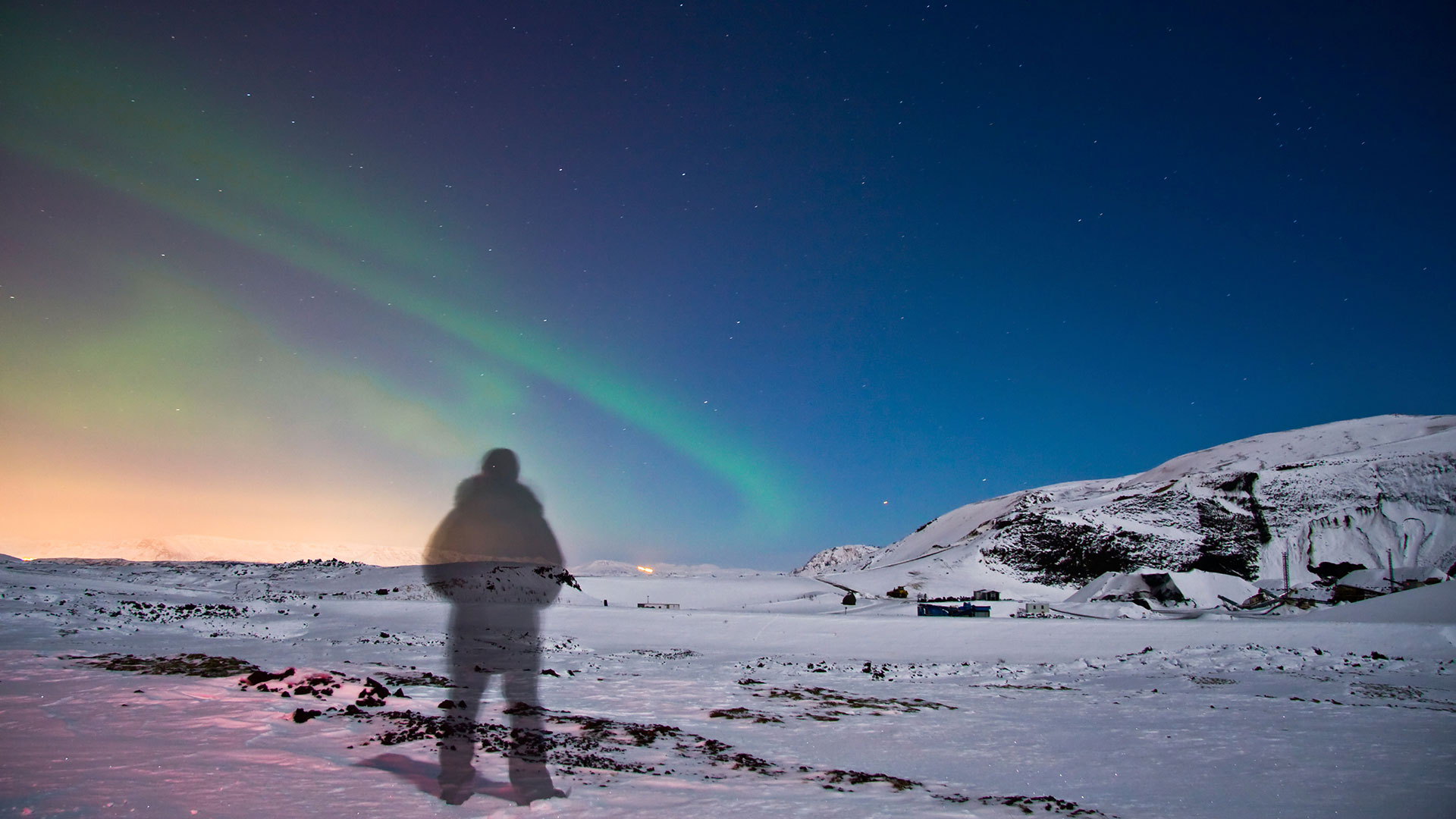 2. Is Iceland a good place to see the aurora borealis?
Iceland is a great place to see the aurora borealis. You have the best chance of witnessing an auroral display in the "northern lights belt", an elliptical area about 65 to 72 degrees north. This zone runs through Iceland, making it a top spot for aurora sightings.
Not only will you have a greater chance of seeing the northern lights in Iceland, but light shows here are often more intense.
Finally, as Iceland is the most sparsely populated country in Europe, there is less ambient light pollution. This means that you are likely to make out the colours of the aurora very clearly.
---
---
3. Why does the aurora borealis happen?
Northern lights certainly appear to be from another world, and in a way they are. But their appearance can be explained, like most things, by science.
Aurora borealis appear in the night sky after a solar storm on the sun. Solar storms release giant flares, which in turn release charged particles into the solar system. Over the course of 40 hours, these particles travel the 100 million miles or so it takes to reach the Earth's atmosphere.
When they reach Earth, they collide with atoms in our upper atmosphere. This creates the spectacular and colourful phenomenon we call the aurora borealis.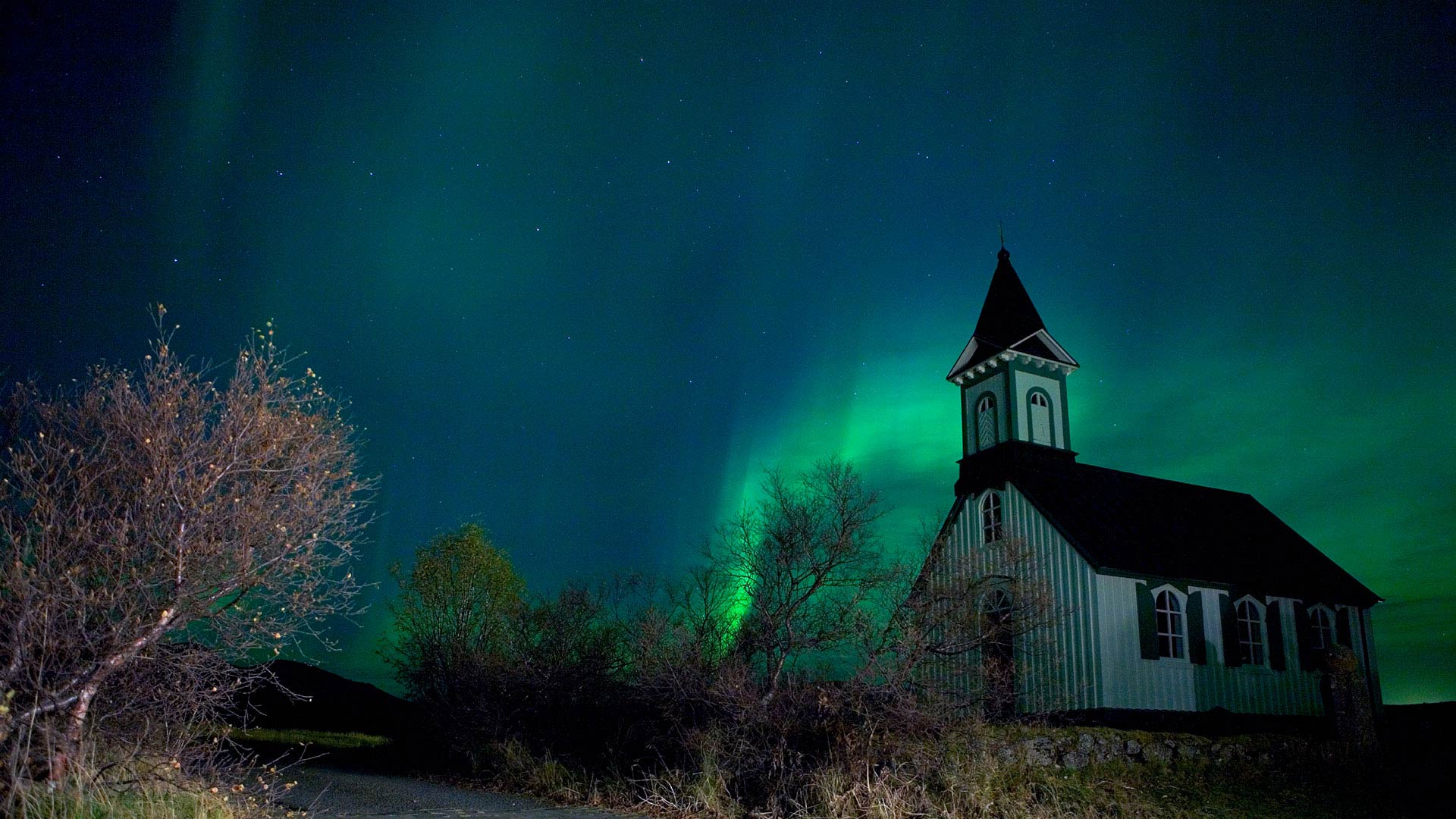 Like most natural occurrences, the aurora borealis is infamously unpredictable and never arrives on a set schedule. They can also take a variety of forms, and no two shows are ever the same.
You might spot gentle green waves, pink rippling curtains, or sweeping blue arcs. You only have to look at photos to realise how different each light show truly is.
Their exact shape and colour depend on the type of atoms, the intensity of the sun's solar activity, and the Earth's magnetic forces.
4. What did the Norse think of the northern lights?
Long before scientists explained the aurora borealis, our ancestors found their own explanations for it. As the northern lights appear over North America and Scandinavia, different cultures created various narratives and interpretations for this heavenly phenomenon.
According to Norse mythology, the aurora borealis was a sign of the gods. The lights were thought to be reflections of the armour of the Valkyries – mythical female warriors – on their way to war in Valhalla.
Icelandic people also believed that the northern lights would take away the pain of childbirth, though the mothers should avoid looking directly at the aurora.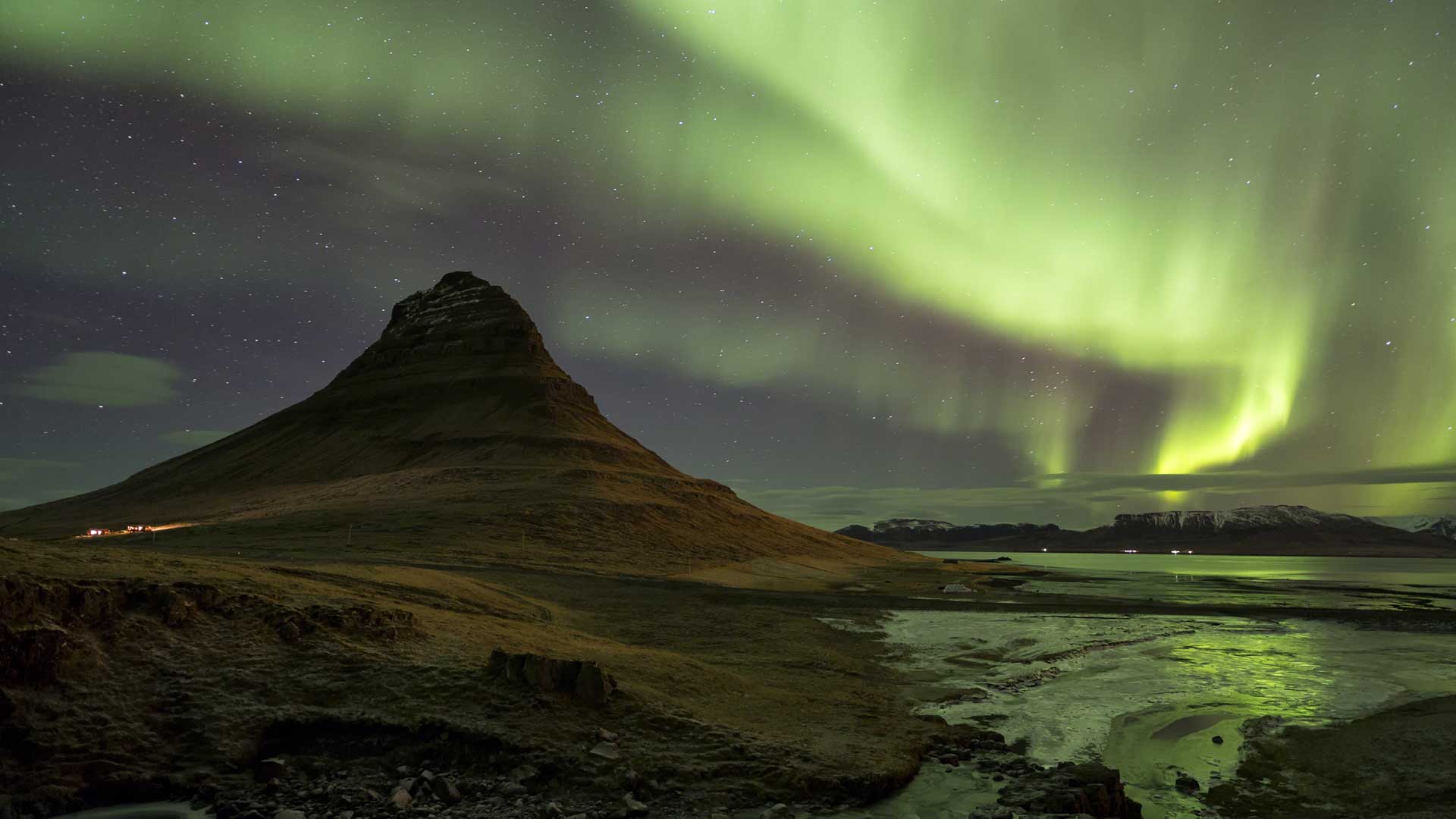 Now that you know the best times and places to see the northern lights in Iceland, why not start planning your visit? Explore these aurora borealis tour packages in Iceland to find your perfect trip.
You'll have a dedicated travel consultant who will book your accommodation, activities and transport for you. All our Iceland travel experts are based in Reykjavík, so they know the country inside out. They'll use their knowledge to create your ideal northern lights tour.
Plus, you'll have a delicious daily breakfast included in your trip, as well as access to our 24/7 helpline. Should you need our support, we are only a call away.
Get in touch to speak to an Iceland expert and make your northern lights dream a reality.