If you're thinking about taking a luxury trip to Iceland, experiencing the country's stunning natural beauty is probably at the forefront of your mind. But rest assured, you'll get to enjoy boutique accommodation here too.
Iceland's luxury hotels each have their own special charm and appeal. They include wellness retreats and adventure hotels, so you'll find something in the Land of Fire and Ice to suit you.
Here's our round-up of the best hotels for luxury travel in Iceland.
---
---
1. The Retreat at the Blue Lagoon
You may have already heard about the Blue Lagoon, one of the finest geothermal pools in Iceland and undoubtedly the most famous. It's the place where you can bathe in warm, pearlescent waters – rich in skin-nourishing minerals, algae and silica – while admiring the dramatic volcanic surroundings.
Though visiting the Blue Lagoon is a quintessential experience in Iceland, staying here is a more exclusive one. Appropriately named "The Retreat", the Blue Lagoon's luxury wellness hotel is the perfect place to escape to and take time out for yourself.
The rooms
The Retreat's spacious suites have been tastefully designed with Nordic minimalism in mind. Expect earthy tones and finishes that reflect nature and feel at one with the surroundings. All suites come with deep-soak tubs and outdoor terraces – some also feature direct lagoon access.
Gaze out through walls of glass that frame the craggy lava fields and, in certain suites, those inviting blue waters.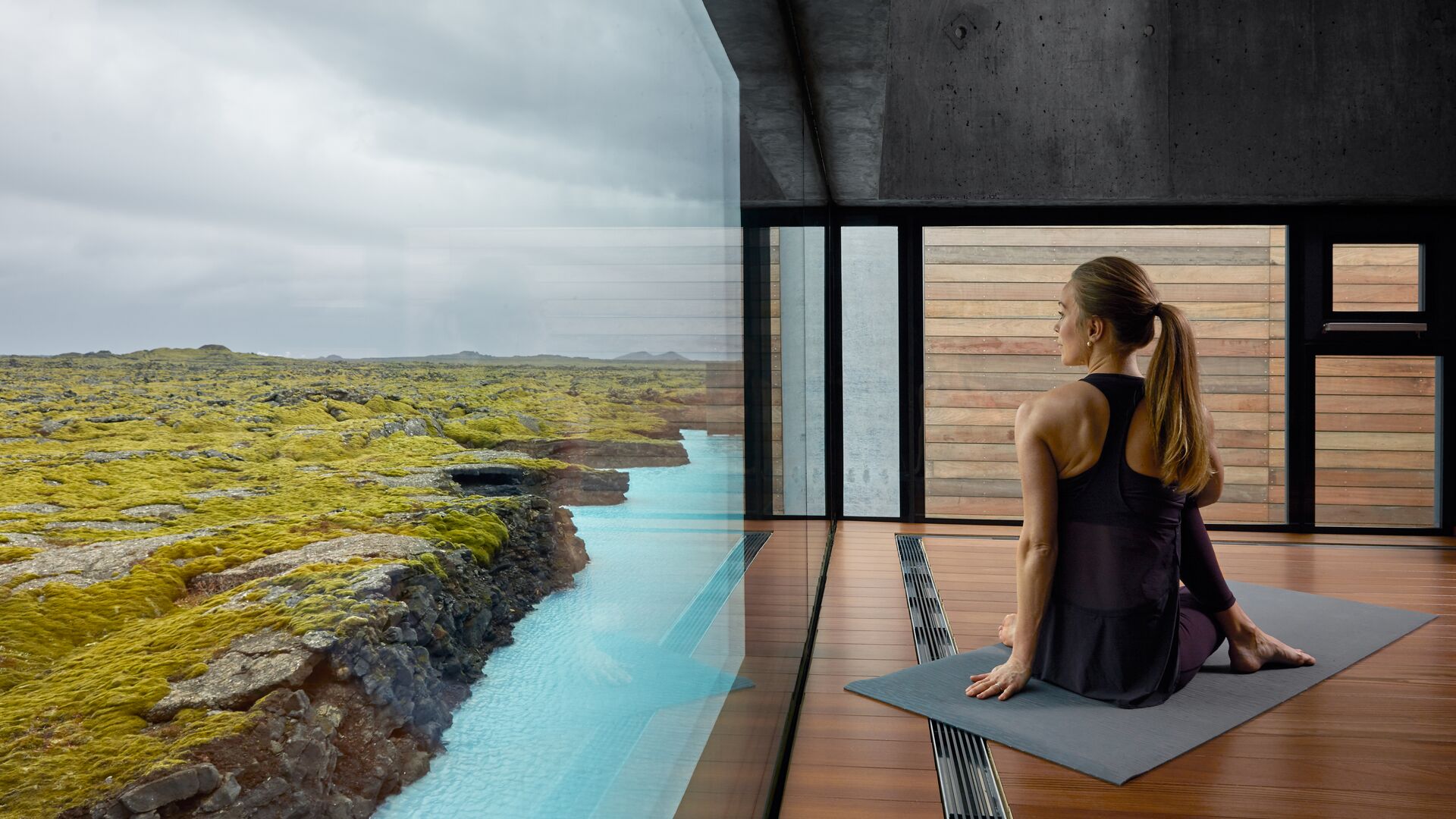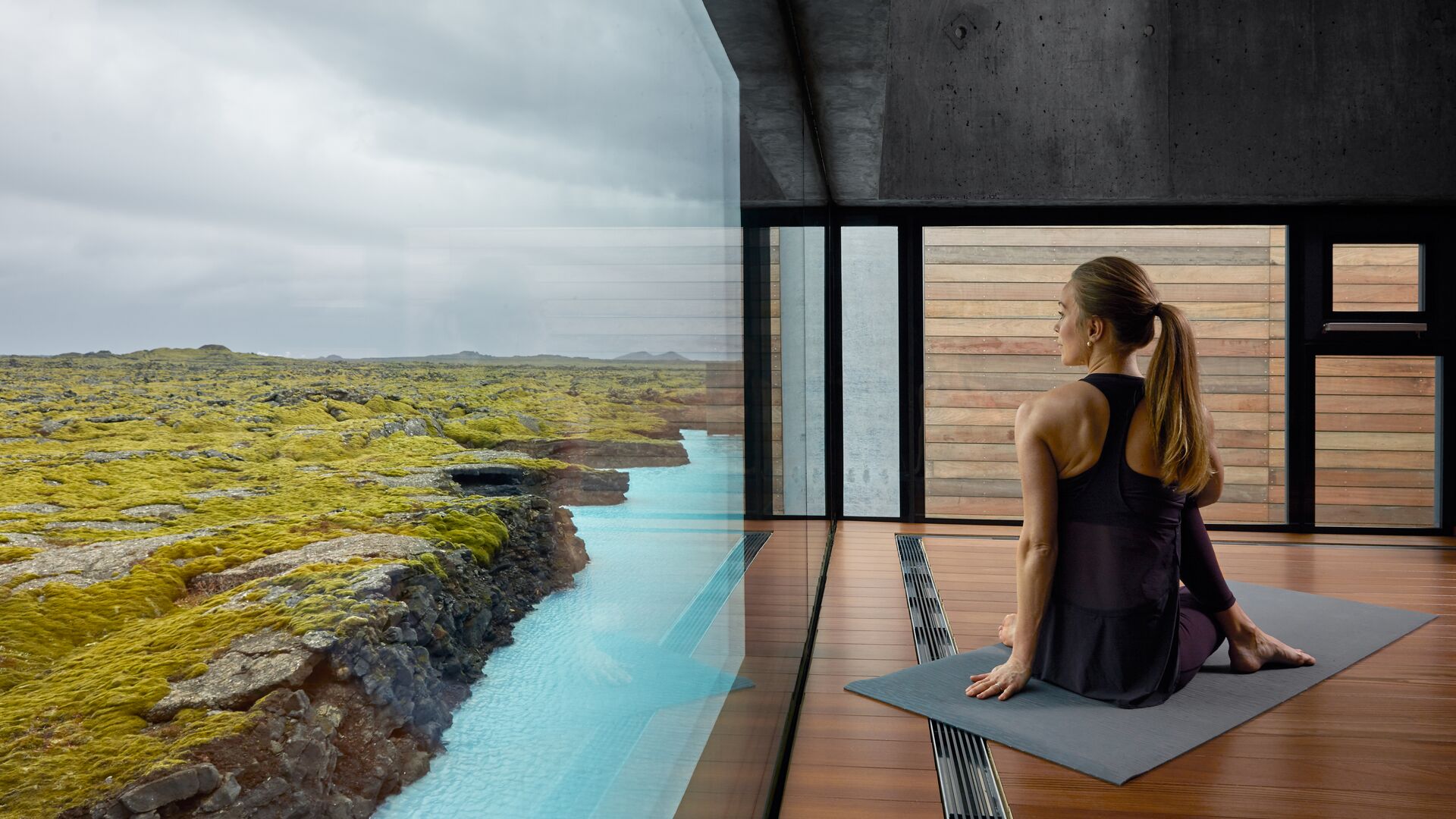 Facilities and experiences
As well as enjoying access to the Blue Lagoon, you can revel in the privacy of the Retreat Lagoon. This is separate to the main pool and has its own secluded lava canyons for you to explore.
During your stay you'll find plenty of ways to practise self-care. Join daily yoga classes and guided floatations, explore your surroundings on guided hikes, and indulge in some pampering at the Retreat Spa.
Try the Blue Lagoon Ritual, a spa cycle incorporating minerals, algae and silica. Or opt for an extra-luxe session in the Lava Cove, a private spa complete with an enclosed lagoon, wood-burning fireplace, butler and other luxuries.
Also at The Retreat at the Blue Lagoon, you'll find a fitness centre, lounge, and wine cellar encased in a real lava cave. Dine at three sumptuous restaurants serving Icelandic cuisine while you look out over the volcanic and lagoon landscape.
Location
Near Grindavík on the Reykjanes peninsula. The Retreat is just 20 minutes from Keflavík Airport and 50 minutes from Reykjavík.
---
---
2. Hotel Geysir
When you travel to Iceland, an array of extraordinary natural attractions awaits you. One of the most popular is Geysir, a highly active geothermal area that you can reach on the Golden Circle route. Discover simmering hot springs, mud pits and geysers, including Strokkur which erupts every 10 minutes or so.
You'll find Hotel Geysir a stone's throw from this unmissable site. A sleek hideaway perched in the Haukadalur valley, Hotel Geysir is perfectly placed for you to explore the geothermal area. Best of all, you can visit the geyser at nighttime without anyone else around.
The rooms
At Hotel Geysir your room comes with wide cinematic windows that afford scenic views of the Haukadalur valley. Some provide window seats, while others open out onto balconies with panoramic vistas.
All the rooms and suites are decorated in muted tones, with parquet flooring and accent walls. You can expect walk-in rain showers in the bathrooms, some of which also sport standalone tubs.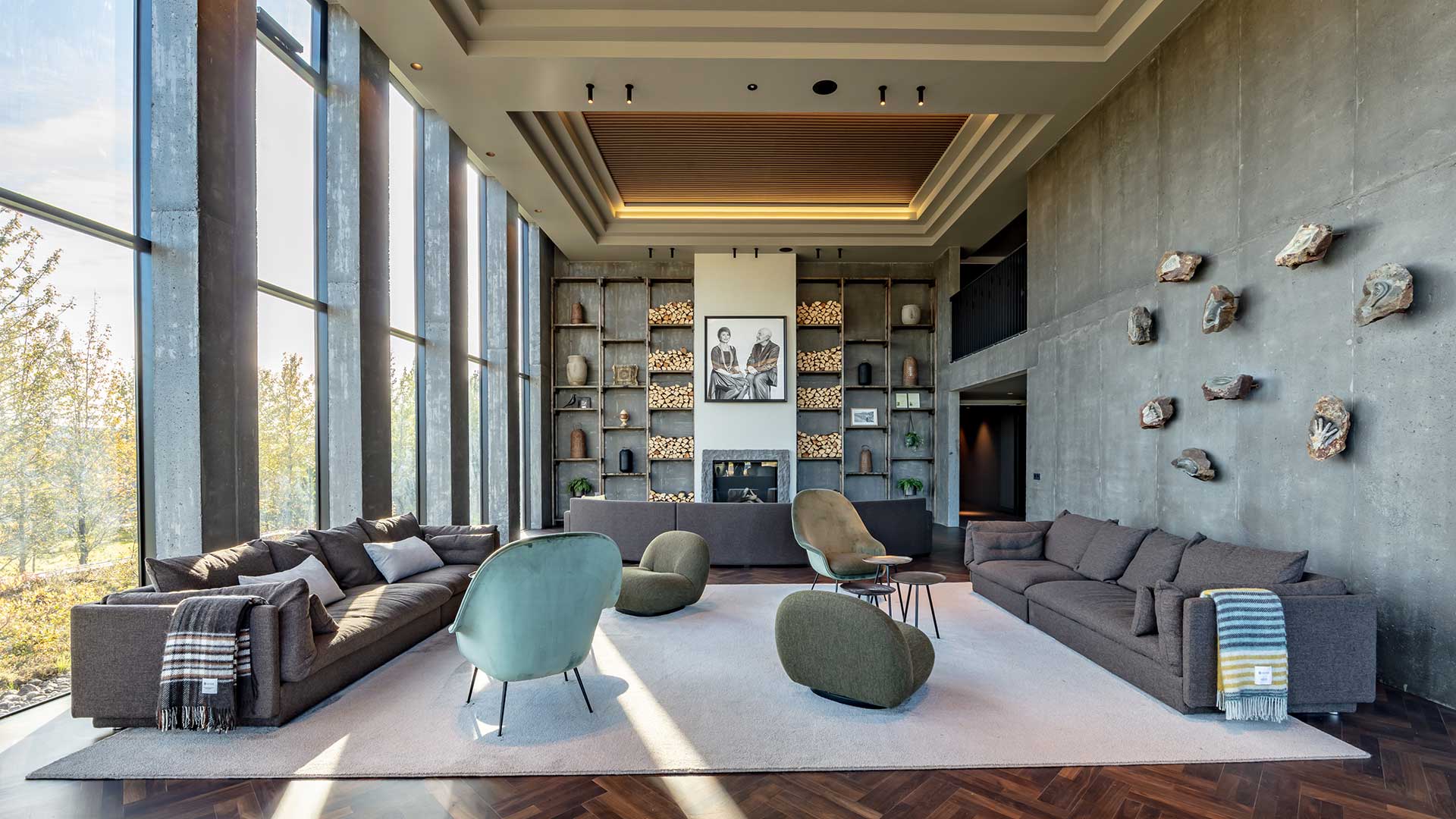 Facilities and experiences
Dine at the sleek Geysir restaurant to feast on Icelandic and international dishes. There's also a bright and airy lounge you can unwind in. For a romantic meal, we recommend a private dinner at Hotel Geysir's rooftop terrace. Tuck into a three-course dinner and soak up the 360-degree view.
Alternatively, take your pick from the other on-site restaurants and bars: Litli Geysir, Geysir Glima, Soup and Kantina.
---
---
The best thing to do during your stay at Hotel Geysir is, of course, to explore the geothermal area. You can visit at any time of day as the site is open 24/7. If you're here in winter (October to April), you might be lucky enough to see the northern lights illuminating the sky.
Don't miss Þingvellir National Park and Gullfoss waterfall on your way to or from Hotel Geysir. Both these sights are part of the Golden Circle touring route.
Location
Moments from Geysir geothermal area in the Haukadalur valley, South Iceland. Hotel Geysir lies on the Golden Circle route and is 1.5 hours away from Reykjavík.
3. Magma Hotel
If you seek a boutique hotel in Iceland where seclusion and access to many natural highlights combine, you'll want to stay at Magma. This intimate hideaway is poised on the shores of a tranquil lake in South Iceland, with uninterrupted views across lava fields to Vatnajökull glacier.
Although it feels delightfully remote here, you are never far from a stunning site or adventurous activity in every direction.
The rooms
A cosy stay awaits you at Magma Hotel, with just a dozen rooms making up the accommodation. Each is a standalone soundproof structure adorned with fresh, bright walls, wooden heated floors, and cloud-like beds from where you can look out over the lake through floor-to-ceiling windows.
Slide open your large windows and step onto the furnished terrace. You could sip a coffee out here while keeping an eye out for some local birdlife. Maybe you'll spot a Whooper swan, Arctic tern, or Great Northern Diver, to name a few.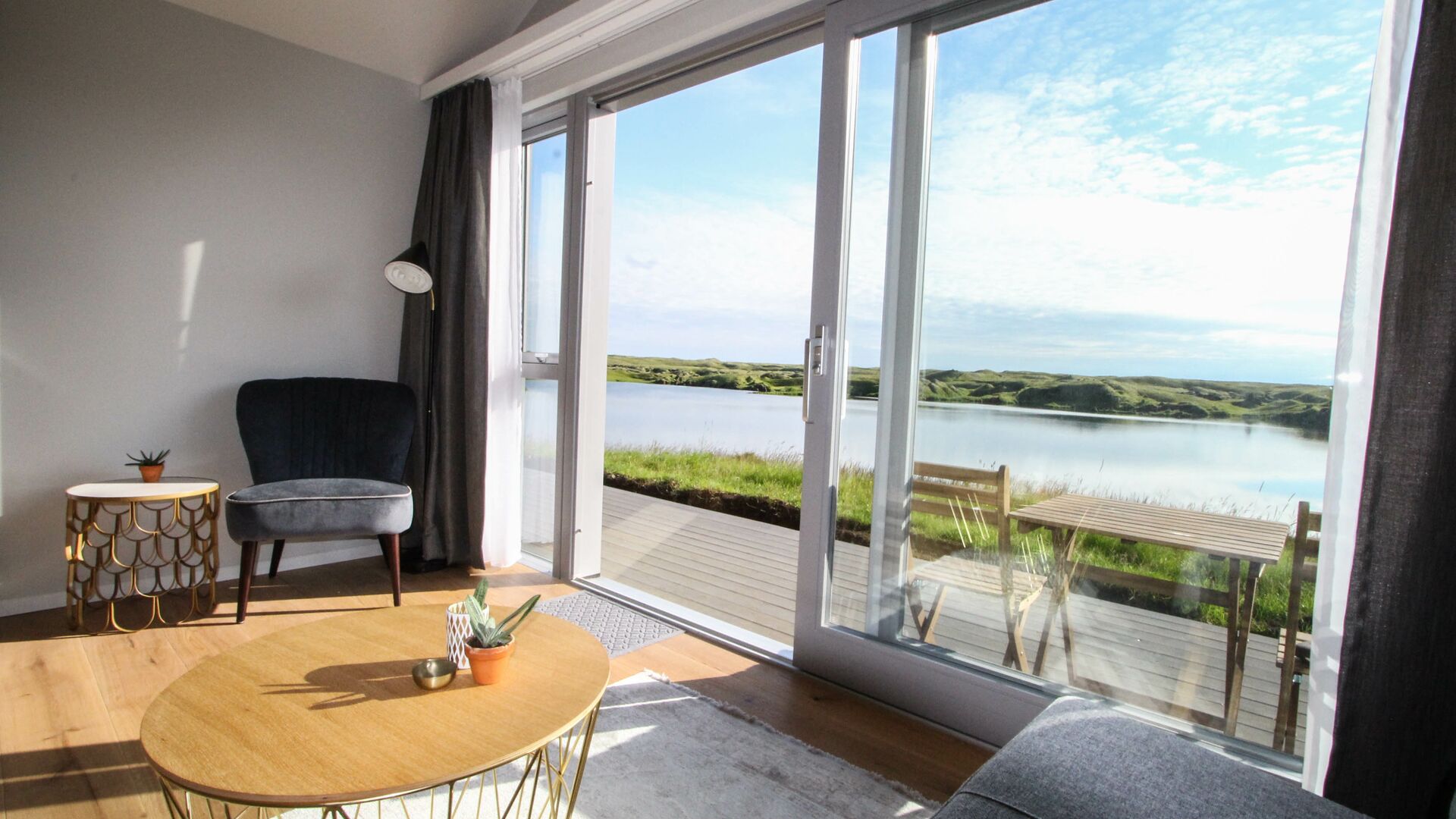 Facilities and experiences
As this is a small boutique hotel, it's easy to make friends here! At Magma's lounge and restaurant, Bistro 1783, you could share travel stories over the complimentary tea and coffee in the afternoon. For dinner you can expect a warm, relaxed environment while you savour seasonal dishes.
As for what to do during your time at Magma? You're spoilt for choice. Head east to visit Jökulsárlón glacier lagoon – don't miss the boat tour if you're here between May and September. Walk on the black sand strewn with huge chunks of ice at Diamond Beach. And go for a hike in the scenic Skaftafell Nature Reserve.
Or venture west to see the unusual rock formations at Dyrhólaey and Reynisfjara near Vik. Marvel at the rippling canyon walls of Fjaðrárgljúfur and take a short walk to see the moss-covered lava field and craters of Eldhraun.
The little hamlet of Kirkjubæjarklaustur, where Magma is located, is interesting too. Learn about the village's thousand-year-old history as well as its myths and legends.
Location
Near Kirkjubæjarklaustur in South Iceland. Magma Hotel is 1 hour east of Vik, 1 hour west of Skaftafell Nature Reserve, and 3.5 hours from Reykjavík.
4. Canopy by Hilton Hotel
For a cool, contemporary bolthole in the heart of Reykjavík, look no further than the Canopy by Hilton. This boutique hotel is modern through and through, with bright pops of colour and eclectic furnishings lending a trendy vibe.
It's not just the Canopy's good looks you'll love though. It also boasts a prime location in downtown Reykjavík, steps away from the city centre's shops, bars and restaurants. You can easily stroll to the harbour and Harpa Concert Hall in one direction, and Hallgrimskirkja Church in the other.
The rooms
Your room or suite at the Canopy is stylish in its minimalism, with a neutral colour palette of grey, black and teal. Each space comes with a monochrome en-suite with walk-in shower, and a freestanding tub in certain rooms.
The large windows let in plenty of daylight, but you can use the blackout blinds to block out any nighttime brightness in summer. The Canopy's suites offer you the best views of Reykjavík, with the largest sporting an outdoor terrace.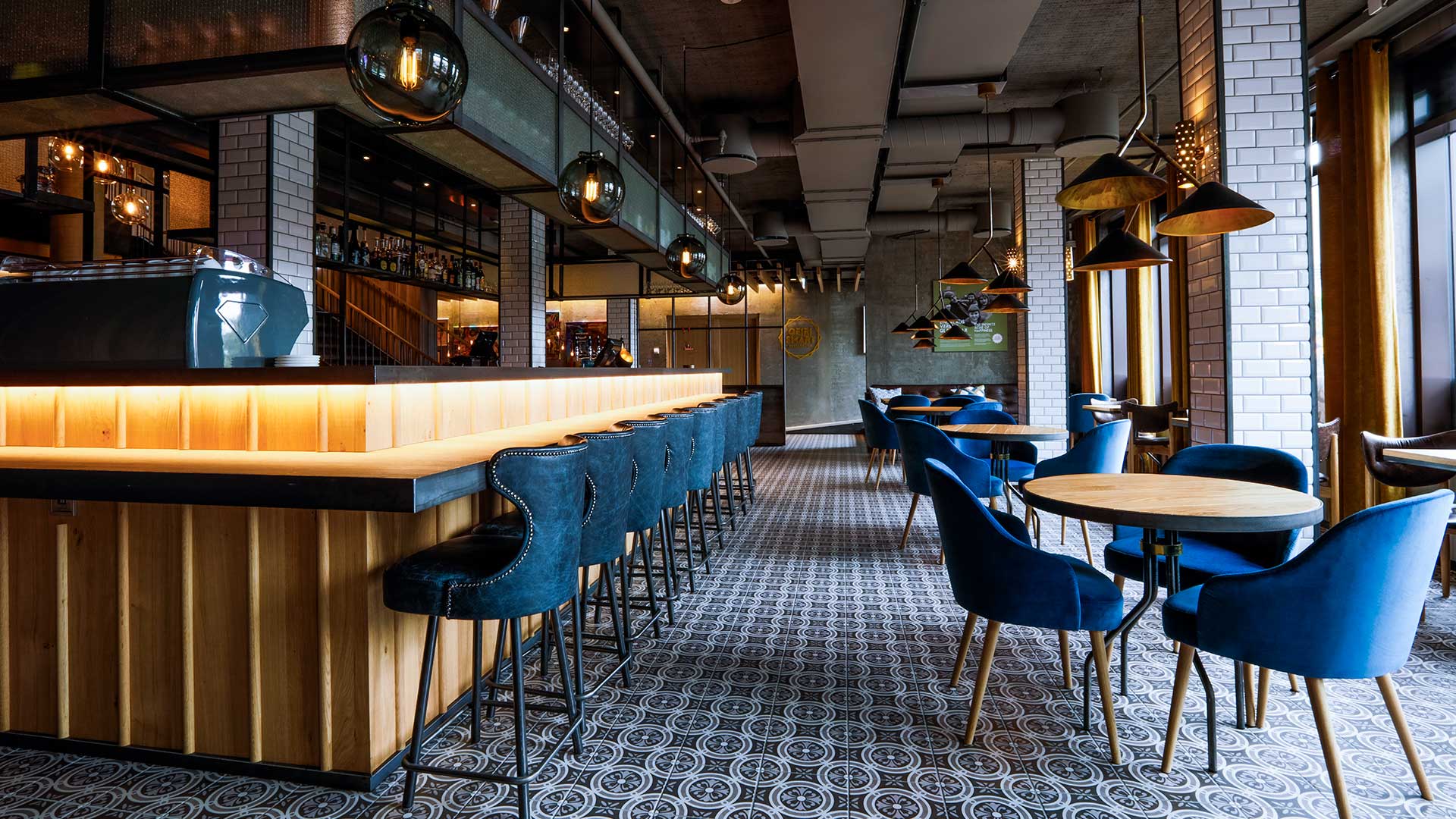 Facilities and experiences
You have plenty of choice when it comes to wining and dining at the Canopy by Hilton. There's the Hotel Bar, Central Café, Geiri Smart restaurant, and Central Bistro and Bar. Come here in the evening for a complimentary tasting of drinks and canapés. On a clear day, you could enjoy them out on the terrace.
You'll see that the hotel's bookshelves are lined with vinyl records, a nod to the building's former life as a music venue. Request a portable record player at reception to play some tunes in your room.
If you're feeling active, work out in the fitness centre which is open 24/7. Be sure to visit some of Reykjavík's top attractions too, many of which are a short walk away from the Canopy.
Location
Smiðjustígur street in downtown Reykjavík. Canopy Hotel is 45 minutes from Keflavík Airport.
---
---
5. Hotel Húsafell
Immerse yourself in the dramatic Icelandic wilderness with a stay at Hotel Húsafell. Located in the village of the same name, this hideaway is an excellent base from which to explore sublime nature in West Iceland. Discover glaciers, lava fields, waterfalls, ice caves, lava caves, mountains and more.
The hotel itself is an attractive place rooted in sustainable design. From the wooden exterior to the bright and airy indoor spaces, you can see how Hotel Húsafell merges with the landscape. Inside, admire paintings by the Icelandic artist, Páll Guðmundsson, a Húsafell local and friend of the owners.
The rooms
Hotel Húsafell's rooms are simple in design, decorated in grey hues and wooden flooring. Opt for the suite if you'd like more room to spread out in – you'll get a dressing room, living room and terrace. The spacious bathroom also comes with a separate bathtub.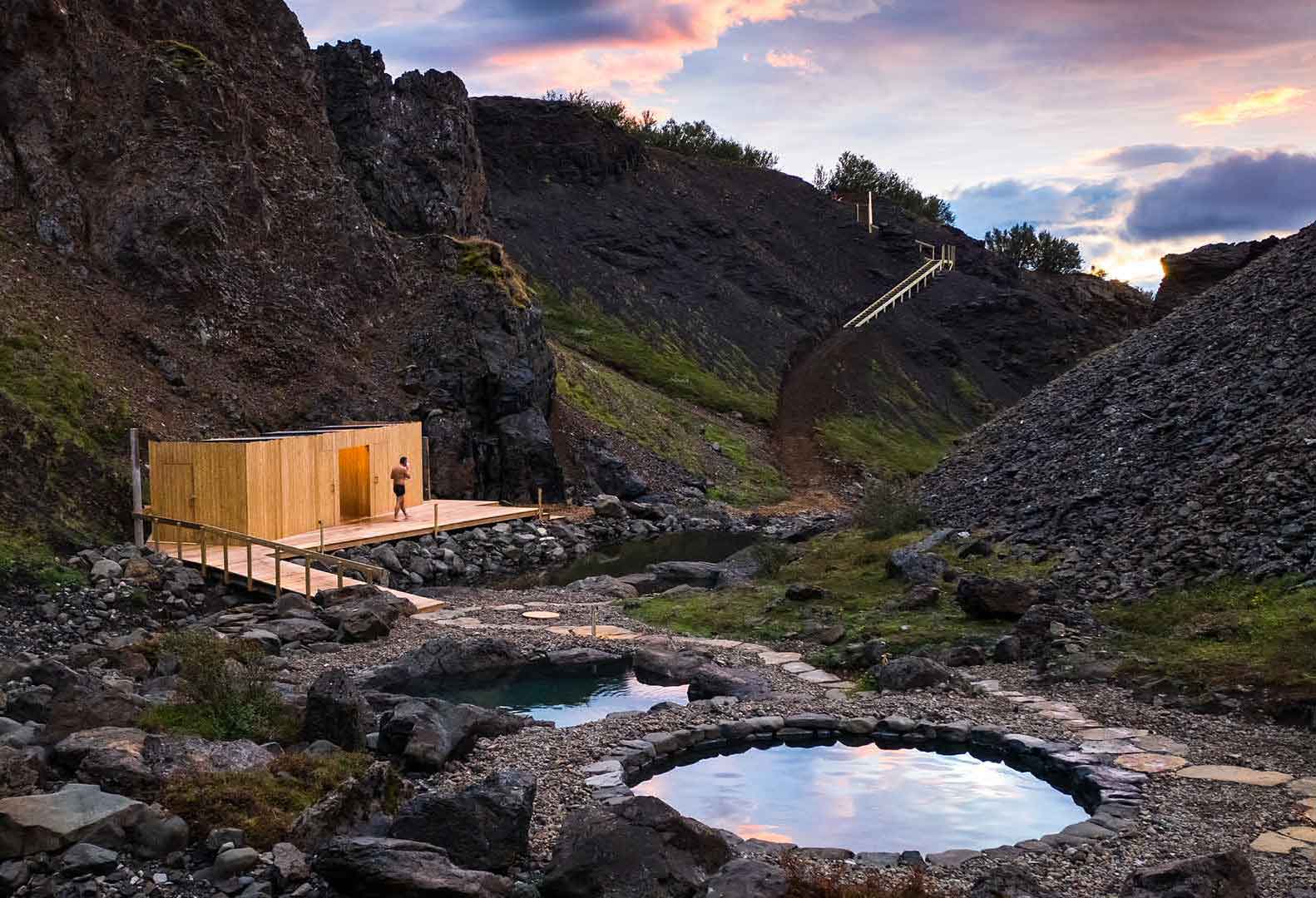 Facilities and experiences
You won't go wanting for things to do at Hotel Húsafell, thanks to its prime location in the middle of spectacular scenery.
As the Langjökull glacier is close by, we highly recommend a journey Into The Glacier. This excursion allows you to explore the depths of Langjökull via manmade tunnels. You can also combine it with a fun snowmobiling activity.
There's another caving adventure you can do in the area. Instead of a glacier, delve into a lava cave – Víðgelmir – the largest of its kind in Iceland. Or go hiking, borrow a mountain bike, visit the Hraunfossar and Barnafossar waterfalls, and play golf at Húsafell's 9-hole course under the midnight sun.
When you're not out exploring, you might be soaking in the hotel's inviting pools and hot tubs. Naturally heated with geothermal waters, the pools are interconnected and feature a waterslide. Alternatively, hike to the Húsafell Canyon Baths, a collection of hot and cold-water pools set between the rock walls.
Back at the hotel, feast on delicious Icelandic meals in the smart restaurant, complete with panoramic views and a central fireplace. There's also a laidback bistro, bar and lounge.
Location
Húsafell, nestled in the Borgarfjordur valley near the Langjökull glacier, West Iceland. Hotel Húsafell is less than 2 hours from Reykjavík and under 2.5 hours from Keflavík Airport.
---
If you like the sound of exploring Iceland in luxury, why not stay at these boutique hotels on a trip planned just for you? Nordic Visitor is a trusted travel agency and tour operator with a range of Iceland luxury tour packages to choose from.
Your luxury travel adventure can be tailored to add any private tours you'd like to experience. Think expeditions in super jeeps, sightseeing by helicopter and more.
Contact our Iceland travel experts to make your dream trip a reality.