Prepare to be blown away by the natural and cultural wonders of North Iceland.
Touring North Iceland offers you the chance to experience remote landscapes and charming towns in the Land of Fire and Ice.
Must-see North Iceland attractions include active volcanoes, secluded fjords, thundering waterfalls, rustic fishing villages and bubbling hot springs. You could go whale watching, uncover Icelandic folklore, or go hiking in the most extraordinary of locations.
And have you heard about the Diamond Circle? This route is the north's answer to the famous Golden Circle. The scenic journey covers some of the best places to visit in North Iceland, including the first 5 must-see attractions below.
Read on to find out which spots you shouldn't miss on your North Iceland adventure.
---
---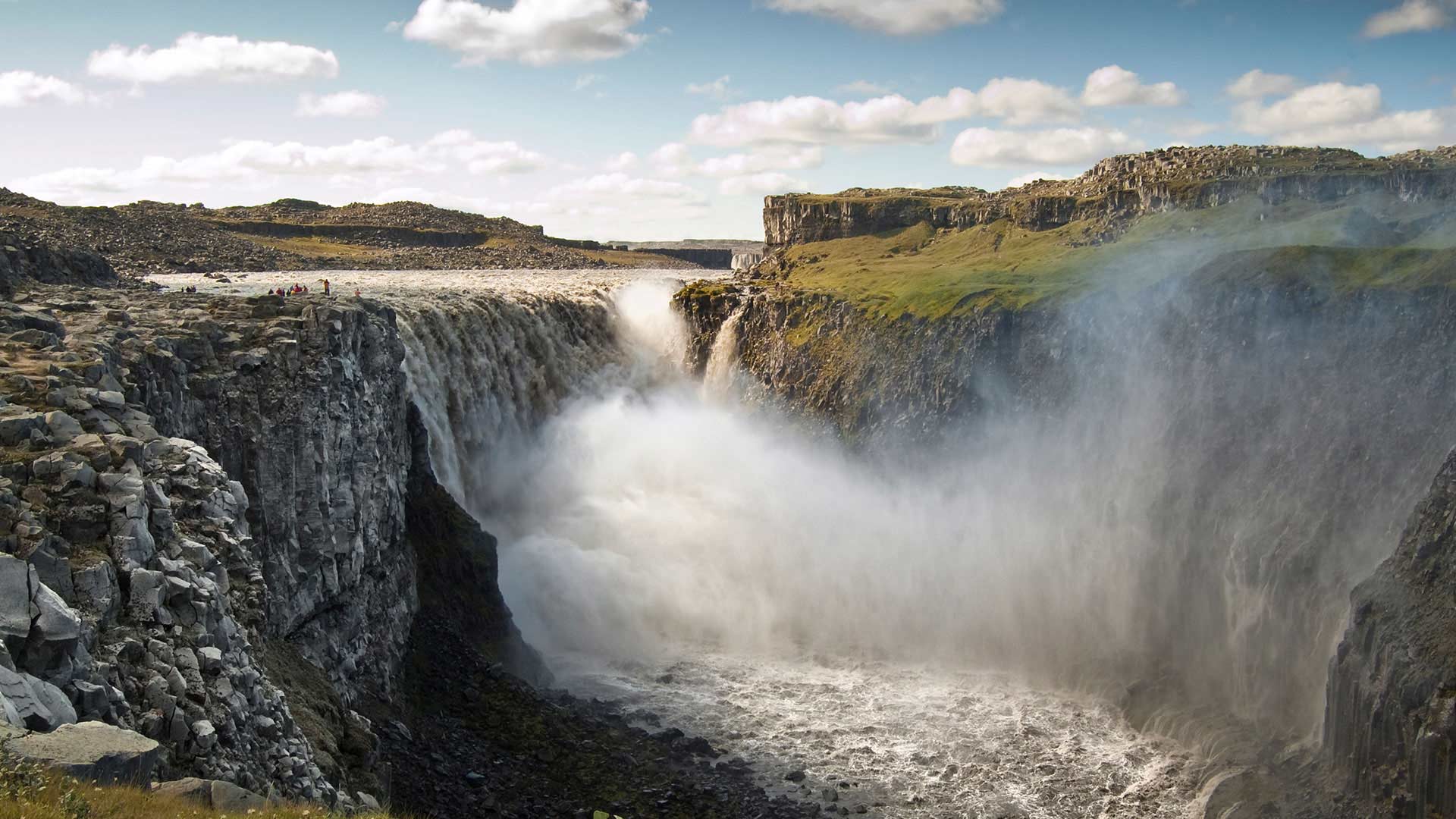 1. Dettifoss waterfall
Stand in awe before Dettifoss, the most powerful waterfall in Europe and the largest in Iceland. Dettifoss is one of the most jaw-dropping places in this part of the country, where you can really get a sense of nature's immense energy.
As you approach Dettifoss, you'll hear the roar of water reverberating in the air before you even lay eyes on it.
The best place for you to stand and admire the waterfall is on the east bank. Follow the pathway to the main viewpoint and prepare to be stunned by the raw power of Dettifoss.
Then, watch as the Jökulslá river drops into the canyon below from a height of 45 metres (148 feet), sprawled across a width of 100 metres (328 feet). You may even feel the spray from the river as it rises up from the depths of the canyon.
---
---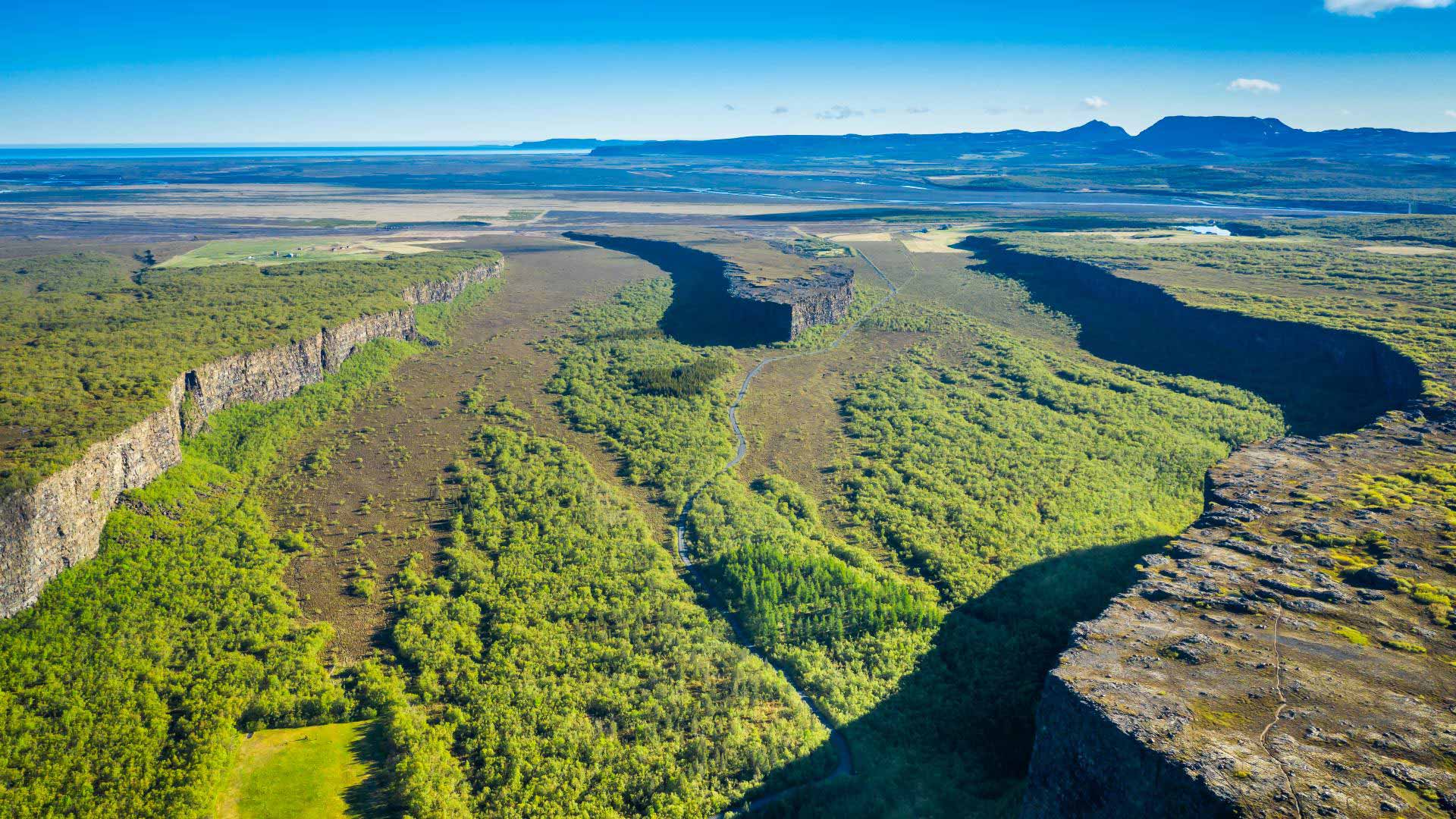 2. Ásbyrgi canyon
Head to the northernmost corner of Vatnajökull National Park to witness the impressive canyon landscape of Ásbyrgi.
Look down in wonder from the top of Ásbyrgi's rock walls and you'll see a horseshoe-shaped canyon carpeted in lush forest and plantlife. This greenery has been able to flourish thanks to the towering cliffs and large rock "island" that provide shelter from strong weather forces.
With its well-maintained hiking trails, thriving birdlife, rivers and waterfalls, Ásbyrgi is a must-see in North Iceland.
You might wonder how Ásbyrgi was formed. There are two answers to this question.
Scientists will tell you that the canyon was probably shaped by glacial flooding of the Jökulsá á Fjöllum river after the last Ice Age.
But according to Norse mythology, Ásbyrgi was created when the god Odin flew over the region on his 8-legged flying horse, Sleipnir. The mythical creature touched the earth with his giant hoof and the vast canyon was formed.
---
---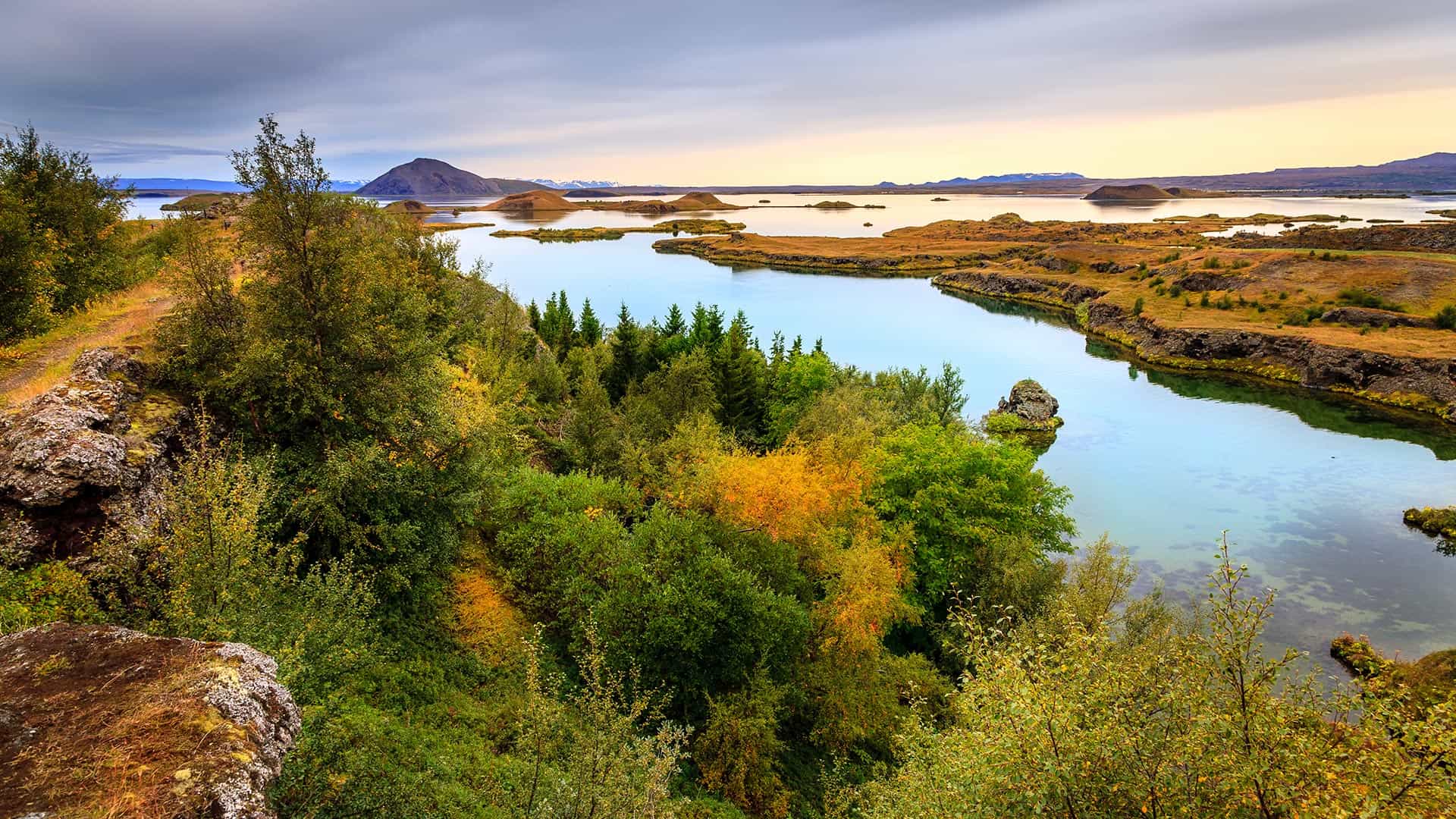 3. Lake Mývatn
Lake Mývatn is one of the top North Iceland attractions you should visit, with fascinating volcanic geology to discover. If you take a Full Circle tour of the country, you can't miss this vast lake, situated close to the Ring Road.
Mývatn is an ethereal expanse of shallow water that stretches over 37 square kilometres (14 square miles). It was formed by a basaltic lava eruption some 2,300 years ago.
You can spot other signs that this is a region shaped by volcanic activity. Lake Mývatn is surrounded by lunar-like formations such as lava pillars and rootless vents. Check out the pseudo-craters at Skútustaðir, created by gas explosions.
You'll also want to take a closer look at the Hverfjall crater, found just to the east of the lake. Measuring 1 kilometre (3,280 feet), this is one of Europe's largest tephra (tuff ring) craters.
Then there are the Námaskarð mud pools, also located to the east of Lake Mývatn. Marvel at the yellow and brown colours of the clay along with the gray-filled mud pools. It looks like a movie scene from another planet!
---
---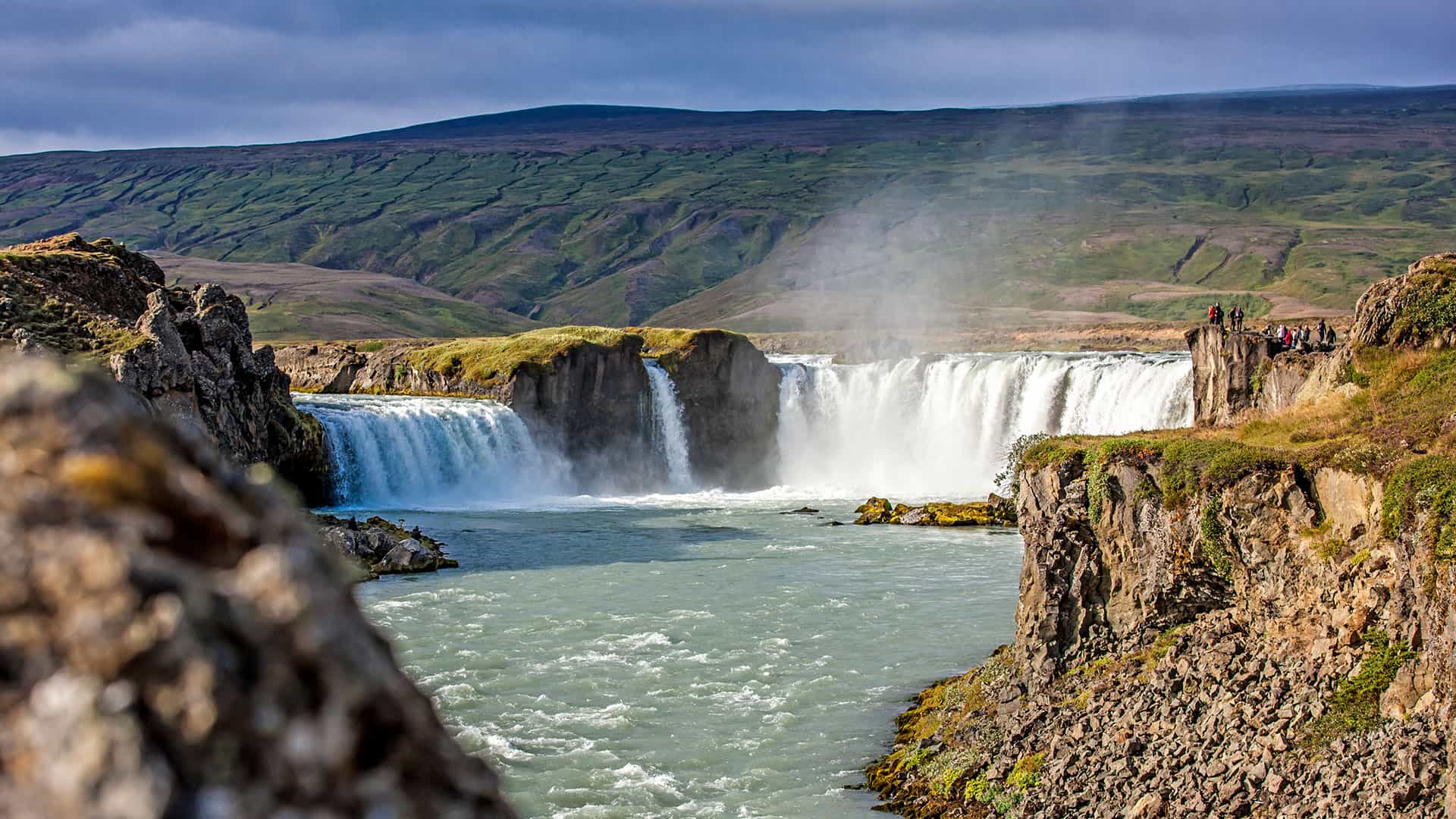 4. Goðafoss waterfall
Lay your eyes on the awe-inspiring "Waterfall of the Gods" – a North Iceland wonder. Goðafoss will dazzle you with its beautiful cascades that drape over two horseshoe-shaped falls.
In a country full of stunning waterfalls, what sets Goðafoss apart is the sheer width of the tumbling falls. White water from the Skjálfandafljót river surges over the rim, thundering down and crashing into the rocks.
These falls are captivating to behold all year round. Watch the falls under the midnight sun in summer, or come in winter to see them cloaked in ice and snow.
Why is it called "Waterfall of the Gods", you ask? Icelanders' sagas have it that Þorgeir Ljósvetningagoði, a lawmaker, cast his statues of the pagan gods into the rushing water. This was after deciding, in the year 1000, that Iceland should adopt Christianity.
---
---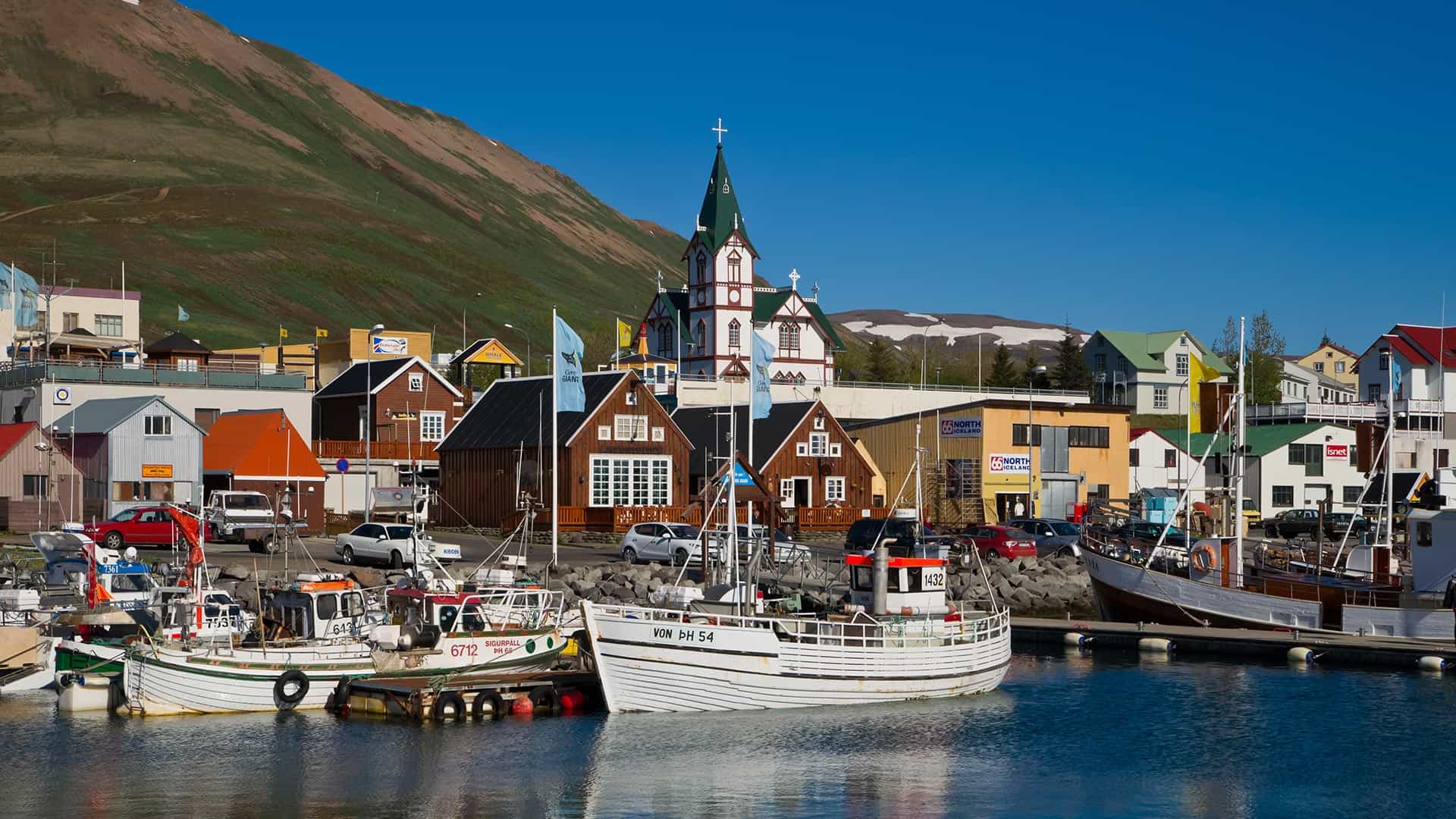 5. Húsavík
You might recognise Húsavík from Netflix's Eurovision Song Contest: The Story of Fire Saga. Húsavík was one of the Eurovision movie's filming locations, the hometown of characters Sigrit and Lars – played by Rachel McAdams and Will Ferrell.
In real life you'll discover that the seafront town of Húsavík is one of the most charming places to visit in North Iceland.
Admire the traditional Icelandic architecture, including the distinctive, wooden church which dates back to 1907. Enjoy views of the Kinnarfjöll mountains across the bay, where fishing boats bob on the water's surface.
Above all else, you shouldn't miss a whale-watching tour from Húsavík.
The success rate of whale sightings here is the highest in the country, which is why many call Húsavík the "Whale-watching Capital of Iceland". You could spot up to 23 different species of cetaceans on your boat tour along the Arctic coast, including humpback, minke and blue whales.
---
---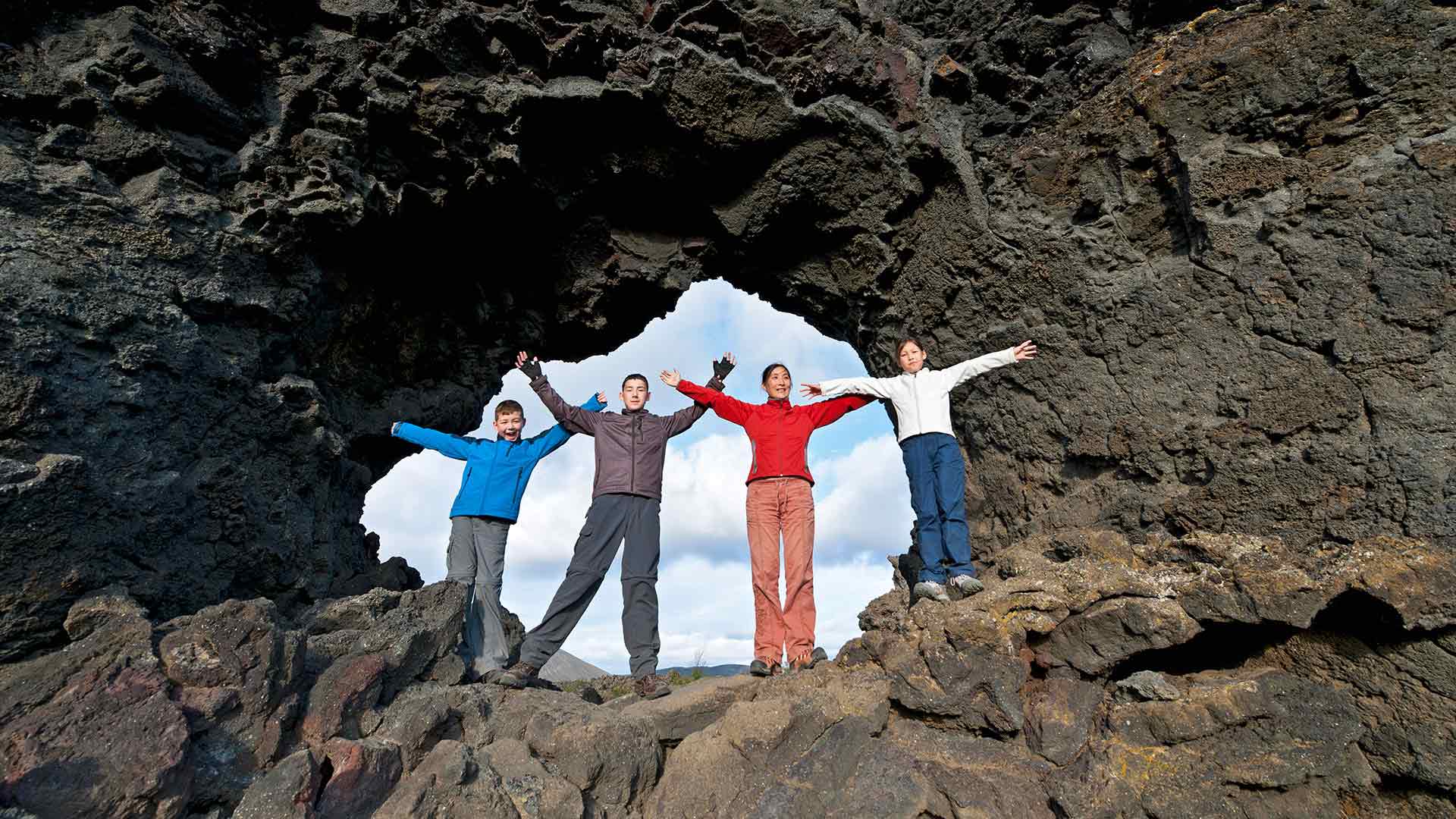 6. Dimmuborgir lava formations
As you now know, the Lake Mývatn area in North Iceland is brimming with otherworldly volcanic formations that are intriguing to behold. Another place you should visit in this part of Iceland is Dimmuborgir.
Situated to the east of Lake Mývatn, Dimmuborgir is a strange lava landscape. Its name means "Dark Castles," owed to the interesting rock formations jutting out of the ground, resembling a fort from an ancient city.
Walk through this extraordinary place to see columns, caves and arches, including the most famous formation: Kirkjan ("the Church").
The black lava pillars were born from a collapsed lava tube from a large volcanic eruption more than 2,000 years ago.
---
---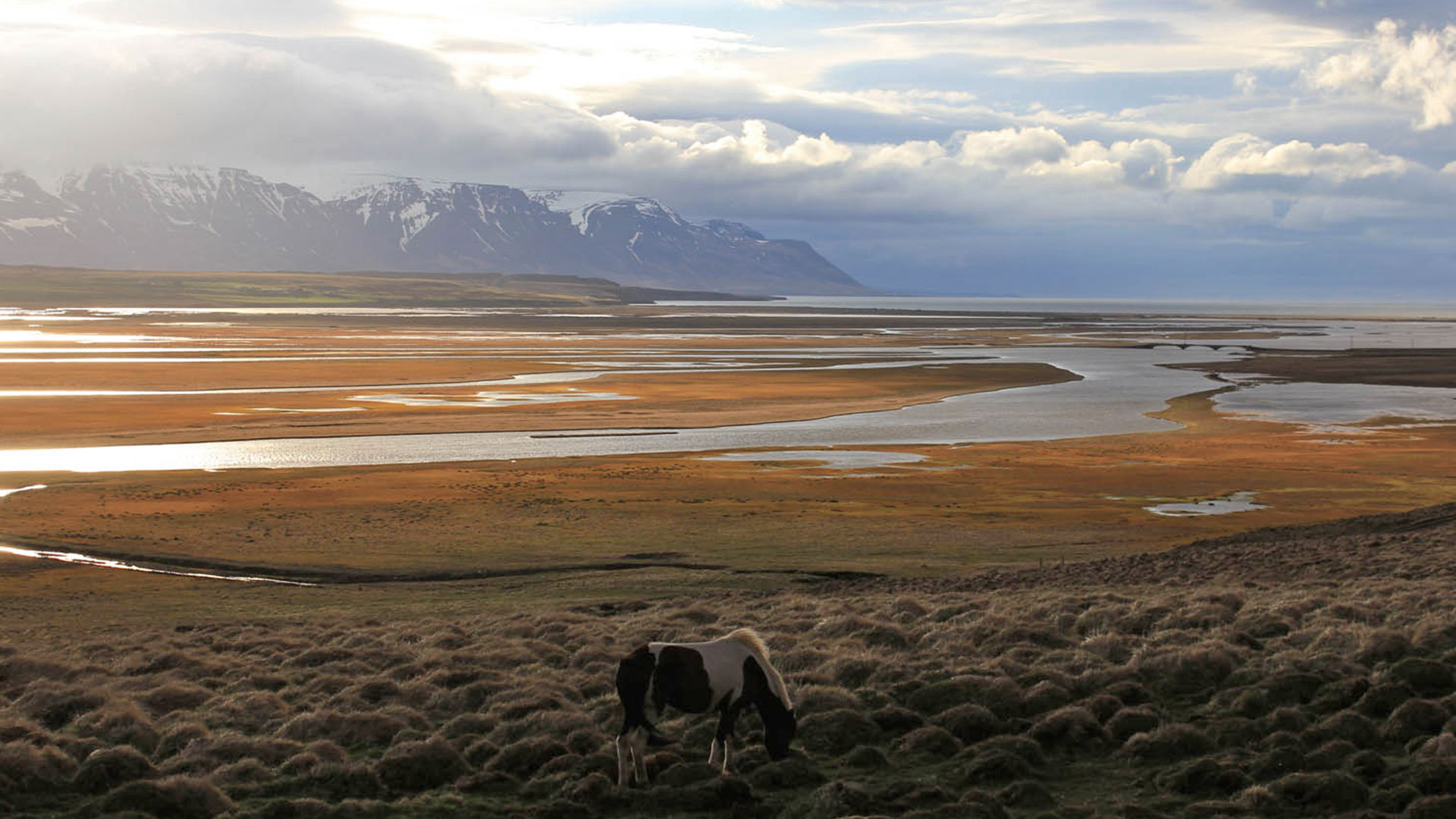 7. Skagafjörður valley
Discover the blissfully remote Skagafjörður, a valley set by a beautiful fjord of the same name in North Iceland. Skagafjörður is the perfect place to explore if you're looking for a picturesque countryside retreat during your North Iceland tour.
Here you'll find sweeping pastures roamed by Icelandic horses, a breed that is unique to the country. In fact, these Icelandic animals outnumber the human population in Skagafjörður. This makes it the ideal spot for a horse riding excursion.
Skagafjörður is also home to mighty gorges, soaring mountains, and rocky islands. From the coastline you can see the isles of Málmey, Drangey and Lundey rising from the fjord waters.
Come at dusk to witness the breathtaking sunset over the North Atlantic Ocean. If you're visiting Iceland in summer, you might stay up late to experience the midnight sun. You could even take a detour to Hvítserkur, west of Skagafjörður. This sea stack looks like a dragon drinking from the water.
Or choose a winter trip to Iceland to chase the northern lights. With its wide open landscapes, proximity to the Arctic Circle, and lack of light pollution, Skagafjörður is a great place to hunt for the aurora borealis.
---
---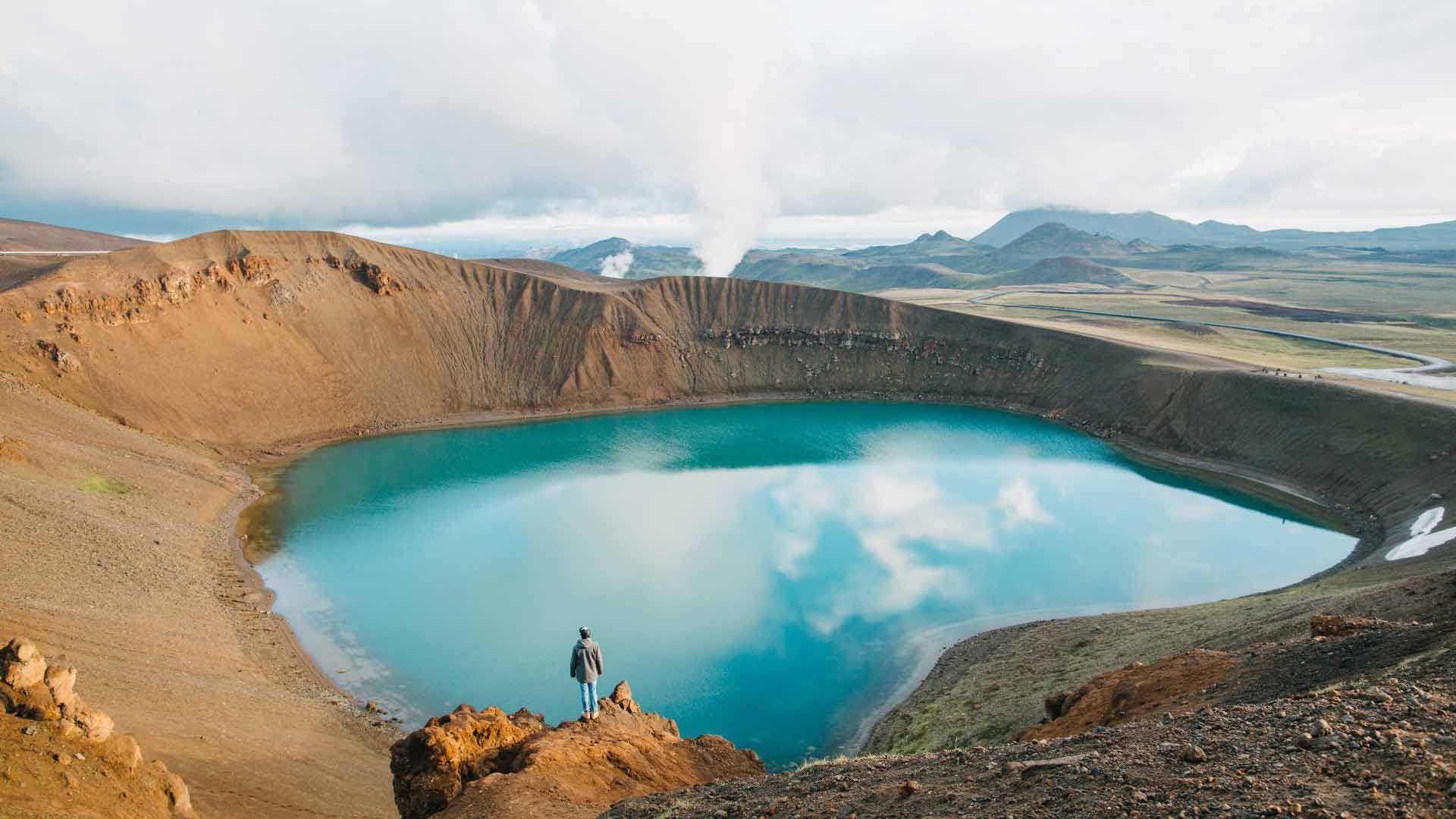 8. Krafla volcano
Imagine staring down at a crater on the slopes of a volcano, in an area that's still geothermally active. This is what it's like when you visit Krafla, a volcano that's 818 metres (2,690 feet) high with a caldera that's 10 kilometres (6 miles) across.
Krafla, which is set on a fissure zone in North Iceland, erupted 9 times between 1974 and 1984. This series of events is known as the "Fires of Krafla".
You'll sense the raw power of this volcanic landscape as you explore the fumaroles, mud pots and lava fields around Krafla and the neighbouring Leirhnjúkur.
Don't miss Víti, one of the best-known craters in Iceland. You can reach this jade green, volcanic crater lake via a 20-minute walk from the Krafla car park. It's a fascinating example of Iceland's fiery nature.
---
---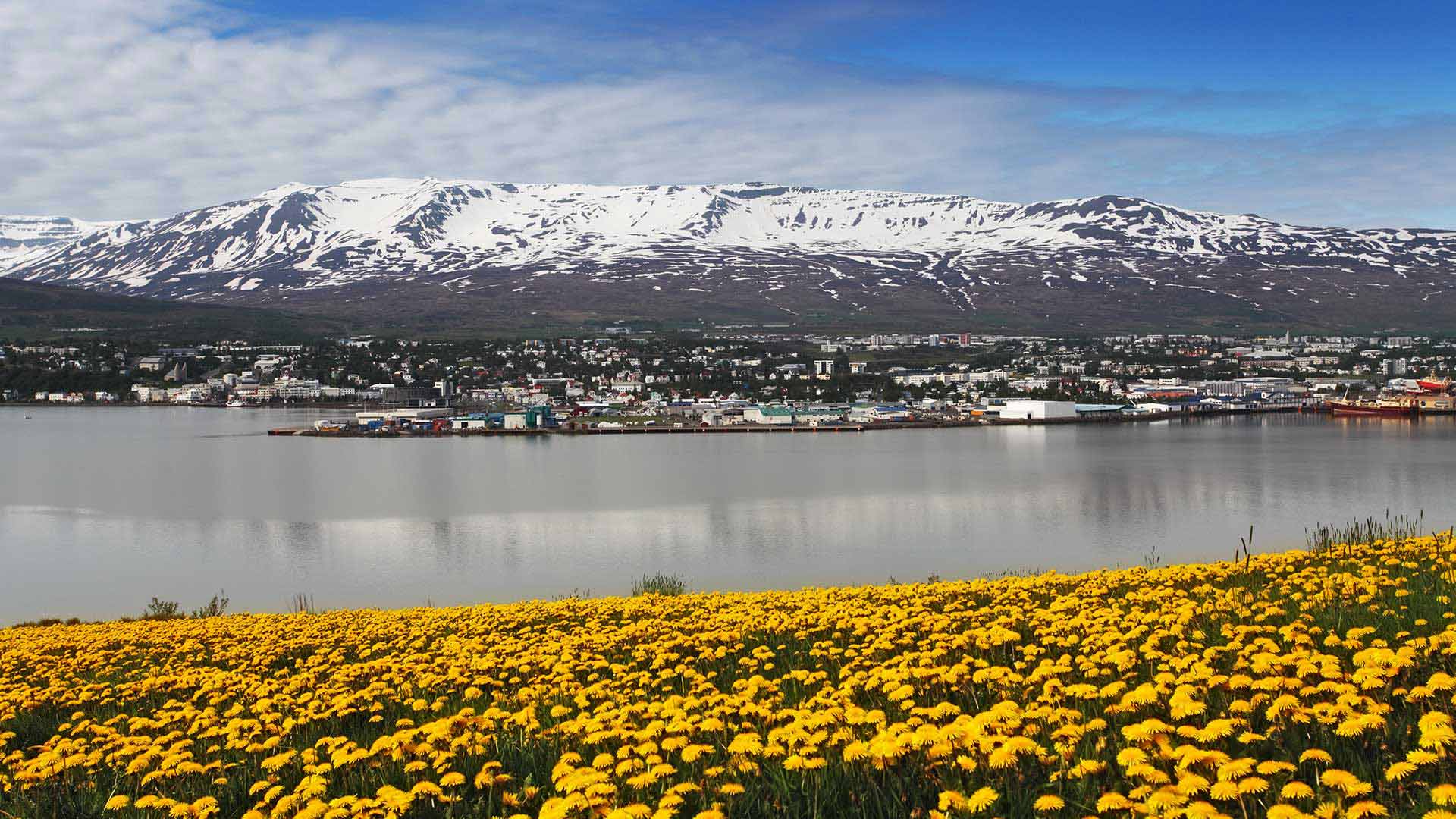 9. Akureyri
Although the great majority of North Iceland's star attractions are natural ones, you shouldn't miss a visit to its biggest cultural hub.
Akureyri is the second largest town in Iceland, after Reykjavík, and is nicknamed the "Capital of the North". It's still small, with a population of just 18,000. But when you're journeying through the vast landscapes in the region, that'll feel pretty big!
Wander through the old town in Akureyri and keep an eye out for original buildings like the theatre, school house and hospital. These all date back to 1827. Then there's the wooden house, Laxdalshús, which was constructed in 1795.
As well as admiring the architecture of Akureyri, you could visit the world's northernmost botanical garden: Lystigarðurinn. There are also museums to pop into, such as the Icelandic Folk Art Museum which bestows you with a view of the Eyjafjörður fjord.
And, just like Húsavík, Akureyri is a great place to enjoy some whale watching.
---
---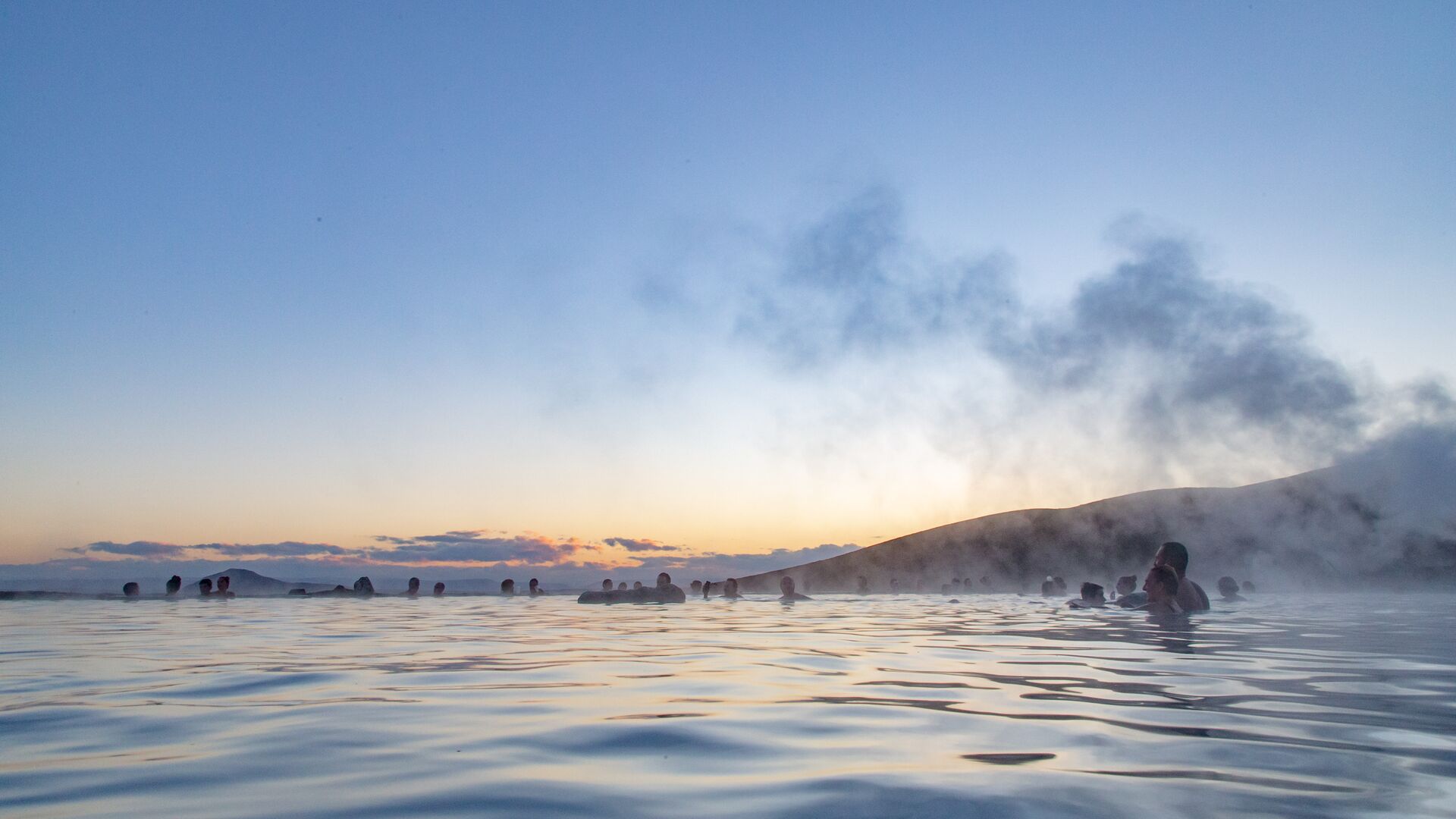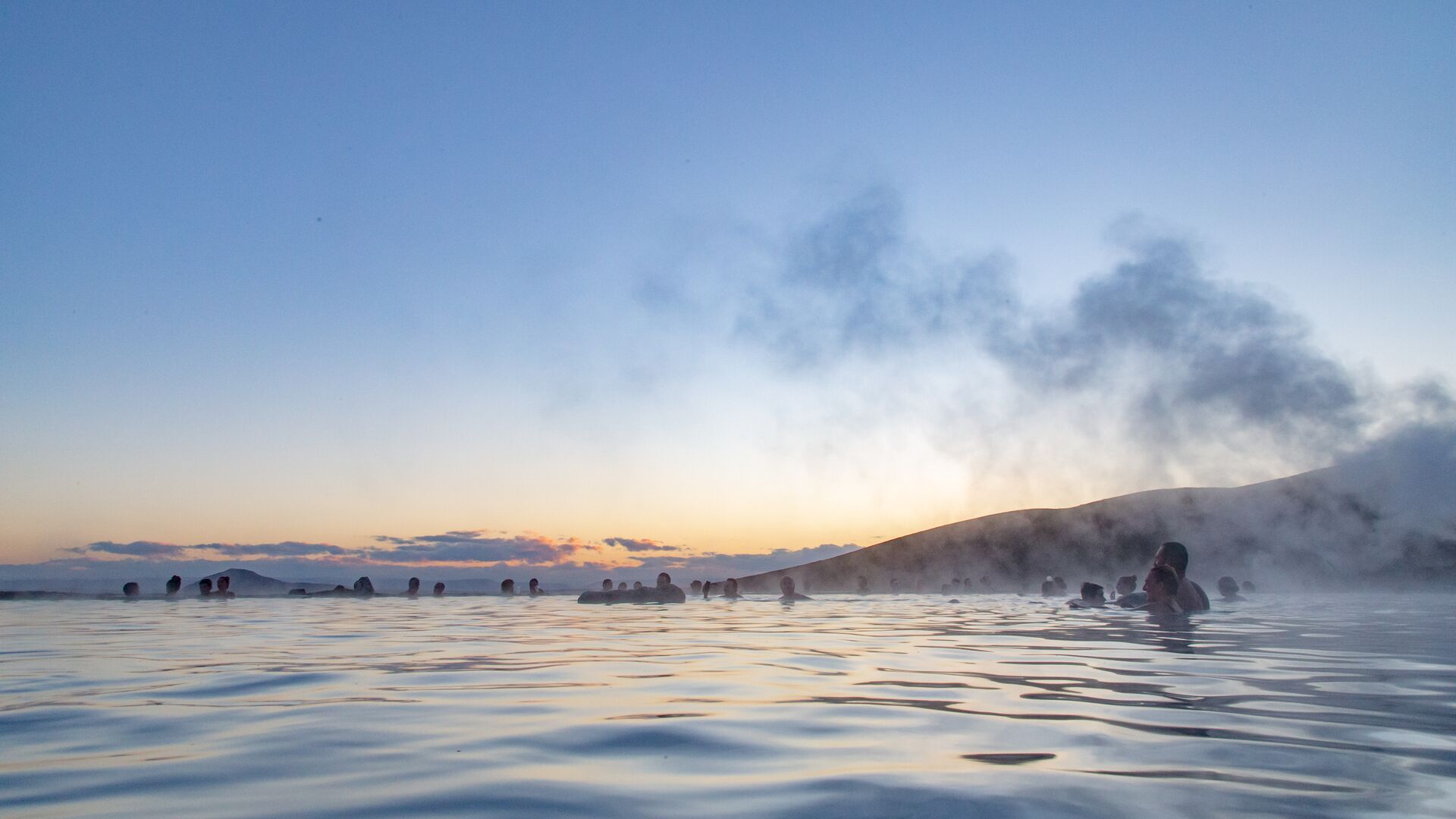 10. Mývatn Nature Baths
One of the coolest things about exploring North Iceland? You have the chance to dip in the naturally heated waters of a geothermal pool: Mývatn Nature Baths.
Soak up the views of the ethereal landscape near Lake Mývatn while you bathe in one of Iceland's best geothermal pools. The waters, fed by a hot spring, are rich in minerals and sulphur, which is thought to help soothe skin conditions and asthma.
Enjoy delightfully warm temperatures of between 38 and 40°C (100 and 104°F). This may already seem hot to you, but the waters are actually cooled from a natural temperature of 130°C (266°F)!
Then why not relax in the steam baths at this geothermal spa? You still get to see the view though, thanks to the wide windows that frame your surroundings.
---
---
When you're ready to explore North Iceland for yourself, Nordic Visitor can help.
Our Iceland travel experts are based in Reykjavík and know the country inside out. They'll be able to plan a tour of North Iceland for you, incorporating all the must-see sights that you'd like to experience.
Your dedicated travel consultant will design and book your trip for you, while you relax, reserve your flights, and look forward to your getaway.
Leave it to us to arrange your stays in handpicked accommodation, your transport, and any guided activities. You also get daily breakfast as part of the package and access to our 24/7 helpline throughout your tour, just in case you need us.
Get in touch with our Iceland travel team to make your dream trip a reality.