The Nordics are the homeland of Santa Claus, where we have delicious glögg to sip after hearty smorgasbords and colourful twinkling lights all over—even up in the sky! So it should come as no surprise that we really get into the Christmas spirit up here.
In case you want in on the Yuletide fun here in the Nordics, read up on what to expect...
---
Jóla in Iceland
In Iceland, there's no shortage of quirky holiday traditions to keep spirits bright. Of all the Nordic countries, Iceland is probably the most intense in its love of Jólin (Christmas). Decorations start going up as soon as as early November and for the next two months the country is a flurry of twinkling lights, parties, shopping for new party outfits, home-tidying and gingerbread biscuits. Lots of biscuits!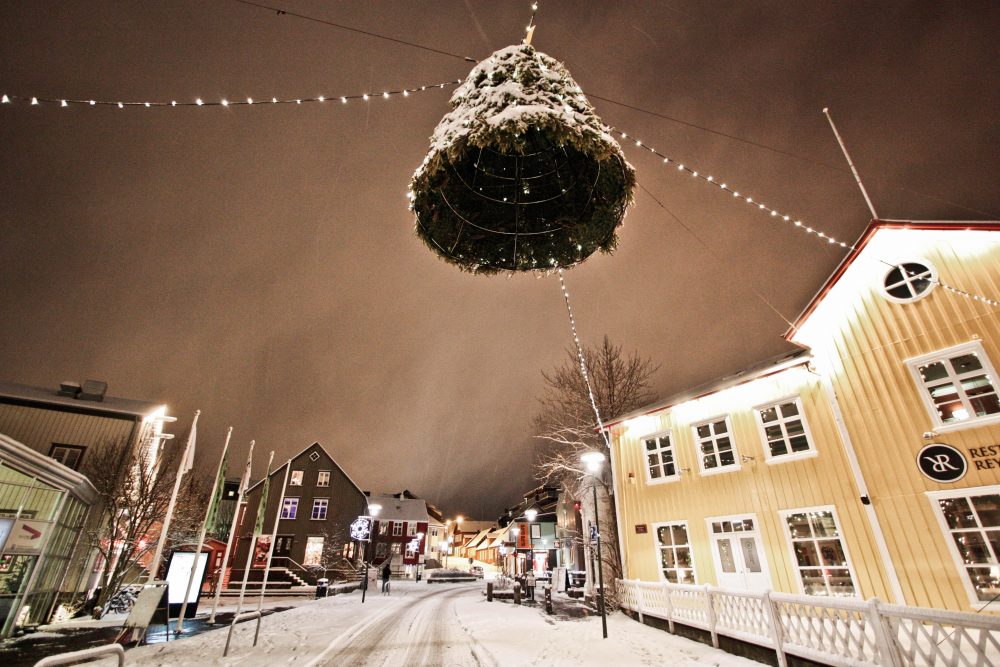 One of the more unusual Icelandic lores related to this season is that of the Christmas Cat (Jólakötturinn). This festive feline is more ghastly than cuddly, and is said to devour anybody who is not gifted new clothes for Christmas. Yikes! What would you expect from the house cat of the ogress Grýla, who herself has an insatiable appetite for naughty children around the holidays.
Lest you think the holidays in Iceland are all about eating children, it should be mentioned that Grýla is also the mother of the 13 Yule Lads, who descend from the mountains in the 13 nights leading up to Christmas to wreak mischief and leave little presents in the shoes of good little boys and girls.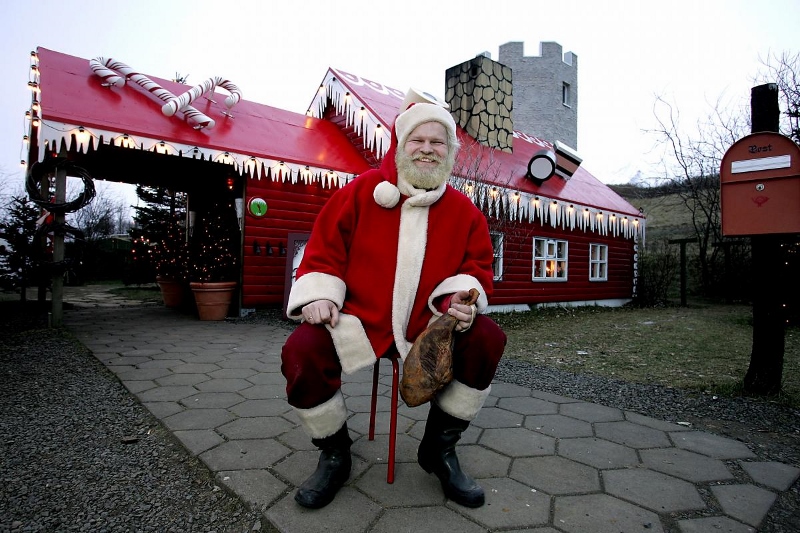 Iceland also has a reputation for weird foods, and Christmastime is no exception. One particular delicacy eaten on the 23rd of December for Þorláksmessa (St Thorlak's Mass) is skata, or fermented skate. The taste and texture of this fish is perhaps similar to hárkarl, rotten shark, and the smell is...memorable. Let's just say you'll be able pick up the scent from a distance as crowds of locals stroll down Reykjavik's main street, Laugavegur, in the evening for last minute-shopping and greeting friends.
Otherwise, traditional main courses at family tables are hangikjöt (Icelandic smoked lamb), hamborgarhryggur (salted pork), ptarmigan or goose. Don't miss the delicious, crispy leaf bread (laufabrauð) and the Malt-Appelsín soda drink!
Jul in Scandinavia
One of the great things about Norway, Sweden and Denmark is its shared cultural traditions. It's also convenient for visitors that the word for Christmas in the Scandinavian languages is the same: Jul.
In Sweden, the Christmas season officially kicks off with the celebration of St Lucia Day on the 13th of December. This beautiful ceremony involves children dressed all in white, adorned with head wreaths and candles, singing angelic hymns. At the centre is a young woman, the "Lucia bride", with a crown of candles fashioned into lingonberry branches. The event, though stemming from the Lutheran Church, coincides with the Winter Solstice of the old "Julian" pagan calendar and has come to symbolise the return of the light and new life in winter.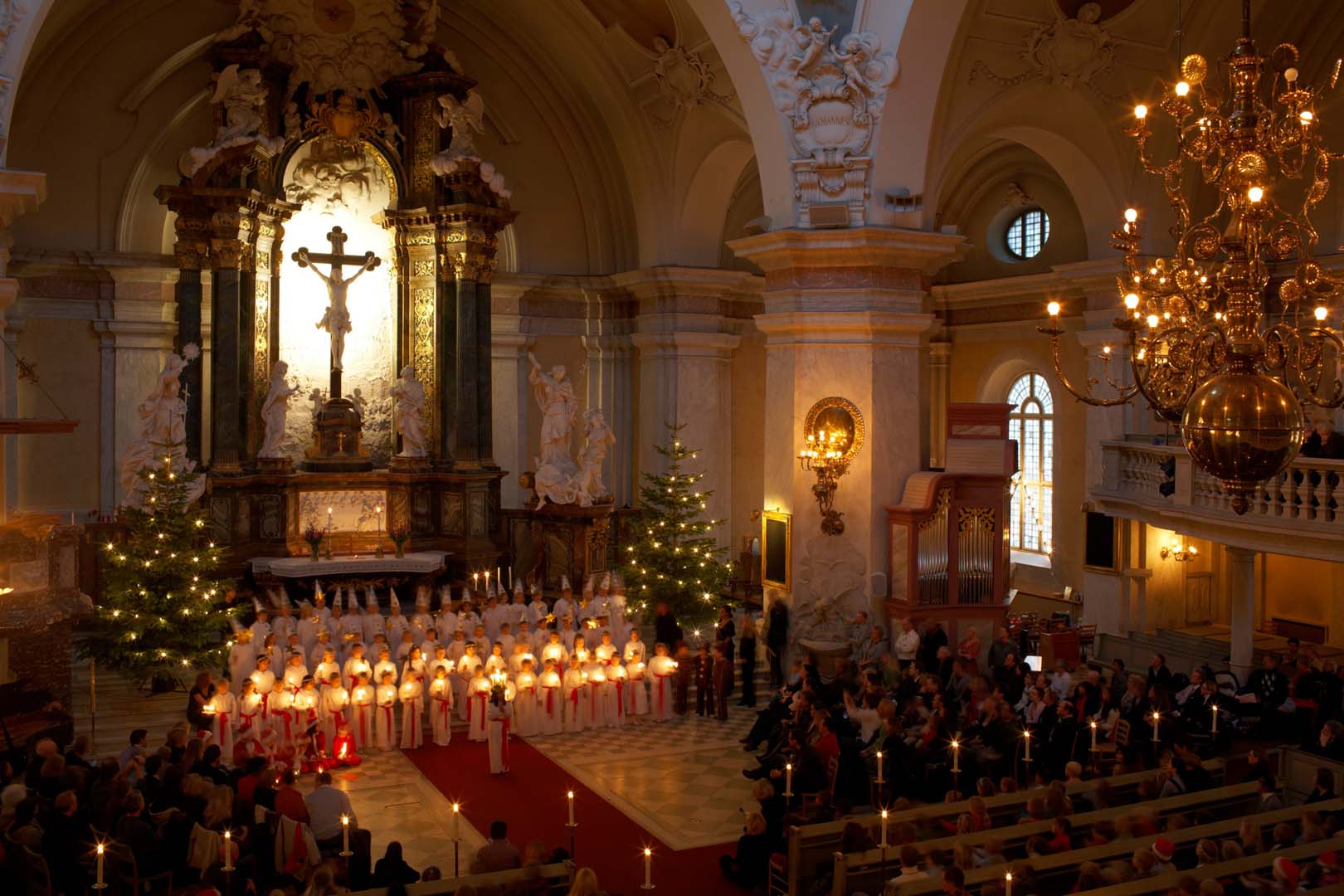 In Denmark, the seasonal focus is on hygge. Like fika in Sweden, this Danish concept doesn't have an exact translation in English, but it describes a sense of "winter cosy". Candles, twinkling lights, hot beverages and basically any warm accent for the home is the dominant trend this time of year. Of course, there are good reasons to leave the comforts of home: town squares and shopping streets are decked out in decorated trees, garland and fairy lights, punctuating the winter darkness with that warm feeling of hygge.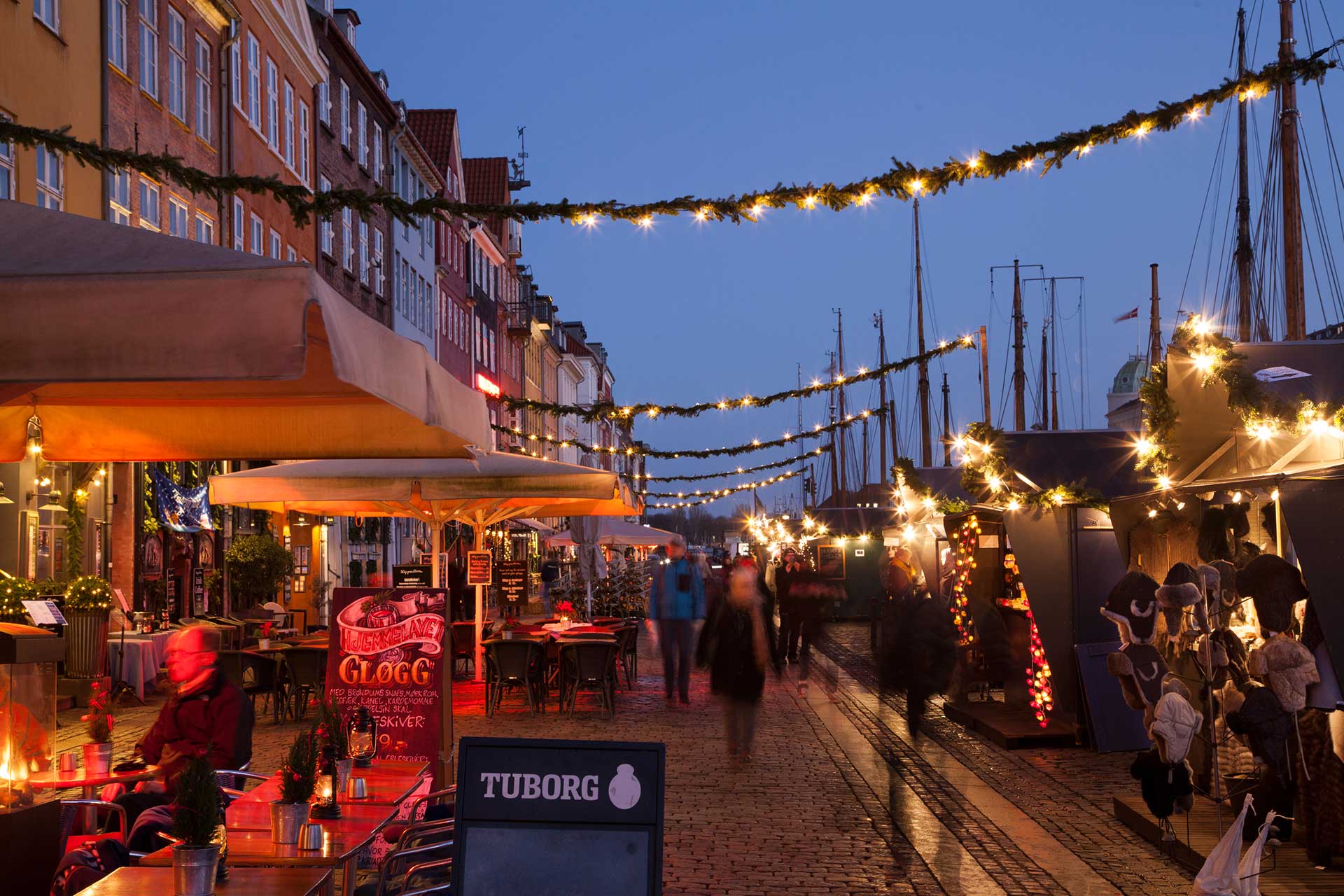 Oh yes, the food! It's not Christmas without the julbord, the traditional buffet. As the Scandinavian countries all have maritime roots, there is bound to be a variety of pickled, spiced and marinated herring and different types of cold salmon, typically cured with dill seasoning and/or smoked.
In Sweden, a main hot course might be julskinka ("Christmas ham") or the classic köttbullar, better known as Swedish meatballs. In Denmark, the emphasis is more on its national speciality — pork dishes, particularly warm liver patés with bacon and mushrooms. And in Norway, traditional foods such as pinnekjött (lamb "stick meat") and lutefisk (a lye-soaked whitefish with a pungent aroma) are classic additions to the Christmas table. Getting hungry yet?
This meal may be accompanied by beer and schnapps or wine. Another yuletide treat many people outside of Scandinavia may know is glug or glogg (Gløgg in Norwegian and Danish, Glögg in Swedish). This mulled wine, infused with cinnamon and cardamon spices, is typically served at small parties. Why not try some for yourself?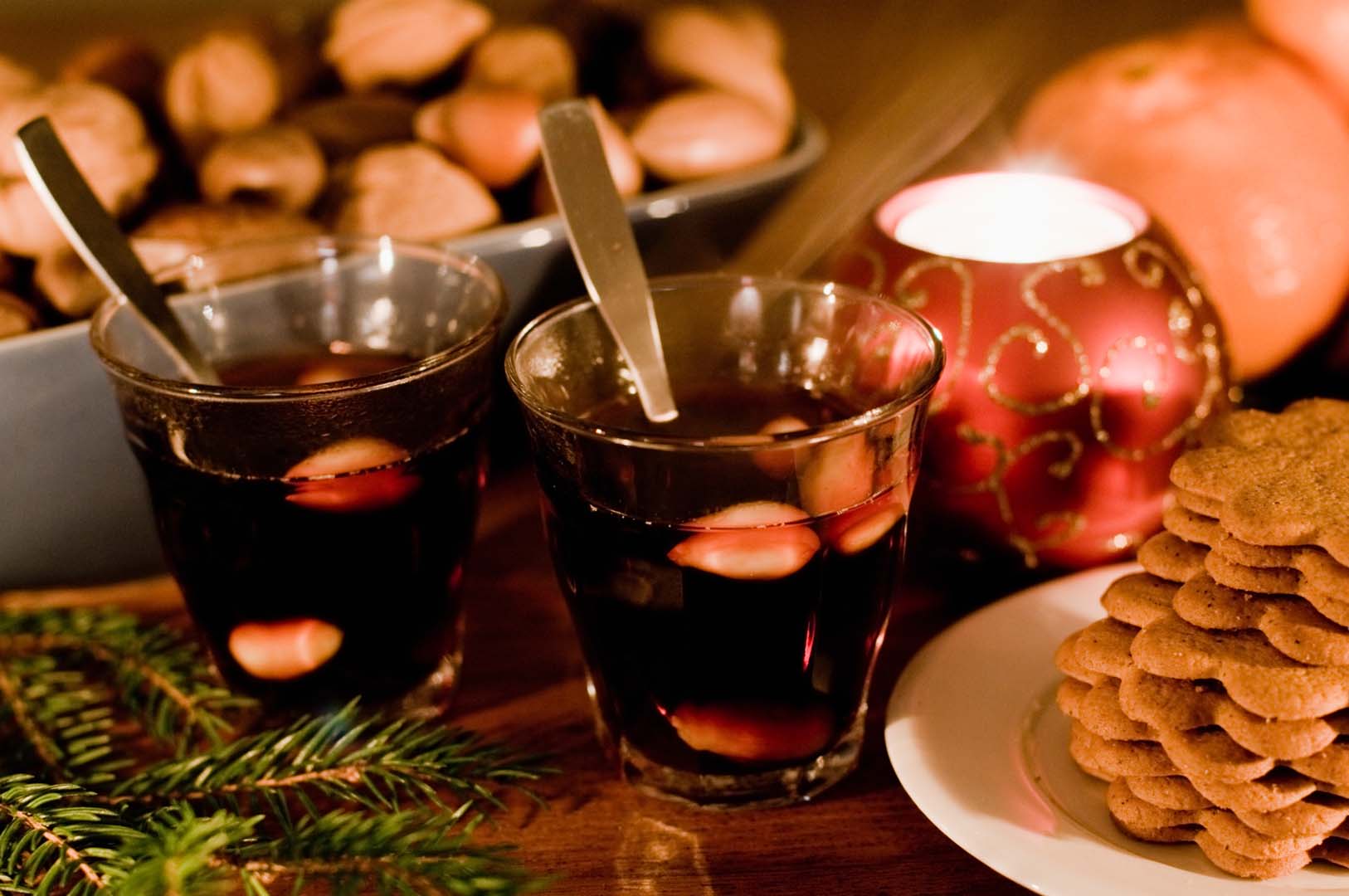 Scandinavia keeps the Christmas spirit going all the way until the Epiphany on 6th of January, which is treated as a bank holiday. So if you're travelling over this period it's a good idea to check on opening hours of shops, restaurants and attractions beforehand.
Joulu in Finland
Leave it to the Finns to be a little more unconventional than their Scandinavian neighbours in just about everything. While sharing many of the same foods and traditions as neighbouring Sweden, Joulu in Finland has its own distinct charm. What else would you expect from the home country of Santa Claus?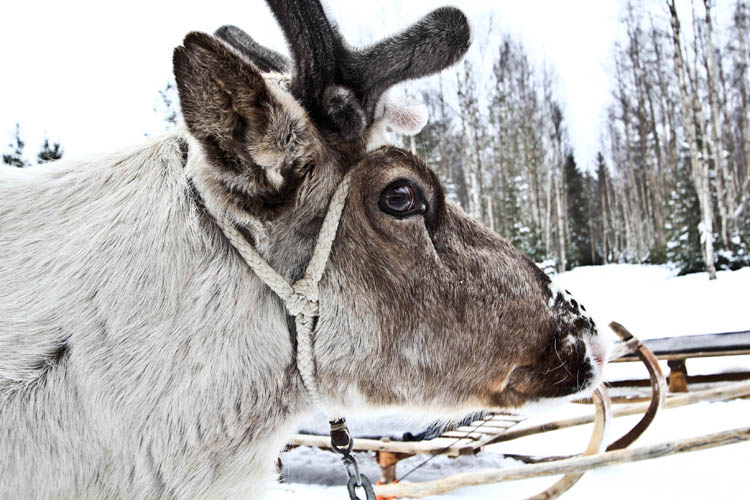 That's right, Rovaniemi — located on the Arctic Circle in Finnish Lapland — claims the title of Santa's hometown. It's here where good boys and girls (of all ages!) can visit the man in red at the Santa Claus Village and partake in other exciting arctic pastimes like dog-sledding, reindeer sleigh rides, snowshoeing, cross country skiing and more.
Of course, in Finland, Santa wasn't always the jolly old fellow we know and love today. Joulupukki in Finnish is also the name for the "Christmas Goat", a rather frightening goat-like creature wearing a mask and a pair of horns on his head in the old days. Yikes! But over time the Joulupukki story turned into an old man in a goat costume and, eventually, the gift-giving, reindeer sleigh-riding figure. The modern Santa may drop down the chimney in other countries the night before Christmas, but in Finland he makes short home visits during family Christmas Eve dinners and knocks on the front door...like a gentleman.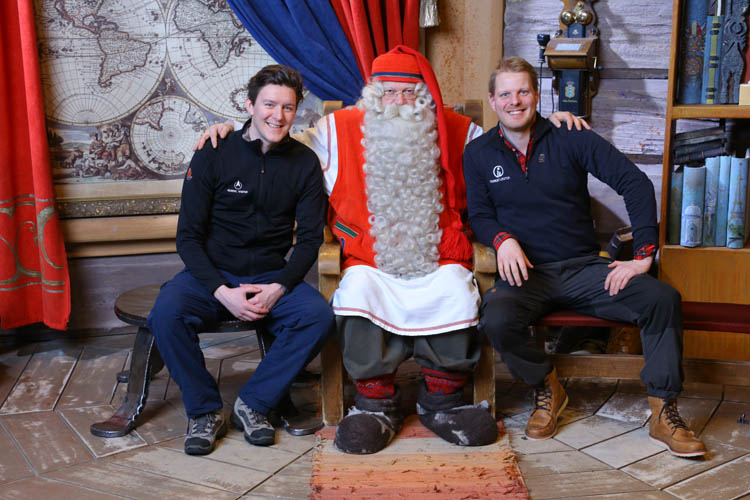 Similar to the Swedish julbord, the Finnish joulupöytä has a rich assortment of cold and warm dishes and glögi, alcoholic or non-alcoholic mulled wine. There's also a Christmas rice porridge sweetened with sugar and cinnamon, which often has a blanched almond hidden somewhere in the kettle — whoever discovers it in their bowl gets a small gift. Similar traditions are found in the other Nordic countries as well.
And, of course, it's not a proper Finnish Christmas without the Christmas Sauna! Before the evening festivities take place on the 24th of December it is customary to visit the sauna for a little purification of the spirit. Parents might even tell their children to leave a little offering, such as a bucket of water, afterwards for the Saunatonttu, the friendly "sauna elf".
---
Get your Yule on!
A specially-arranged Christmas getaway by Nordic Visitor ensures that you have a cosy place to stay, fun activities planned for Christmas Eve and Christmas Day (when many services are closed) and opportunities to experience the local foods and traditions. You might even see see northern lights!
Have something particular in mind? Get in touch with the friendly travel experts at Nordic Visitor for your own tailor-made itinerary.