First things first, it's important to tell you that Finland in winter is rather magical. Snow, northern lights and Santa are just a few of the things you'll love about it.
You can enjoy thrilling activities like dog sledding, snowmobiling and Arctic swimming when you visit Lapland in winter. As well as all the adventure, relaxing experiences await you in Finland too. Think steamy saunas, indulgent meals and trendy Nordic cafés.
That's just the start of the story though. Discover all the best things to do and places to go in Finland in winter here. We've also answered frequently asked questions about what Finland is like in winter to help you prepare for your trip.
---
---
Contents:
---
Best things to do in Finland in winter
1. Sleep in an ice hotel or glass igloo
Visit Finland in winter and you could experience an unusual kind of hotel stay: sleeping in a room made of snow and ice.
Imagine waking up to beautiful art carved into the snowy walls of your room, or dining in a frozen restaurant. The ice hotels in Finnish Lapland are built by hand each winter and are enchanting to behold.
If sleeping amidst the ice isn't really your thing, you could always visit a frozen hotel then stay in a glass igloo instead. Cosy up under your duvet and admire a starry night sky through the transparent dome. On a clear night, you might get to watch the northern lights from the comfort of your bed.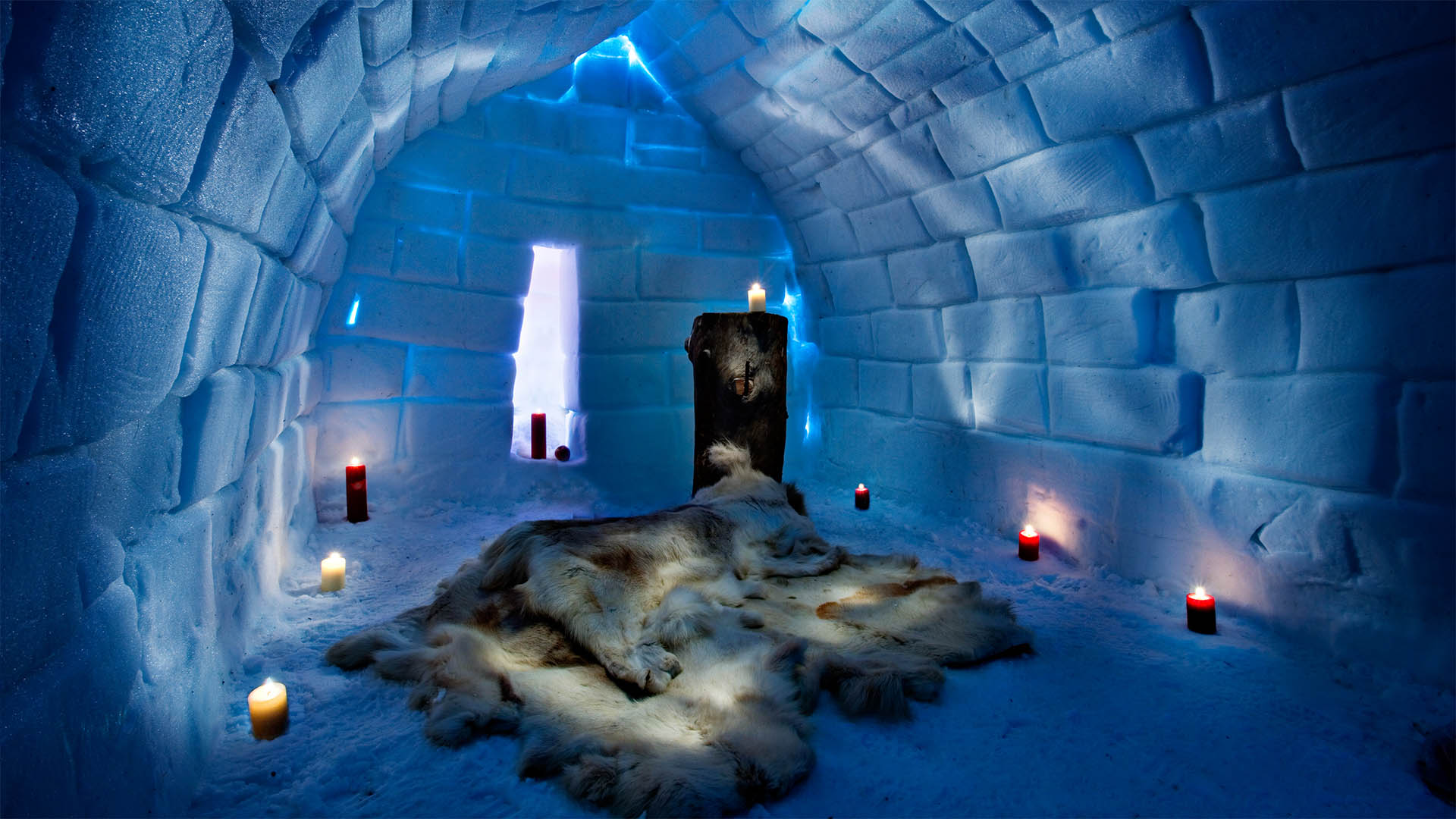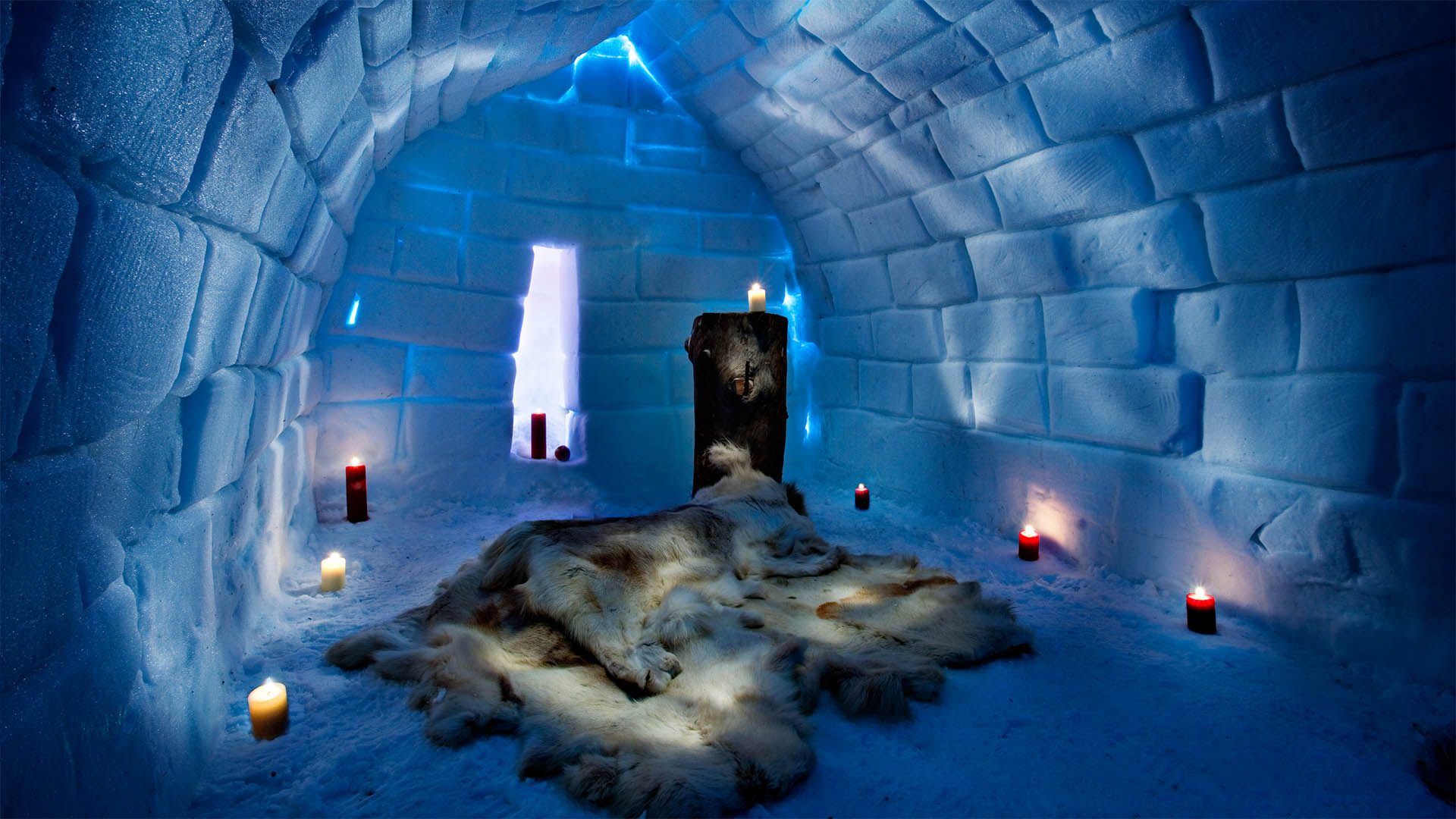 ---
---
2. Warm up in a Finnish sauna
Winter is the perfect time to enjoy a classic Nordic spa tradition: the sauna. This is a popular ritual in Finland so you won't need to look far to find one.
Whether or not you've spent the night in an ice hotel, you'll probably want to get toasty in a Finnish sauna during your winter trip. It's a great way to relax the muscles and activate blood circulation.
You are also encouraged to dip in a cold plunge pool, or just roll around in the snow. By exposing your body to extreme high and low temperatures, you boost your immune system and relax your muscles. Don't be afraid of the cold – give it a go!
3. Hunt for the northern lights
If you've ever wanted to see the northern lights, also called aurora borealis, you can search for them in northern Finland. This part of the country lies within the Arctic Circle, which is a prime spot for aurora gazing as it's close to the North Pole.
In fact, Finnish Lapland is situated in the "aurora zone" – located between 65 and 72 degrees north. This is where aurora frequency and intensity is at its highest. Come here for a winter trip and you'll maximise your chances of seeing the northern lights in Finland.
Watching the aurora light up the sky in an enchanting display of bright green, purple, red or pink is as magical as it sounds!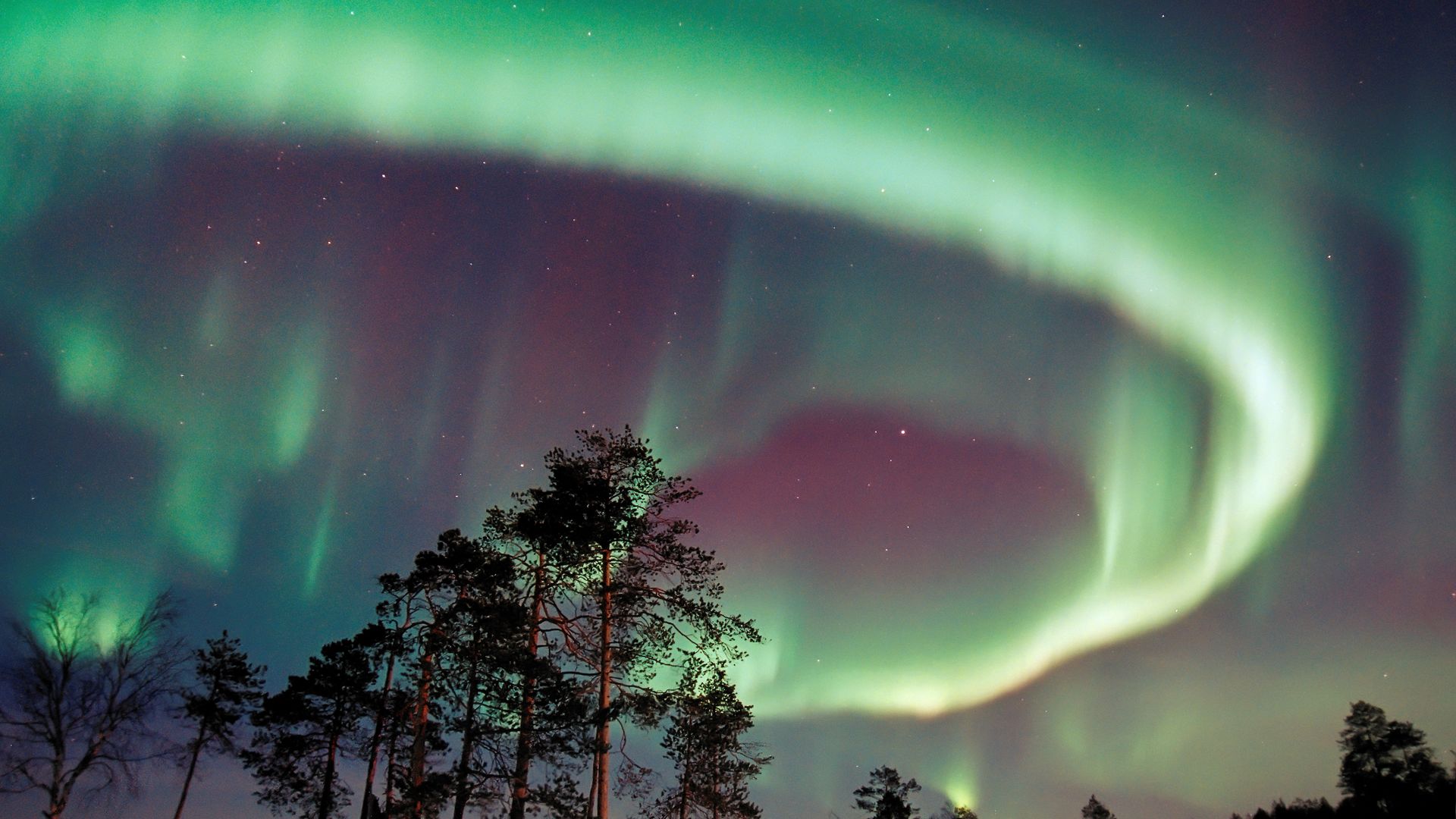 ---
---
4. Enjoy activities on the snow and ice
Finland is a haven if you're looking for fun winter activities. The best place to enjoy them is Finnish Lapland, where vast natural landscapes are carpeted in a blanket of snow.
Picture yourself zipping over the soft white powder in a dog sled or reindeer sleigh. This is a quintessential activity when you're in Lapland and a fantastic way to see the snowy scenery.
Or how about snowmobiling through the wilderness? You could take an evening tour to drive over the snow while looking for the northern lights in the sky above.
Alternatively, consider going cross-country skiing or snowshoeing for some outdoor exercise in this part of Finland. There are also ski resorts you could visit, or perhaps you'd like to have a go at ice skating or ice fishing on frozen lakes.
5. Meet Father Christmas
You might already know that Santa Claus lives in Lapland. But did you realise that you can meet him in person in his hometown of Rovaniemi?
Visit Santa Claus Village in Finnish Lapland to have a personal encounter with the Man in Red. Children will love the experience, but remember you're never too old to meet Father Christmas!
Plus, you don't have to visit Lapland at Christmastime to catch him. Santa and his elves are here to meet you and have a chat year-round. There's something really special about visiting him in winter though, so we recommend timing your trip for the snowy months – December to March.
---
---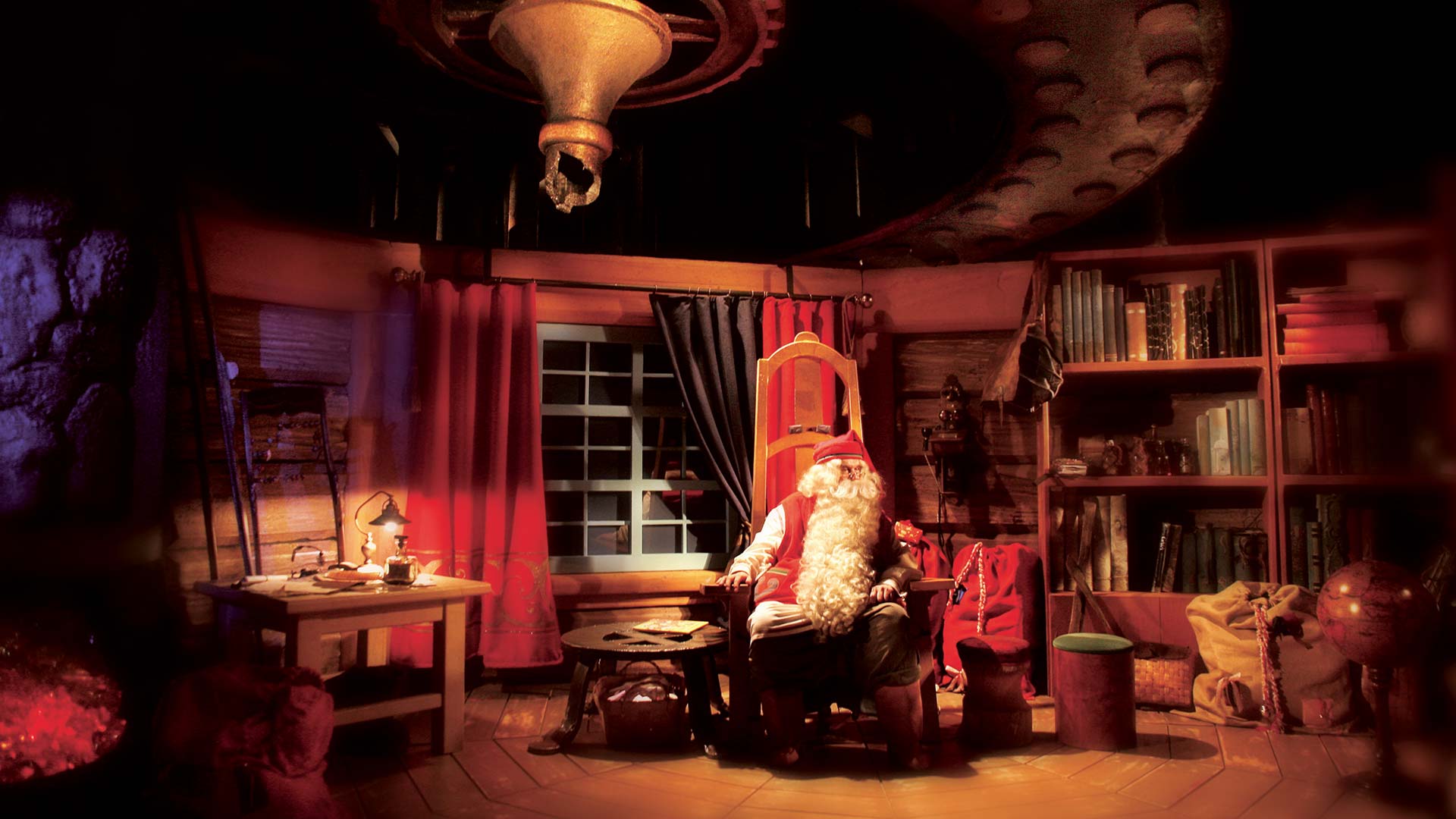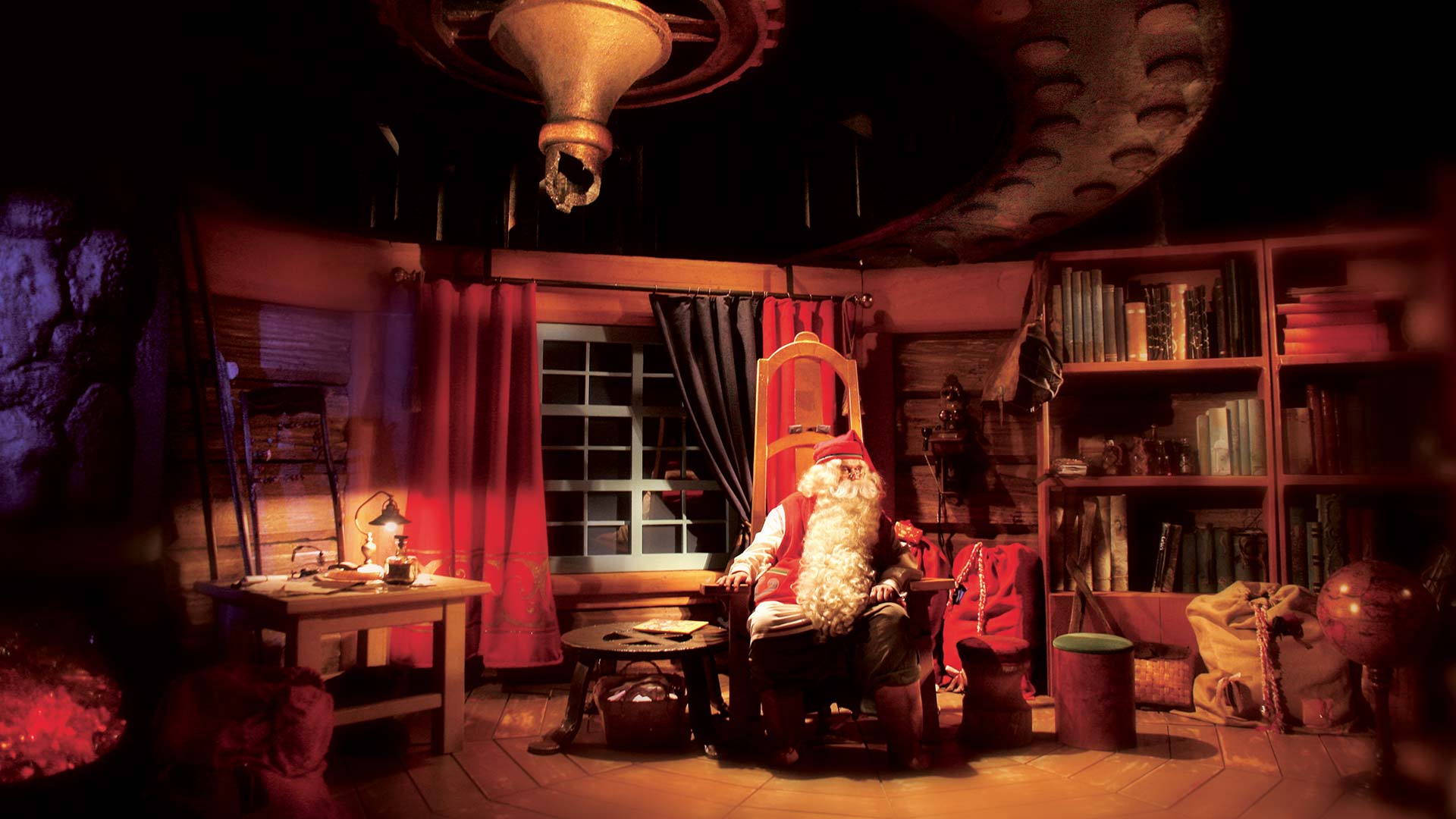 6. Admire Helsinki's architecture
Helsinki, the capital of Finland, is beloved for its outstanding architecture. You can take in the contrasts of this UNESCO City of Design, from the striking modernistic Finlandia Hall to the neoclassical Helsinki Cathedral.
For a taste of the capital's more traditional architecture, take a stroll through the centrally located Market Square and stop by Parliament House. Admire the colourful buildings lining the Old Town Pier, as well as the redbrick Uspenski Cathedral with its golden cupolas.
Then you can't miss the contemporary architecture of Helsinki, for which the city gets much praise. Discover the impressive Oodi Library, the Kamppi Chapel of Silence or the Amos Rex contemporary art museum.
Another top architectural gem in Helsinki is the UNESCO-listed Suomenlinna. Hop on a ferry for a day trip to these fortress islands, where you'll find museums, a church, tunnels, and buildings from the 18th century.
---
---
7. Learn about Sami culture
Visit Finnish Lapland and you could meet the Sami, the indigenous people who live in the northern parts of Finland, Sweden and Norway. The Sami have called this region home for thousands of years and have worked hard to maintain their customs.
On your winter trip to Finland, you could learn about the Sami's way of life. Part of their culture is a strong connection with the land. You'll discover how much the Sami rely on reindeer for their livelihood as well as nourishment.
Visit a reindeer farm to hear stories, ride in a sleigh and find out how the Sami are keeping their culture alive. You could also try the staple dish, Souvas, comprising smoked reindeer meat cooked over an open fire.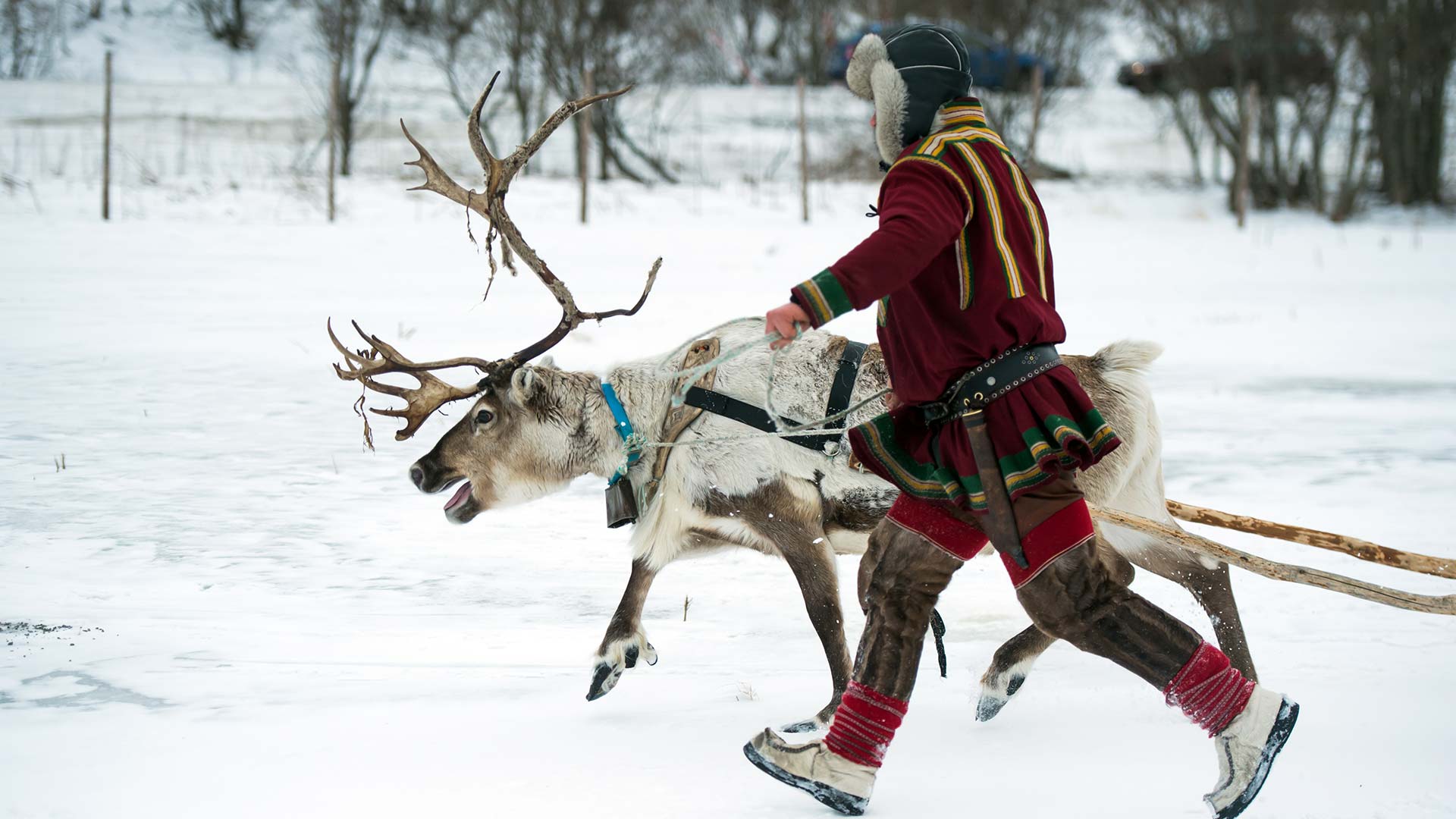 8. Swim in the Arctic
Yes, you read that right. Swimming in the Arctic is a thing and you can do it in Finland in winter!
You'll get the chance to swim in the Arctic Gulf of Bothnia as part of the Sampo Icebreaker tour from Kemi. This icebreaker vessel was made to do just that – clear the frozen water to make way for ships.
Now the Sampo invites visitors onboard to learn about its history, enjoy lunch at the restaurant, and have a dip in the Arctic. Don't worry, you'll be wearing an impermeable flotation suit to protect you from the cold. You'll be buoyant so relax and enjoy floating in the freezing water!
9. Celebrate Christmas or New Year's
If you're looking for the ultimate Christmas holiday, nothing beats a trip to Lapland – the home of Santa himself. Think Christmas markets, twinkling lights, snow all around and, of course, Santa's grotto.
Kids in particular will be in Christmas heaven. Visit Rovaniemi in Finnish Lapland to spend time in Santa Claus Village, where you can send postcards from Santa's post office. The highlight is meeting Father Christmas and his elves, but you can also enjoy meals at cosy restaurants and visit a reindeer farm.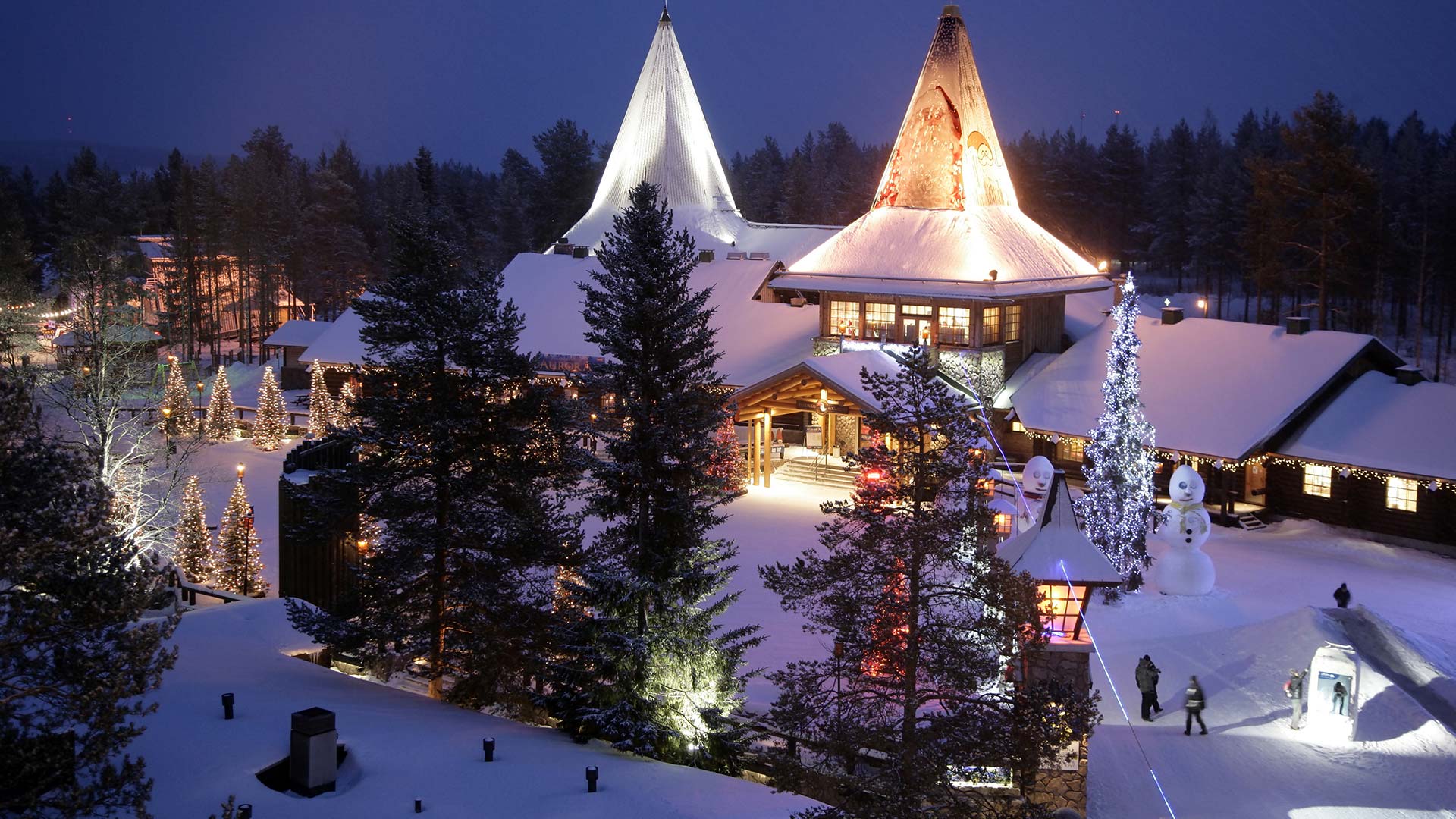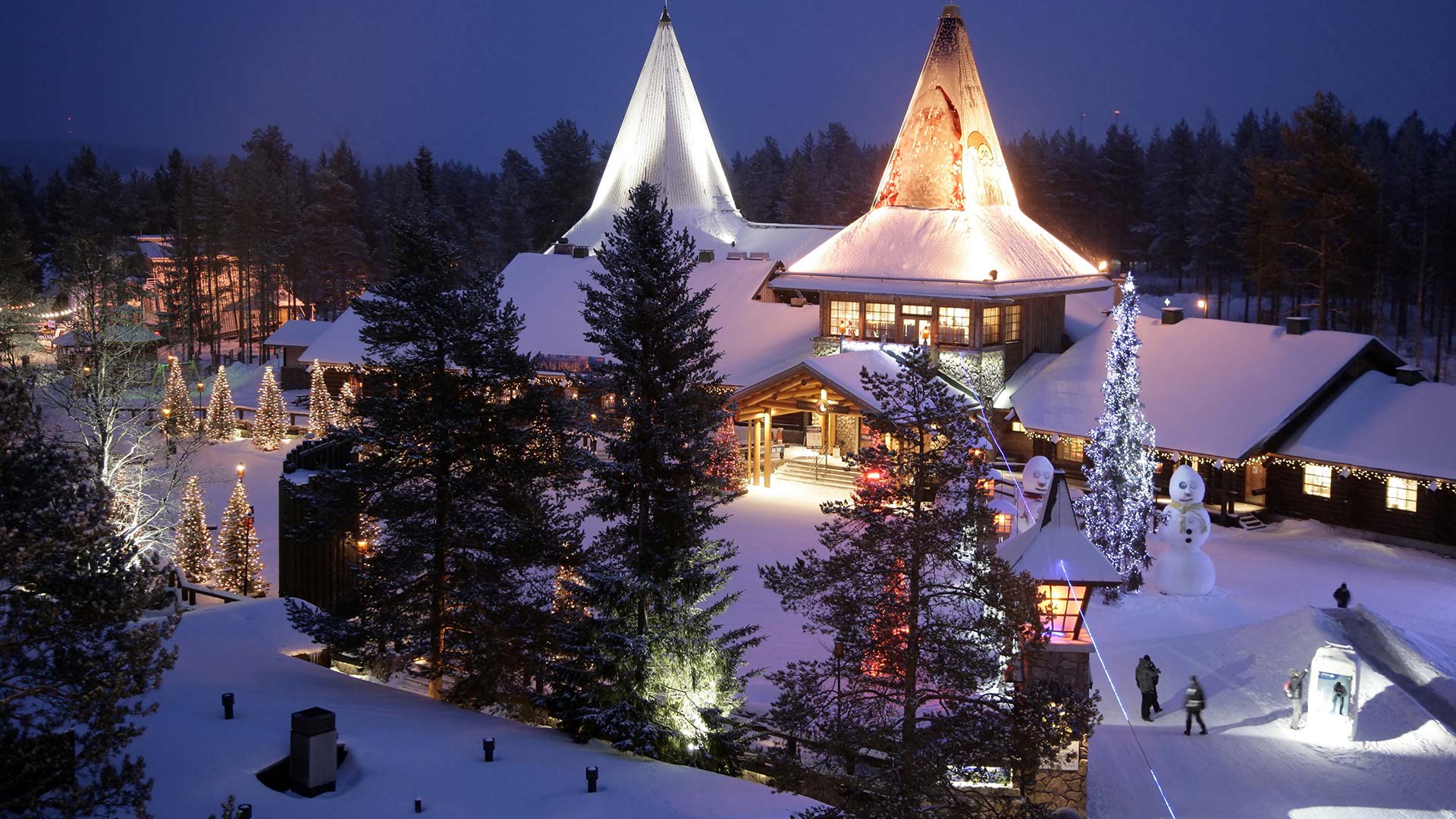 Let's not forget about New Year's Eve though. You could celebrate it in a winter wonderland, enjoying a festive dinner at a traditional cabin in the forest. At a fun Lapland party, join in with Finnish customs like tin casting (fortune telling) and baptisms by Sami shamans.
It wouldn't be New Year's Eve without some fireworks. In this part of Lapland, near the Finnish-Swedish border, you'd get to watch the midnight display in Finland, then see Sweden's fireworks an hour later. Ring in the new year with a bang!
---
---
10. Indulge in Finnish cuisine
We already mentioned Souvas, one of the dishes you could try while you're in Finland. Reindeer meat is popular in Finnish Lapland given the local Sami traditions. As well as smoking it over a fire, you could have reindeer meat dried or sauteed and served with potatoes and lingonberries.
Other Lappish delicacies you should try are Arctic Char, fried "squeaky" cheese with flatbread, and pastries with cloudberry jam. Elsewhere in the country, you could taste Finnish meatballs, fish pie, or rice pies. For a sweet treat, you can't resist a cinnamon bun or berry pie.
Would you give salty Nordic liquorice a try? It's a Finnish favourite!
---
---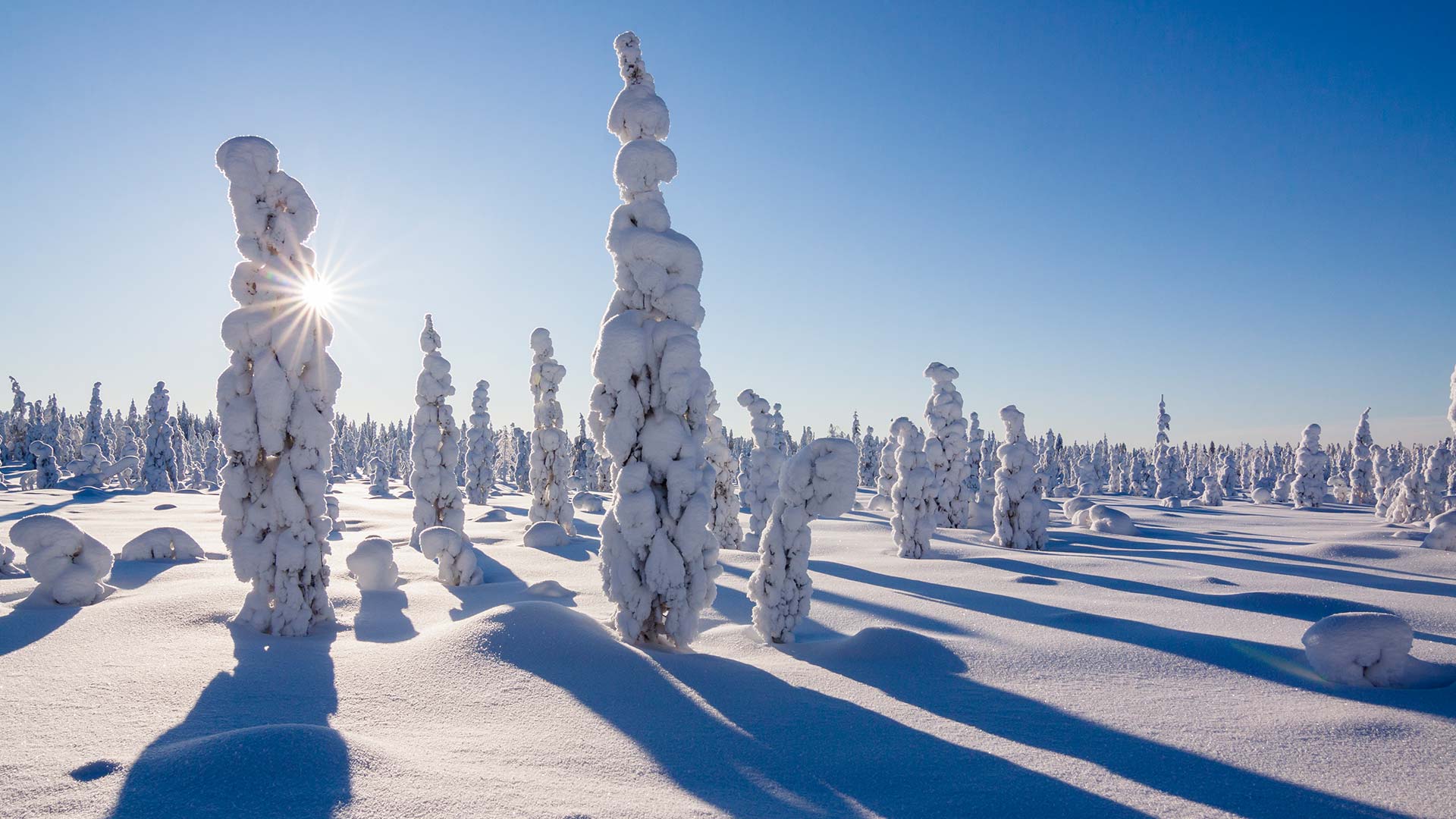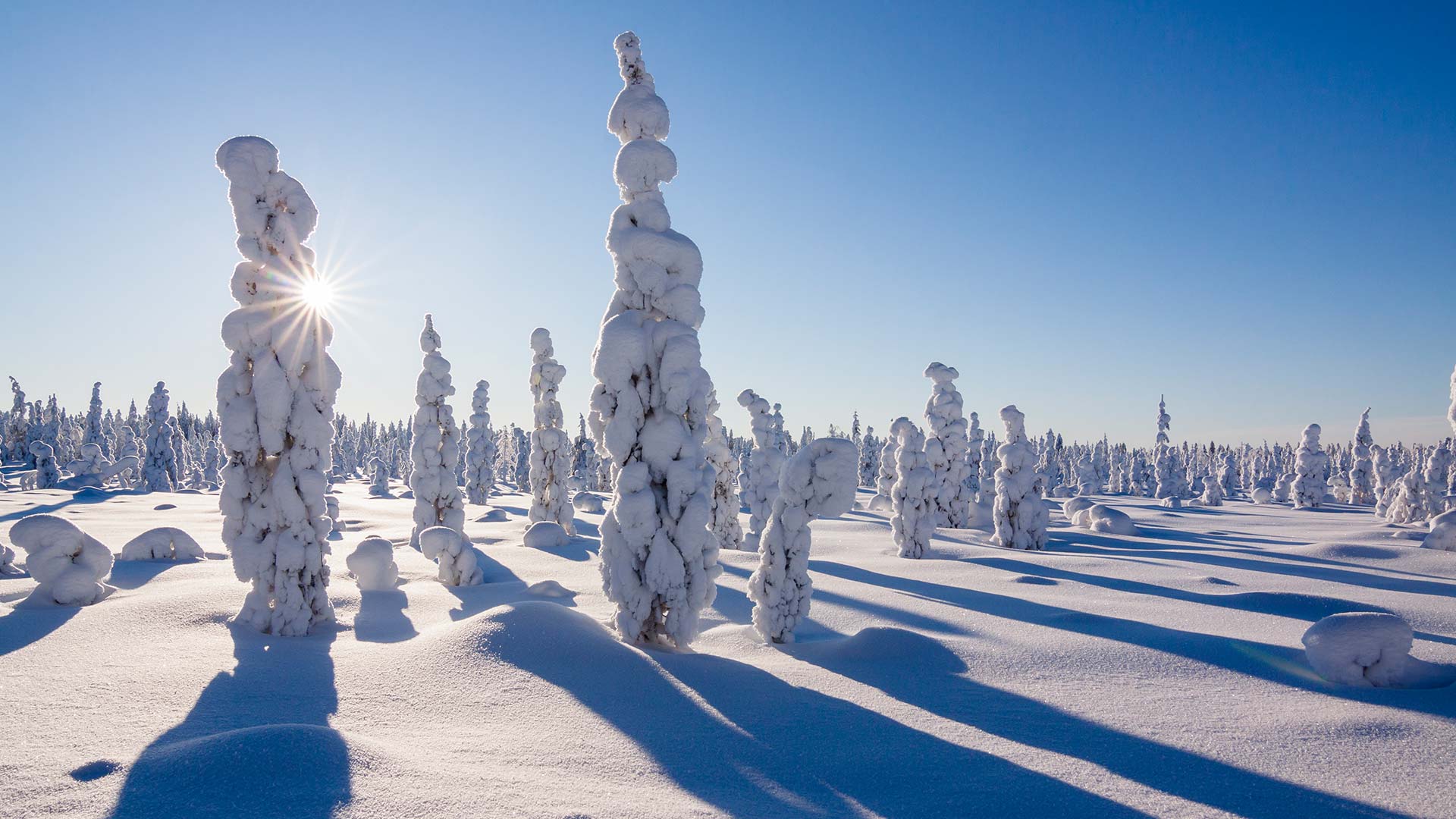 Best places to go in Finland in winter
1. Rovaniemi
Head to Rovaniemi for a quintessential winter wonderland experience in Finnish Lapland. Rovaniemi has everything you could wish for: an ice hotel, Santa Claus Village, and snow-covered landscapes. This makes it a great spot for dog sledding, snowmobiling, skiing, ice fishing, and other fun winter activities.
Rovaniemi is only 8 kilometres (5 miles) south of the Arctic Circle, so you have a good chance of seeing the northern lights in winter. Make your trip truly unforgettable by spending a night in the Arctic SnowHotel, where you can choose between sleeping in an ice room or glass igloo.
2. Santa Claus Village
Poised on the outskirts of Rovaniemi, Santa Claus Village is as magical as you would hope. Stroll through the snow to explore charming handicraft shops where you can pick up some souvenirs. Visit the Christmas exhibition or send a postcard from Santa's post office with the help of friendly elves.
You won't want to miss the chance to meet Santa Claus in his Christmas House. You can help Mrs Claus make her traditional gingerbread biscuits at her Christmas Cottage and ride in a reindeer sleigh through the snow. There are also plenty of restaurants here so you definitely won't go hungry!
---
---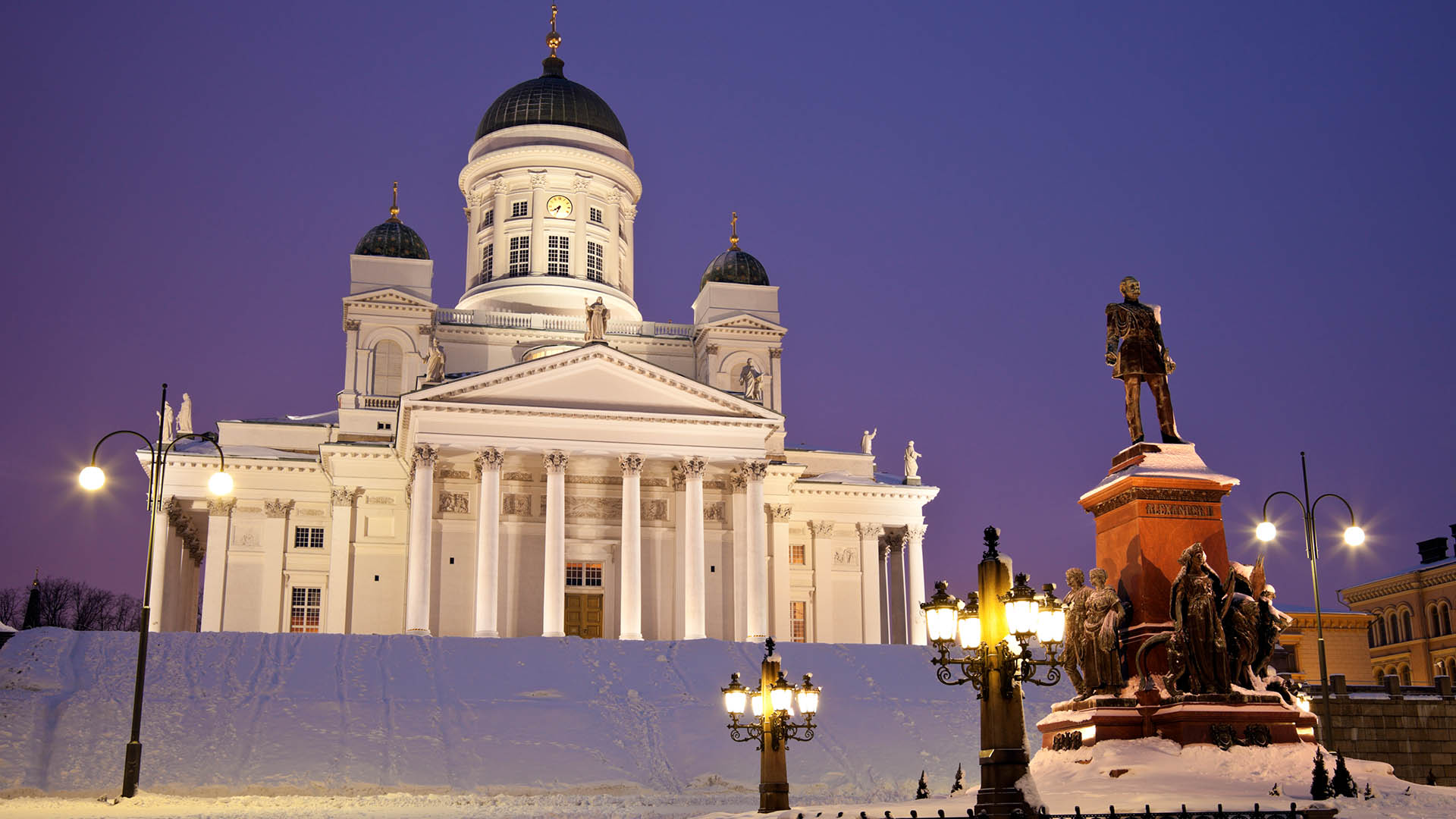 3. Helsinki
With its snow-dusted streets and cosy cafés, Helsinki is full of charm in wintertime. Go sightseeing to admire the capital's beautiful architecture, a glorious fusion of classical and modernist buildings. Walk along the harbourfront and look out across the frozen sea.
The cold weather is a great excuse to bundle up in a café over a hot cup of coffee and cinnamon bun. You'll also want to linger over a delicious Finnish meal – there are plenty of inviting Nordic restaurants to choose from.
Another way to beat the cold is by warming up in a Finnish sauna. Although there are many of them in Helsinki, the top pick is Löyly Sauna, positioned right on the water's edge. Enter the beautifully designed wooden building and choose between a private or public sauna experience.
Good to know: You could visit Helsinki, Stockholm, Copenhagen and Oslo as part of a winter Scandinavia tour. This is a great way to experience these Nordic countries in one trip.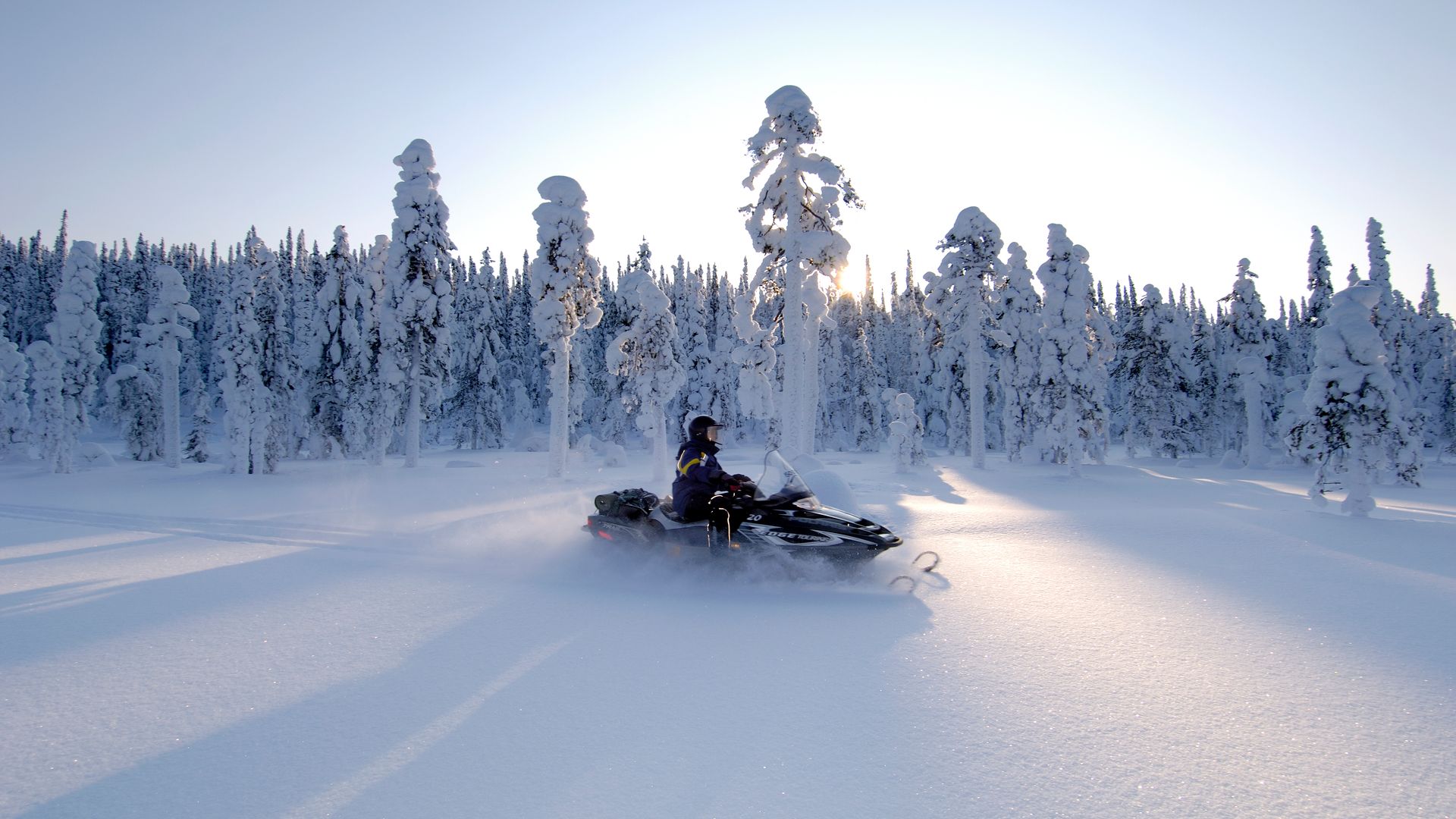 4. Kemi
If the idea of dog sledding, snowmobiling and chasing the northern lights appeals to you, then head to Kemi in Finnish Lapland. This town lies on the shores of Bothnian Bay, close to the border with Sweden.
There are also some more unusual things to do in Kemi if you have an adventurous spirit. Why not sleep in a frozen room at SnowCastle? This ice hotel looks like something straight out of a fairytale. Walk through the fortress-style entrance and check out the incredible ice art on display.
Or how about some Arctic swimming? From Kemi you can cruise on the Sampo Icebreaker vessel before immersing yourself in the freezing water – wearing a thermal suit, of course. Not many people can say they've floated in this icy sea!
5. Kakslauttanen
Another great spot in Finnish Lapland you should consider visiting in winter is Kakslauttanen, home to Igloo Village. Not just home to snow igloos, this winter resort also offers glass igloos for you to hide away in.
It's all about enjoying the snowy wilderness here, particularly with the beautiful Urho Kekkonen National Park in Finland nearby. Go ice fishing, snowmobiling, dog sledding or horse riding. Enjoy skiing, snowboarding or cross-country skiing. This is also a fantastic spot to hunt for the northern lights.
---
---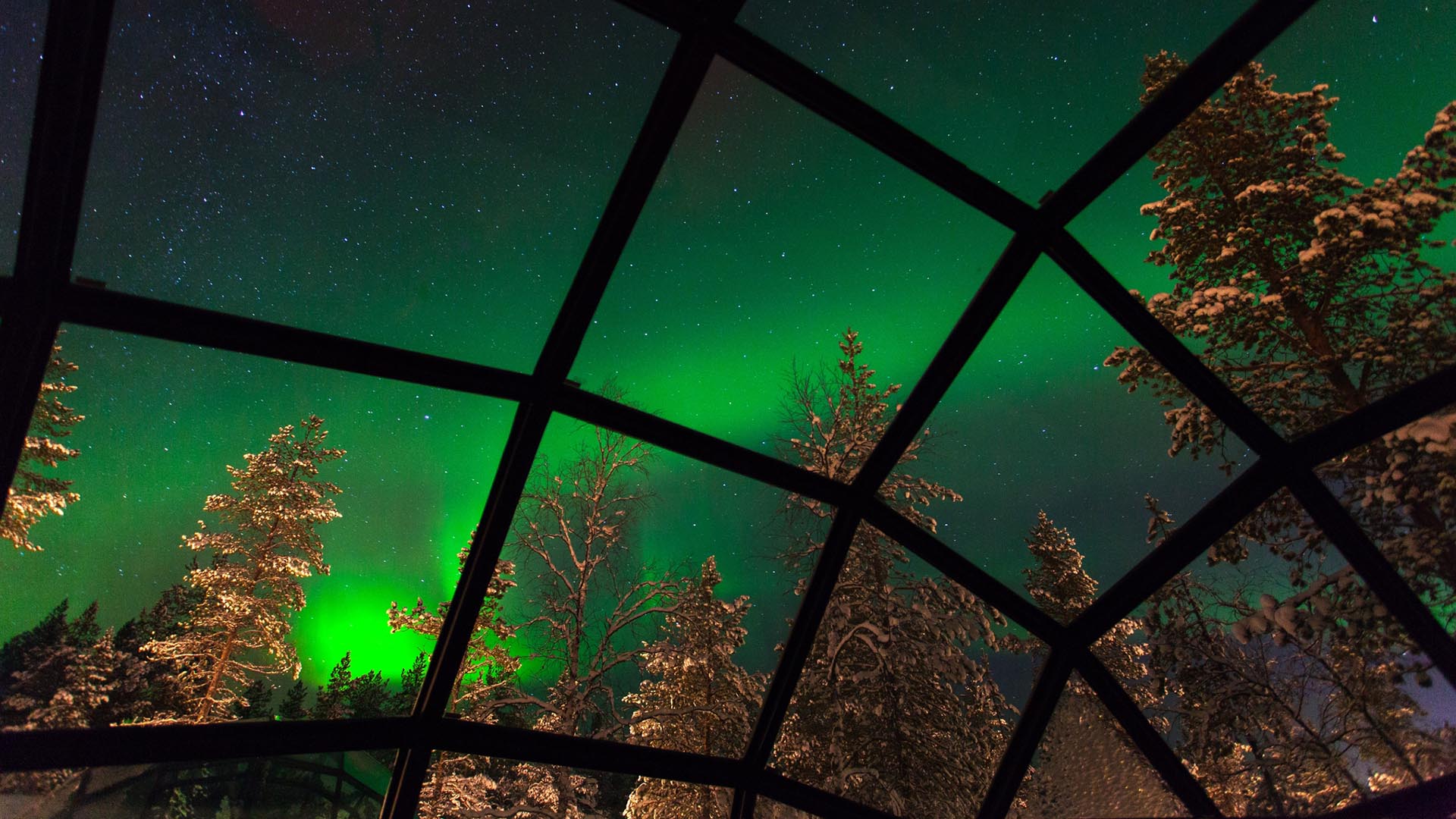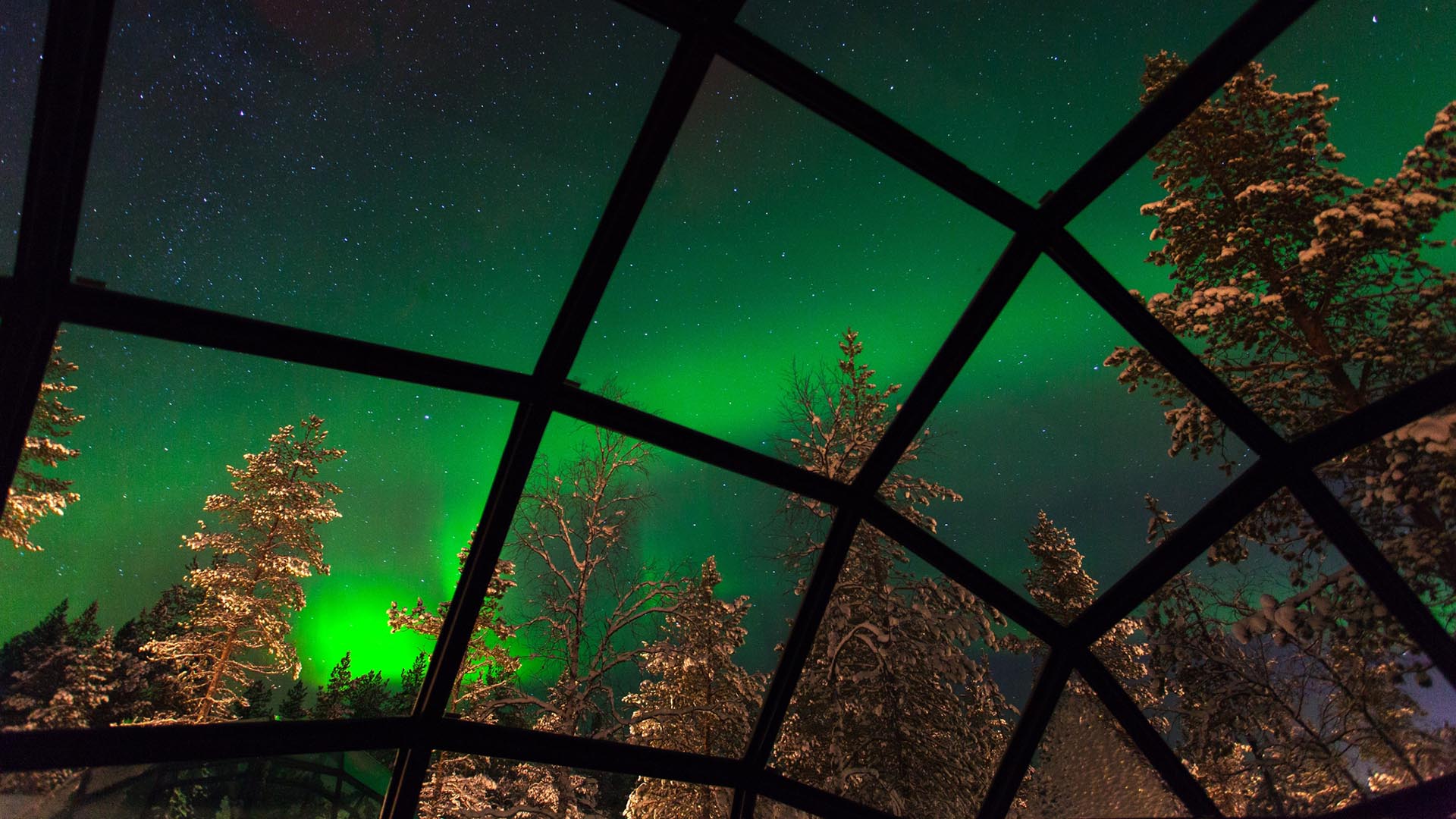 How long is winter in Finland?
Winter is usually 5 months long, lasting from November to March. Visit the northern regions, such as Lapland, and you'll experience the snow from November to May.
How cold is Finland in winter?
It does get cold in Finland in winter. If you go to Helsinki, you'll likely find the temperature hovers between 1 to -7°C (44 to 19°F). In Lapland it averages between 3°C (37°F) to -16°C (3°F), however these weather conditions are tempered by the dry, crisp air.
In terms of snow, Lapland usually gets up to 225 days of snowfall in winter.
---
---
How to dress for Finland winter?
To be comfortable in the cold, you should pack plenty of warm layers for your trip to Finland in winter. Note that if you have planned any activities in the snow, like dog sledding, you will be provided with proper thermal outerwear.
We recommend you pack wool clothing where possible as this material is great for keeping you warm. Think woollen socks, base layers, jumpers and gloves. Remember to pack insulated outerwear that's also waterproof, as well as good sturdy shoes. Cosy hats, gloves and scarves are a must!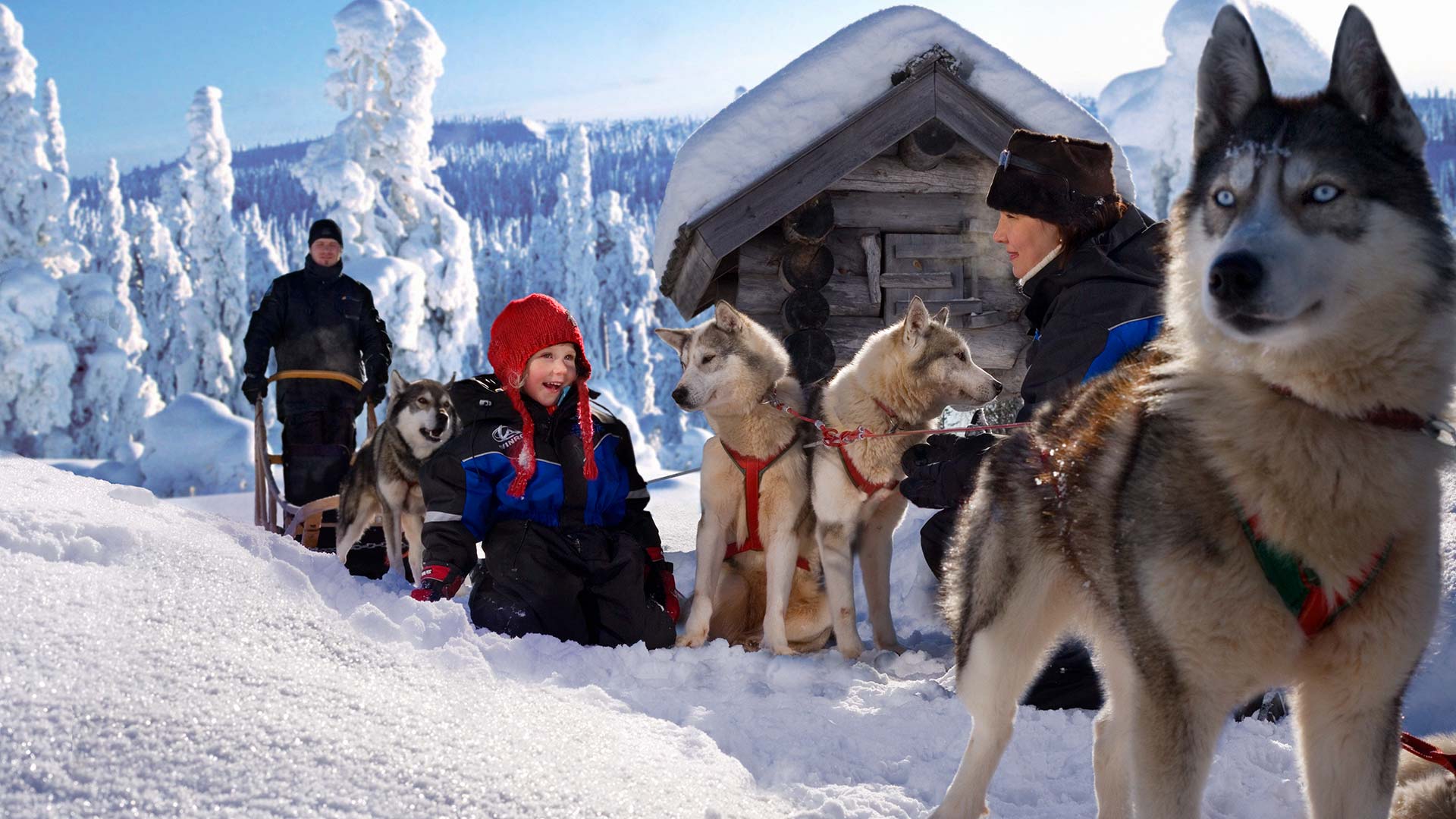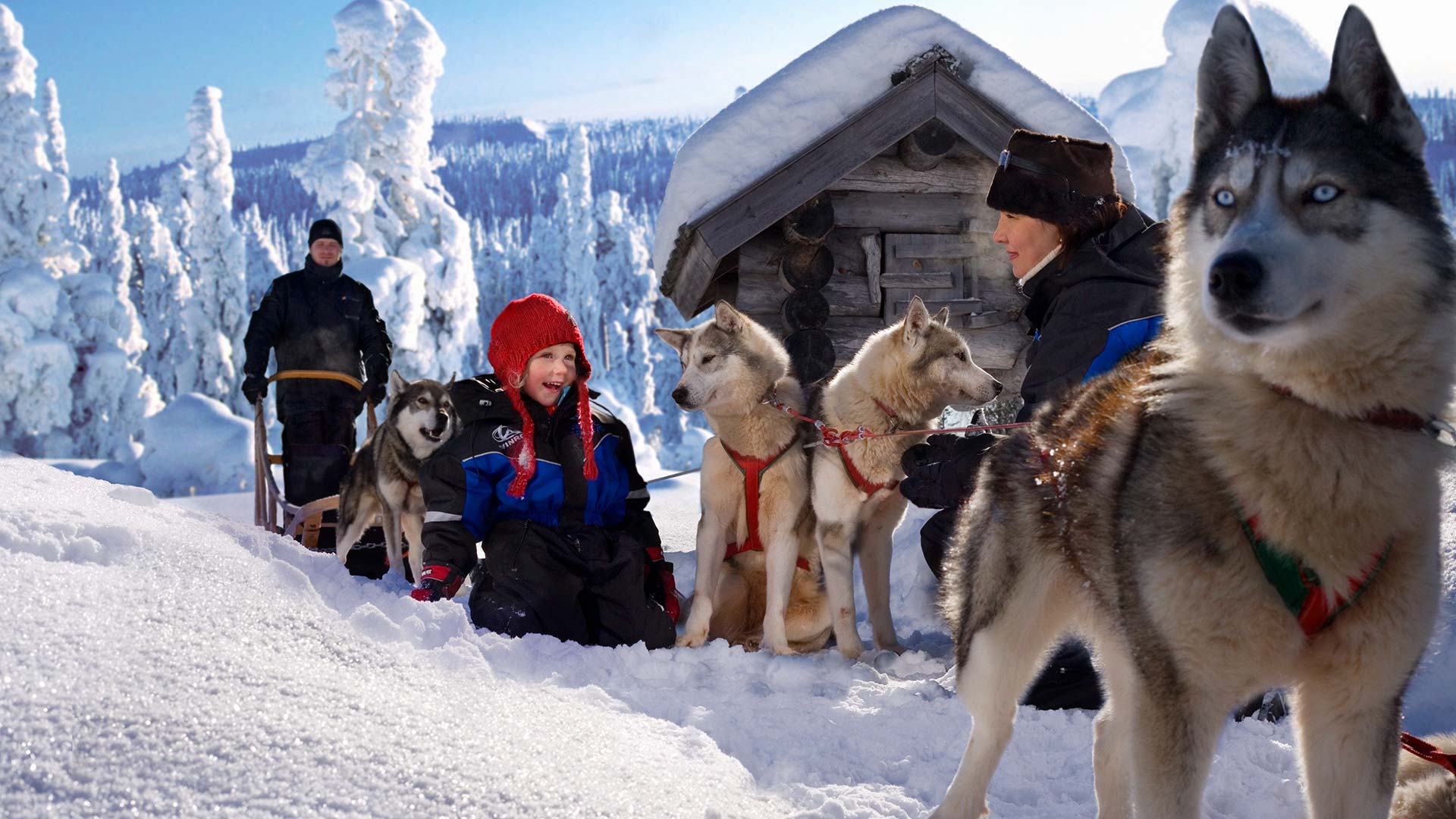 ---
---
What shoes to wear in Finland's winter?
The last thing you want on your winter trip is to have cold, wet feet! That's why you should bring waterproof shoes or boots that will keep you warm. If you're visiting Finnish Lapland, you could consider packing snow boots to ensure your feet stay nice and toasty.
How many hours of sunlight in Finland in winter?
Finland has short daylight hours in winter, but just how many depends on where you go and what month you visit.
In Helsinki, located in the south of Finland, you'll get 6 to 12 hours of daylight in winter. In Rovaniemi, on the other hand, you'll have between 2 and 12 hours of daylight. That's because it is situated further north, closer to the Arctic Circle.
The darkest days of the year occur around 21 December, the time of the winter solstice. However, in Lapland the white snow helps the days appear lighter than you might imagine.
Can you see the northern lights in Finland's winter?
Finland is a great place to visit if you want to see northern lights and winter is the best time to spot them. The aurora borealis appear at any time of year, but in winter the skies are darkest so you can see them really clearly.
For your best chances of witnessing the northern lights in Finland, head to Lapland. This is where auroral activity is strongest in the country.
---
---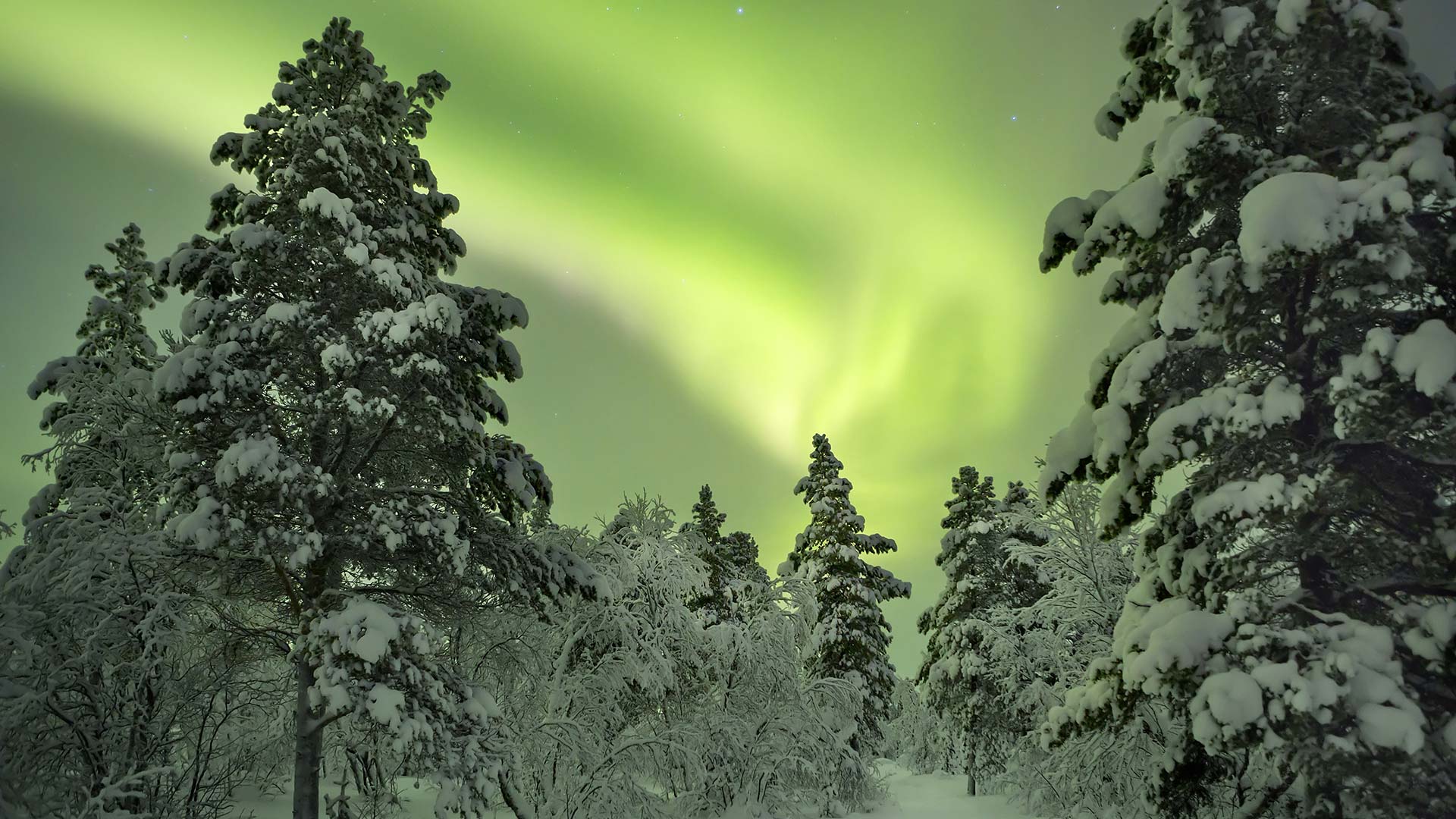 As you can tell by now, Finland is a fantastic destination to visit in winter! Whether you want to experience the winter wonderland that is Finnish Lapland, or soak up the culture of Helsinki, there is so much to see and do.
You could experience Lapland in winter or visit Helsinki as part of a Scandinavian winter tour. Browse our travel packages to explore your options online or speak to a Finland expert who will craft an itinerary that suits you.
Get in touch with our Finland travel consultants and they will ensure you have an unforgettable trip.