Synonymous with road trip vibes, the Ring Road, Iceland is a must-do drive for those looking for spectacular scenery. The Ring Road is in fact the nickname of Route 1, Iceland's main motorway.
This route loops the island in a full circle, skirting around Iceland's central, uninhabited highlands. Along the way around the Ring Road, you'll find the most popular tourist attractions. This includes the Seljalandsfoss and Skógafoss waterfalls, Dyrhólaey cliffs, and Jökulsárlón glacier lagoon.
If you're planning an Icelandic road trip, it's likely you'll end up on this route, whether you're doing the full circle or a shorter trip.
Below you'll find some practical information to know before you hit the road. This is accompanied by our Iceland Ring Road map, so you can follow along.
---
---
Contents:
---
About the Ring Road
We're answering some of the most frequently asked questions about the Ring Road. Read on to learn more about the length of the road, how long it can take to drive and winter road trips.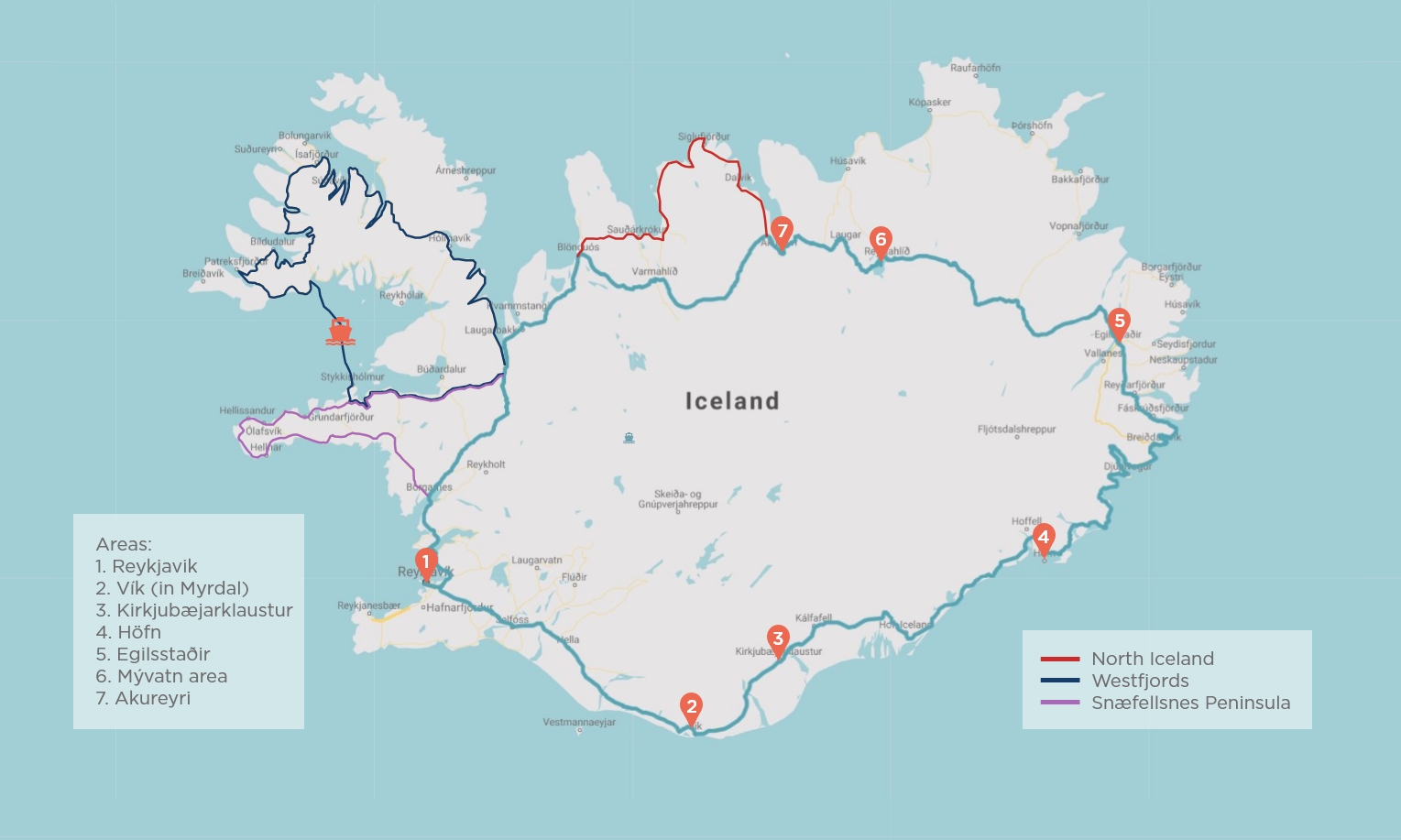 1. How long is the Ring Road in Iceland?
The Ring Road is 1,328 kilometres long (825 miles). That's the equivalent of driving part of the United States' east coast, from Boston, Massachusetts, to Charlotte, North Carolina. Or driving the full length of the UK from John o'Groats in Scotland to Penzance in south-west England.
Basically, the Ring Road covers most of the country, as shown in blue on the map above. It bypasses part of North Iceland (in red), the Westfjords (dark blue) and the Snæfellsnes peninsula (purple). These can always be added to a summer itinerary for a deeper exploration of Iceland.
2. How long does it take to drive the Ring Road in Iceland?
While you could drive the whole Ring Road in 24 hours – like the Icelandic band Sigur Rós did in 2016 for a live show – we really don't recommend it.
For the best experience, we recommend no less than 7 days in Iceland. This is for a comfortable, but express route around the island. From there, you can extend it to discover some regions in more details, to take detours, and explore remote corners.
Plus, the speed limit for most of the way is 90 kilometres per hour (55 miles per hour), and speeding fines aren't cheap. So it's best you slow down and enjoy all the scenery along the way.
Imagine the mossy lava fields, waterfalls, steep mountains, rocky beaches, fjords, glacial lagoons and all the other beautiful surprises you'll get to explore. The more time the better!
---
---
3. Is the Ring Road in Iceland worth it?
Definitely! Driving the Ring Road of Iceland is a great road trip idea.
As it circles the island, you will be able to reach the different parts of Iceland (except the highlands and Westfjords). Not only that, but many of the stunning highlights are located just off the Ring Road, giving you easy access to the best the country has to offer.
4. Can you drive the Ring Road in Iceland in the winter?
Yes, you can drive the Ring Road during wintertime.
Most visitors choose to drive Iceland's Ring Road in summer. At this time of year, the midnight sun gives you plenty of extra daylight for driving and sightseeing. But winter road trips are also possible, and growing in popularity. Read our guide to the best times to visit Iceland here.
Although the conditions will be less ideal than in summer, there is plenty to be enjoyed during the winter months. The natural highlights will all be there, and as stunning as ever with frost and snow. You may even spot the northern lights in the dark skies.
There are also plenty of activities available on a winter trip to Iceland. Why not walk on a glacier? Go whale watching, snowmobiling or even relaxing in a geothermal pool as you watch the snow fall around you.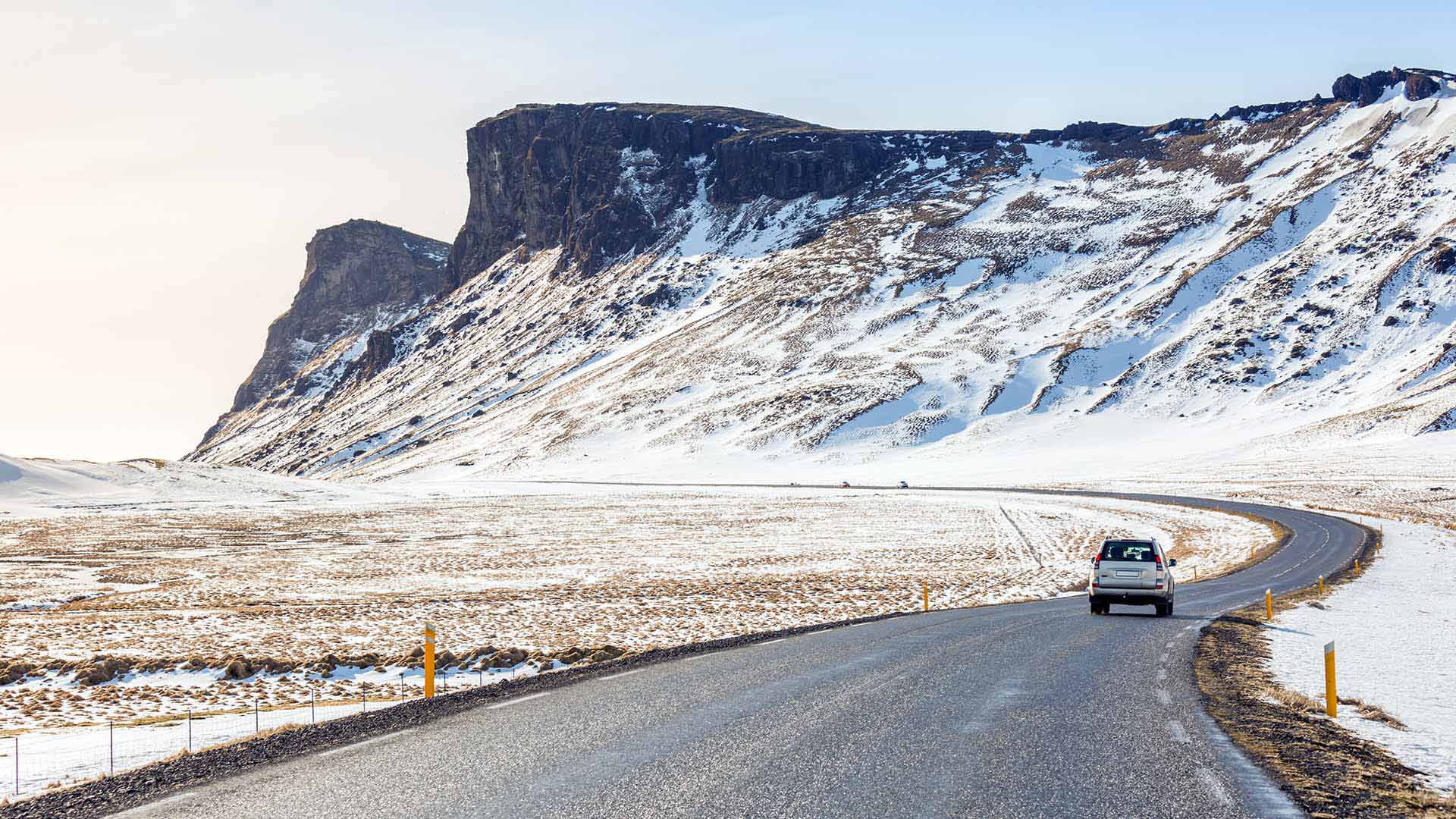 However, if you're keen to drive the Ring Road in winter, it's best to come prepared. Make yourself aware of road safety precautions before you travel. For example, you must drive slowly in cold weather to avoid unseen ice, and turn your headlights on, day and night.
It's also best that you check the weather and road conditions before setting off each day. We also recommend renting a 4x4 vehicle for a road trip between October and April as it will make driving in such conditions easier.
Good to know: By booking a winter self-drive tour with Nordic Visitor, you not only get an itinerary tailored for you, but also a peace of mind during your trip. With a personalised map, in-car Wi-Fi and a 24/7 helpline, our team is always on hand if you have an emergency.
In case of an unexpected event or severe weather, we'll get in touch and modify your itinerary while keeping you safe and informed.
---
---
5. Which way do you drive the Ring Road in Iceland?
You can drive the Ring Road whichever way you want. It's a circle, so you'll end up in all the same spots anyway.
We recommend driving counterclockwise. This way you can start with the popular highlight of the Golden Circle, a perfect introduction to Iceland, before continuing south.
Top practical tips for driving the Ring Road in Iceland
Before visiting Iceland for your epic road trip, here are some practical tips. They'll help you get an idea of what to expect from the Ring Road and driving in Iceland.
Drive on the right
The first thing to be aware of is that in Iceland, motorists drive on the right side of the road (and left side of the car).
If you're not comfortable driving on that side, you could always book a private driver or join a guided tour. This way you can enjoy the sights from the comfort of the passenger seat.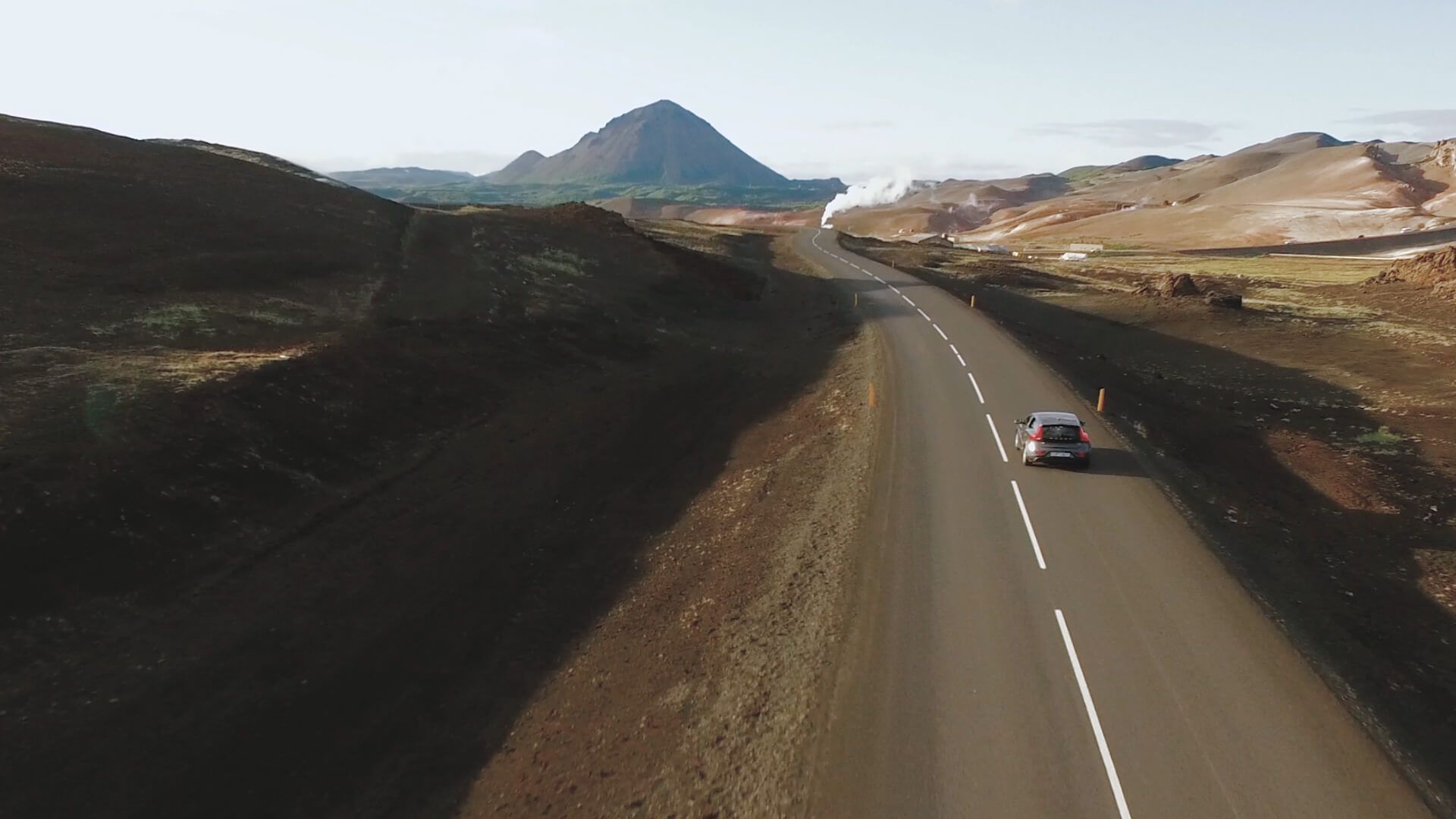 Take your time
The road conditions may well be unlike what you've encountered before. For that reason, it's best to take your time around the island.
This is especially true in winter, when the weather may affect driving and road conditions. Make sure you have plenty of time to get from one accommodation to the next safely.
This way you also get to appreciate the view even more!
Be aware of road hazards
While it's perfectly fine to navigate in most spots, there are some unique challenges and road hazards to be aware of. Though most of the highway is paved, there is still a short stretch in East Iceland near Berufjörður with a gravel surface.
Also, in the more rural areas there are a number of narrow passes (especially around the fjords in East Iceland), blind summits and single-lane bridges.
Another surprise for many first-time visitors are the road tunnels. They are commonly built to bypass mountain roads that would be too dangerous in winter. The most notable ones are the sub-sea Hvalfjörður Tunnel (5.7 km), the Almannaskarð Tunnel (1.3 km) and the Fáskrúðsfjarðargöng Tunnel (5.8 km).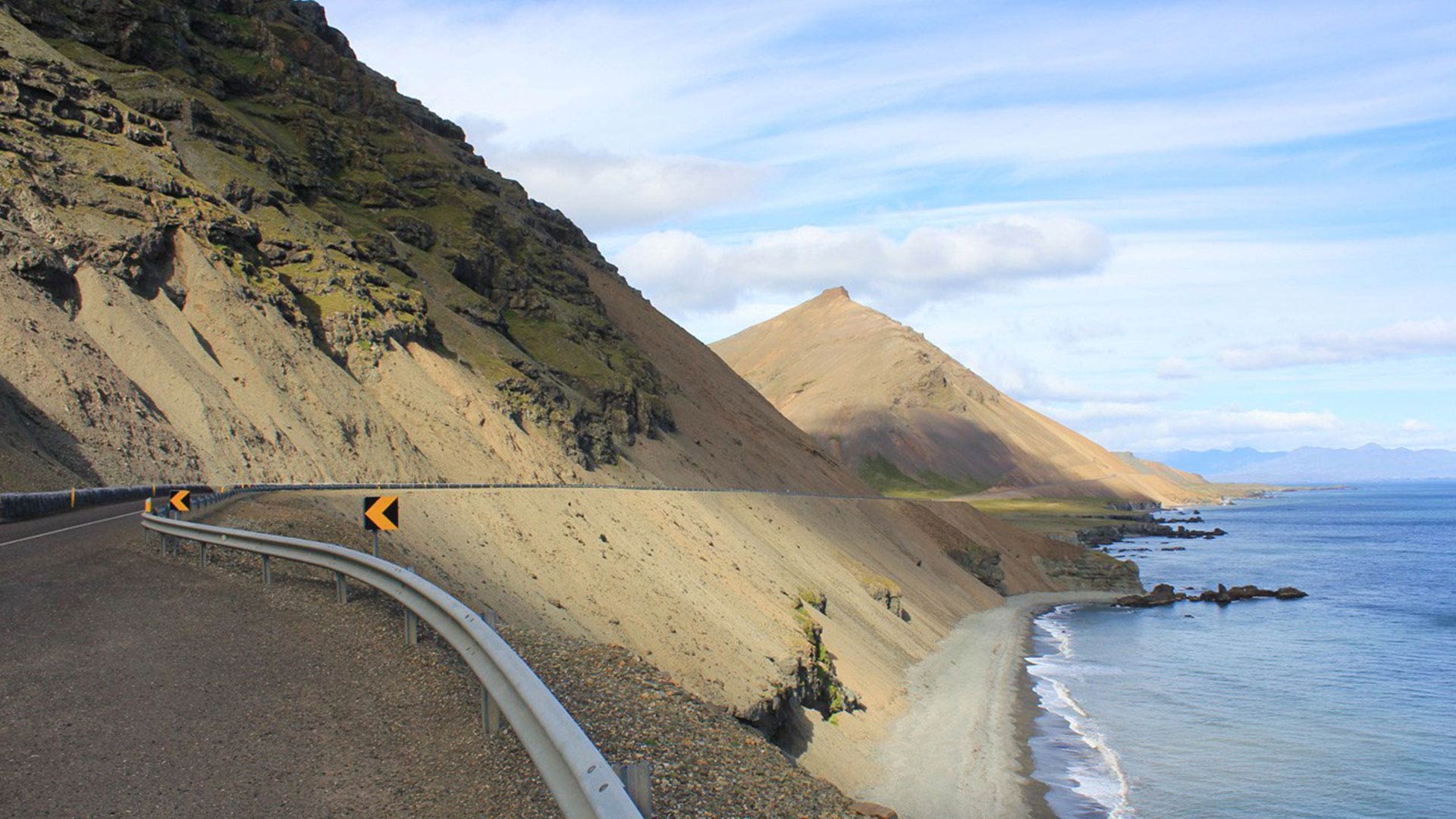 Stop for fuel and bathroom when you can
In certain parts of rural Iceland, it's common to go long stretches without seeing a town or village. This is especially true between Vík and Mývatn. So keep an eye on your fuel levels!
And when you do come across a gas station, it's wise to refuel and use the toilet if there are any doubts. Don't risk running out of gas.
It's also an opportune time to stock on tasty Icelandic snacks. We recommend skýr (similar to Greek yogurt), pylsur (hot dogs), and chocolate-liquorice candies.
Pro tip: Gas is slightly cheaper at self-service stations such as ÓB, Orkan and Atlantsolía.
Do not go off-road driving
Driving off marked roads can damage fragile vegetation and be very dangerous for you as a motorist. Therefore, off-road driving is strictly prohibited and heavily fined by authorities.
To experience more wild driving, book a super jeep adventure in the highlands or East Iceland. This way you could go with a professional guide to cross unbridged rivers and across wild terrain in a safe manner.
---
---
Iceland Ring Road itinerary – 10 days
To have a memorable trip around the Ring Road we recommend taking 10 days to enjoy yourself along the way. This will allow you to not only drive the Ring Road but head off the beaten path in North Iceland and in the Snæfellsnes peninsula.
You can always create a more in-depth itinerary by staying longer in certain locations and adding fun activities to your visit. In summer, you could also add in the Westfjords to your tour, a true spectacular, remote corner of Iceland.
For inspiration, check out this 10-day itinerary from our Iceland Full Circle package:
Day 1: Arrival in Reykjavík
Fly into Reykjavík, settle in and explore the city if you arrive early. You can add in optional activities to your day if you have time. You could relax at the Blue Lagoon, go whale watching or on a food tour of the city.
Day 2: Golden Circle
Pick up your rental car and get on your way. First stop of the trip is the highlights of the Golden Circle. This route includes the geothermal area Geysir, the national park Þingvellir and the stunning Gullfoss waterfall.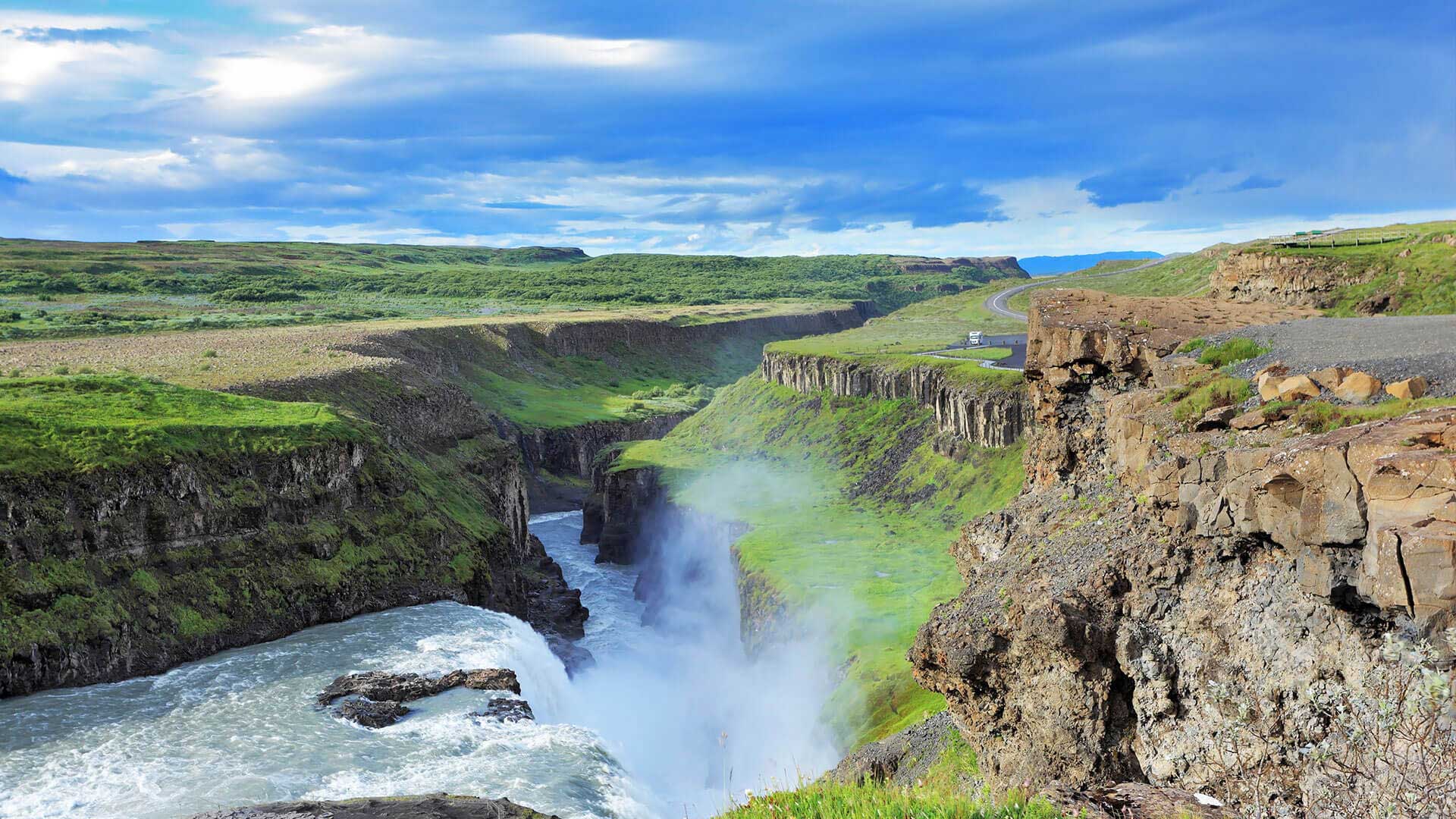 Day 3: South Iceland
Follow the road south today passing gorgeous waterfalls like Seljalandsfoss and Skógafoss. Make a pit stop at Vík to walk along the black sand beach. From here, you can view the rock formations Dyrhólaey and Reynisdrangar.
Day 4: South Iceland
You have all day to immerse yourself in the gorgeous landscape of south-west Iceland. Explore the Vatnajökull National Park where you could go hiking or on an intrepid glacier walk.
You'll then come upon the Jökulsárlón glacier lagoon and Diamond Beach, located across the road from each other. Admire the bobbing icebergs in the water or join an optional boat tour to see them from up close.
---
---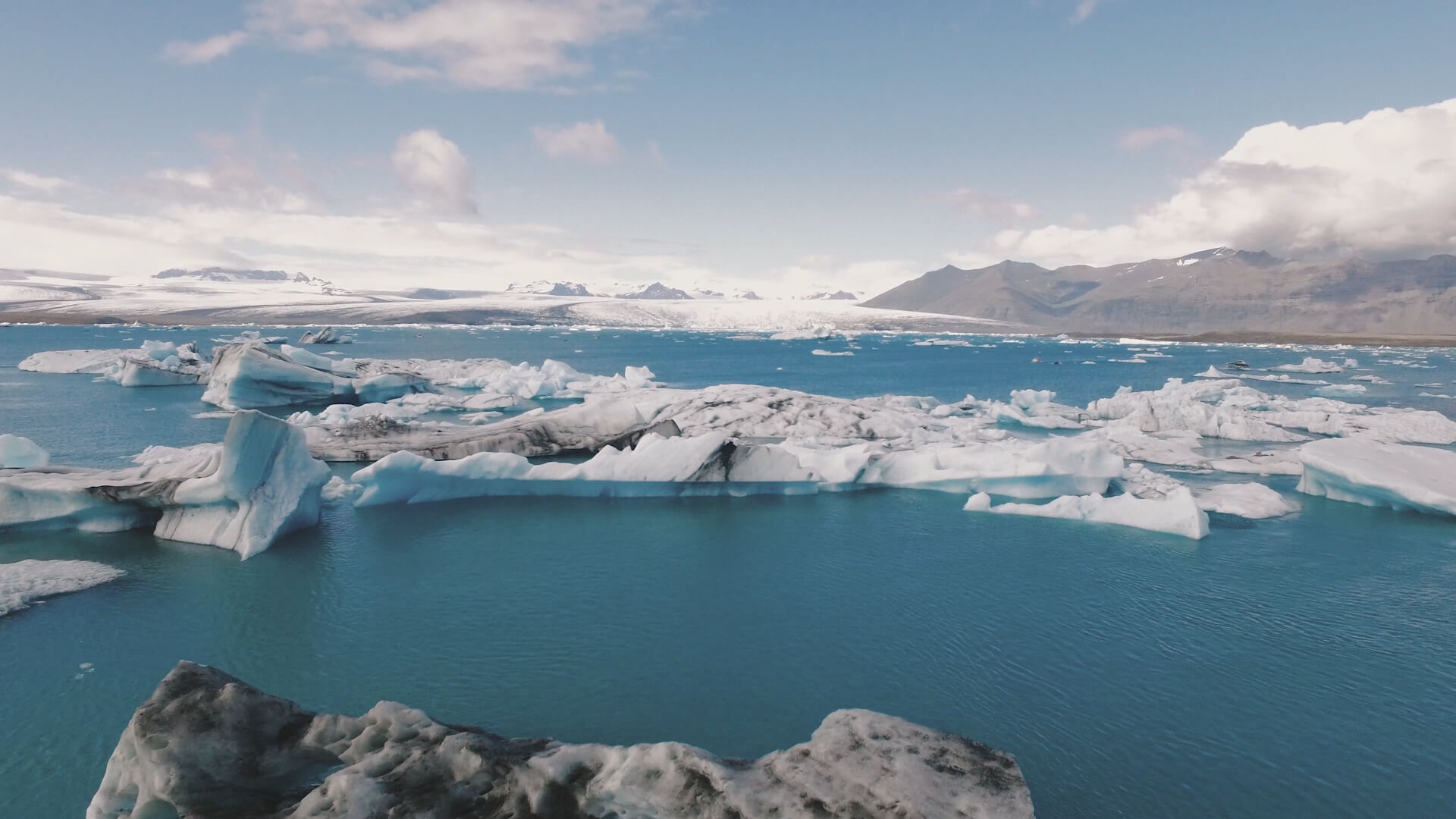 Day 5: Explore East Iceland
Drive through the eastern fjords, to see fishing villages and sweeping landscapes. Want to see this region from a different perspective? Join a super jeep adventure, during which you'll cross rivers, admire waterfalls and take in the tranquil atmosphere of East Iceland.
Continue your drive toward the north, all the way to the Lake Mývatn area. This is an otherworldly looking region full of natural wonders. This includes the Krafla volcano, the crater of Hverfell and the lunar-like Skútustaðir.
Day 6: Lake Mývatn area
Discover more of Lake Mývatn today and embark on the Diamond Circle route. Drive north to the village of Húsavík. Is spotting a whale in its natural habitat on your bucket list? This is your chance as Húsavík is considered the whale watching capital of Iceland.
You can then drive through Jökulsárgljúfur, which makes up part of the north of the Vatnajökull National Park. See the river canyon and the most powerful waterfall in Europe, Dettifoss.
Day 7: Explore North Iceland
Today you're heading to north-west Iceland. First, stop at Goðafoss for another good dose of waterfall. Nearby, visit the charming town of Akureyri, considered to be the capital of North Iceland.
From Akureyri, you have the choice to follow the Ring Road to Skagafjörður or to take a detour north to follow the coastal road. The latter will take you to the "Peninsula of the Trolls" which is dotted with mountains, dramatic cliffs and fjords.
---
---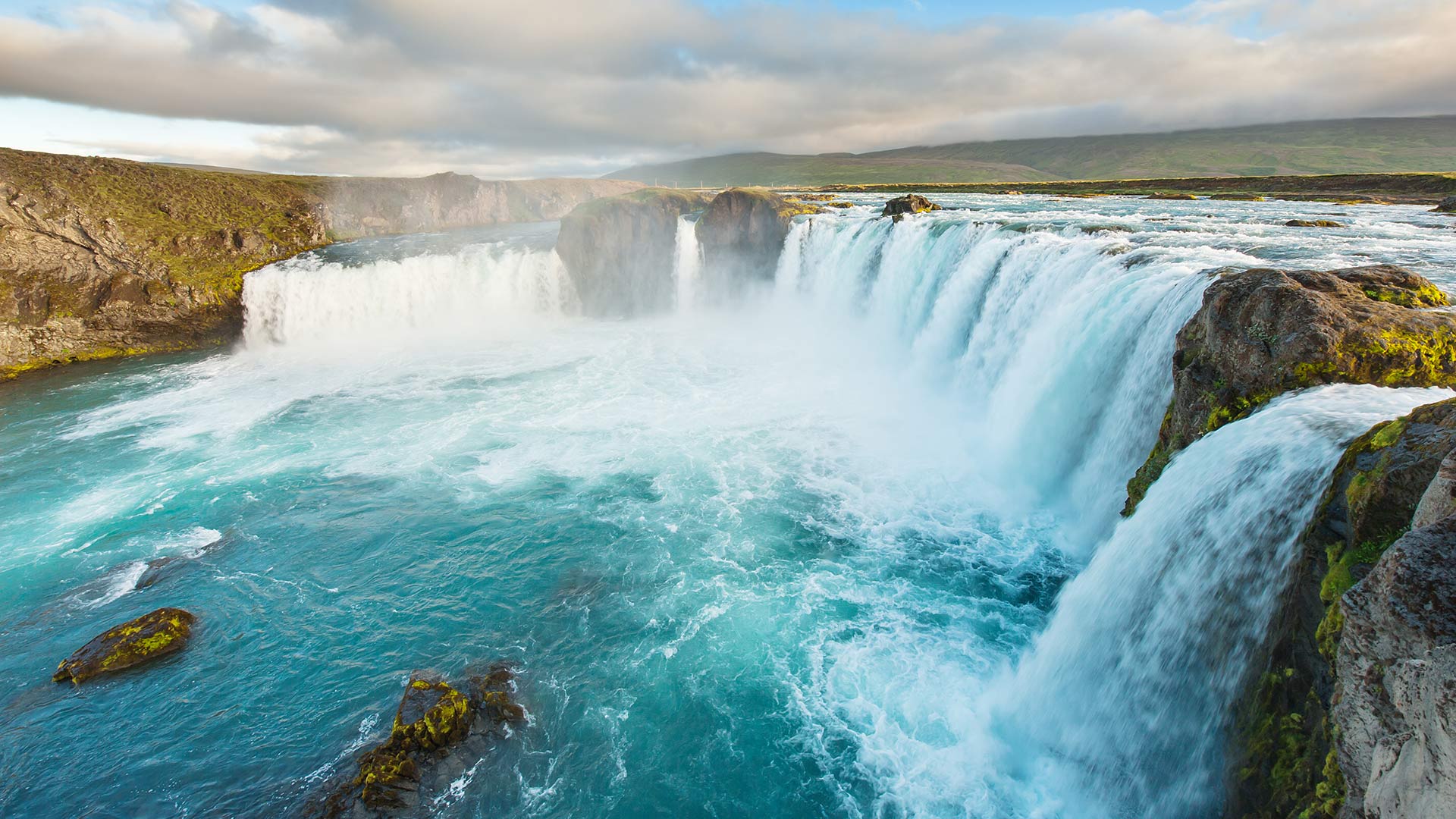 Day 8: Head to West Iceland
This morning, you'll take the wheel to drive south-west to Snæfellsnes. Along the way, admire the mounds of Vatnsdalshólar and stop for a photo op at the beautiful Þingeyrakirkja church.
You can stop at the living museum of Eiríksstaðir, which is the home of famous Viking Erik the Red. We also recommend visiting Stykkishólmur, a lovely fishing village giving panoramic views over the Breiðafjörður Bay.
Today is a perfect time to go horseback riding on a fluffy, sturdy Icelandic horse. This gives you an incredible view of Skagafjörður valley.
Day 9: Snæfellsnes peninsula
Another detour from the Ring Road, today you explore this spectacular western peninsula. It is home to the Snæfellsjökull National Park, known for its amazing birdlife, lava fields and green valleys.
Take your day to drive around the whole peninsula and all the way back to Reykjavík. This way you can explore Dritvík Cove and the cliffs of Arnarstapi and Lóndrangar. There are also plenty of cute fishing villages to see along the way.
During this day, you could add on fun, unique activities like walking inside a glacier or a lava cave.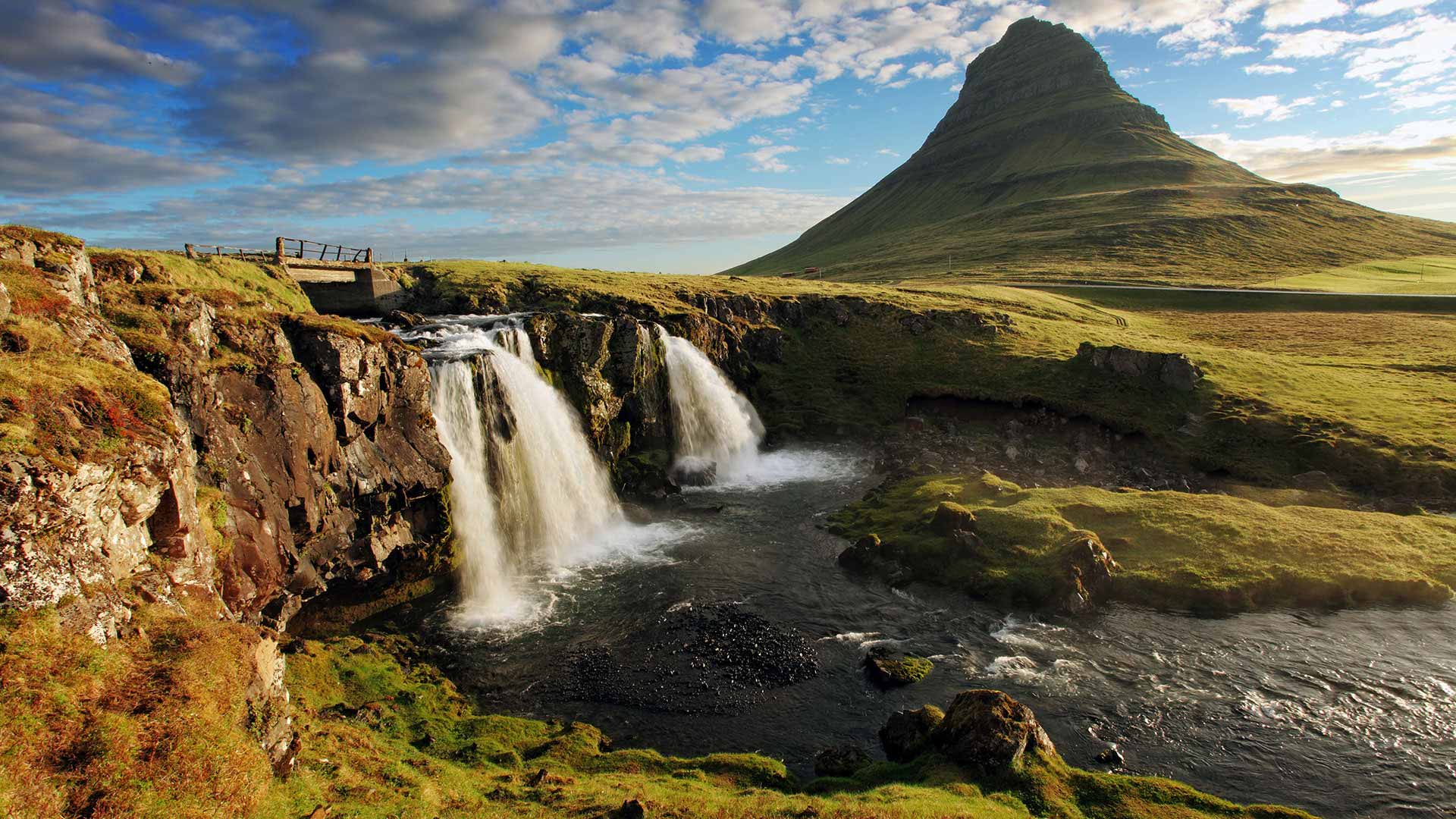 Day 10: Departure from Iceland
Today you depart after a fantastic adventure in Iceland. Depending when your flight time, you can spend some time exploring Reykjavík.
Relax in a local pool or head up the Hallgrímskirkja for a last view over the city. If you haven't visited yet, you could also head to the Blue Lagoon on your way to the airport.
---
---
How to plan a trip around Iceland's Ring Road
The first step in planning a trip around Iceland is to choose what you want to see. This will help you pick when you want to go. With these two biggest details sorted, you can get to the finer ones.
Book a car rental and sort out accommodations. To be safe, make sure to book accommodation at various spots that are driveable within your timeframe.
You know what would make it easier? Booking through a local agency like Nordic Visitor. We offer a selection of self-drive packages that are customisable to your preferences and tastes.
And when you book through us, your package includes the car rental with collision damage waiver, unlimited in-car Wi-Fi, and a hand-marked map of your route. You also get two named drivers on the insurance policy so you can share the driving with a travel companion.
What's more, our Iceland experts are based in Reykjavík and know the country inside out. They'll help you see Iceland in the best possible way!
---
Now you've learnt all you need to know about the Ring Road of Iceland, you're ready for your road trip! The travel experts at Nordic Visitor are happy to tailor a holiday to your specific interests. Just get in touch with your wishes!