On a visit to Iceland and Greenland, you can expect to see some of the most spectacular sights in the world. Imagine strolling along black sand beaches, marvelling at breathtaking glaciers, and enjoying some enchanting hot springs.
These two island nations in the North Atlantic are similar in many ways, but there's a lot that's unique to each of them. So Iceland vs Greenland: which should you explore?
In this post, you can find out more about which destination is best suited to your tastes and interests. Whichever one you choose to visit, you will never be short of extraordinary things to see and do. You might want to discover both Iceland and Greenland on the same trip!
1. Location
Iceland and Greenland are neighbours in the North Atlantic Ocean, separated by a narrow stretch of water called the Denmark Strait. This makes combined tours of Iceland and Greenland easy.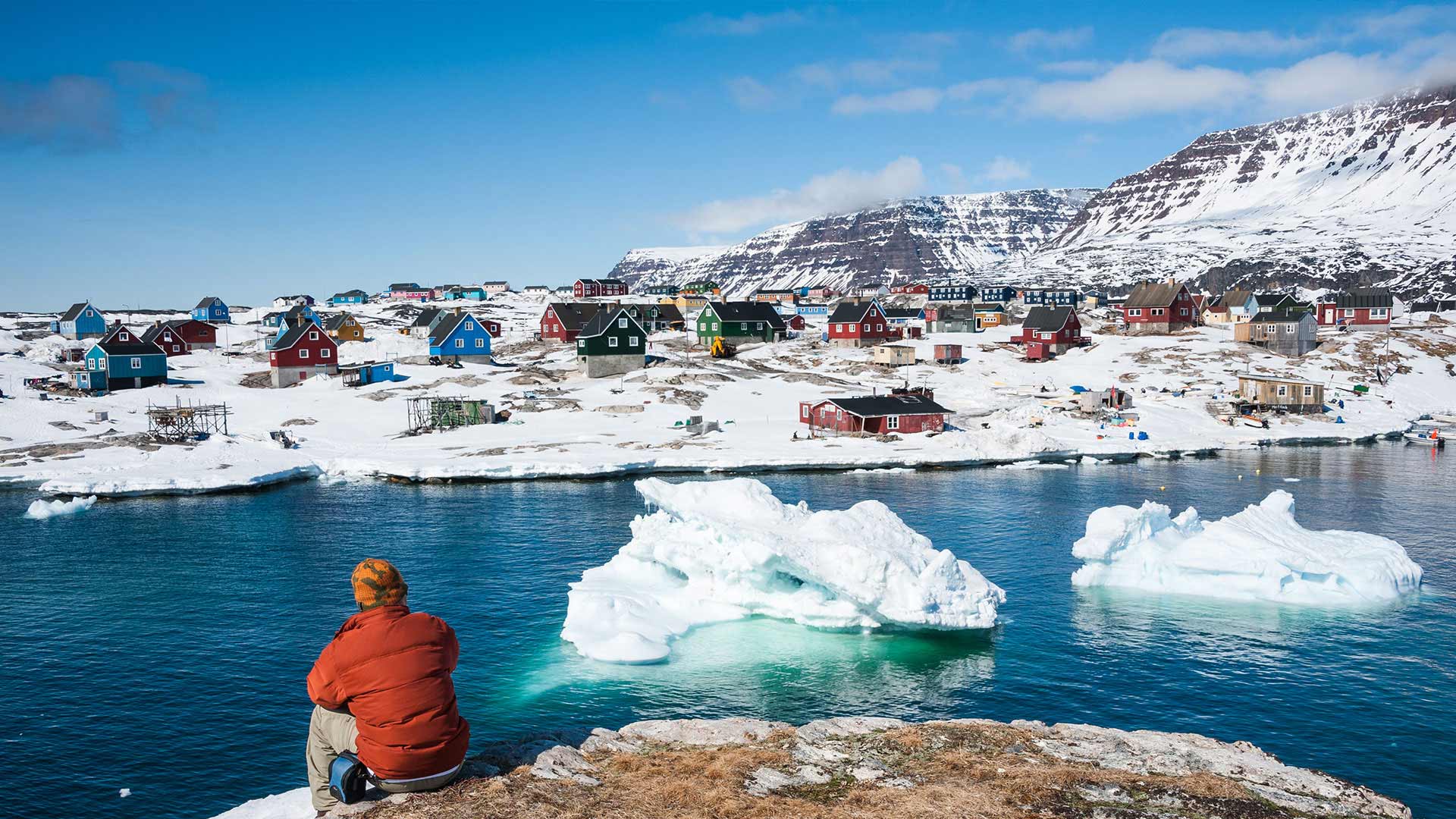 Where are Greenland and Iceland?
Considered the world's largest island, and part of the Kingdom of Denmark, Greenland spreads both north and south of the Arctic Circle. On a map you'll see that the country is situated just off the eastern border of Canada.
To the east, you'll find the much smaller island nation of Iceland, which lies just south of the Arctic Circle. Though technically part of the European continent, the island is a midpoint between Europe and North America.
The North American and Eurasian tectonic plates meet below Iceland, causing its famous volcanic activity. This is how the island got its nickname: "The Land of Ice and Fire".
---
---
How far is Iceland from Greenland?
Iceland is Greenland's closest European neighbour. If you measure it from the narrowest point, the total distance to Iceland is just 300 kilometres (186 miles). And you can reach West Greenland from Reykjavík by plane in around 3 hours.
How do you get to Greenland and Iceland?
The main airport in Iceland is Keflavík International Airport (KEF), located 40 minutes from Reykjavík. You'll find plenty of direct flights here from across Europe and North America.
Greenland, on the other hand, is not quite as simple to reach. In fact, you can only fly directly to the island from either Iceland or Denmark. Luckily, the airline Air Greenland has year-round flights from its Nordic neighbours to both the west and south of the island.
---
---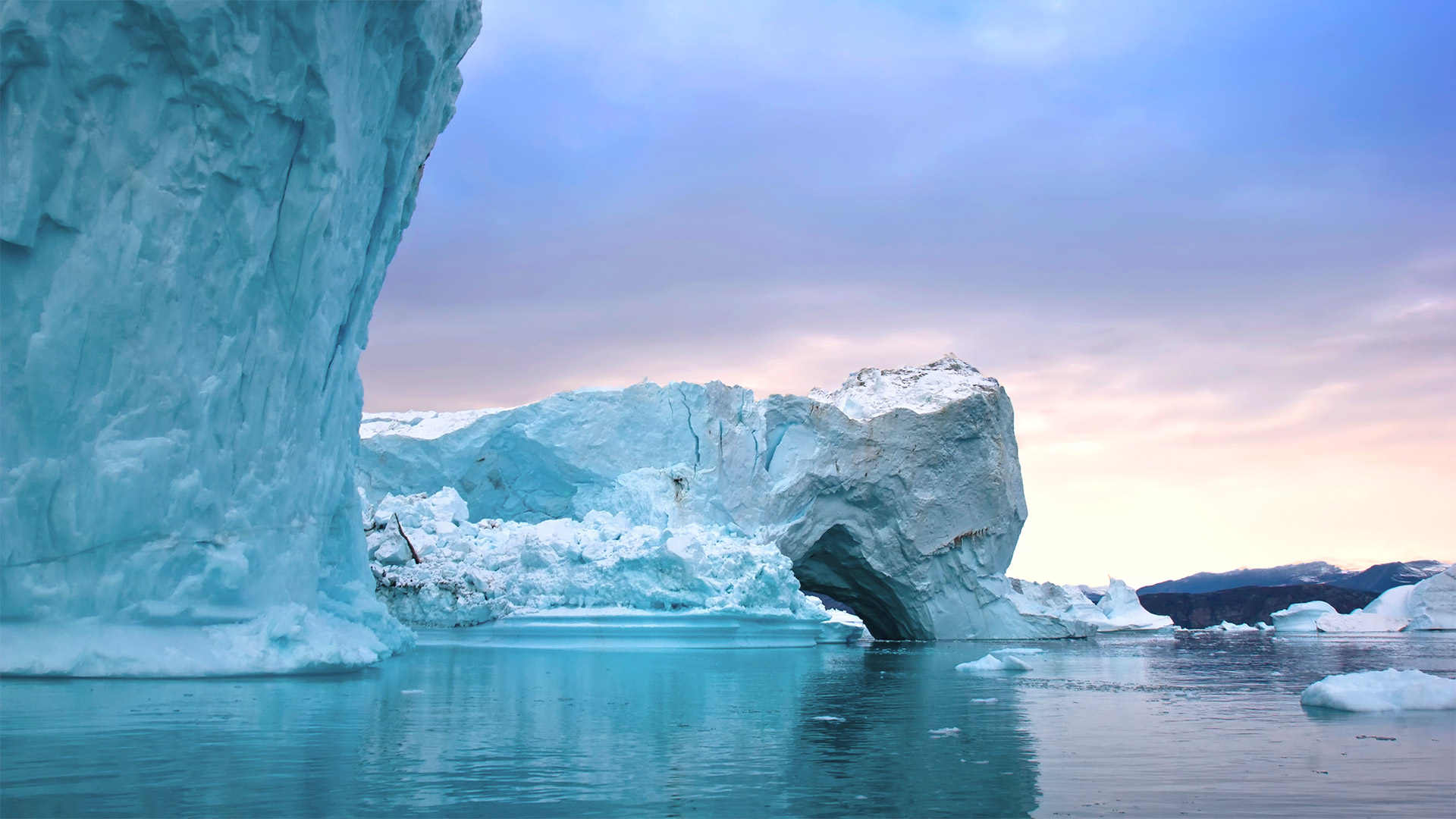 2. Climate
Thinking about the climate is very important for planning your trip, as it influences which activities you can do.
What is the weather like?
For an island called Iceland, the climate can be warmer than you might expect. Summer temperatures have an average of 12°C (53°F), while winters average at 0°C (32°F).
No matter when you visit Iceland, you should be prepared for all types of weather. You might experience wind, rain, sun, or snow.
For up-to-date weather information, the Icelandic Meteorological Office has frequent updates on the island's weather for you to check.
Similarly, although Greenland has an Arctic climate, temperatures reach up to 10°C (50°F) in the warmer months. In the southern regions, temperatures can even hit 20°C (68°F).
---
---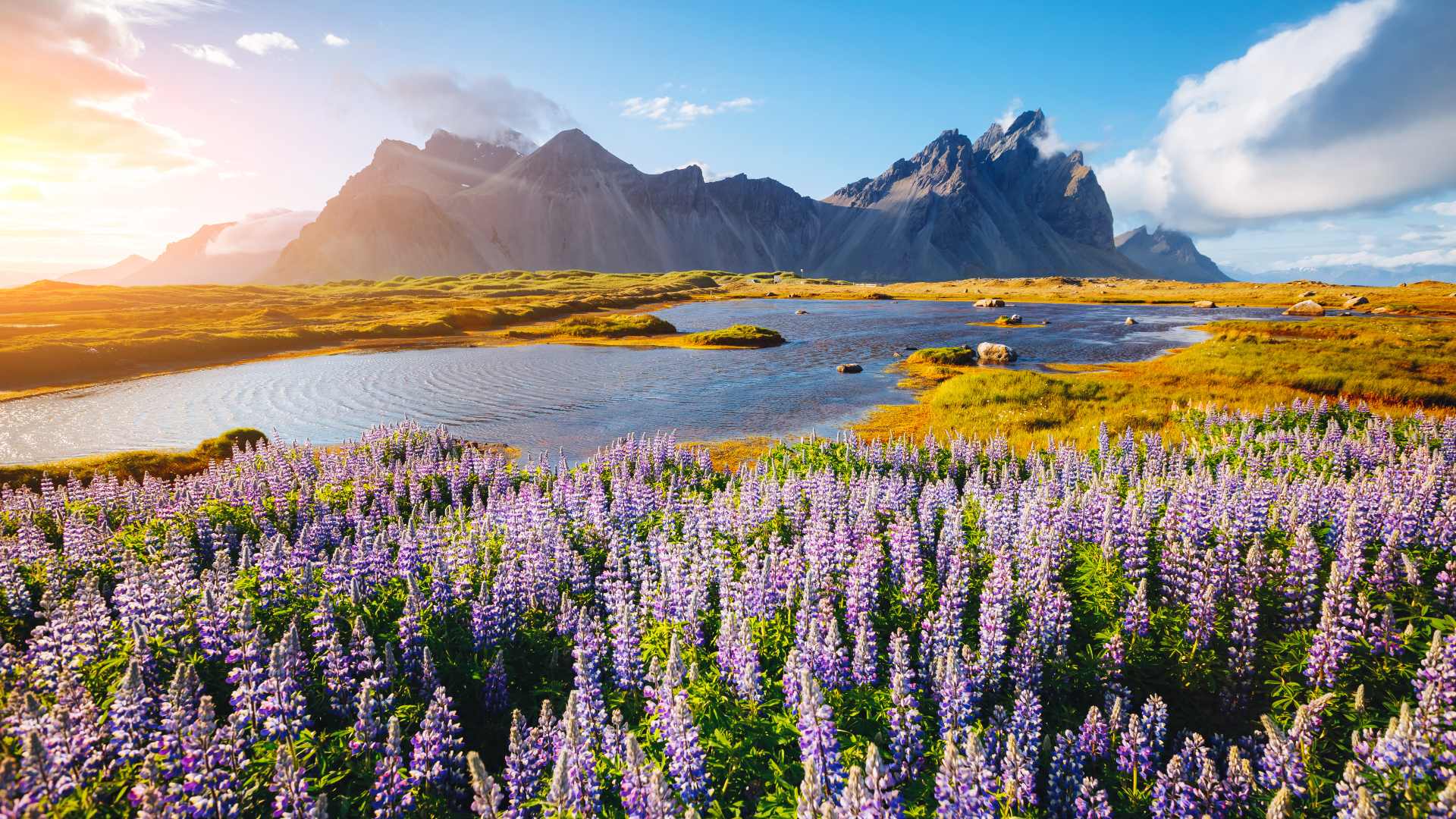 Is Greenland colder than Iceland?
On average, Iceland is milder than Greenland. 80% of Greenland is covered by an ice sheet, the second largest in the world after Antarctica. Greenland also lies further north than Iceland, making it the colder island.
Plus, Iceland is warmed by an ocean current that travels from the tip of Florida across the Atlantic to Northern Europe. This current is known as the Gulf Stream. It flows along the east coast of the US and Canada, and warms much of Western Europe, including Iceland.
---
---
When is the best time to visit?
To enjoy the very best of Greenland, you should consider visiting the island in the summer months. The warmer weather makes this the best time for you to enjoy Greenland's many outdoor activities and fascinating wildlife.
In the summer, you can have the chance to spot an Arctic fox, glimpse a majestic polar bear, or whale-watch in the beautiful fjords. And you can feel invigorated by the midnight sun – a natural phenomenon where the sun doesn't set for weeks.
Iceland is also one of the best places to experience the midnight sun, particularly around the summer solstice in mid-June. You will find most of the island's hiking trails are open between June and August, making this the ideal time to wander through its striking landscapes.
If you're hoping to witness Iceland's northern lights, the winter months from October through April are a better choice for your trip. You can also find ways to enjoy Iceland's glorious snow, such as snowmobiling or riding an Icelandic horse.
---
---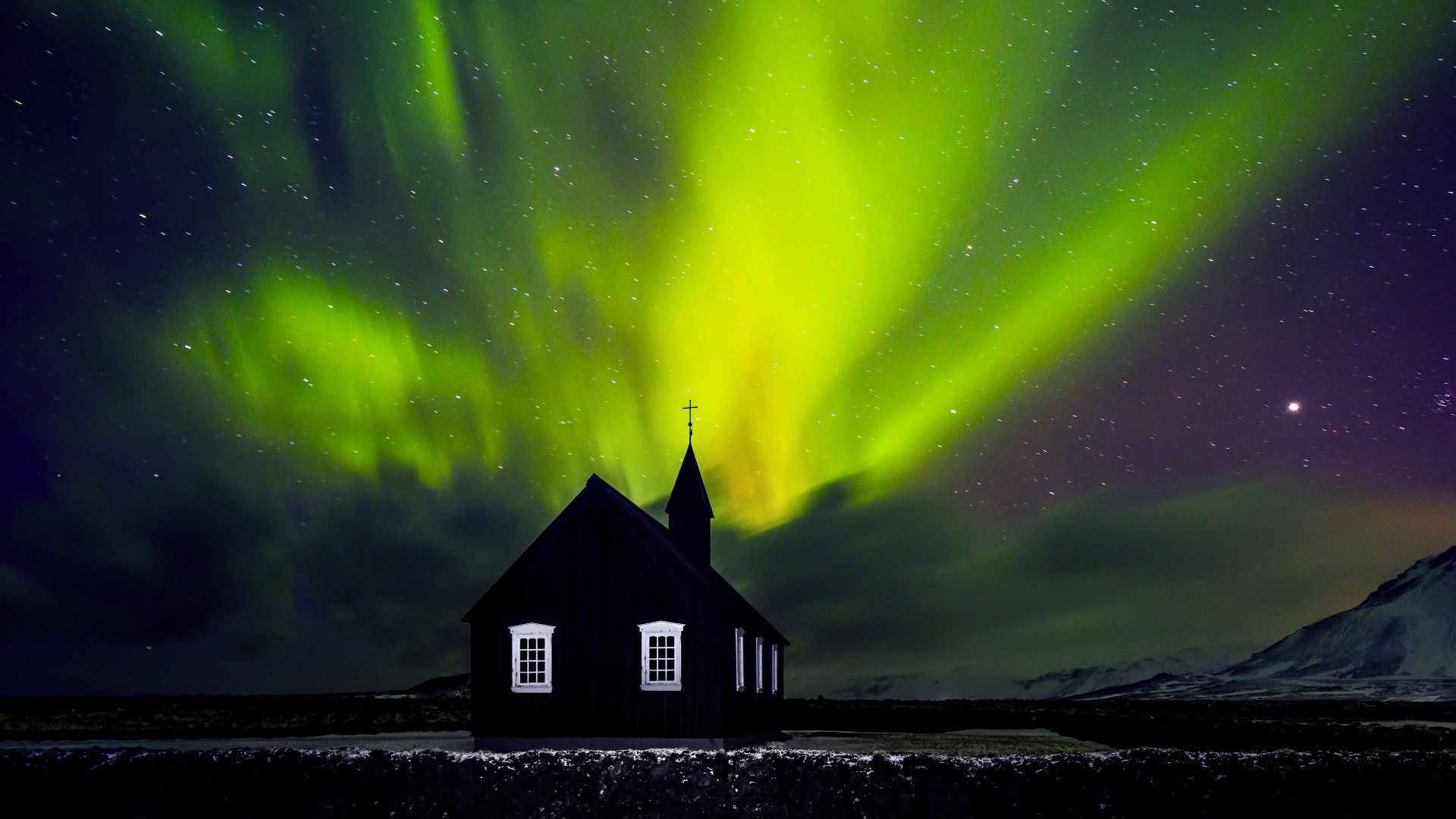 3. History
The history of these islands is a rich one, dating back to the 9th century when they were first discovered. It even gives you a glimpse of how their seemingly mismatched names were chosen.
Who discovered Greenland and Iceland?
Greenland was likely discovered in 986 AD by Erik the Red, a Viking explorer. The first settlement was called Brattahlíð, located in the south of the island. You can still visit the ruins of this village today.
Viking settlements remained on the island for a few centuries, but were eventually driven out by the icy temperatures. The Inuit people were better adapted to Greenland's harsh climate and now make up over 90% of the country's population.
The discovery of Iceland is more mysterious. According to ancient Icelandic sagas, it was founded by a group of Norse settlers around 870-930 AD.
The island was relatively unpopulated until the Viking Age. Before this, Iceland was allegedly known as "Thule", a place where people could live in complete solitude and peace from the outside world.
---
---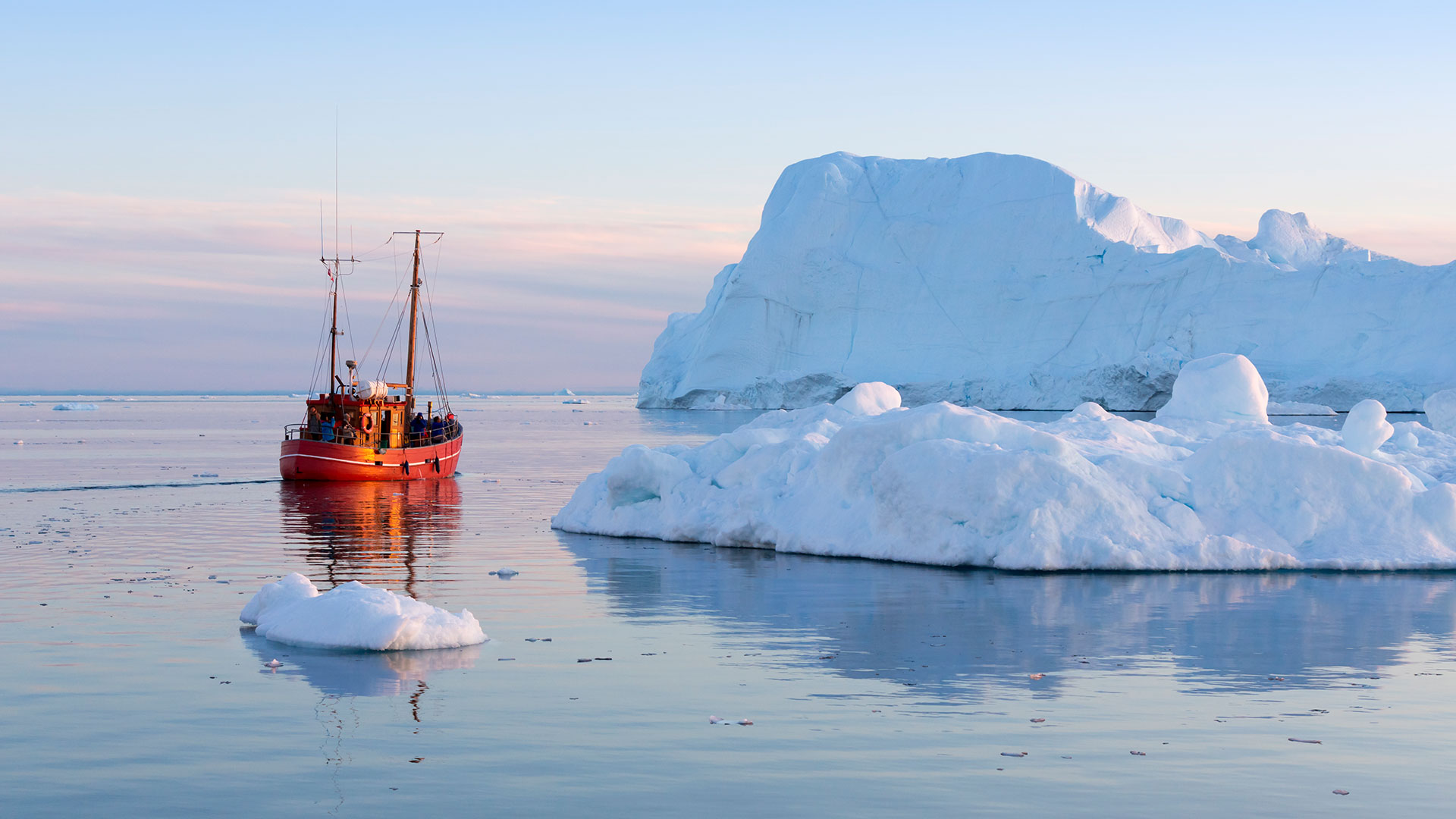 How did Iceland and Greenland get their names?
According to Icelandic legend, when the brave Naddador founded the island, it was snowing heavily. This never-ending blanket of snow inspired him to name the country Snæland, meaning "Snow Land". It was a common tradition in Nordic culture to name something as soon as it was discovered.
It is thought that when Erik the Red discovered Greenland, he wanted to bring more of his people to the island. So he called it "Greenland" to make it sound like an appealing place, convincing them to make the journey from Europe and settle in this lush, green land.
So, there is an explanation to these names after all!
What language is spoken in Iceland and Greenland?
Icelandic is the main language of Iceland. It is closely related to Norwegian and even has some resemblance to Old Norse, a Viking language. In fact, many native speakers of Icelandic can read Old Norse Sagas.
While most people on the island speak English as a second language, you could take a look at some commonly used words and phrases before you visit Iceland.
Greenlanders mostly speak Greenlandic, although many also speak Danish and English as second languages. You may recognise a number of Greenlandic words, such as "kayaking", "igloo" and "anorak", which are commonly used in the English language.
---
---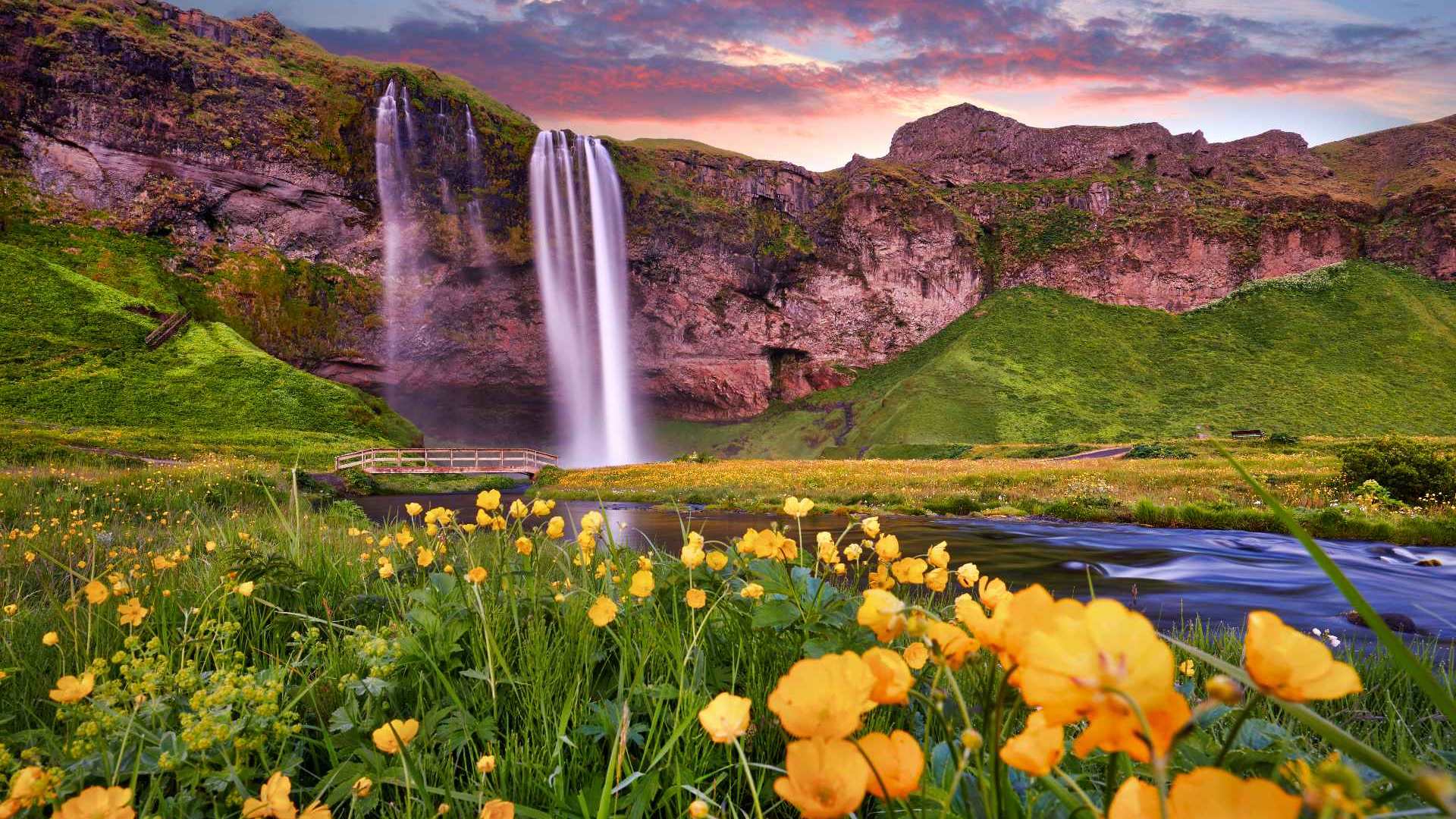 4. Scenery
Visit Greenland and Iceland and you'll be amazed at the stunning natural sights all around you.
Is Iceland greener than Greenland?
Although it may be called Greenland, its neighbour, Iceland, is the far "greener" island. This is because of its milder climate.
Iceland's greenery benefits from the long hours of daylight during the midnight sun. This helps the island's plant life thrive. While Greenland also experiences the midnight sun, its immense ice sheet prevents much growth.
What is Greenland's scenery like?
Most of Greenland's landmass is an ice sheet, which you can visit in the Northeast Greenland National Park. The rest of the island is covered in tundra – a flat landscape with very little tree growth and strong winds.
What you'll love about Greenland's scenery is its coastline. The many glacial fjords make the island's coast the longest in the world at 44,000 kilometres (27,000 miles). This is almost long enough to stretch around the Earth at the equator.
Along the coastline you can expect to see colossal icebergs, giant glaciers, and some of the island's many species of whales.
---
---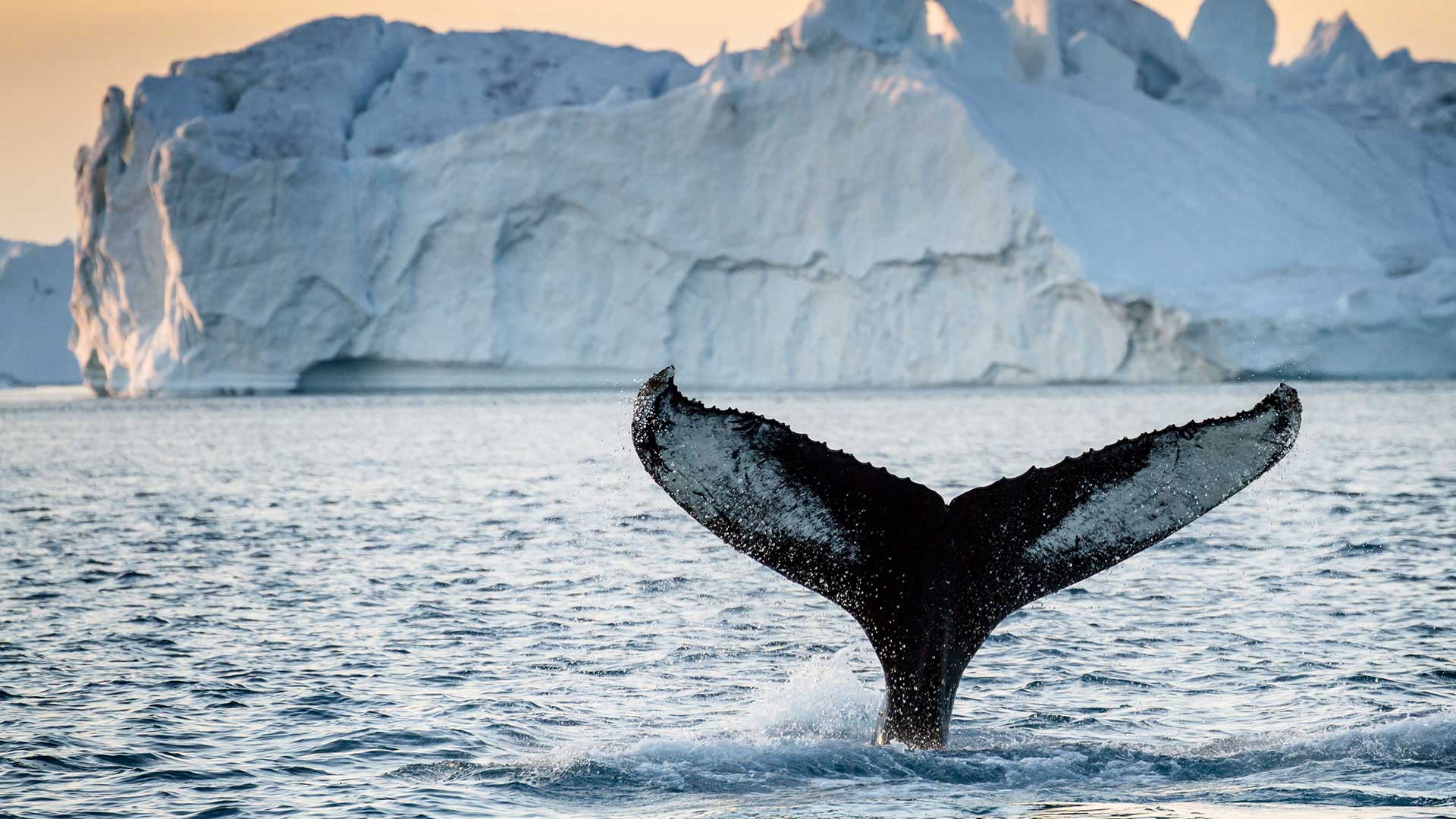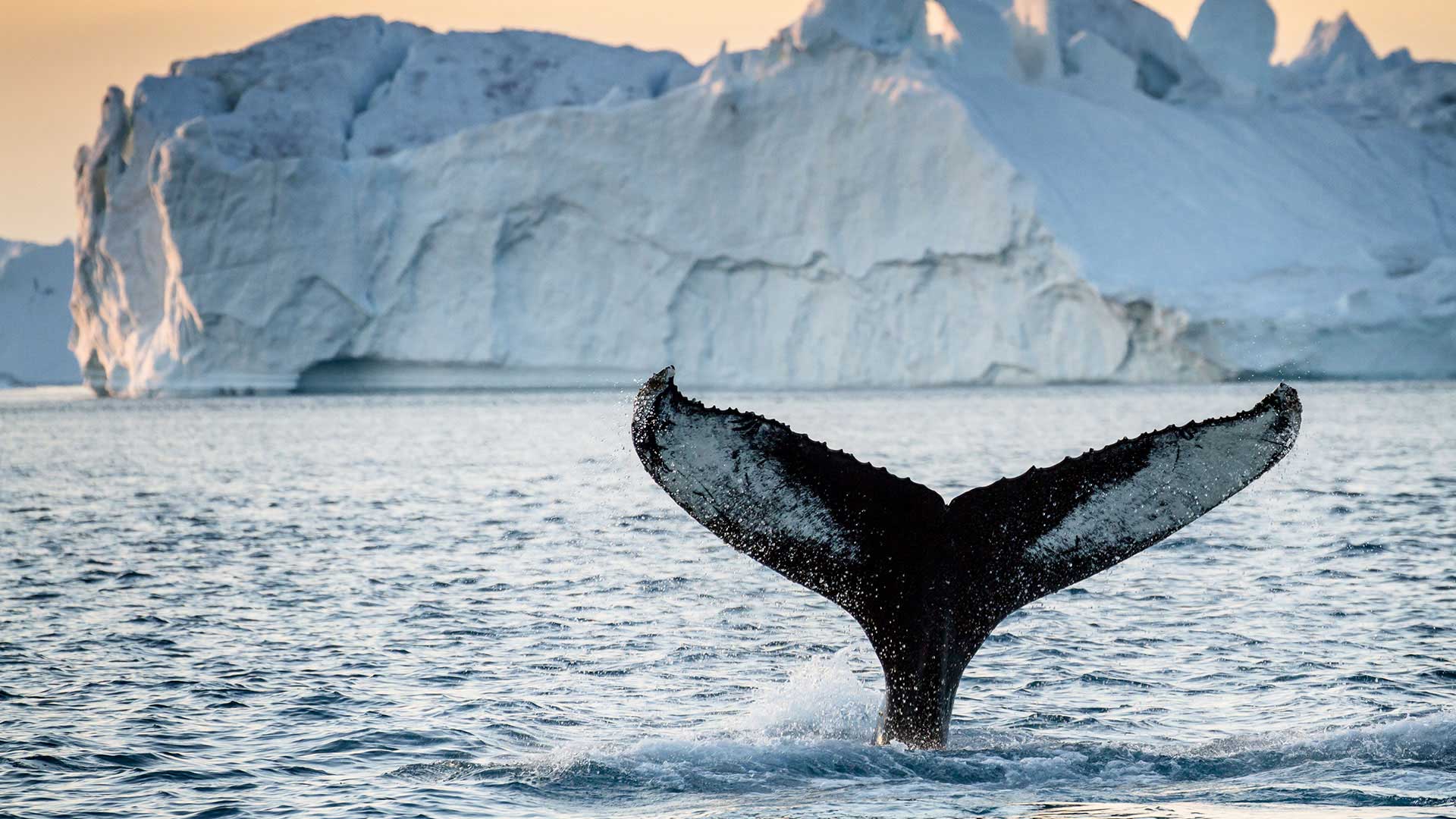 What is Iceland's scenery like?
Iceland is brimming with otherworldly landscapes. Come here and you'll discover glaciers, volcanoes and mountains, as well as waterfalls, hot springs and black sand beaches.
In South Iceland, for example, you can experience the country's incredible natural beauty. Here you will find underwater caves, tumbling waterfalls, and the visible split of two continental plates in Þingvellir National Park.
The island also boasts impressive volcanic scenery and geothermal attractions, particularly in North Iceland and the highlands. You can visit lava fields, hike a volcano, discover mud pots, and so much more.
Iceland is one of the few places on Earth with powerful geysers dotted about its landscape. This is a rare sight where you'll see water and steam dramatically spring from the ground.
---
---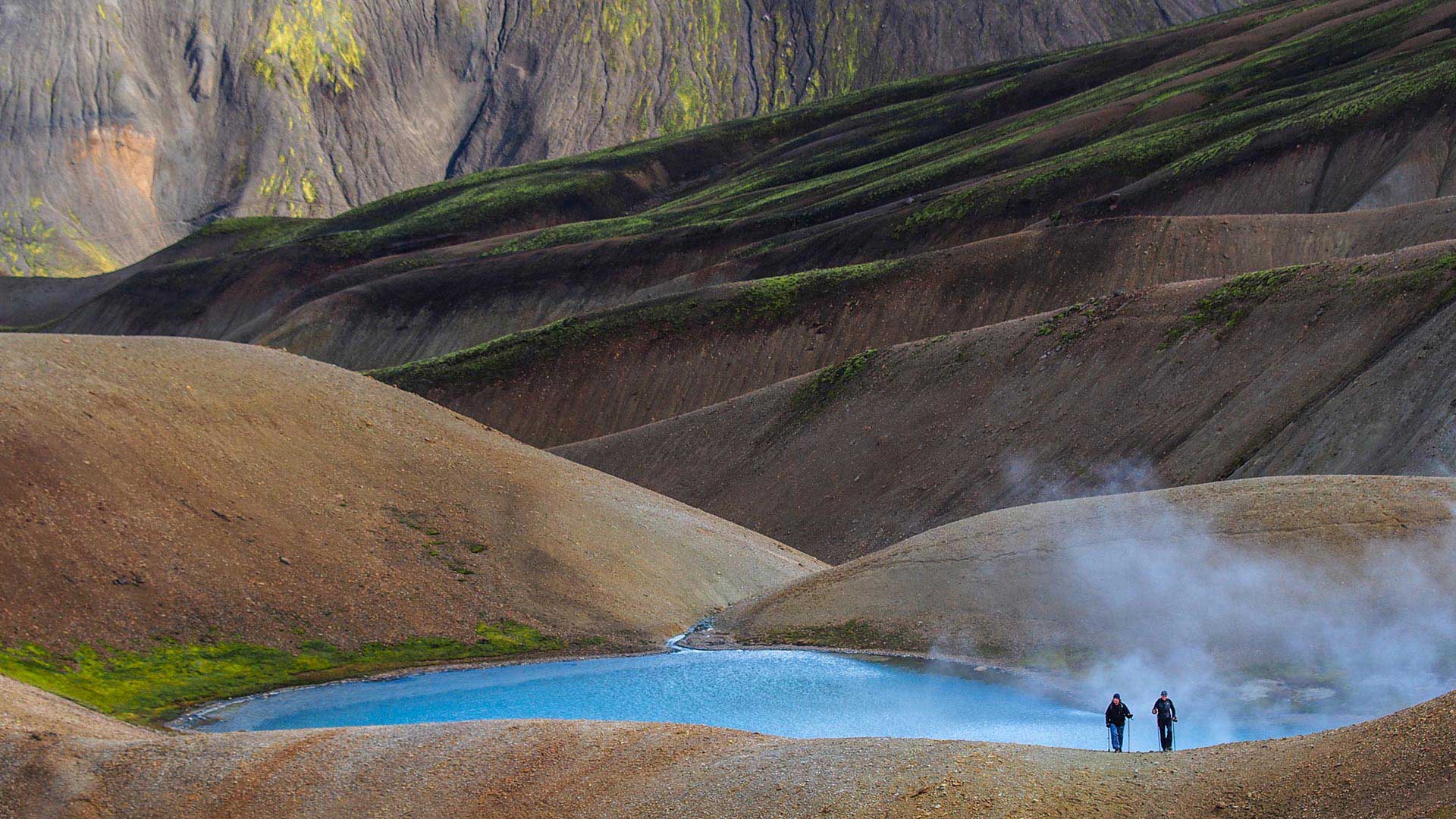 5. Experiences
Whether you're a lover of the outdoors or you're keen to immerse yourself in a different culture, Iceland and Greenland have so much to offer.
Do Iceland and Greenland have similar cultures?
Iceland and Greenland have many similarities, especially their history of Nordic culture.
Yet they also have their differences. Central to Icelandic culture are folkloric tales and mythological legends. The telling of fables has been common throughout Iceland's history and remains an important part of the country's culture today.
Icelanders are also known for their festivals, during which they indulge in lavish foods and enjoy time with their families. You may want to check out their annual Airwaves or Secret Solstice festivals.
Greenlandic culture is closely tied to the Inuit people. They enjoy a wealth of traditions that still play an important part in Greenlandic life. During your trip you could visit Inuit art galleries, or learn about local heritage at Nuuk's National Museum.
---
---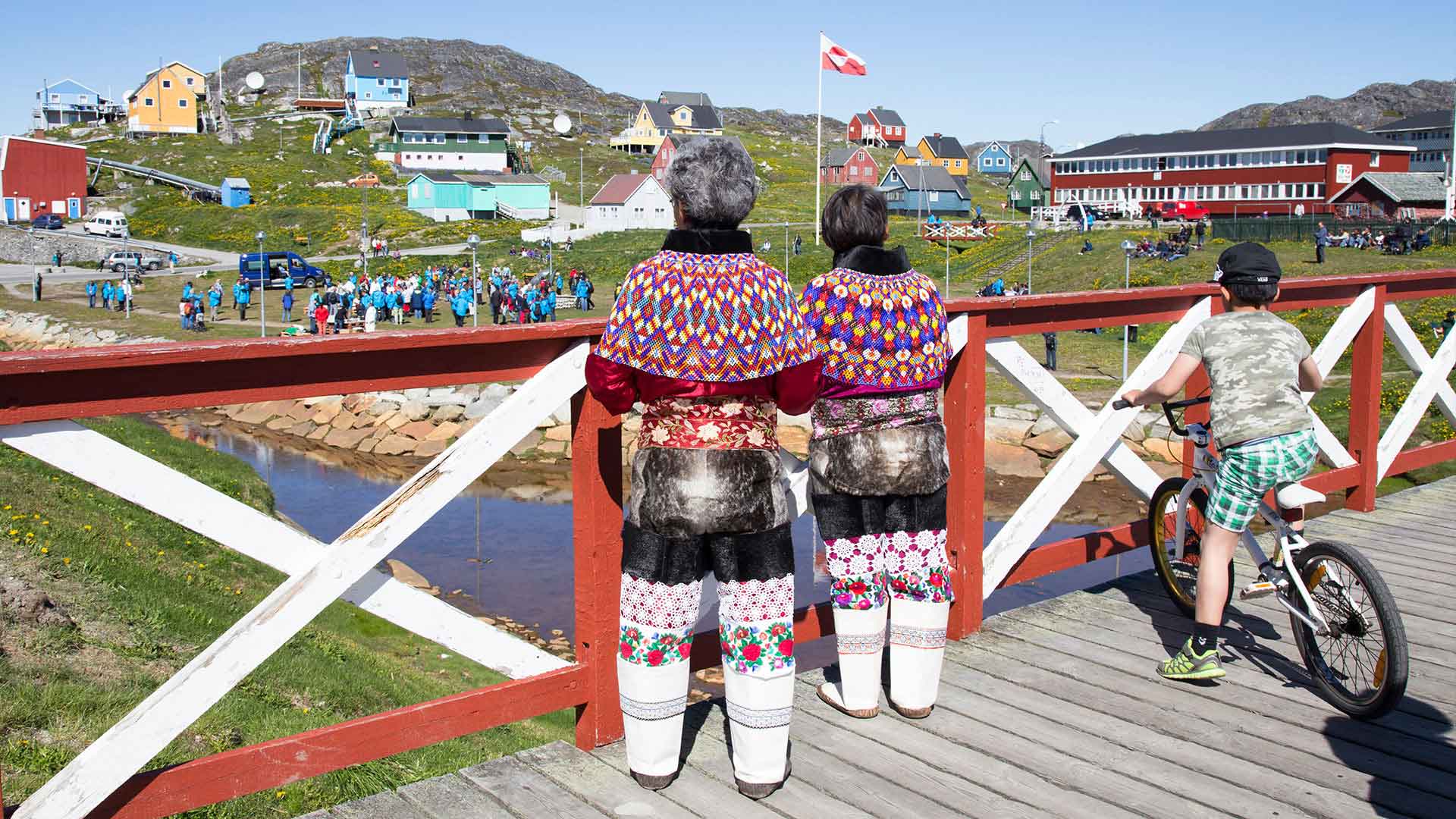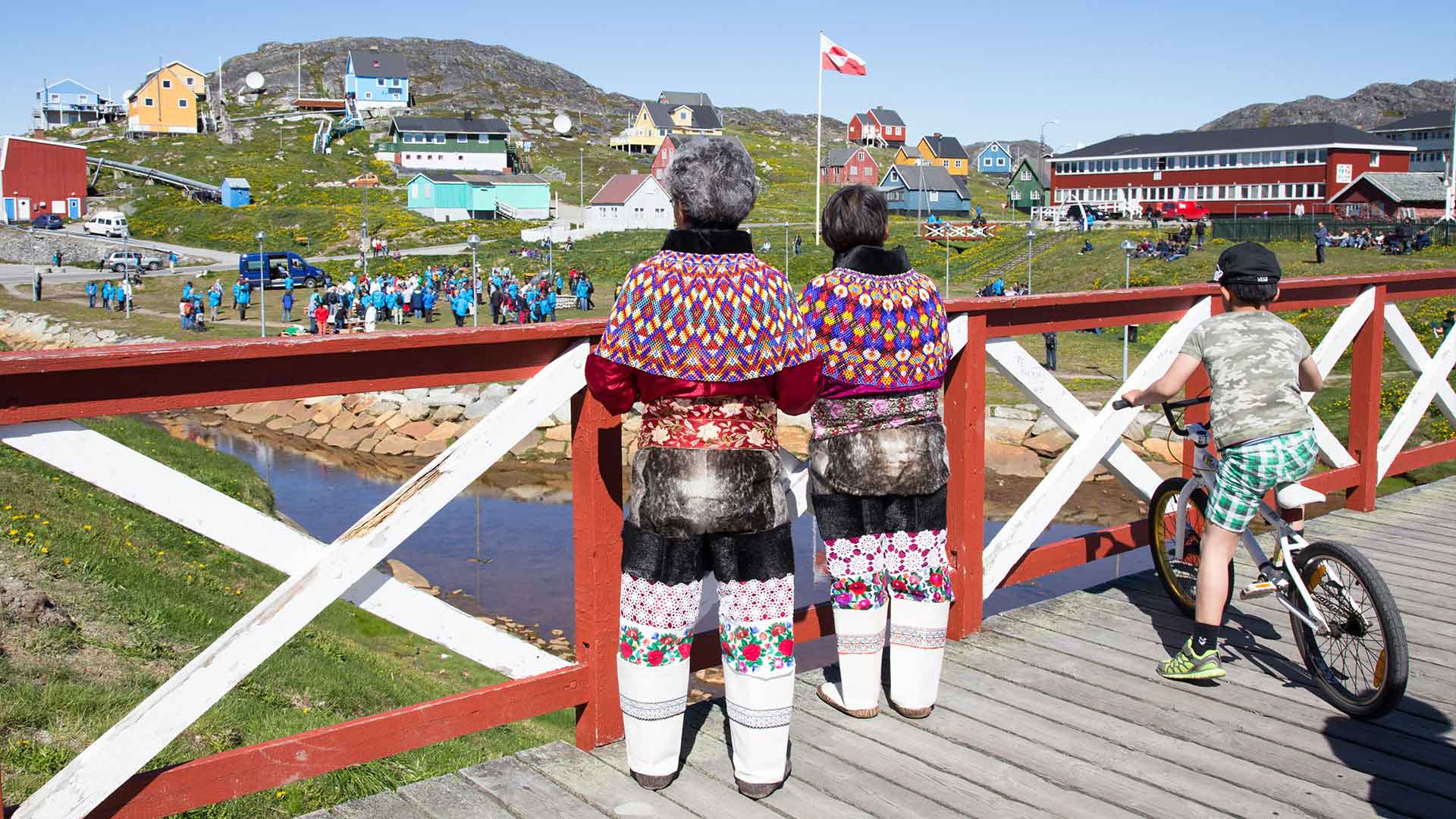 What are the top things to do in Greenland?
There are so many experiences to choose from when planning your visit, it can be hard to know where to start.
To help you decide, here are the best things to see and do on your Greenland trip:
Sail along the island's coastline
Witness the midnight sun
Go whale watching
Experience Inuit culture
Learn about Viking history
Enjoy an Arctic hike
Visit breathtaking glaciers
Explore Greenlandic museums
Sightsee while kayaking
Jet off on a helicopter tour
---
---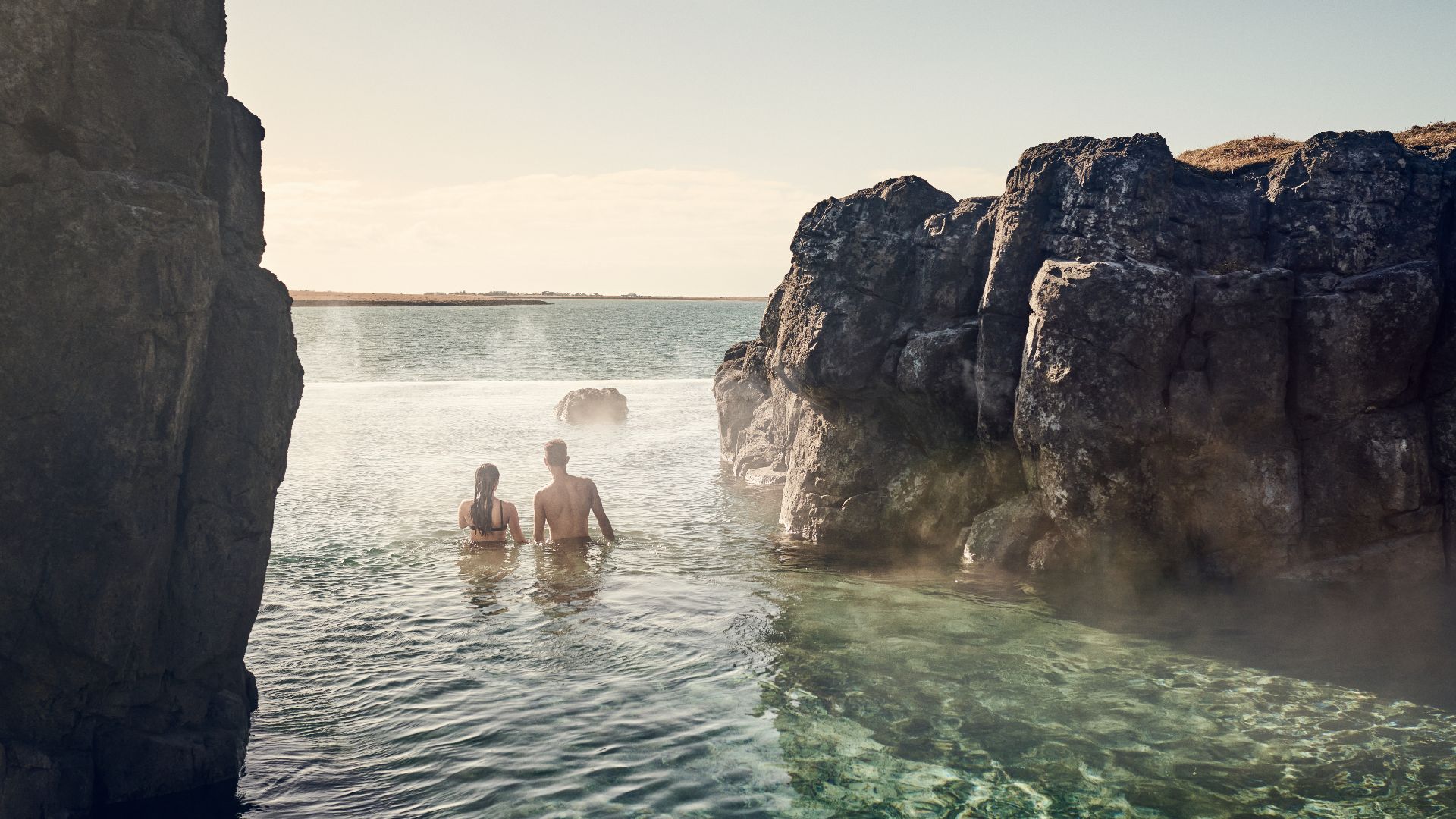 What are the top things to do in Iceland?
Iceland offers non-stop adventure all-year round. Whatever season you visit, there is so much to choose from on an Iceland tour. Whether you snorkel between continental plates or stroll along a black sand beach, the memories you create will be unforgettable.
These are the experts' recommendations of the best things to do on your Iceland tour:
Relax in a hot spring or pool
Visit the remote highlands in a 4x4
Go snorkelling between tectonic plates
Explore the island's volcanic scenery
Learn about Icelandic folklore and mythology
Visit a black sand beach
Try typical Icelandic cuisine
Visit magnificent waterfalls
Ride through the countryside on horseback
Go snowmobiling on glaciers
---
---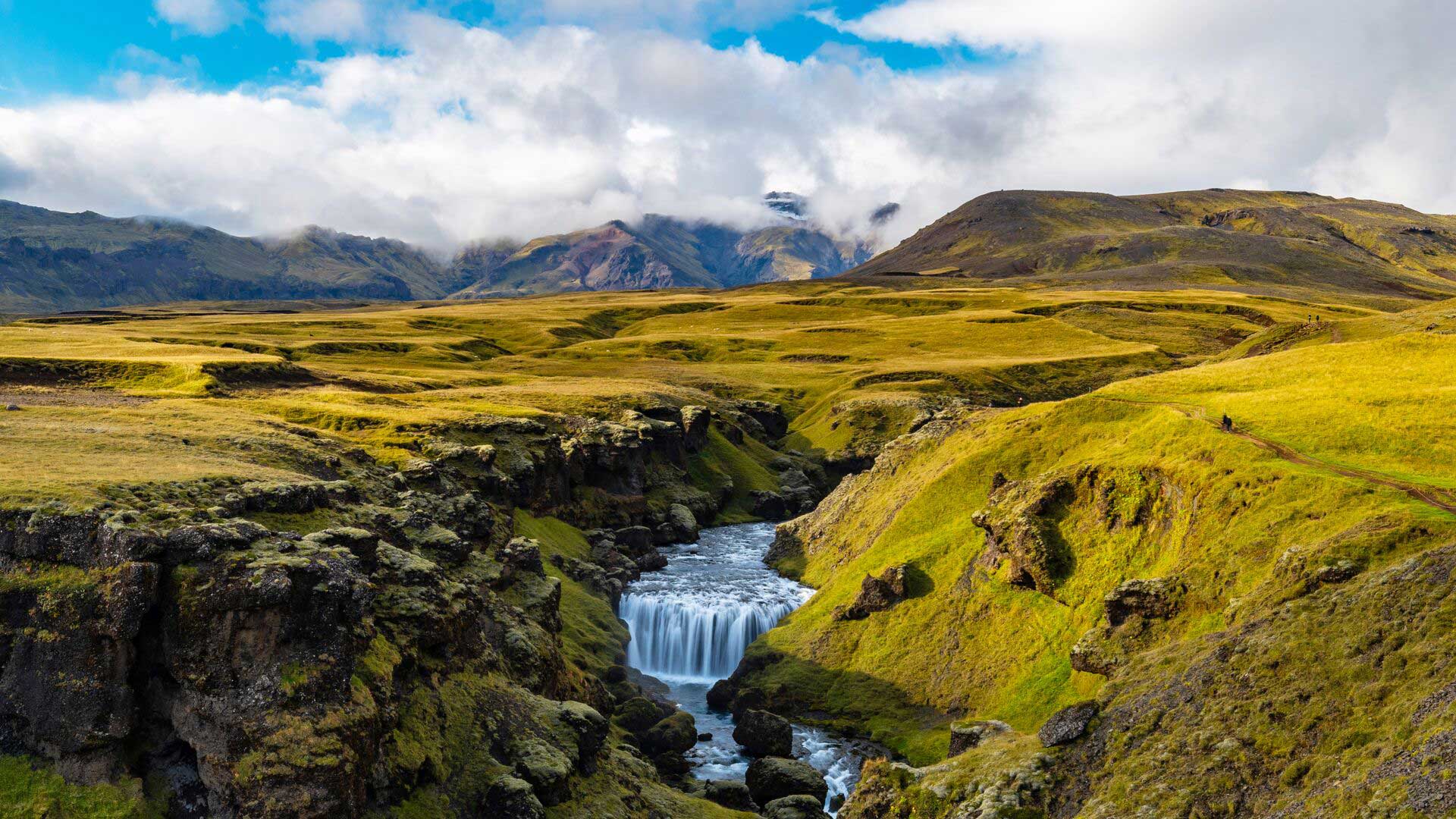 Plan your trip to Iceland or Greenland
These are some of the main things to consider when deciding between visiting Greenland and Iceland for your next adventure. Or you may decide to choose both islands and enjoy a combined tour of Iceland and Greenland.
Why not head to Greenland first to enjoy its glaciers, fjords, and icebergs? Then catch a quick flight over to Iceland to explore on a road trip. Discover the bustling city of Reykjavík, the waterfalls of Seljalandsfoss and Skógafoss, and Jökulsárlón glacier lagoon, to name a few.
Whatever you choose we are certain you will have the experience of a lifetime. And you'll have a personal travel consultant to make all the arrangements for you, including accommodation, activities, and local transport. Plus you can reach us 24/7 on your trip if you need our support.
Contact us for more guidance on deciding between Iceland or Greenland. The experts here at Nordic Visitor are more than happy to help!