From peculiar traditions to otherworldly landscapes, Iceland will offer you an unparalleled travel experience full of offbeat attractions.
When you journey to the Land of Fire and Ice, you may expect the spectacular volcanoes, glaciers and peaks of the island. All this is made even more magical with the midnight sun or northern lights above.
But explore more of weird Iceland by adding some fun and odd cultural stops to your itinerary. Think of strange museums, dark folklore, and quirky artworks.
If you're looking for unusual things to do in Iceland, read on. These stops could make your Iceland trip even more colourful and memorable.
---
---
1. The Sea Monster Museum, Westfjords
Maybe you've heard of the Loch Ness Monster in Scotland. But did you know that there are rumours of a giant, serpent-like creature swimming in the sea in Iceland?
To find out more, visit the Sea Monster Museum (Skrímslasetur) in the village of Bíldudalur in the Westfjords. It is housed appropriately in a converted fish factory, which displays eye-witness accounts by generations of local fishermen.
Pass by the museum's interactive "monster table" to find out where these creatures lurk. You might think twice about dipping your toes in the sea...
---
---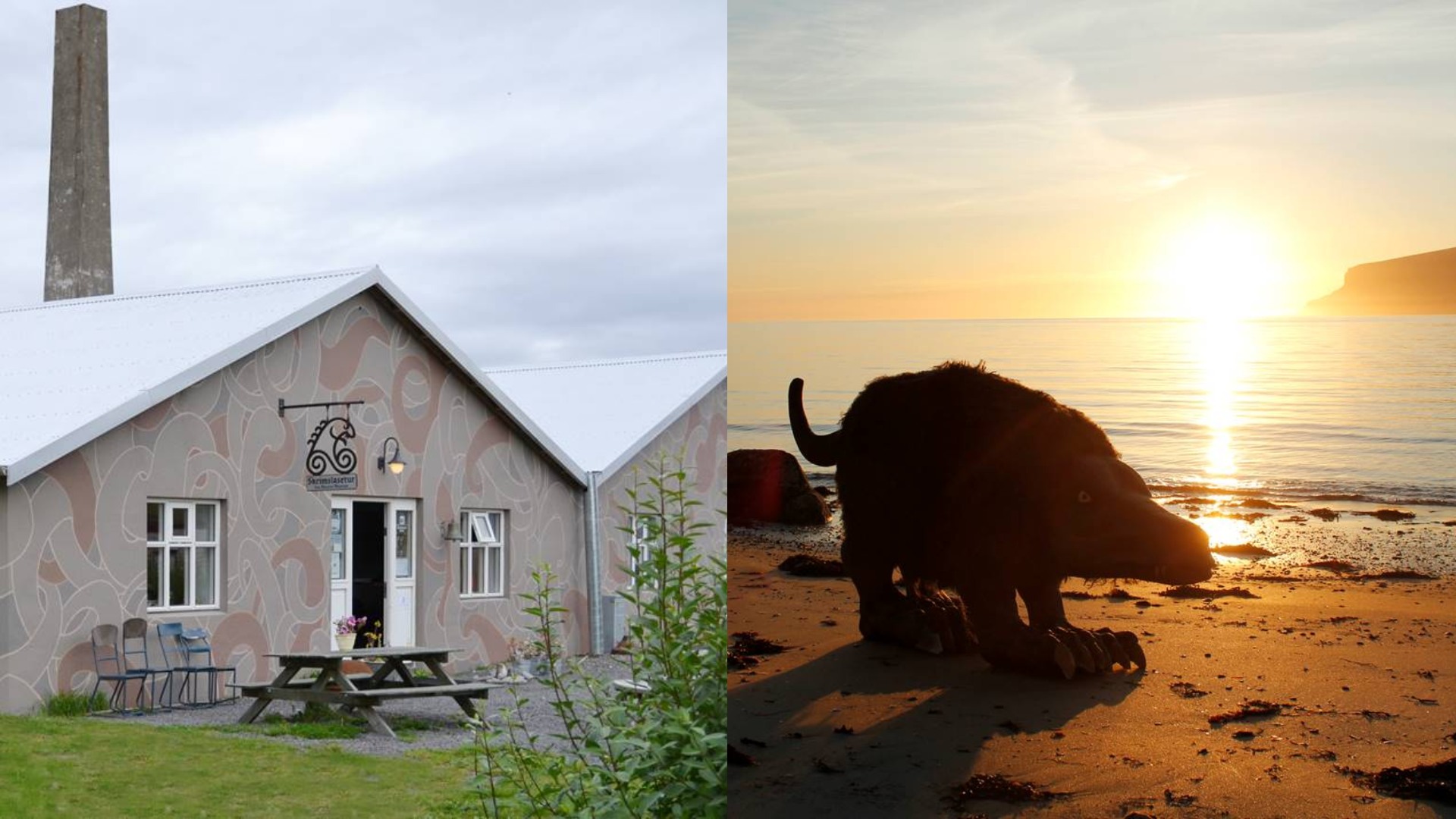 2. The Samúel Jónsson's Art Farm, Westfjords
It's never too late for new hobbies, right?
From Bíldudalur, continue along the Arnarfjörður fjord to Selárdalur at the very tip of the peninsula. The secluded farm located here was where artist Samúel Jónsson lived out his retirement years cultivating a life-long interest in art.
Walk through the different buildings and sculptures to admire his Naïve art. Having had no formal training, Samúel's work has a childlike and almost cartoonish quality.
The sculptures were created mostly from concrete and sand that he carried himself from the nearby shore.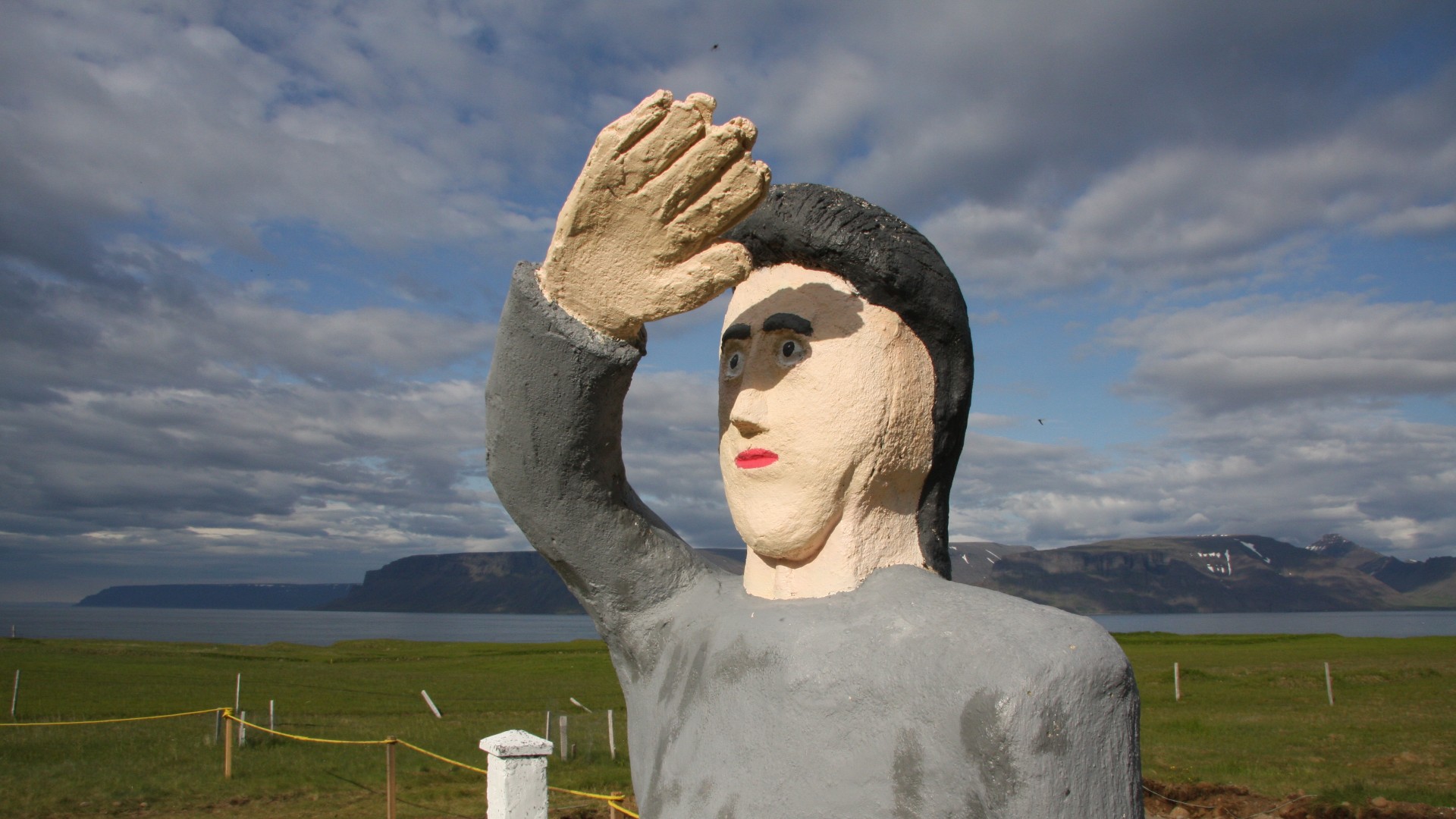 Among the notable works here are a statue of Leif the Lucky and replicas of the Alhambra's "Court of Lions" (in Spain) and of an Indian temple.
From the museum, you'll also be able to enjoy panoramic views over the scenic fjord. Try to spot the Kaldbakur mountain in the distance, the highest in all the Westfjords.
Local tip: About 1 hour's drive away, don't miss Dynjandi, one of the most scenic waterfalls in Iceland.
3. The Nonsense Museum, Westfjords
You'll be able to tell from this list that the Westfjords region takes its quirkiness seriously. Nowhere is this more evident than at the Nonsense Museum (Dellusafnið) located in the main town, Ísafjörður.
If you're looking for weird things to do in Iceland, this is definitely a good one! Like the name indicates it's an eccentric – yet meticulously curated – collection of things and objects.
Come spend some time uncovering the assortments of salt and pepper shakers, series of tractors, police caps from all over the world, and much more.
This is ideal for a rainy afternoon and to pique the curiosity of children and adults alike.
---
---
4. The Museum of Icelandic Sorcery & Witchcraft, Westfjords
No place in the Westfjords will leave you as spellbound as the Museum of Icelandic Sorcery & Witchcraft ("Galdrasýning á Ströndum") in Hólmavík.
This museum is dedicated to Iceland's more macabre folklore. Here you can learn about old Viking traditions, occult practices, superstitions, sorcery, runic designs, witch hunts and even necropants (trousers made of a dead person's skin).
Just up the coast in Bjarnarfjörður you'll find the "sorcerer's cottage". This is another part of the witchcraft museum that is well known for its traditional turf styling.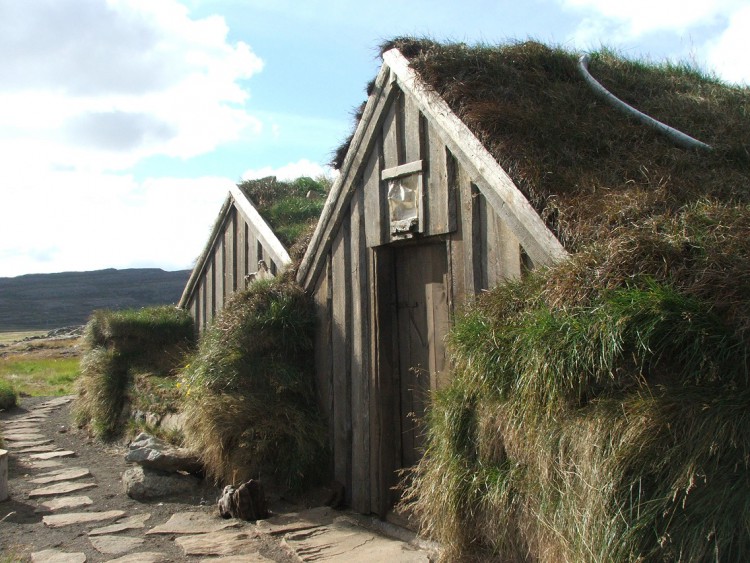 5. The Eggs of Merry Bay, East Iceland
Visit Iceland on a Ring Road tour and you'll soon find yourself in the scenic East fjords.
This is an area characterised by long fjords, fishing villages and waterfalls. So, what do eggs have do to with anything?
Stop by the town of Djúpivogur and go for a walk along the harbour to catch sight of these sculptures. These large, egg-shaped boulders atop concrete stands may look weird at first sight, but they have a special meaning.
The eggs were created in 2009 by local artist Sigurður Guðmundsson and stand for the 34 species of birds that nest in this part of Iceland.
---
---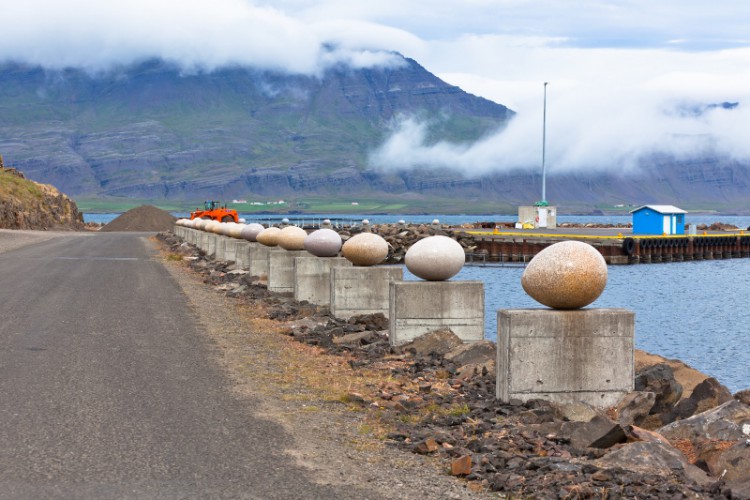 6. Petra's Stone Collection, East Iceland
An hour north of Merry Bay, you could discover Petra's famous mineral collection ("Steinasafn Petru") in Stöðvarfjörður. Even if you're not a geologist, you will be charmed by this special collection.
Ljósbjörg Petra María Sveinsdóttir (Petra for short) began collecting rocks as a hobby in the 1940s. By the 70s she had amassed such a selection of stones and minerals that she opened her private home to curious guests.
In short, this place rocks!
Sadly, Petra passed away in 2012, but her legacy lives on for all to enjoy.
---
---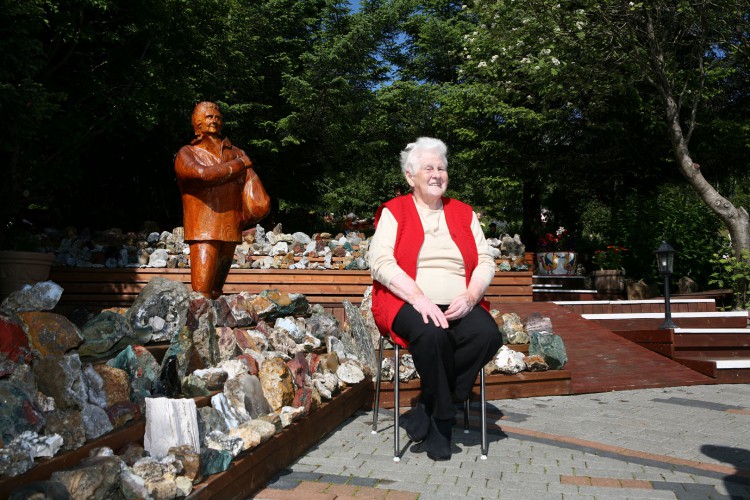 7. The Christmas Garden, North Iceland
Continue your journey along the Ring Road to arrive in North Iceland, also home to unusual attractions.
In Akureyri, the Christmas Spirit is alive and well at the Christmas Garden (Jólagarðurinn). During your visit to the "Capital of the North", enjoy a festive atmosphere at any time of the year.
You won't have to wait for the winter months to meet Santa!
---
---
Here you can buy yuletide souvenirs, taste local treats and learn all about Icelandic Christmas traditions. This is a great way to hear tales of the 13 Yule Lads, Grýla the "Christmas Ogress", and the infamous child-eating Christmas Cat.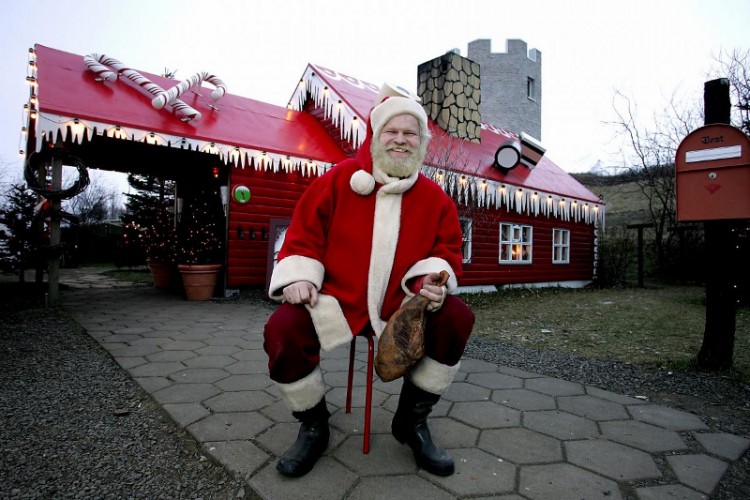 8. The Museum of Small Things, North Iceland
This is exactly what you think it is: a wacky collection of small bits and pieces that you might otherwise find in your desk drawer or tool chest at home. At least here, it is better organised and more interesting.
The exhibits at the Museum of Small Things ("Smámunusafnið") near Akureyri have all been curated by a local carpenter. It includes such things as pens, record needles, watches, hammers and more. A nice wee attraction for any trips to Iceland!
9. The Shark Museum, Snæfellsnes peninsula
Star chef and traveller Anthony Bourdain called Iceland's fermented shark meat "the single worst, most disgusting and terrible tasting thing" he'd ever eaten.
It's not for everyone, but don't let that discourage you from forming your own opinion. Visit the Shark Museum in Bjarnarhöfn on the Snæfellsnes peninsula to learn how this traditional delicacy is prepared.
Your guide will teach you about the Greenland shark and its importance in Icelandic history. You could even sample a fresh piece of hákarl.
It's definitely a unique and unusual culinary experience for your bucket list.
Add this stop to your itinerary as you discover the charms of Snæfellsnes, including stark lava fields, sea stacks, pointy peaks, and more.
---
---
10. The Ghost Centre, South Iceland
The Ghost Centre ("Draugasetrið") is located in the village of Stokkseyri on the south coast. This is a great place to visit if you want to explore the mythical world of elves, trolls and other supernatural phenomena of Iceland.
It's not too spooky and rather delves into the tales and folklore of the region. Ghosts were often mentioned in Icelandic sagas going back to the beginning of the country's history.
You'll be guided through 24 ghost stories as you make your way through the centre. For real goosebumps, walk through the ghost-maze, where you can hear chilling ghost tales and occasionally be scared witless by a surprise ghoul.
The northern lights are also on display inside. That's great if you're visiting in summer as the midnight sun will make it near impossible to see them at this time of year.
Got time to kill? Pull up a seat at the museum's Ghost Bar and order a "ghost cocktail" – though it might haunt you the next day. Come see for yourself!
Thanks to its location, you could easily add this attraction to your Golden Circle tour. Imagine witnessing the power of Gullfoss waterfall then learning about local folklore. This is the best of both worlds, combining culture and nature for a fun Icelandic day out.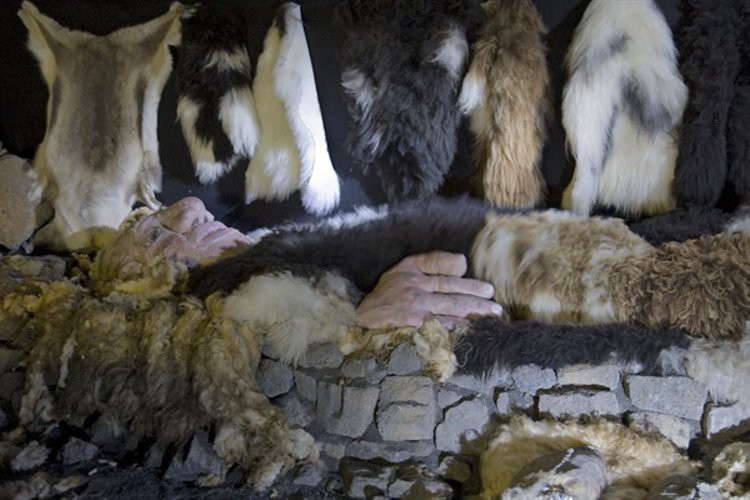 11. The Icelandic Phallological Museum, Reykjavík
No list of weird Icelandic places would be complete without mentioning the infamous Penis Museum in Iceland's capital city.
If you're looking for something quirky to do during your visit of Reykjavík, this museum is the one for you. The collection contains over 200 specimens belonging to nearly all land and sea mammals that can be found in Iceland – including humans.
This attraction is somewhat less controversial than you'd think, and some guests are disappointed that most exhibits are more scientific than naughty.
This is an easy stop to add to your itinerary, whether you're in town for a city break or to start an epic road trip. From Reykjavík, you could also go for a warm dip at the Blue Lagoon (or any local swimming pools), follow hiking trails up Mount Esja and ride Icelandic horses in the nearby countryside.
---
---
With volcanic eruptions, active tectonic plates and magical ice caves, you don't have to try hard to have an unusual trip around Iceland. You're in for a change of scenery wherever you're from in the world.
That said, you could add one or more of these quirky sights to your itinerary for unexpected findings and discoveries in the Land of Fire and Ice. Don't forget your camera and your sense of humour!
Whether you want to travel with a guide or independently, we can help you Browse our tried-and-tested Iceland tour packages to pick the one that's right for you.
With their local knowledge, our Reykjavík-based staff will then book everything for you and recommend some unique touches, depending on your interests.
When you're ready to start planning your tour of Iceland, don't hesitate to get in touch with the local travel experts at Nordic Visitor.