If you're coming to Iceland, you expect to see some ice, right? After all, roughly 11% of the country's land area is covered by glaciers.
Lucky for you, there are a variety of ways to enjoy Iceland's glaciers, which—by the way—are the largest in Europe. Even better, most of the experiences listed below are an easy day trip from the capital city, Reykjavík.
---
Explore the ice at Reykjavík's Perlan Museum
So, you've just arrived to Reykjavík and you're eager to see some ice. The new Glaciers and Ice Cave Exhibition at the Perlan Museum, just outside the city centre, is the perfect place to start.
Here you can walk through the city's first and only ice cave—a detailed replica of the inside of a glacier—and snap some cool selfies among the blue ice walls. Lest you think ice is all fun and games, the exhibition's other interactive, ultra-modern displays present you with the more serious side of glaciers: the dangers of the volcanoes hidden beneath the ice caps, the effects of climate change and more. In a nutshell, it's a reminder that learning is fun.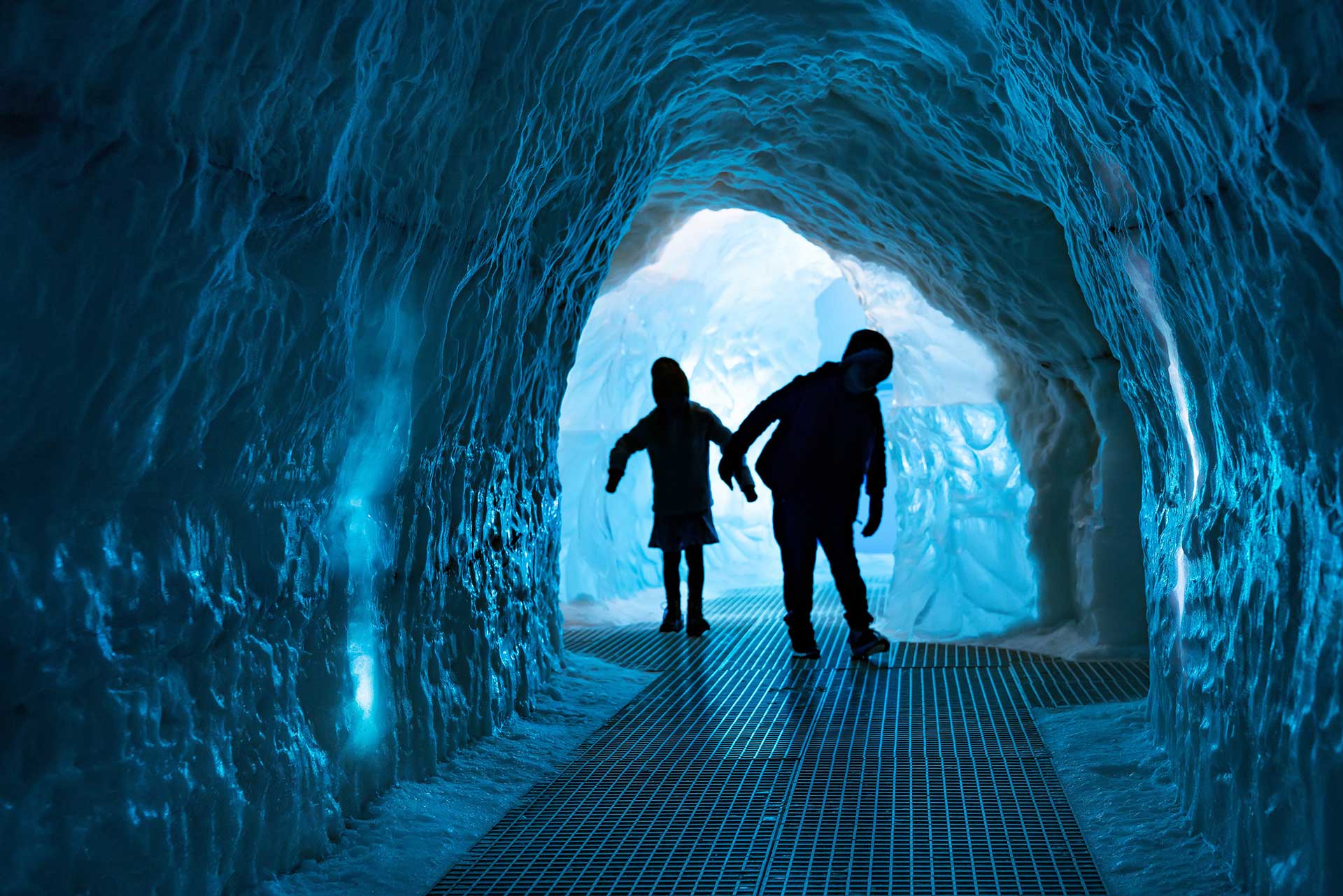 (Photo: Perlan Museum)
When you're finished with the exhibition, warm up with a coffee at the top-floor cafe and visit Perlan's 360° viewing deck for a stunning panorama of Reykjavík and its surrounding mountains.
Take a walk into a glacier
If the Perlan Museum whet your appetite for ice caves, the next logical step in your adventure is the Into The Glacier experience, which takes you deep inside Langjökull, Iceland's second largest glacier.
Like the Perlan Museum replica ice cave, this 800-metre (half-mile) long ice tunnel is also man-made, built by specialised engineers and geophysicists after nearly 5 years of research and planning. In addition to the ice tunnel are special lighting effects, a few small glacier exhibits, a lounge/seating area and a small chapel.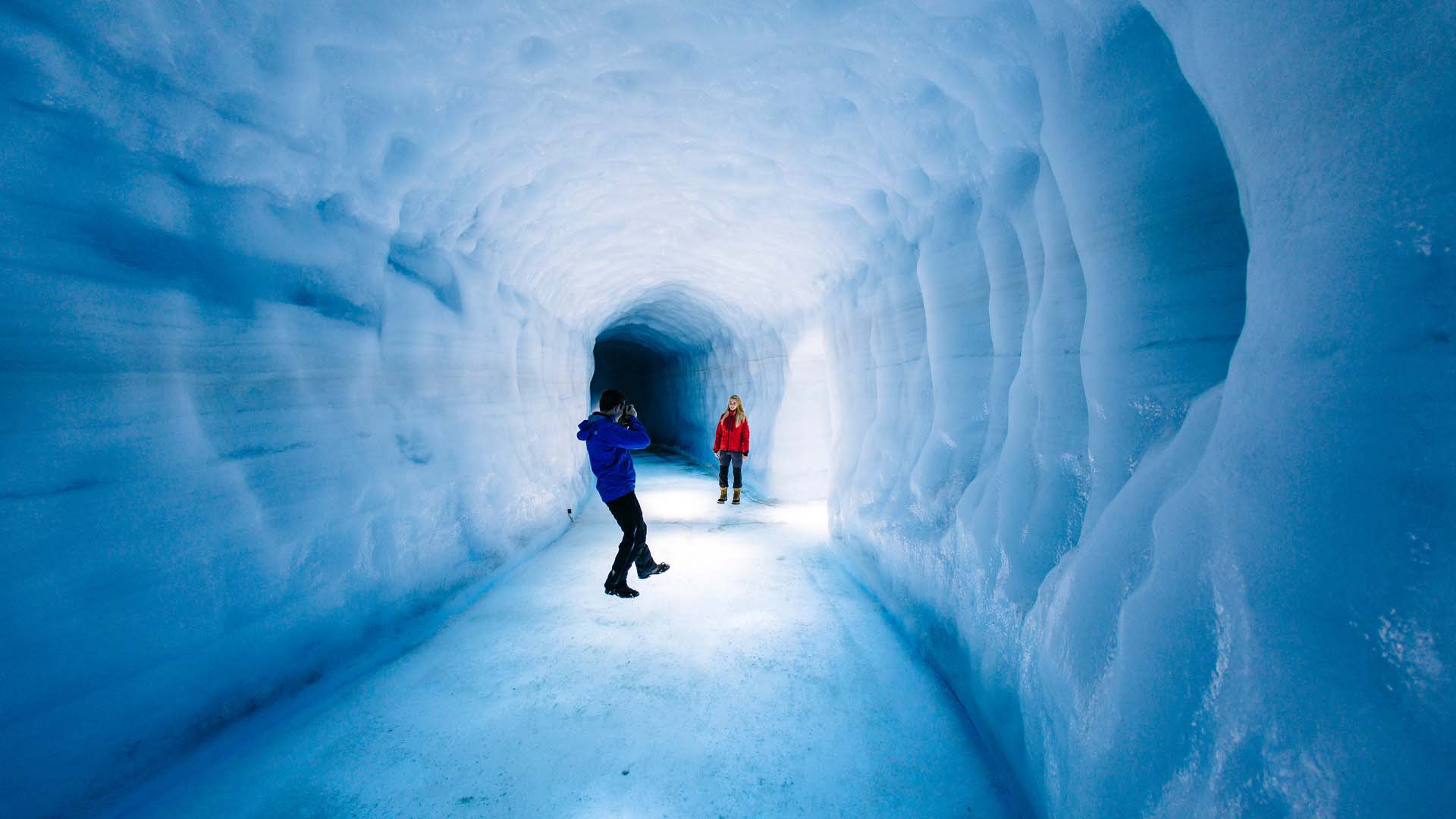 (Photo: Into The Glacier)
Guided excursions are available here year-round, with departures from Húsafell in West Iceland or from Reykjavik.
Experience blue ice on a caving tour
So, you want to walk inside a naturally made ice tunnel? Every winter, glacial rivers retract and the water freezes, leaving behind stunning natural ice caves in different locations in Iceland. Since no two ice caves are ever alike, an opportunity to step food inside one is a truly one-of-a-kind experience.
The most popular place for ice cave tours is Skaftafell, part of the vast Vatnajökull National Park in south-eastern Iceland that's named for Europe's largest glacier, Vatnajökull. Equipped with a helmet, harness, ice axe and crampons, you'll be able to marvel at the stunning blue ice crystals while learning about glacier movements and more from the expert guide.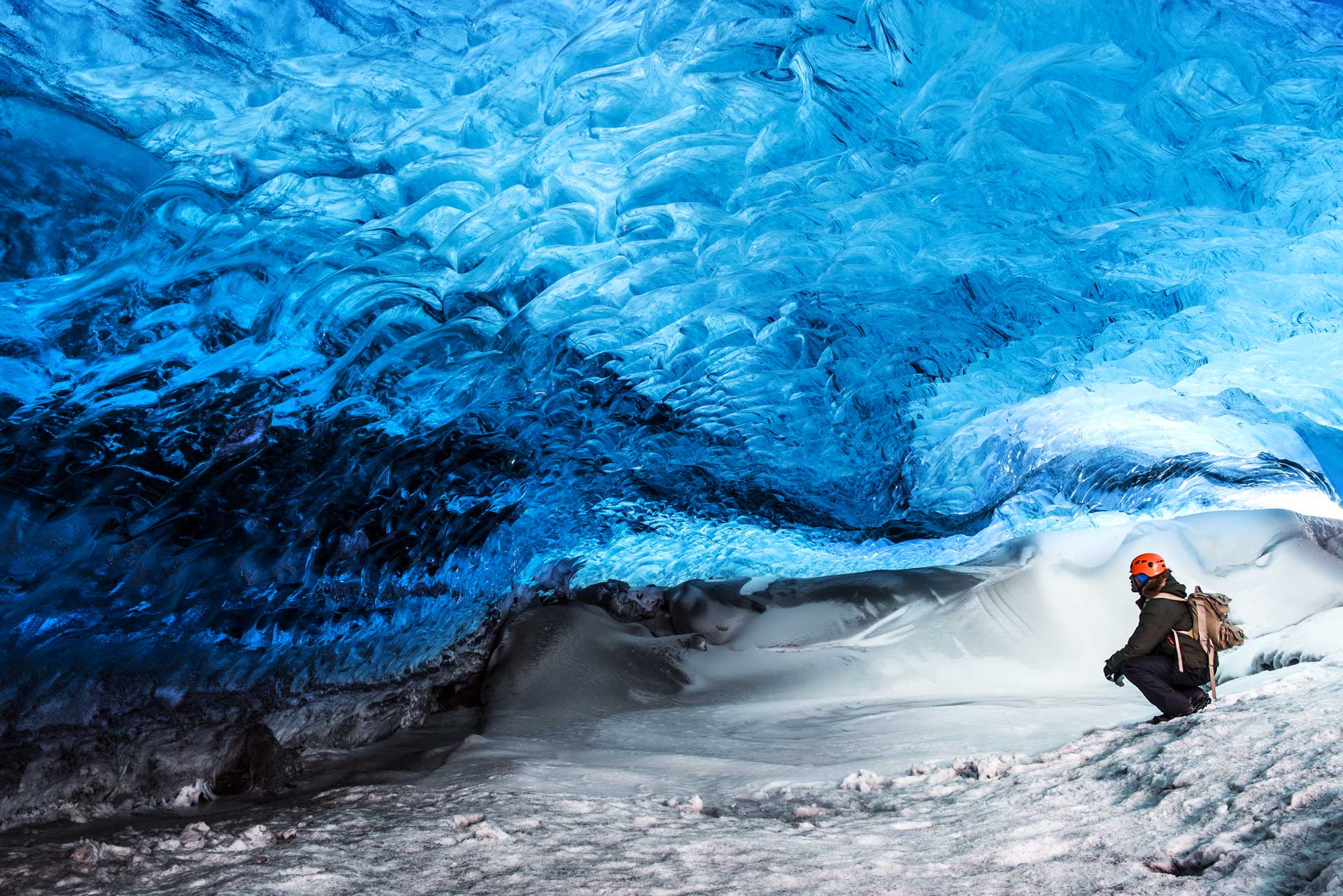 These tours are only available mid-November through late March (best booked well in advance), and it's best to spend a night near Vatnajökull/Skaftafell as the area is a 4 - 5 hour drive from Reykjavik.
Experience walking on a glacier
Imagine walking on a glacier that's thousands of years old and still constantly changing, on a vast surface indented with crevasses, sink holes and ice ridges. It's a lot easier than you think. Guided glacier walks are beginner-friendly and require only an average fitness level. The hardest part, in the opinion of this article's author, is getting the crampons laced correctly around your hiking boots. Thankfully the expert guides can sort that out for the directionally-challenged.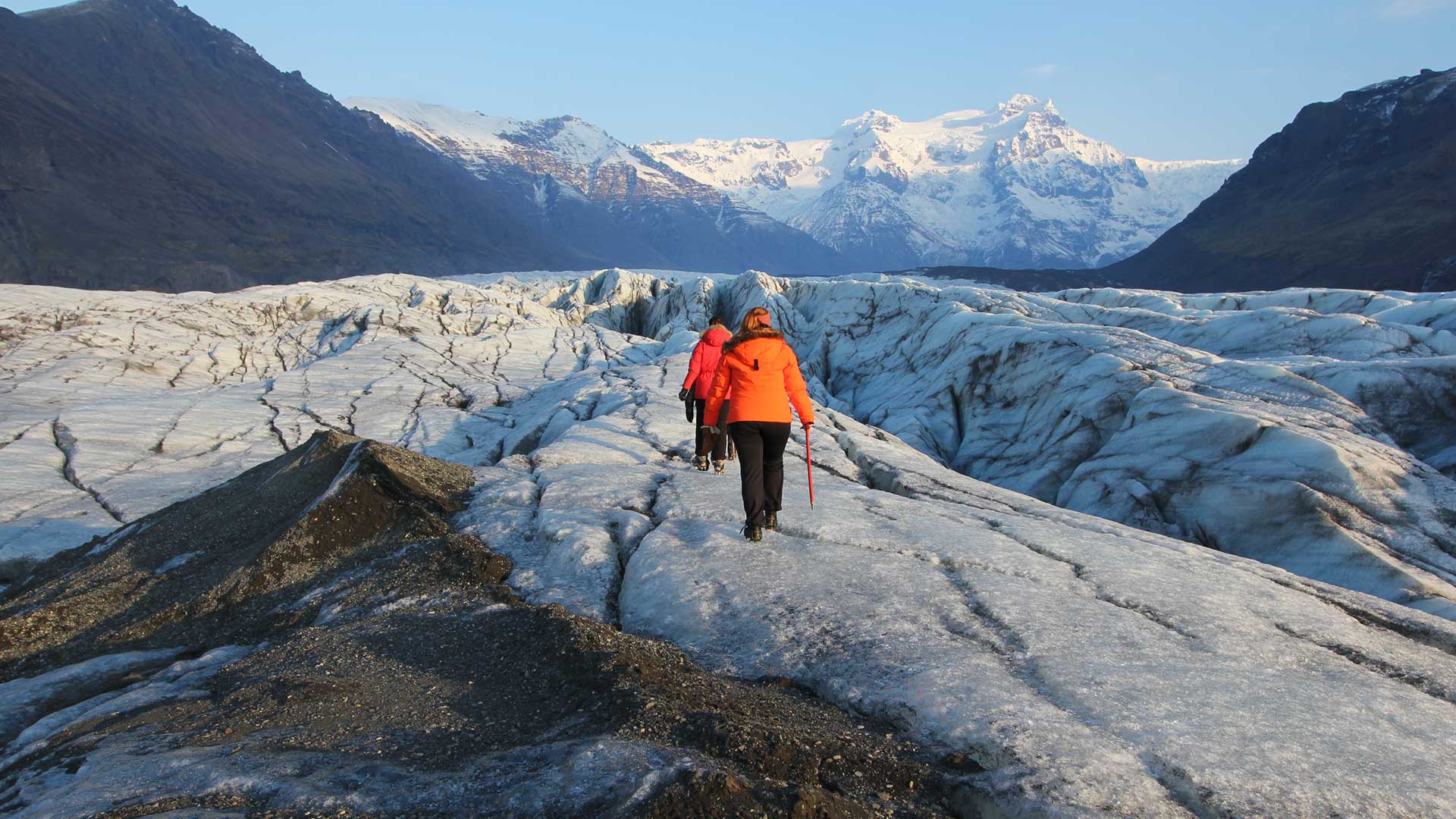 Guided glacier hikes are available year-round and take place on either Sólheimajökull, part of Mýrdalsjökull, or Svínafellsjökull, part of Vatnajökull, in South Iceland. It's possible to do a Sólheimajökull hike as a day tour from Reykjavik, though keep in mind it's 10 - 11 hours in total with travel time.
Take a ride via super-jeep and snowmobile
If hiking on (or inside) a glacier isn't enough adrenaline for you, then a guided snowmobile excursion should do the trick. No experience is needed, and tours are available year-round on Mýrdalsjökull in South Iceland and Langjökull in West Iceland. Snowmobiling on Langjökull is also a great add-on activity to tours around the popular Golden Circle route.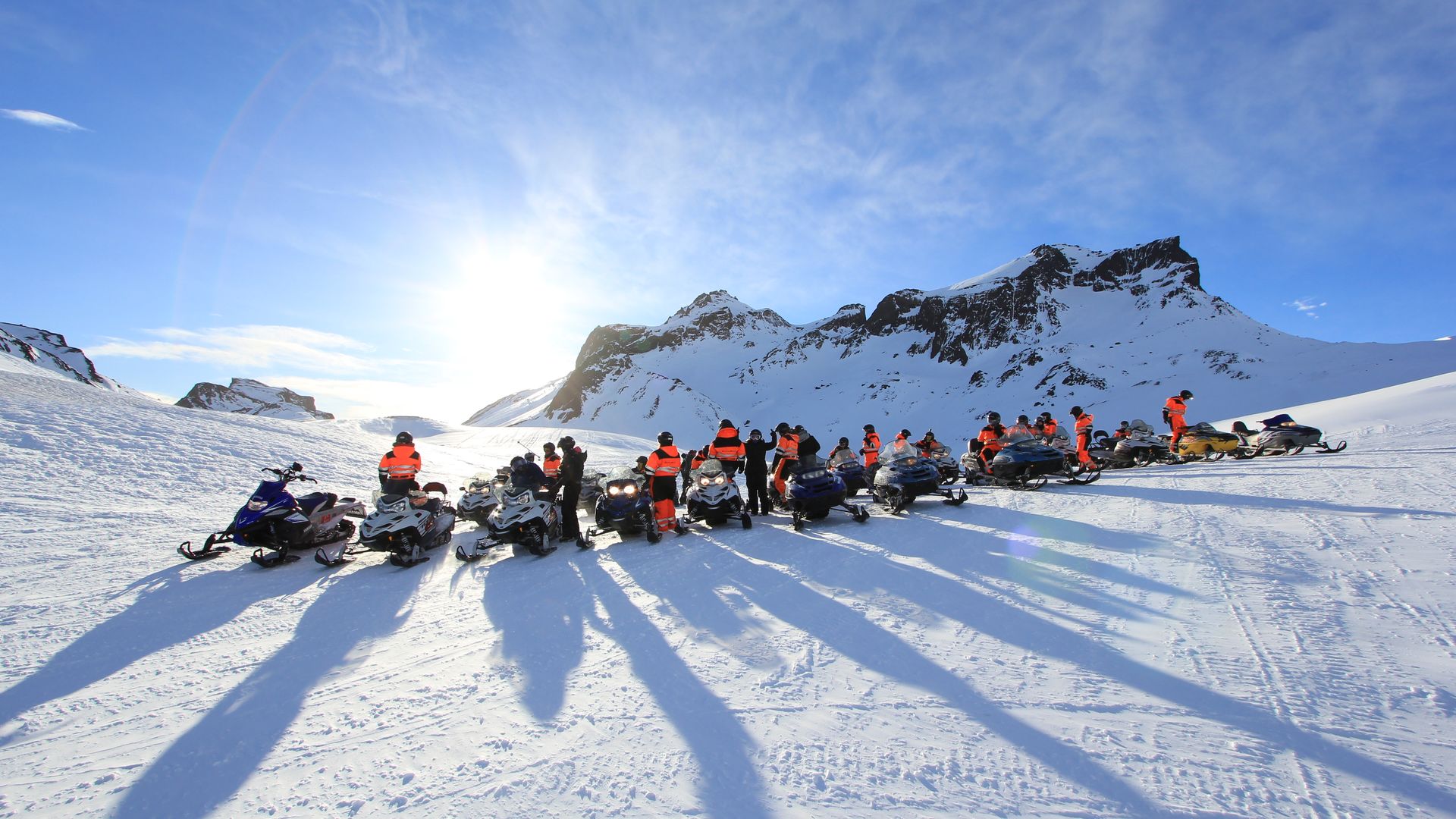 Sail among icebergs at the glacier lagoon
There's nothing like sailing among giant icebergs. An amphibian-boat trip on the Jökulsárlón glacier lagoon is an excellent way to experience a glacier up close and, if you're lucky, maybe even see some curious seals swimming around. These tours take around 30 minutes, during which a guide tells you about the geology of the lagoon and Vatnajökull, the glacier that feeds it.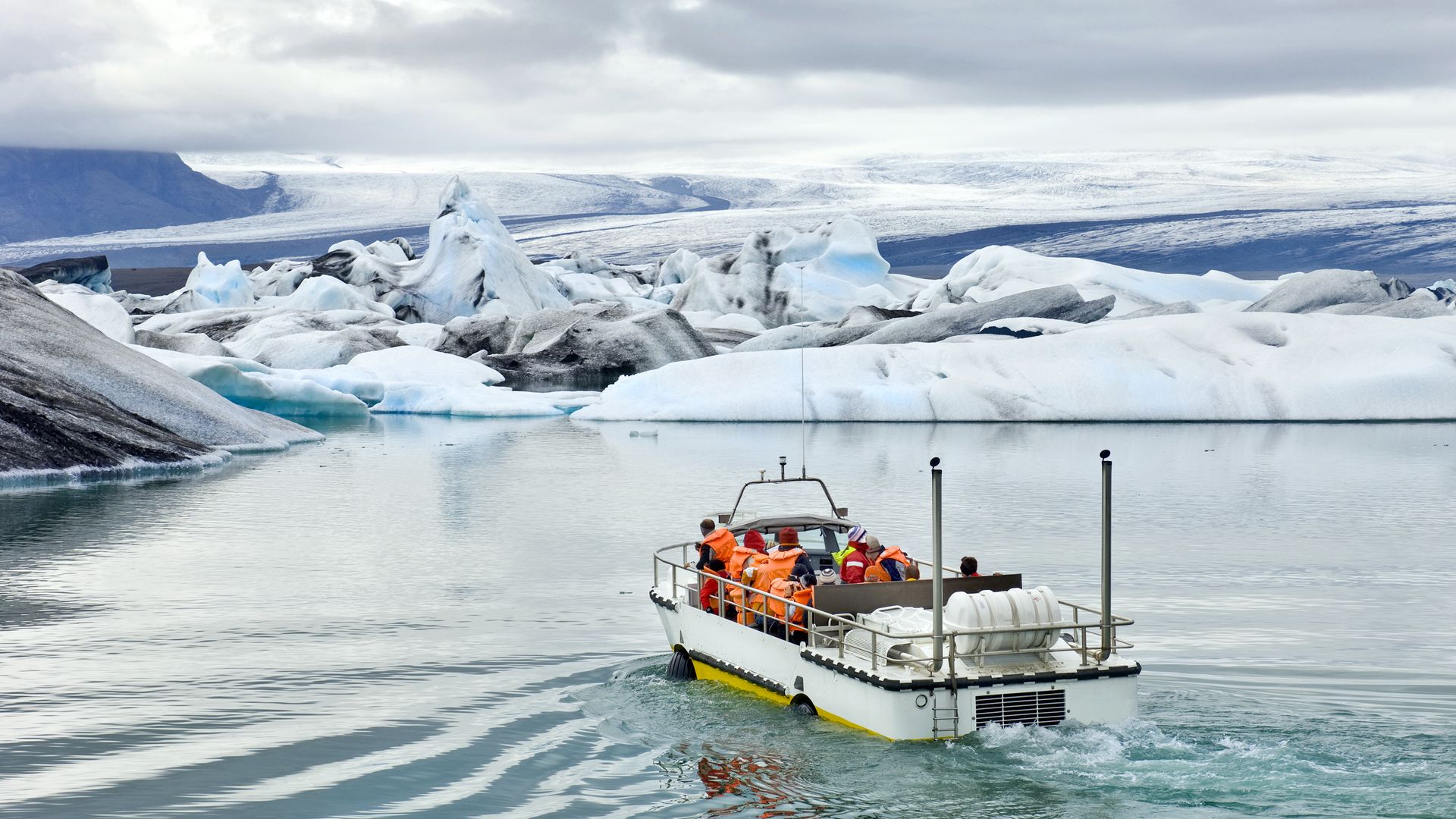 Pro tip: if you have time, go across the highway from the lagoon and visit the so-called "diamond beach", where glistening pieces of ice cluster on the black rocky beach before melting into the ocean.
See the whole glacier from the air
If you want to see the glaciers in style, like Jay Z and Beyoncé did on their trip to Iceland, it doesn't get any better than a helicopter tour. You don't have to be a celebrity to feel like a VIP on these sightseeing flights, many of which include landings on both glaciers and volcanos, as well as a glass of champagne to enjoy on the ice (depending on the tour). Plus, you'll get a great bird's eye view over Reykjavik as these tours depart from the city's small domestic airport just outside the city centre.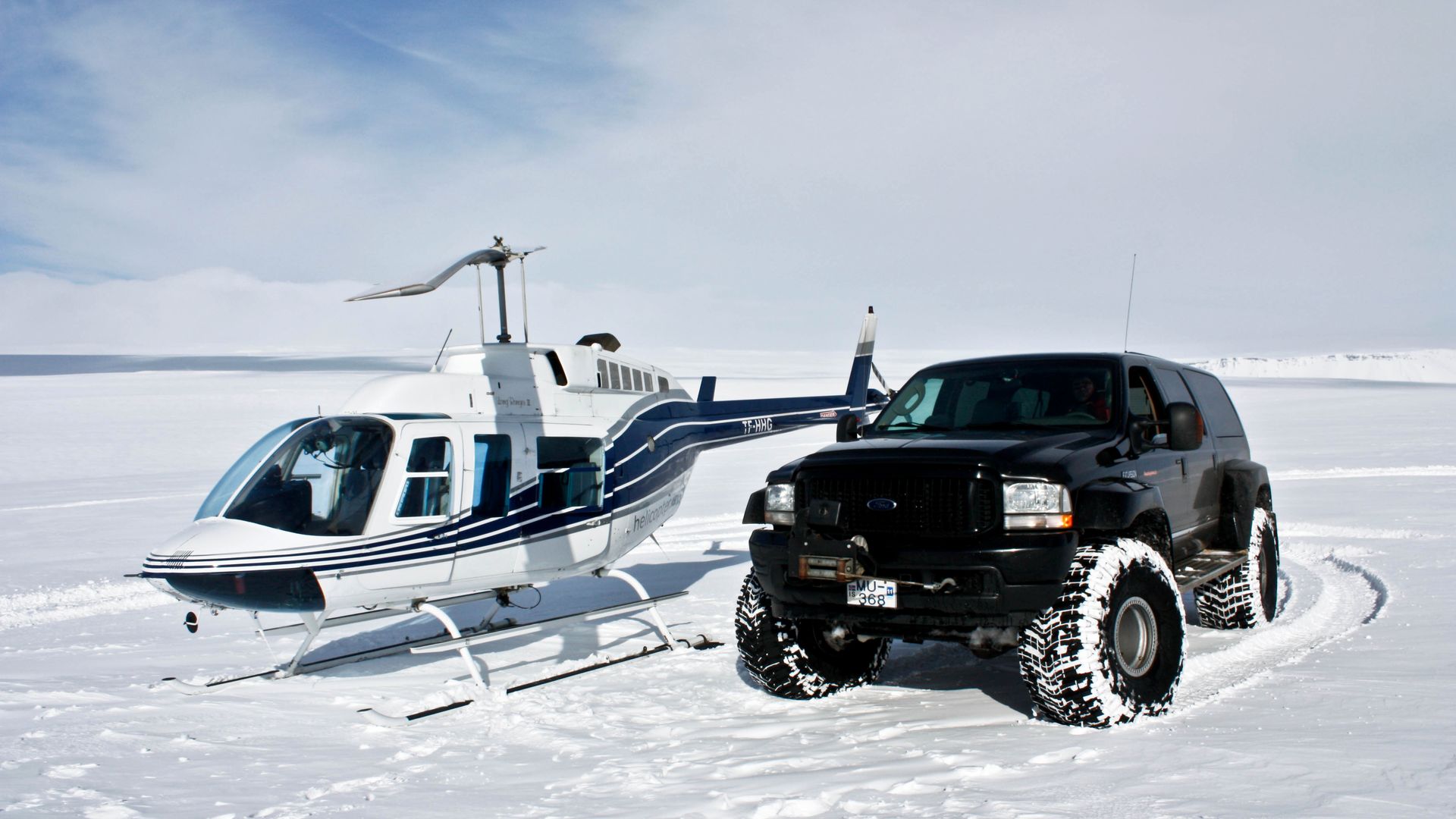 ---
Know before you go
With exception of Perlan Museum, all of the experiences above require experienced, licensed tour guides. Never walk on, or into, a glacier by yourself, and never try to stand on an iceberg in a glacier lagoon. Iceland's nature is beautiful, but it must be respected at all times.
Many of the activities listed above can be added as optional activities to your Nordic Visitor tour in the online booking process. If you're not sure, your Nordic Visitor travel consultant can help you find the right activities for your comfort level and travel dates. Just ask!