The Nordic countries are all pretty family-friendly. Reykjavík is no exception thanks to Iceland being a safe country, with many open spaces to have fun, interactive museums and outdoor activities. This should convince you to visit Reykjavik with kids on a memorable family holiday.
If you're still not sure, take it from the locals. Children of all ages can be spotted out and about in cafés and shops along with their parents. Your children will be welcome and have plenty to do!
What are some of the activities that are sure to keep your children entertained? We've compiled the best 15 things to do in Reykjavík with kids for your next family trip.
---
---
1. Explore the local parks
For a small city, Reykjavík boasts a lot of green space. In the city centre, you'll find Hljómskálagarðurinn, a big park with a play area for kids and a climbing rope web.
This park is also equipped with barbecue pits for public use. Pick up some coals and hot dogs and make a day of it with your family.
In the Laugardalur area of Reykjavík, you'll find the Family Park as well as the city's Botanic Garden. In the Family Park, there are plenty of fun things to do with kids, from carousels to taking boats on the water.
This area is ideal if you're looking to take a quiet stroll in a big open space and enjoy the ever-changing Icelandic weather. Both the Family Park and Botanical Gardens are equipped with cafés to pop into should that weather not be to your liking.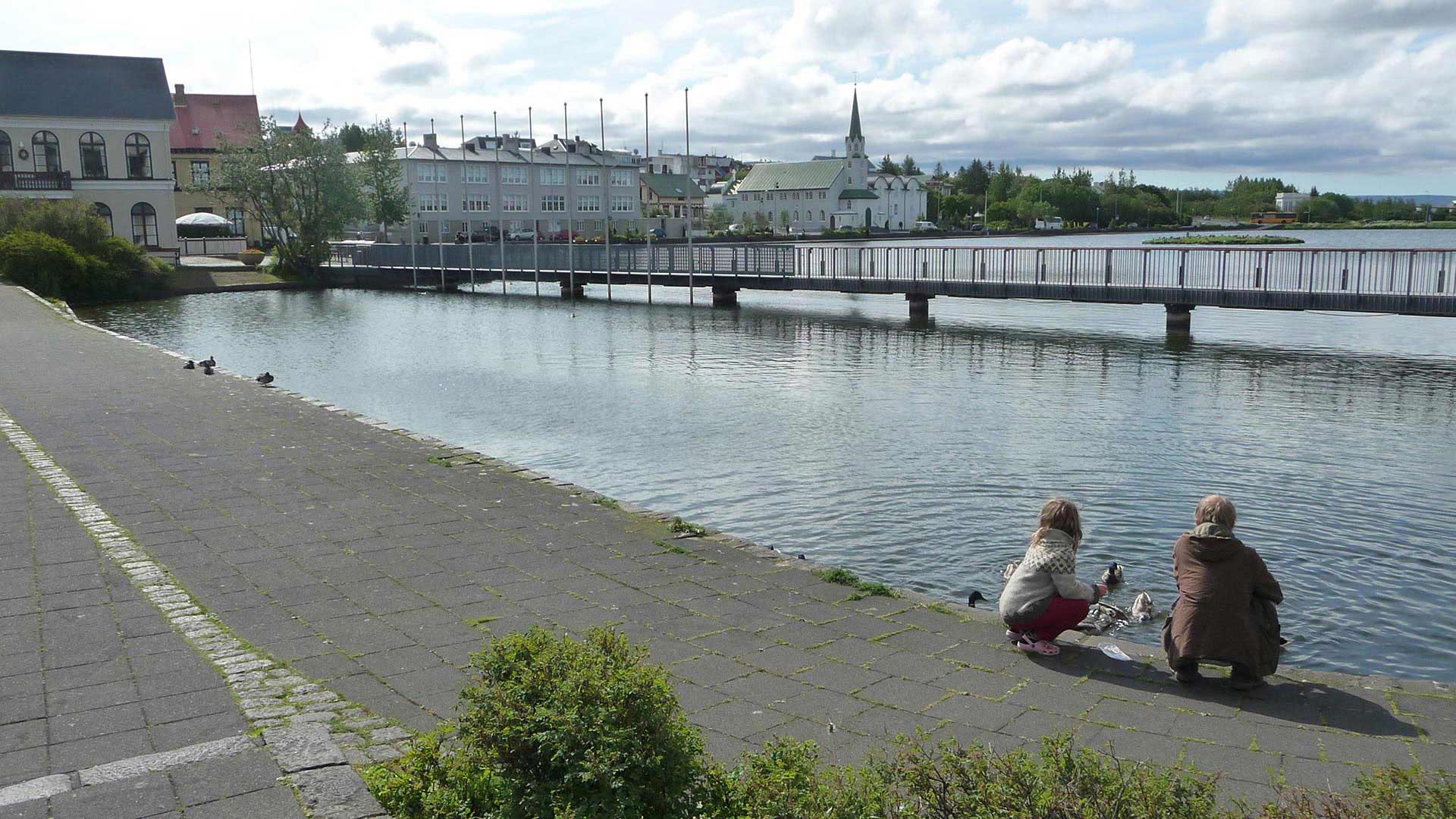 2. Feed the ducks at Tjörnin
Don't have a whole day to spend playing around the parks of Reykjavík? We recommend at least stopping by the central pond, Tjörnin. In fact, it's likely that during your visit you'll walk along Tjörnin as it is an important feature of the city centre.
Kids will enjoy having a walk or run in the surrounding gardens. It is the perfect location to feed the ducks with your children or to spot some local birdlife.
---
---
3. Visit the animals at the zoo
We've mentioned the Family Park already, but this is also where you'll find the local zoo. Add this attraction to your day out in Laugardalur for even more fun with your kids.
Here you can get up close and personal with some of Iceland's farm animals like cows, horses, sheep, and goats. You can also see reindeer, harbour seals, arctic foxes, a selection of birds, and an exhibition on foreign reptiles.
There are also some small amusement rides.
4. Take a scenic stroll along the waterfront
We know that with kids it's always best to have a walk that will entertain them. We recommend the waterfront of Reykjavík as it is full of attractions and stunning natural views.
You could walk from the Harpa Concert Hall to the famous Sun Voyager sculpture. The latter is especially fun for a photo opportunity. This walk is less than a kilometre long (0.6 miles) and kids will love to jump rocks along the seawall.
From this spot, you'll be able to admire the views over Faxaflói Bay and the backdrop of mountains.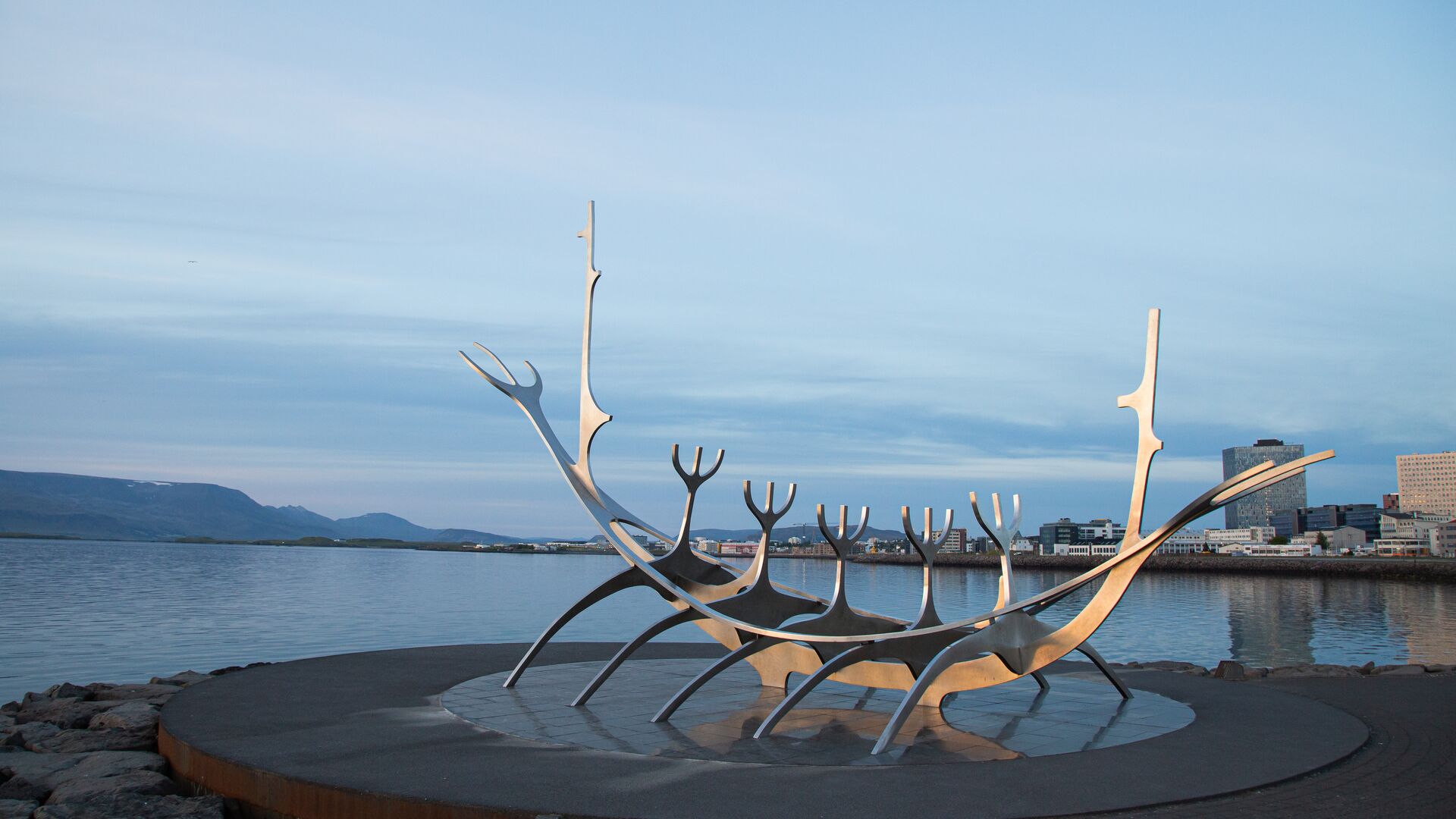 5. Discover the city centre
If you'd rather explore the urban features of Reykjavík, keep to the city centre. Walk along the main street, Laugavegur, to admire the street art and find more attractions to visit.
Central Reykjavík is also dotted with many neighbourhood parkettes, so a stroll around the city can easily be made entertaining for the more playful of your travel companions with short breaks to test out a slide, play hop-scotch, or take a spin on a carousel.
You could also make a game of it with your children. Can they spot the animals of Reykjavík? Walk around central Reykjavík and you're sure to see many a cat, lounging on windowsills, darting out from below parked cars, or just strutting along sidewalks.
Head over to Öskjuhlíð and you'll be sure to run into another fan favourite of Reykjavík's wildlife, bunnies.
---
---
6. Take in the view from Hallgrímskirkja
Visiting a church may sound a bit boring for children, but Hallgrímskirkja has a stunning viewpoint you won't want to miss.
It is free to walk in and admire the modern architecture of the cathedral. But pay a small fee and you could head up the 74.5-metre (244 ft) tower. It is by elevator (lift) so no one should be too tired from the activity.
At the top you'll be rewarded by sweeping views of the city, bay and mountains around Reykjavík.
Fun fact: Hallgrímskirkja is the largest church in Iceland and among the tallest buildings in the country.
7. Go on a whale-watching cruise
When visiting Iceland with kids, especially if they are wildlife enthusiasts, they may want to go whale watching. This is a fun activity that combines sightseeing and learning.
Cruises are available from Reykjavík itself and leave from the old harbour, located only a 10-minute walk away from the city centre.
As you sail along the Faxaflói Bay, you and your family could spot minke whales, humpback whales, white-beaked dolphins and harbour porpoises.
From the old harbour, you could also visit the Whales of Iceland exhibition. It will educate the whole family about these gentle giants of the sea. You'll find life-size models of more than 20 different species. Future marine biologists will be right at home here!
---
---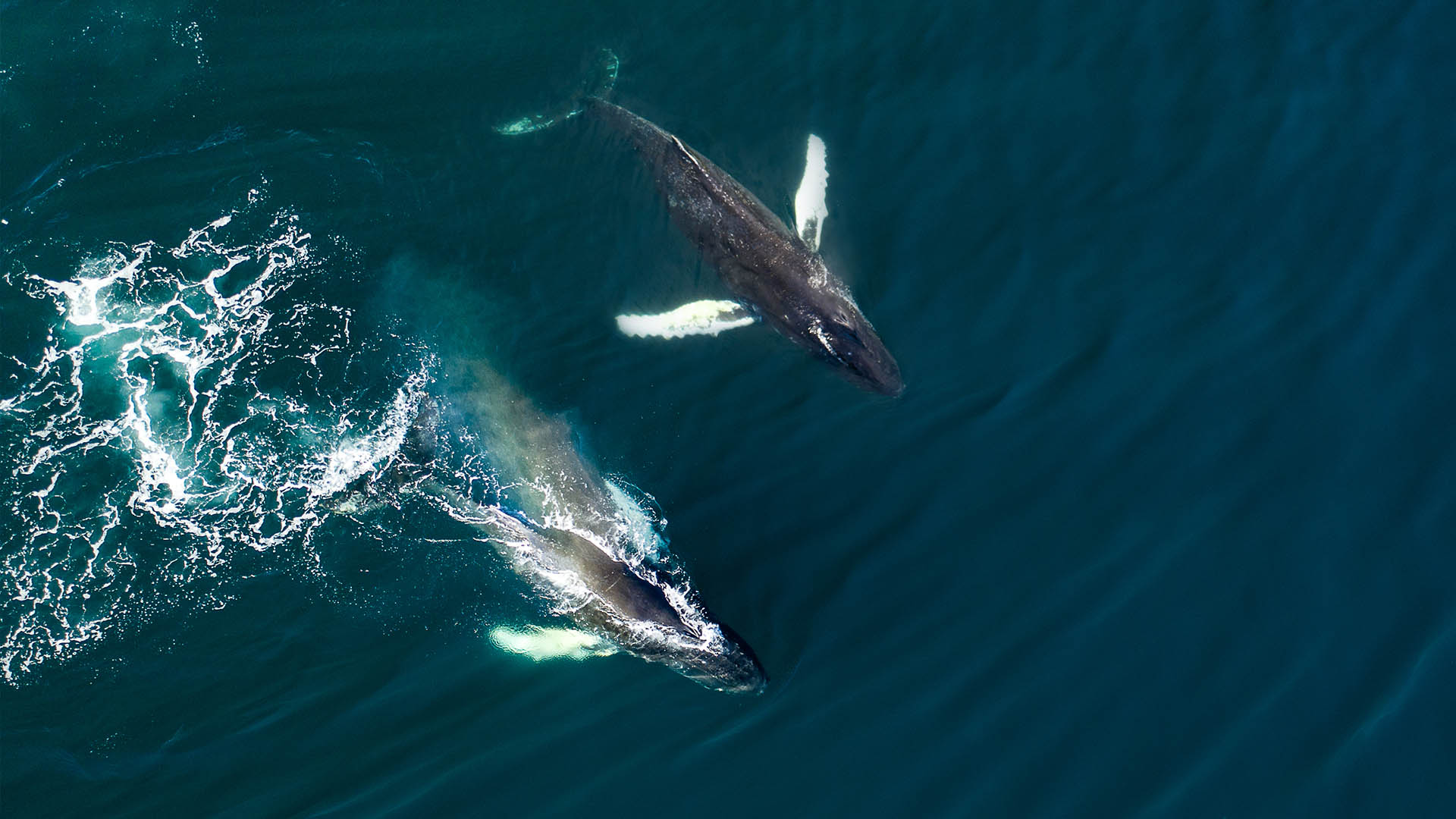 8. Chase the northern lights in winter
If you visit Iceland during a winter getaway, there is still plenty to do. The most exciting activity you could get up to is hunting for the northern lights, or aurora borealis.
This natural phenomenon appears in the winter sky when the solar activity is strong. It is recommended that you seek dark spaces without light pollution for the best views.
Visit one of the local parks or head to the Grotta Lighthouse on the Seltjarnarnes peninsula for darker areas in the capital. But the northern lights activity may be strong enough that you see it from the city centre or even your hotel. Keep an eye out on clear nights.
---
---
9. Visit an interactive museum
Reykjavík is full of museums for the whole family. You'll just need to narrow down what you're looking for depending on your, and your kids', interests. We've compiled a few of our favourites for you:
Maritime Museum
Come learn about Iceland's seafaring history at this seaside museum. The ocean is and has always been important to this island nation, bringing food and settlers throughout the centuries.
You can even go aboard a retired vessel anchored at the pier. And kids may enjoy the treasure hunt along the main exhibit.
Árbær Open Air Museum
The open-air museum is ideal if you want to immerse yourself in history. The museum is almost like a small town, put together to recreate how Icelanders used to live in the past. Different exhibitions highlight specific periods of the local history.
You'll find more than 20 buildings to explore and plenty of activities like craft days, vintage car displays, Christmas exhibitions and more.
National Museum of Iceland
The National Museum is another informative place to learn about Iceland's rich cultural history. Children will definitely enjoy seeing the extensive collection of Icelandic objects kept here, from all the way back to Viking time.
Perlan exhibition
Sitting atop Öskjuhlíð just outside the city centre, you can't miss the Perlan, or "The Pearl". With its glass dome and water tanks, it's a sight to behold. Don't hesitate to go in to take part in the interactive exhibition.
Here you'll find augmented reality entertainment focusing on the natural wonders of Iceland. Discover the sheer power of the volcanoes, earthquakes and geothermal energy. Or come admire northern lights, summer and winter alike, at Iceland's only planetarium. And kids will love to walk through the world's first indoor ice cave.
After your visit, pop over to the impressive 360-degree deck for stunning views over Reykjavík.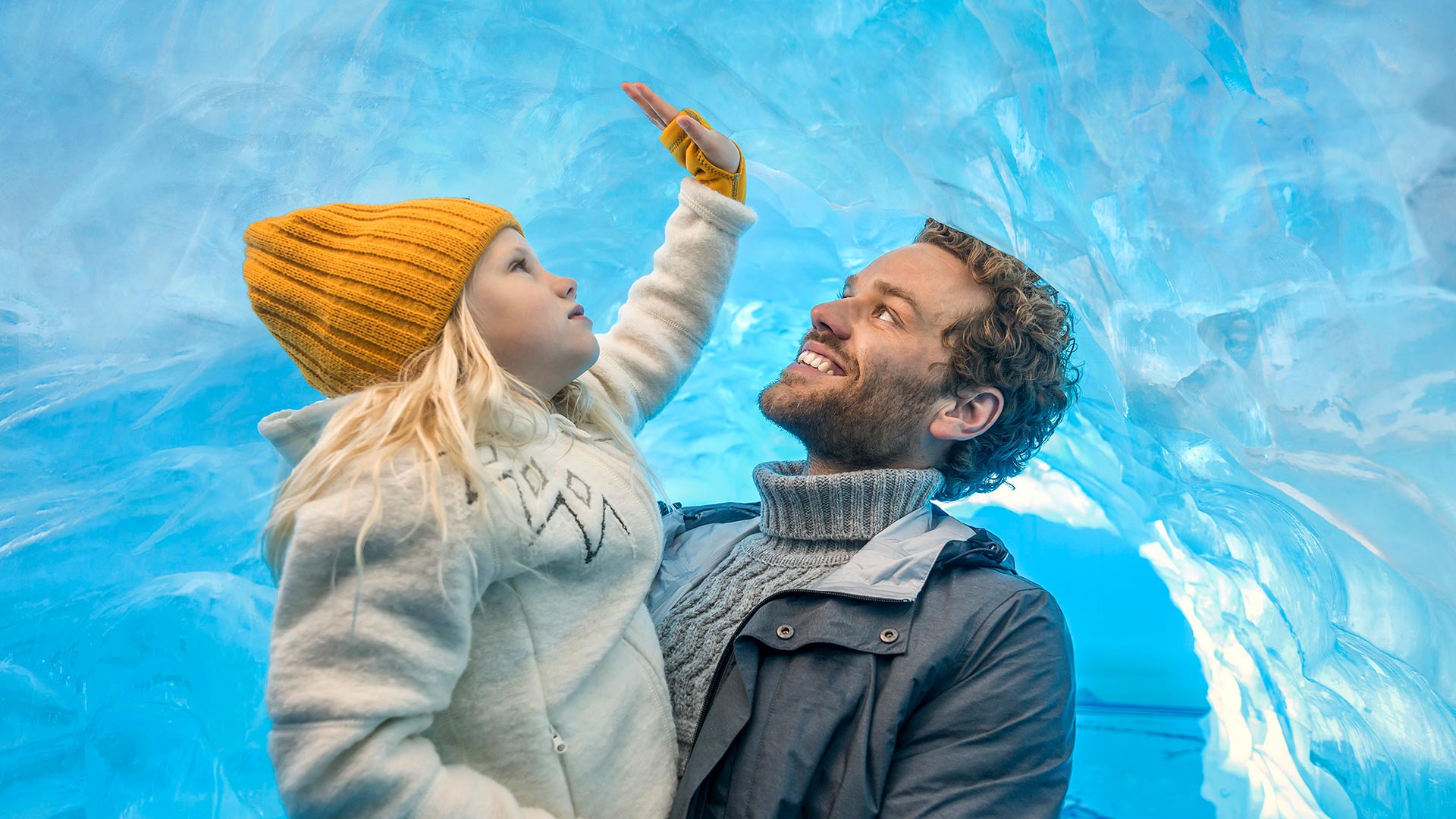 10. Taste the local treats: hot dogs to ice cream
Kids and adults will enjoy treating themselves to these popular local delicacies.
Icelanders love ice cream and you can't leave the island without trying the local favourite. Ísbúð Vesturbæjar is the institution of ice cream in Reykjavík. It is a small shop in the city's west end and people will queue for a cone come rain or shine.
You could also try Valdís in the long turquoise storage buildings at the far end of the city's old harbour.
What kid doesn't love the delicious simplicity of a hot dog? In that respect, Icelanders are all kids at heart! Walk through Reykjavík (or any other Icelandic town, for that matter) and you may think that they just can't get enough of them.
Sate the rumbling of little tummies with a stop at the famous Bæjarins Beztu Pylsur. Or grab a dog on the go at pretty much any kiosk, convenience store or gas station you pass. Pair it with a box of kókómjólk (Icelandic chocolate milk) for a real treat.
11. Build sandcastles at Nauthólsvík beach
Take your little ones on a bunny safari through Öskjuhlíð area and end up on the shore at Nauthólsvík for a splash in the sea.
In the summer months, the sea at Nauthólsvík is warmed by geothermal water so it's not just for adventurous souls. The golden beach is a popular spot for locals and visitors to soak up the sun and build sandcastles.
And if you don't want to get too cold, there are geothermal hot pots for a warm soak.
---
---
12. Visit the local swimming pools
The thought of a dip in the North Atlantic is not appealing to your little travel companions? Maybe a splash in one of the city's many heated public pools is more up to their speed.
Because of its geothermal energy, Iceland boasts a number of public swimming pools that are heated and open all year long. Reykjavík alone has nearly 20 of them.
One of the most fun pools to visit is Laugardalslaug. It is equipped with a water slide, hot tubs, and kiddie pools for little ones to goof around in.
Looking for a swankier experience? Visit the famous Blue Lagoon spa. It is located near the airport so ideal to pop by on your last day in Iceland.
---
---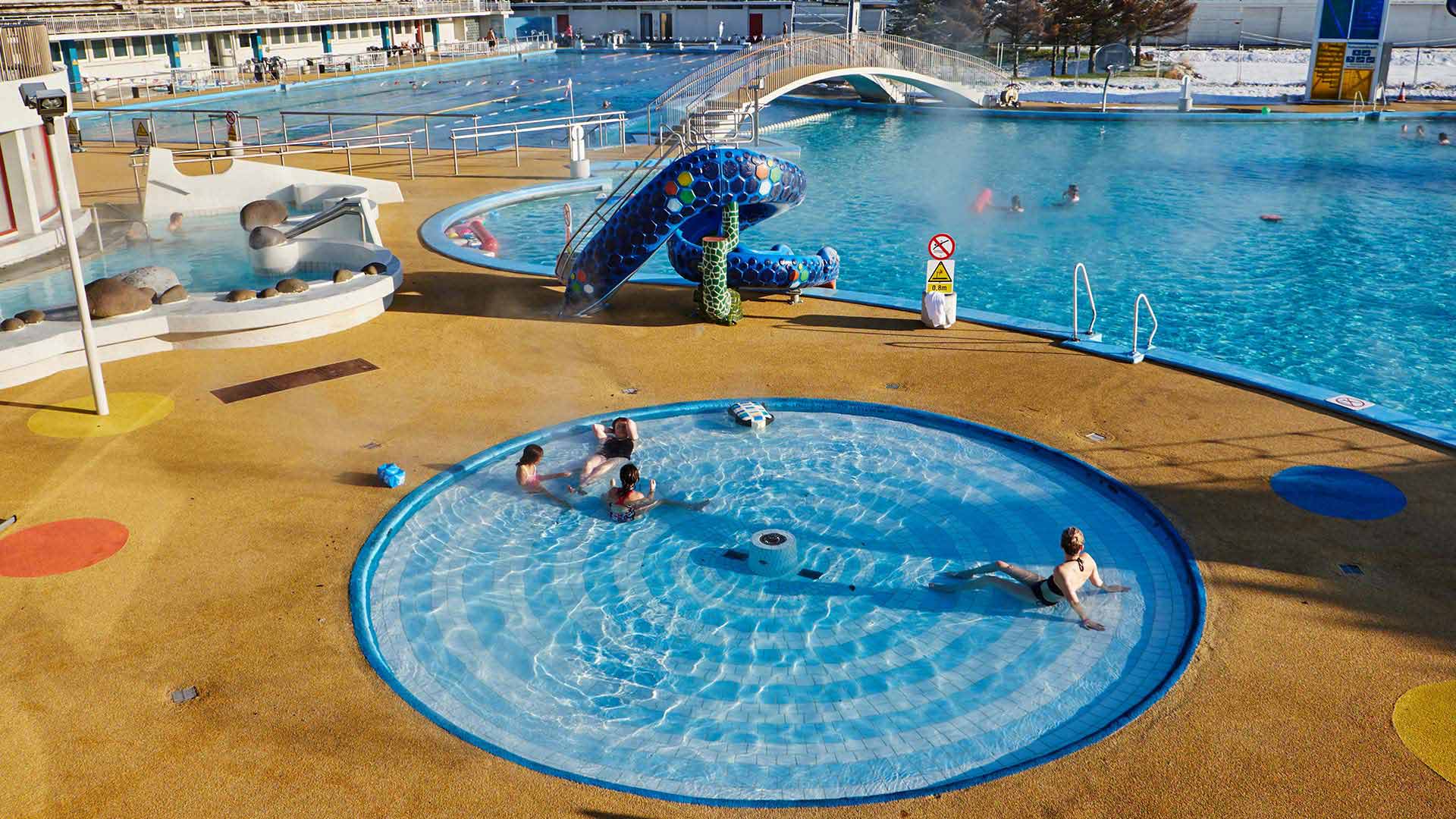 13. Wander the beautiful Viðey island
Viðey is the largest island in Kollafjörður, the bay off Reykjavík's north shore. It is ideal for a day out in nature without really leaving the city. You can reach the ferry terminal by bus so it is easily accessible.
During the summer it can be a popular place to watch birds and visit its lovely beaches. There are plenty of scenic trails you could take. If your family is keen, you could also hire bikes or simply walk to enjoy the scenery.
14. Take a day tour to the Golden Circle
If you're staying for a city break in Reykjavik, you could enjoy day tours to nearby sights. The Golden Circle is a breathtaking route that is ideal to do in one day. You could drive it yourself to travel at your own pace or join a guided tour.
The Golden Circle's top 3 attractions are:
The Þingvellir National Park, a UNESCO World Heritage Site where you can see Icelandic beauty and witness its important historical heritage. This is where the tectonic plates are pulling apart slowly every year and creating a rugged rip in the landscape. Your kids can walk between the plates and see nature in action.
The Geysir geothermal area is where you'll find the original geyser. The Great Geysir was the first ever recorded and although it's not as active anymore, its neighbour Strokkur will keep you entertained. It ejects columns of water into the air every 6-10 minutes so tell your kids to be on the lookout.
Last but not least, the Gullfoss waterfall is one of Iceland's most famous waterfalls and you'll soon see why. Walk along the impressive canyon to see the water of this wide waterfall thunder down 2 drops. From this viewpoint, you can also admire the Langjökull ice cap.
---
---
15. Attend a family event
It's not only attractions that are family-friendly in Iceland, but events and festivals too. Some are, in fact, aimed at families and children specifically.
In April, the Children's Culture Festival is a week-long arts event dedicated to children and young people. At this time of year, you could also join in the celebrations of the First Day of Summer.
Later in the season, you'll find the Festival of the Sea, which is an extension of Fishermen's Day. It celebrates all aspects of the sea, from seamanship and vessels to fish and mermaids.
Join the locals and their families to celebrate Iceland's National Day on 17 June. In August, mark your calendar for the Reykjavík Culture Night.
Or enjoy a festive getaway to Iceland to introduce your children to the Yule Lads, the local version of Santa Claus.
---
---
Want to go further afield in Iceland?
You don't have to just stay in Reykjavík for your Icelandic family holiday. You could also drive around the Ring Road or discover specific areas of the country like the south coast.
Iceland is very kid-friendly and anywhere you go, you'll find a variety of activities you can try as a family.
Travel around Iceland with kids and you could:
And much more!
---
---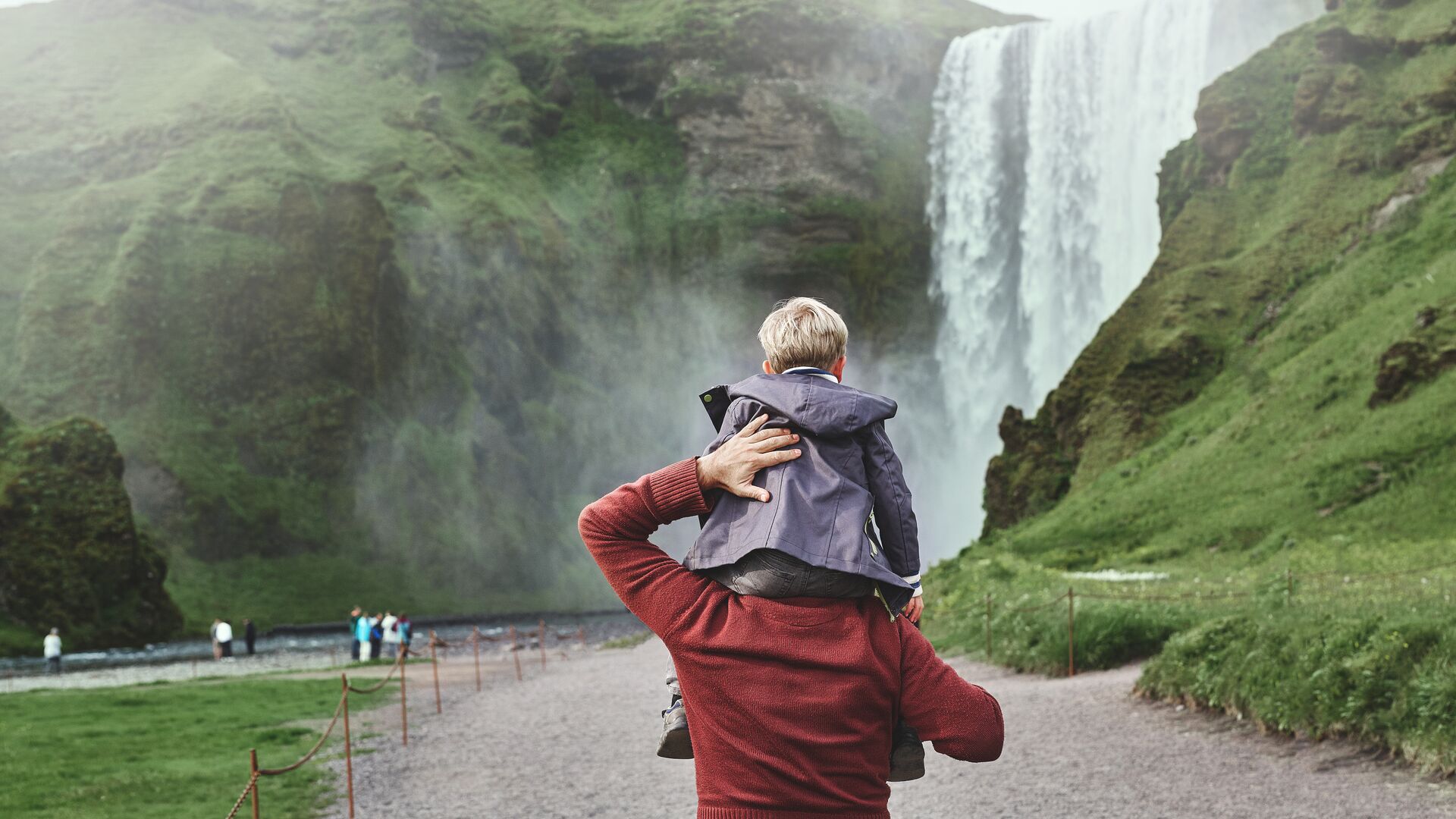 Planning your family trip to Iceland
To visit Reykjavík or Iceland with your kids, let the experts at Nordic Visitor plan your dream getaway.
Our Iceland travel consultants are based in Reykjavík. Because they are locals and know the region and country inside out, they will be able to recommend the most family-friendly activities and accommodation for you.
When you book with Nordic Visitor, you get a personalised experience. Enjoy a dedicated travel consultant who will create a bespoke itinerary for you with family-friendly hotels in Reykjavík and around the country, optional activities and much more.
You'll also have Nordic Visitor's support throughout your tour, with access to our 24/7 helpline.
You can browse our family-friendly holiday packages or get in touch to tailor a holiday to your family's interests.